We continue to track the potential for a strong winter storm to bring accumulating snow to much of the state by the middle of the coming week. Matt touched on the latest with this system in his video update earlier today, but we thought we'd take a look this afternoon at how much models are forecasting for snow across the Front Range from this system, and where/what differences there are in the data as of Saturday.
None of these maps are our snowfall forecast, this is meant just to share what's on the table, and discuss a bit what trends we are seeing. Maybe before we get into the modeling, it is a good time to share what's known. There remain uncertainties around the exact track of the storm and how quickly it will move through. A quicker system = less snow.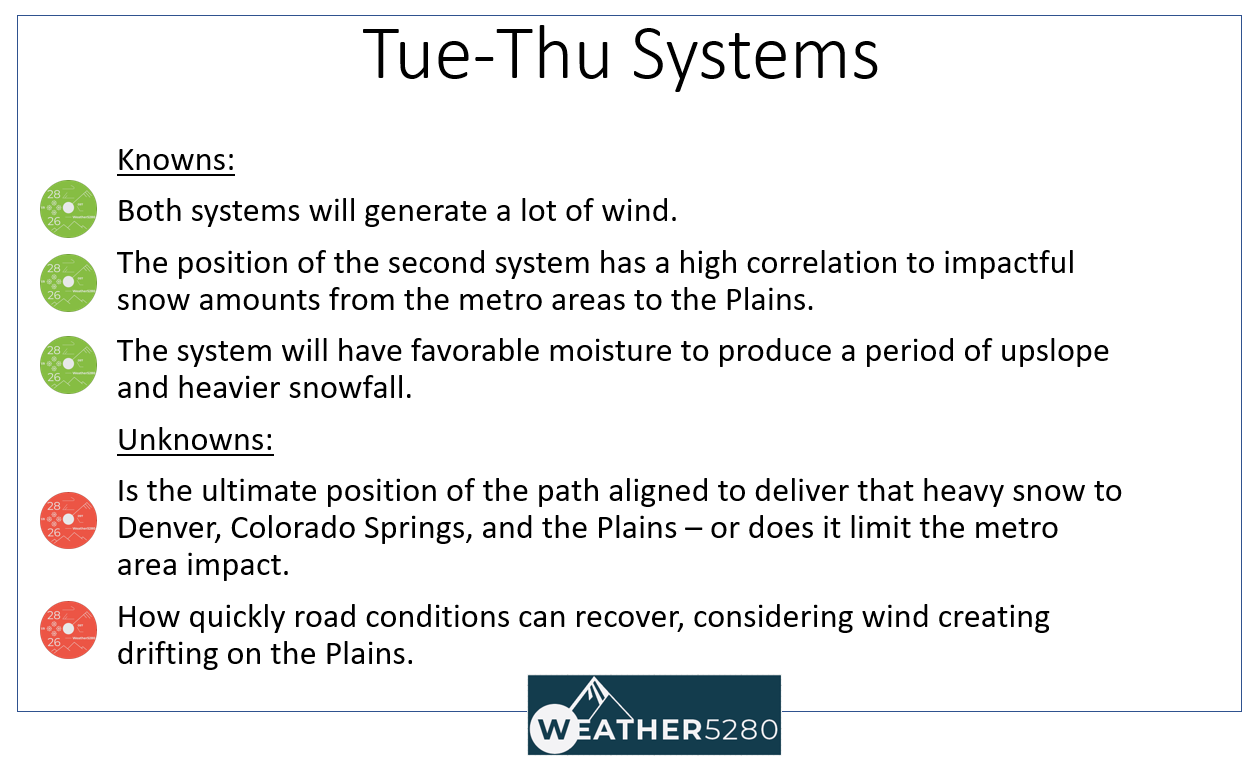 Quick summary:
Modeling has been consistent in total impact, and not just within one model between its updates but between different models and all updates. Through last night, models were sticking to a somewhere between four through twelve inches total, spread from Cheyenne over the Denver-Boulder area to Colorado Springs. The confidence in those totals has decreased a touch in today's data, part of the unknowns listed above.
And, a quick reminder on timing. We are starting to see those probabilities start to show up in the planner late Tuesday, with snow in the forecast Tuesday night through Wednesday:

Model discussion:
First, let's look at a blend of models. If you're seeing a lot of numbers being thrown around and looking for a reasonable middle-of-the-road what to expect this week, this product is a good place to start.
For precipitation, a blend puts roughly 0.5" of liquid in Denver, with 0.6" to 0.8" across the Palmer Divide between Denver and Colorado Springs. Lesser totals are indicated north toward Fort Collins, with pretty good coverage of appreciable precipitation across southern Colorado: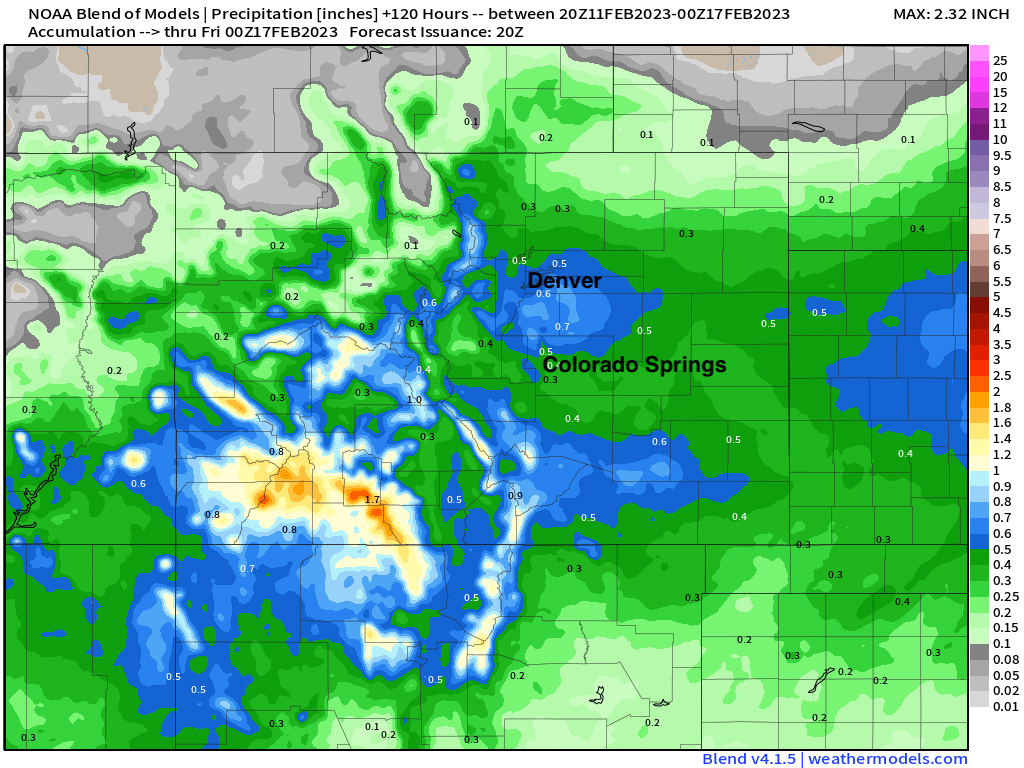 The snowfall output shows much of the state picking up measurable snowfall between now and Thursday evening, with pretty healthy totals indicated across the greater Denver area and points east: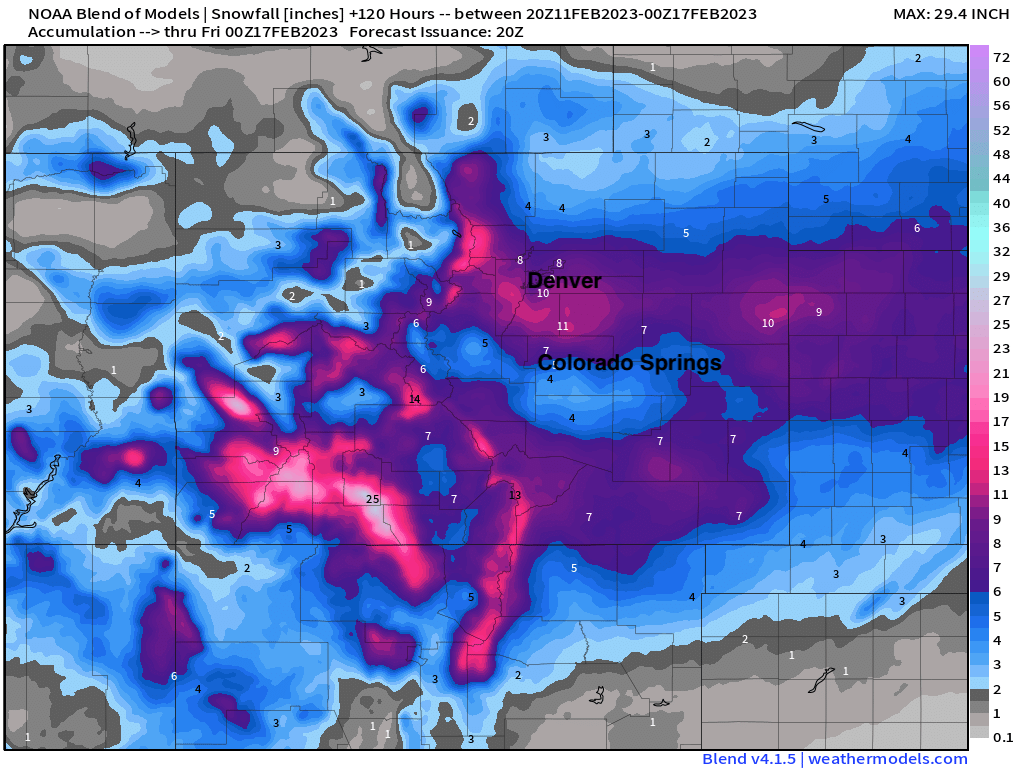 So, what are the models showing for snow this week? Let's take a look. Most of the maps are assuming a 10:1 (snow to liquid) ratio, so we'll have to account for that a bit. Snowfall will be higher than that for much of the event.
The 12z European model
Fort Collins: 1 - 4"
Denver: 4 - 8"
Palmer Divide: 5 - 12"
Colorado Springs: 4 - 8"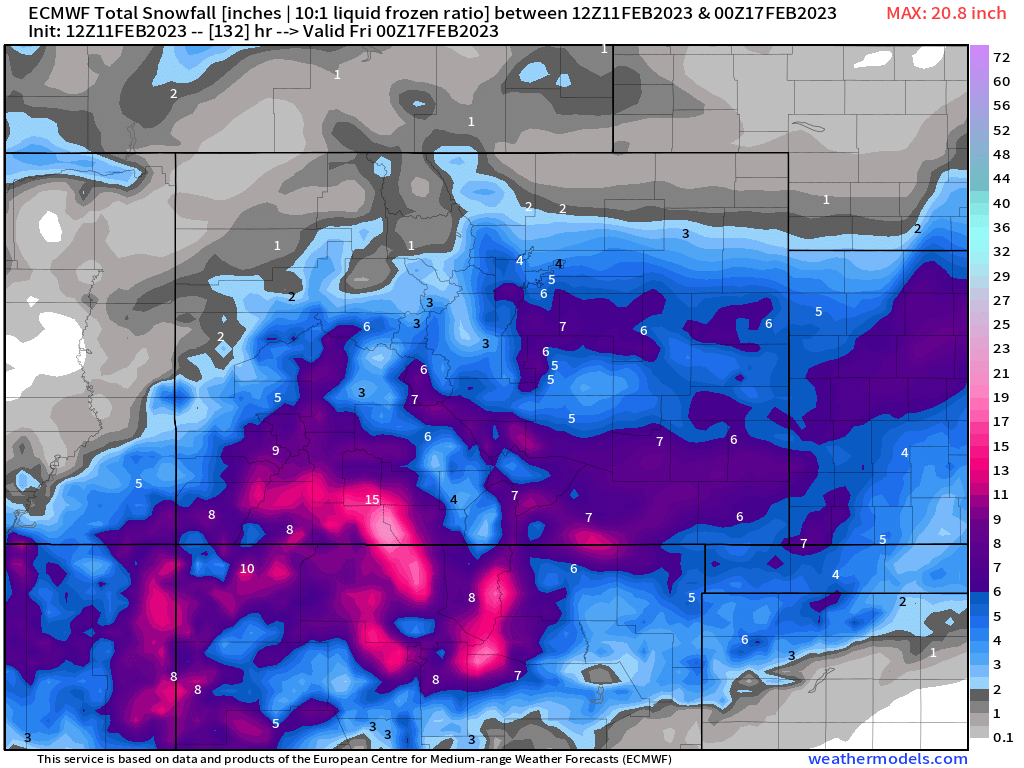 The 18z GFS American model
Fort Collins: 2 - 5"
Denver: 4 - 8"
Palmer Divide: 5 - 12"
Colorado Springs: 4 - 8"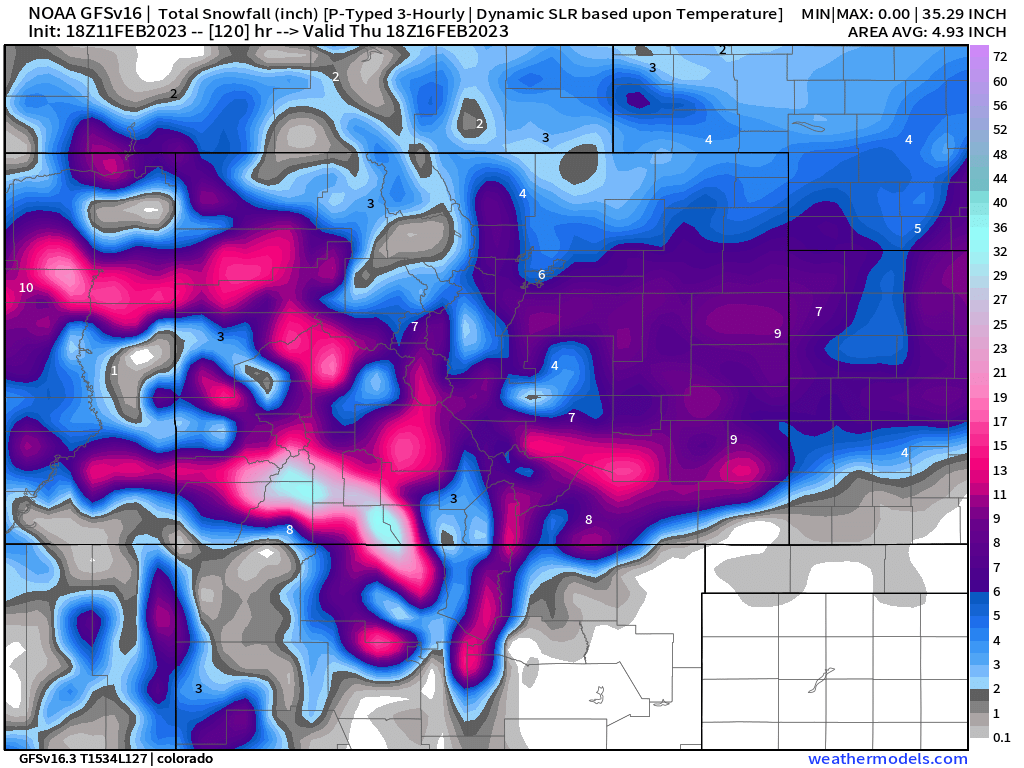 This is quite a bit of a drop from its prior run (right, below) as you can see much less of the purples and pinks of our area. A trend?

The 12z European ensemble
The ensemble is a bit lower, but still healthy overall...
Fort Collins: 1 - 3"
Denver: 3 - 6"
Palmer Divide: 4 - 8"
Colorado Springs: 3 - 7"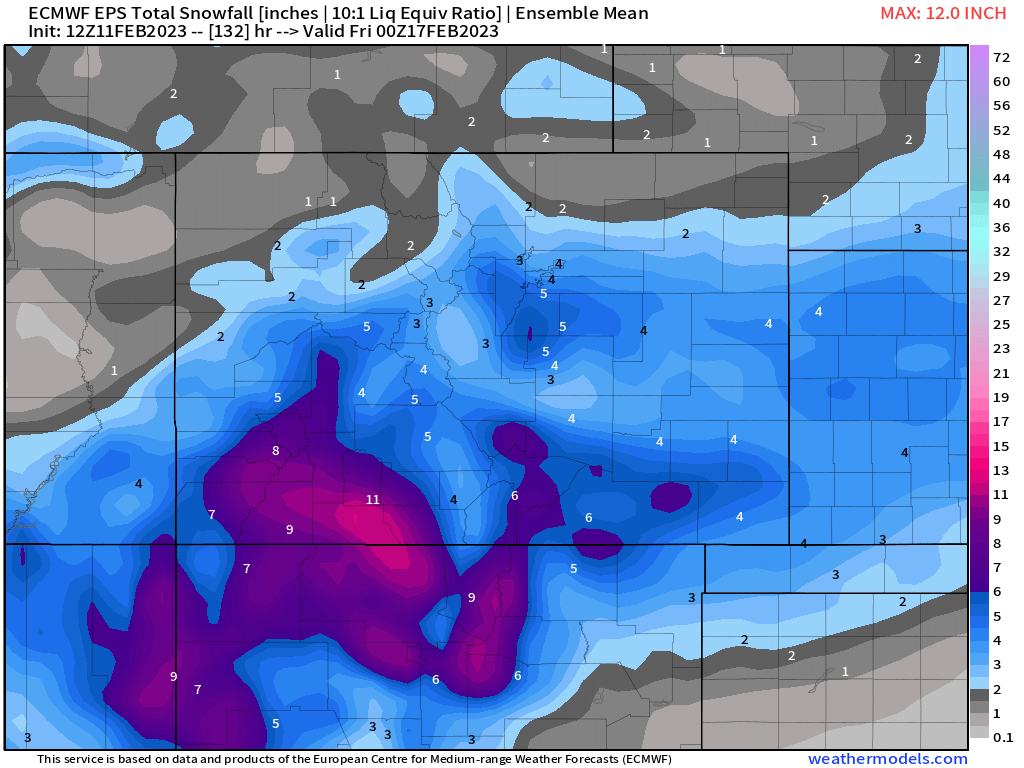 A trend seems to emerging, putting that most likely snowfall range in the 4 - 8" zone, with greater totals for the foothills west/southwest of Denver and across the Palmer Divide. Colorado Springs looks like it could also do well with this setup, and Fort Collins in need of a bit shift in the track to not be left out.
The latest analog package shows good odds of 4" of snow or more for the Denver area and mountains: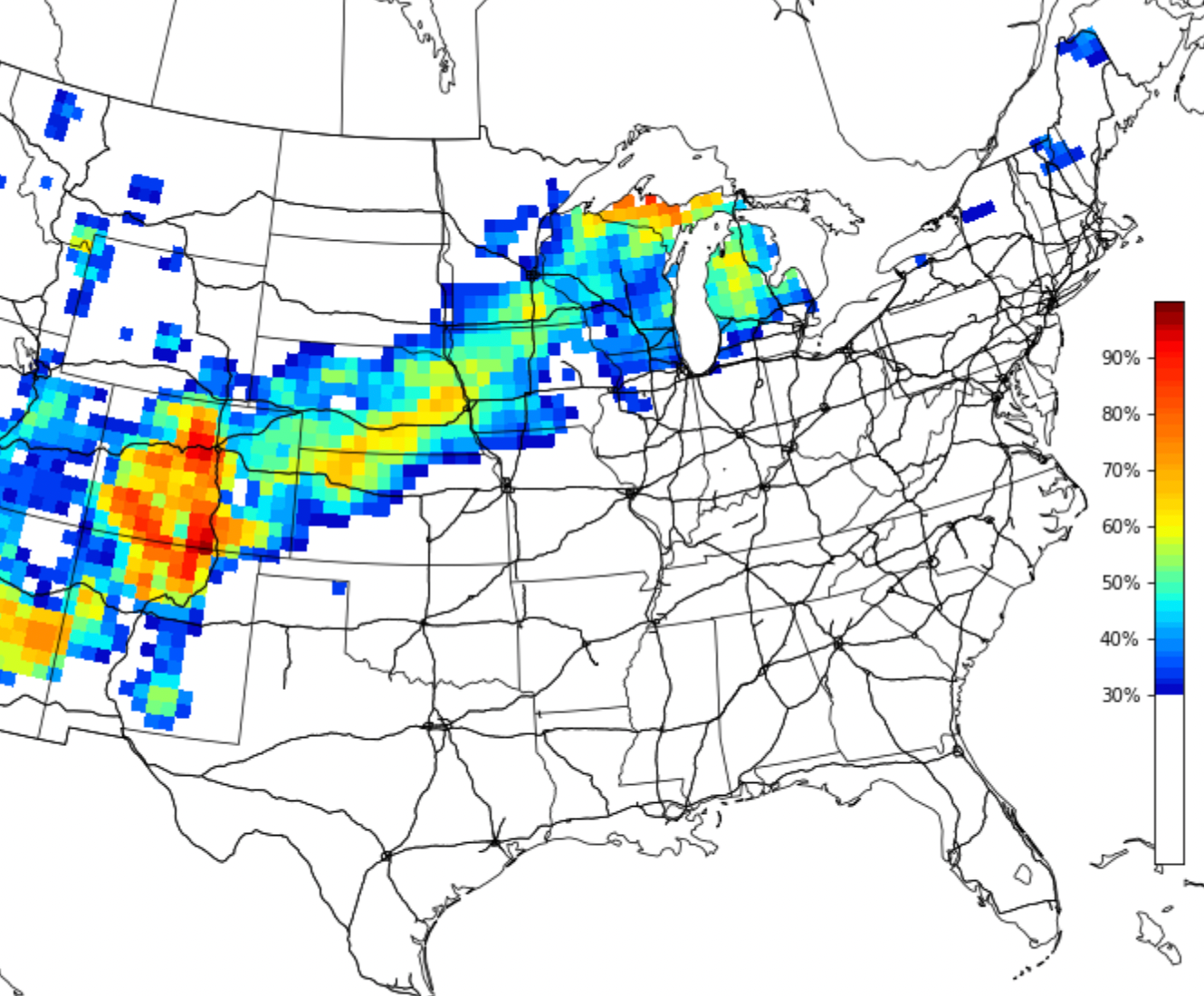 But odds drop quite a bit for 6" of snow or more...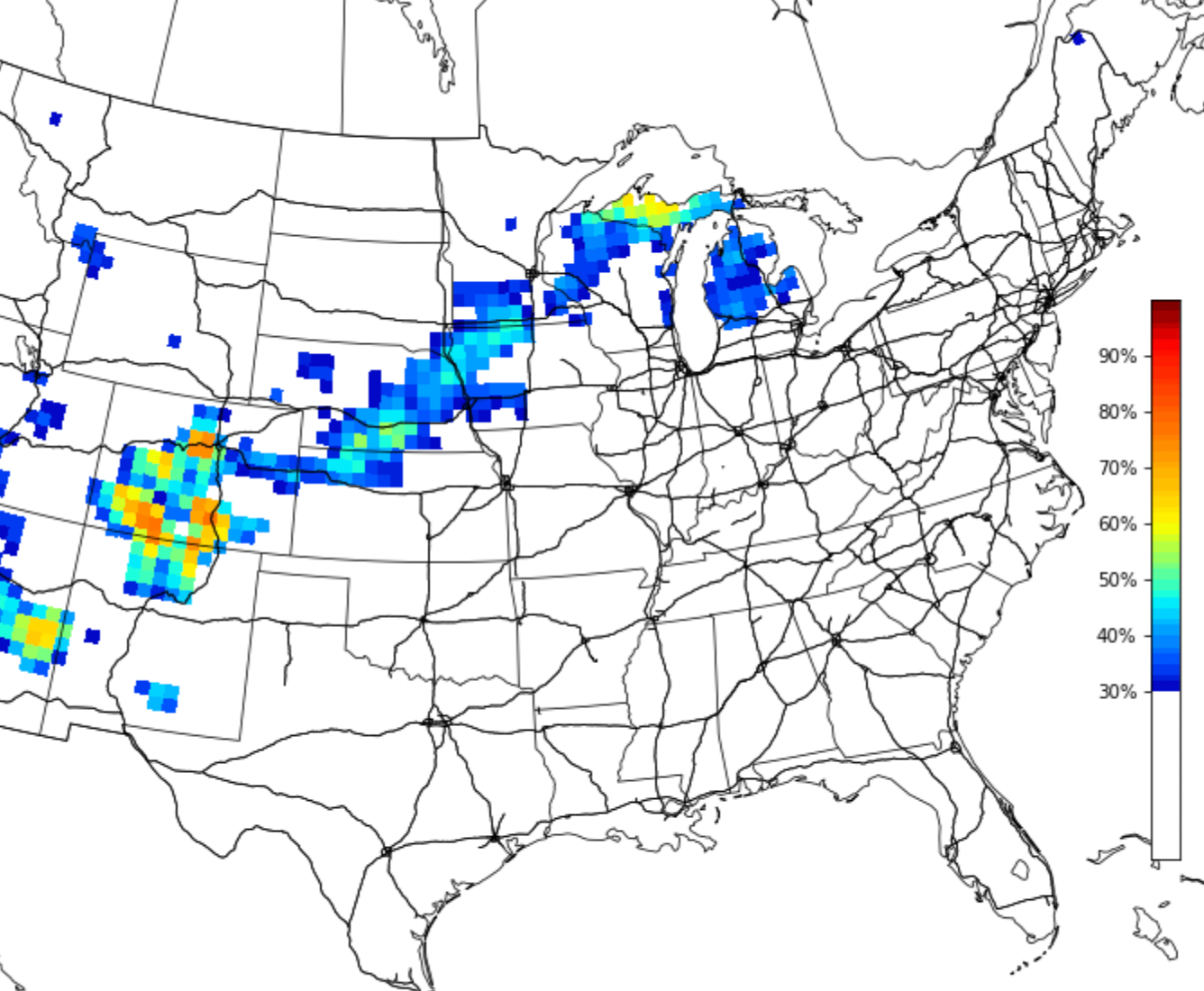 We see a similar idea from the European ensemble probabilities, with good odds for 3" of snow or more, but considerably lower odds at this time for 6" of snow or more:

For those following our snowfall gamblers, they are notably DOWN this afternoon compared to last night, but remain healthy nonetheless in many cases. Easy enough to like 4 - 8" for Denver with these odds, good odds for Castle Rock as well, with plenty of questions for the surrounding cities. If trends continue to drop, then of course that 4 - 8" number will need to be reevaluated.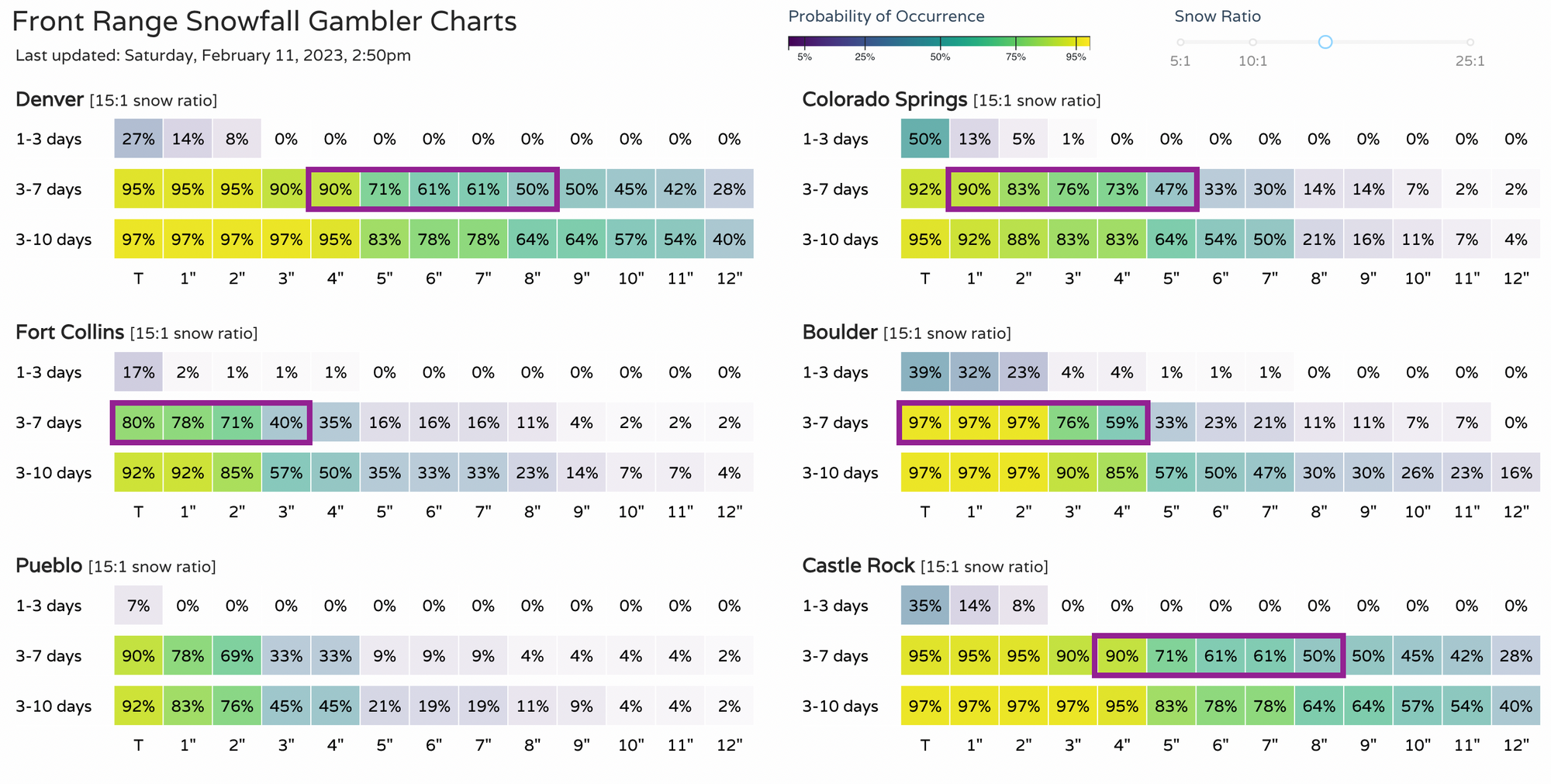 Stay on top of this storm(s) with our snowfall forecast to come out soon – subscribe to our email list today – it's free, and we send you an email when there's important information and forecasts to deliver.