How'd you sleep through some of that wind last night? It was howling in a lot of areas, and the wind will continue for many of us today through Tuesday as the next system develops and moves into the region.
Peak wind gusts since midnight, a few spots hit 70+mph gusts in the foothills near Boulder and Golden: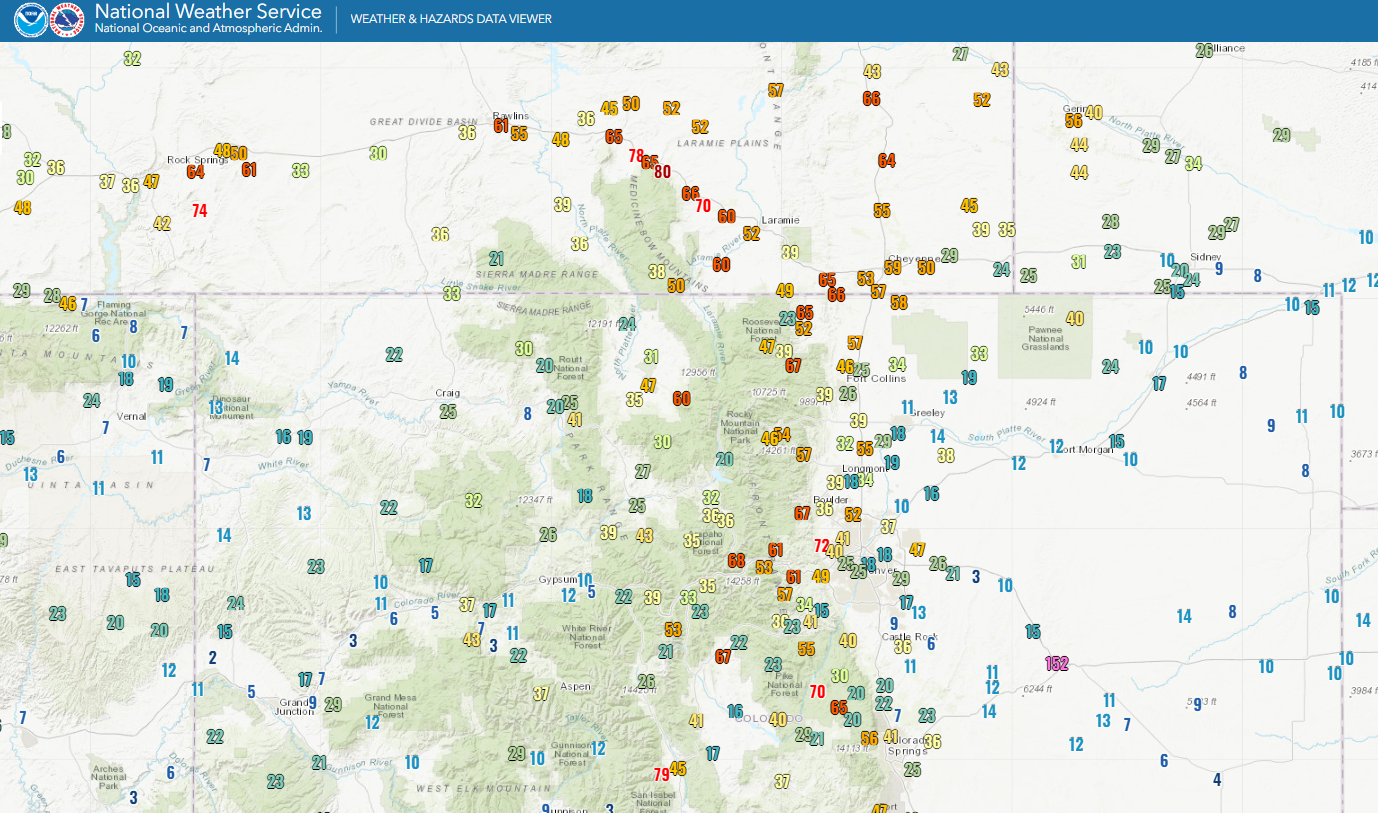 Here are Weather5280, we hit 65 mph at 5:50 am, on our Kestrel 5000. You can view tons of weather stations on ambientweather.net.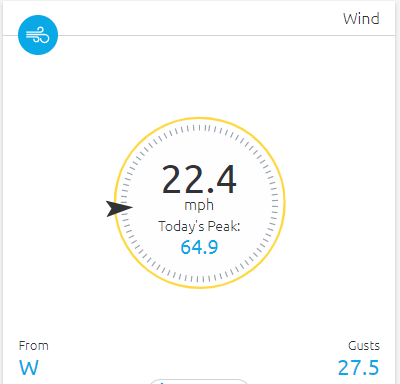 As mentioned, that wind will continue through the next 24 to 36 hours or so. The problem that you may not be expecting is wind blowing snow over roadways creating unanticipated icy patches.
Wind is one of the alerts in place right now across the state.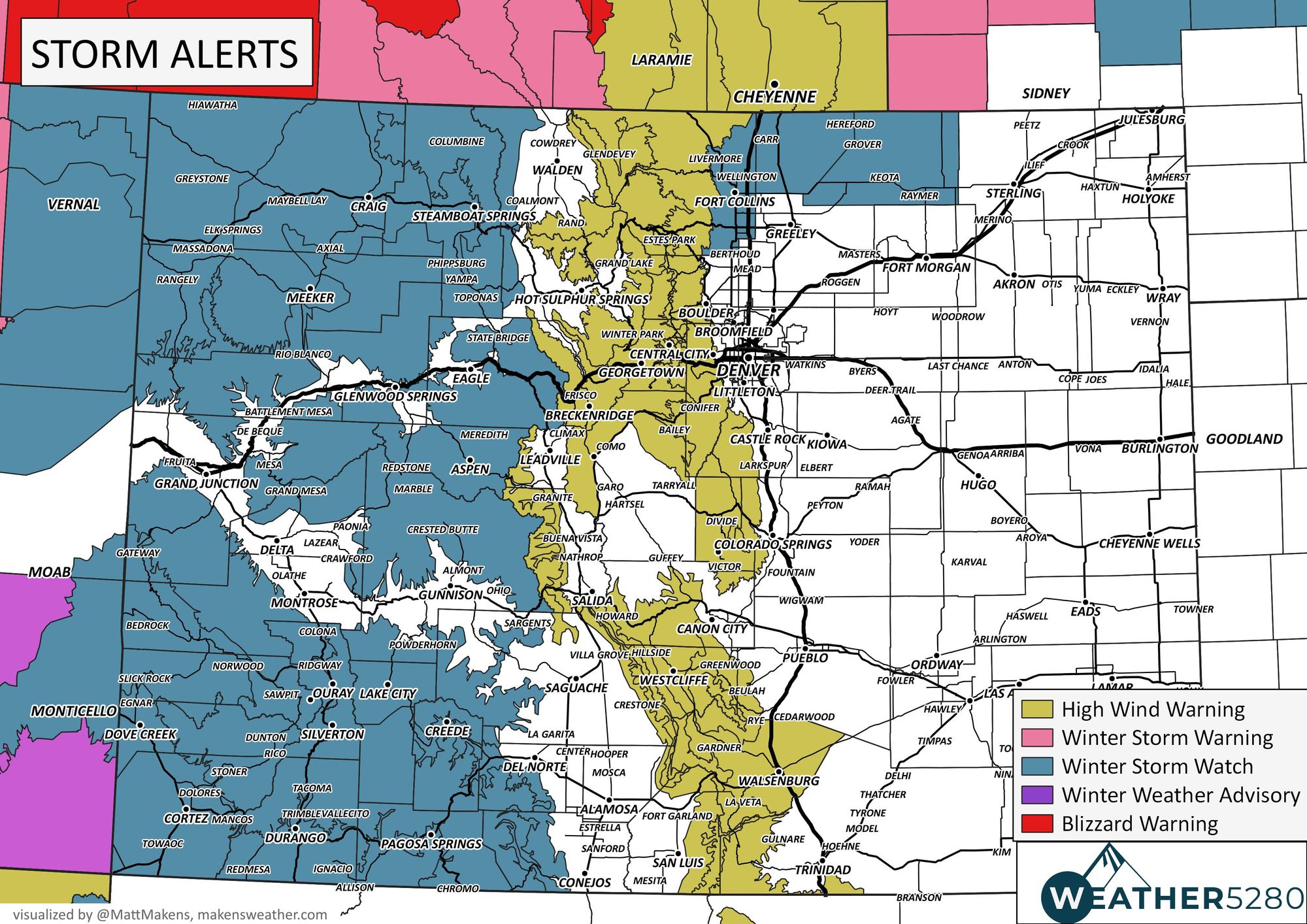 The other, winter storm watch, is posted for roughly half the state as we track the incoming storm for Tuesday through Wednesday.
The timeline for Denver shows a warm pair of days before temperatures fall, and you can also see the increase in snow chances late Tuesday through Wednesday.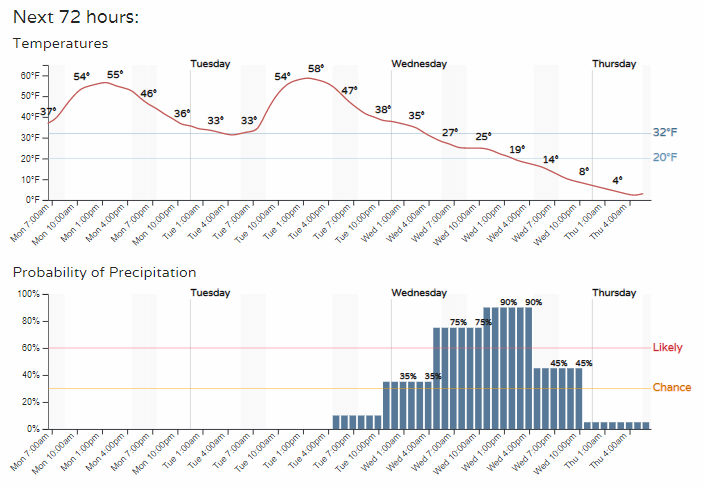 As of Monday morning, data through this point all indicate that NoCo will have the heaviest impact of the incoming system.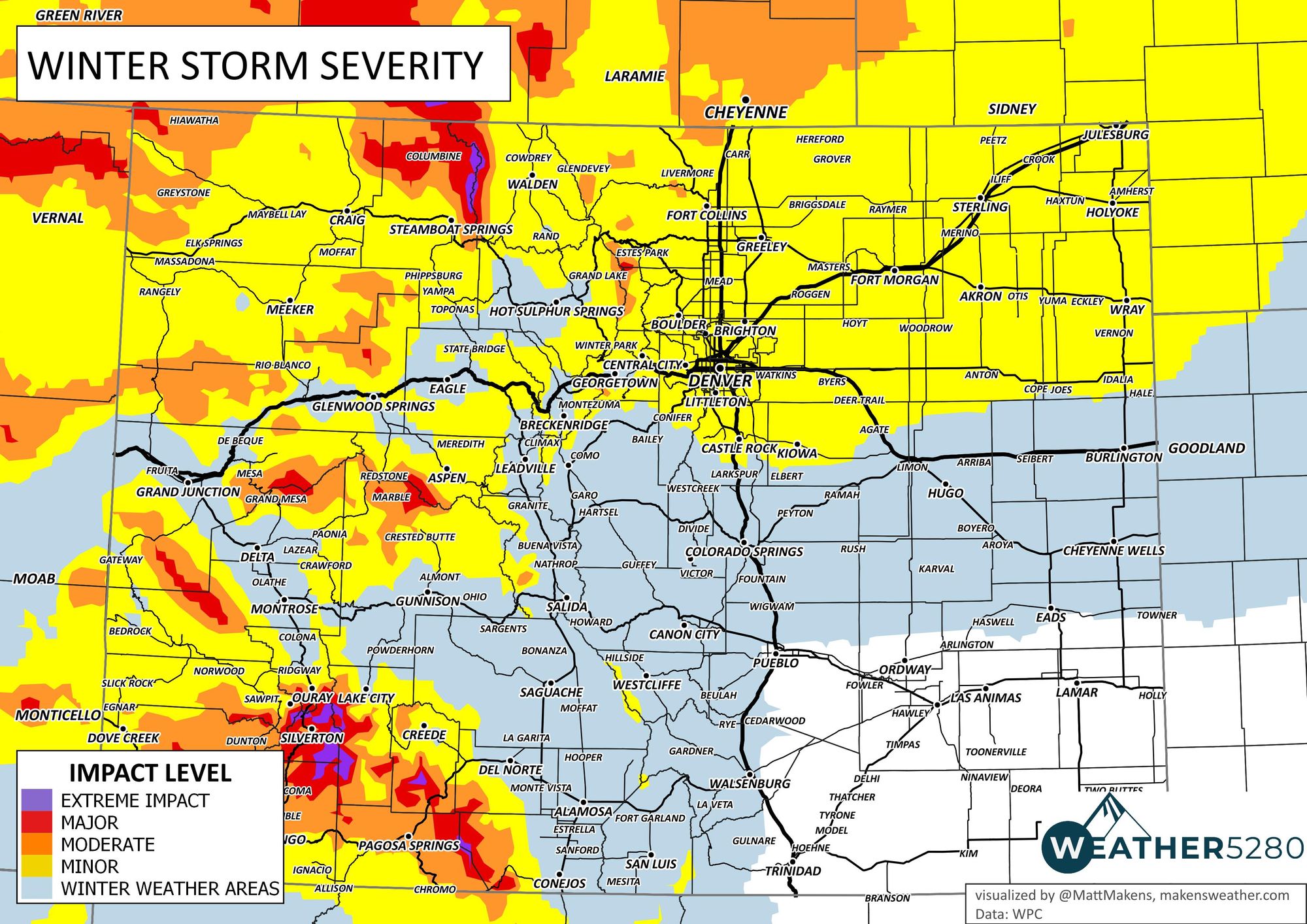 With that in mind, let's look at the snow timeline for Fort Collins and Denver.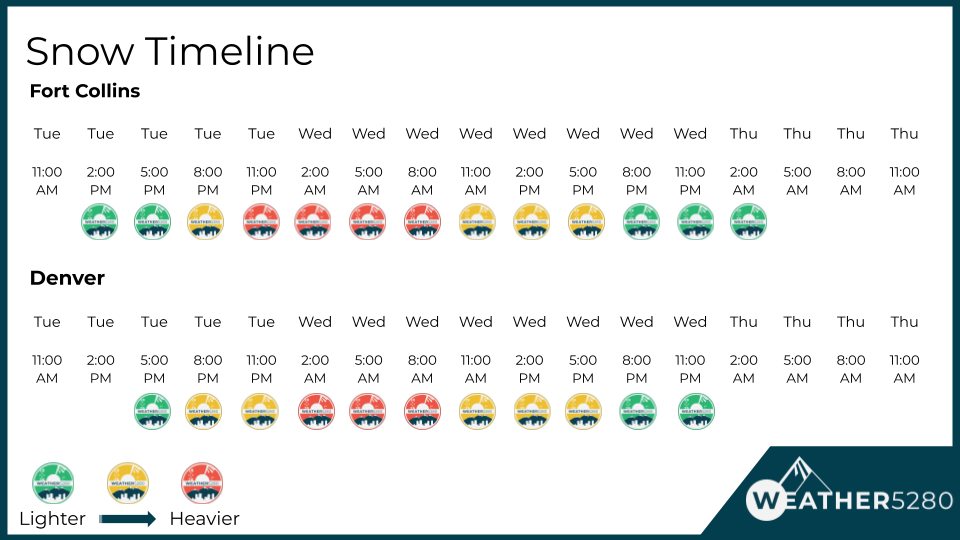 As a result, many of us end up with another heavy snowfall event. You can see the quick drop in totals as you head out of the mountains, and south of NoCo toward Castle Rock and Colorado Springs.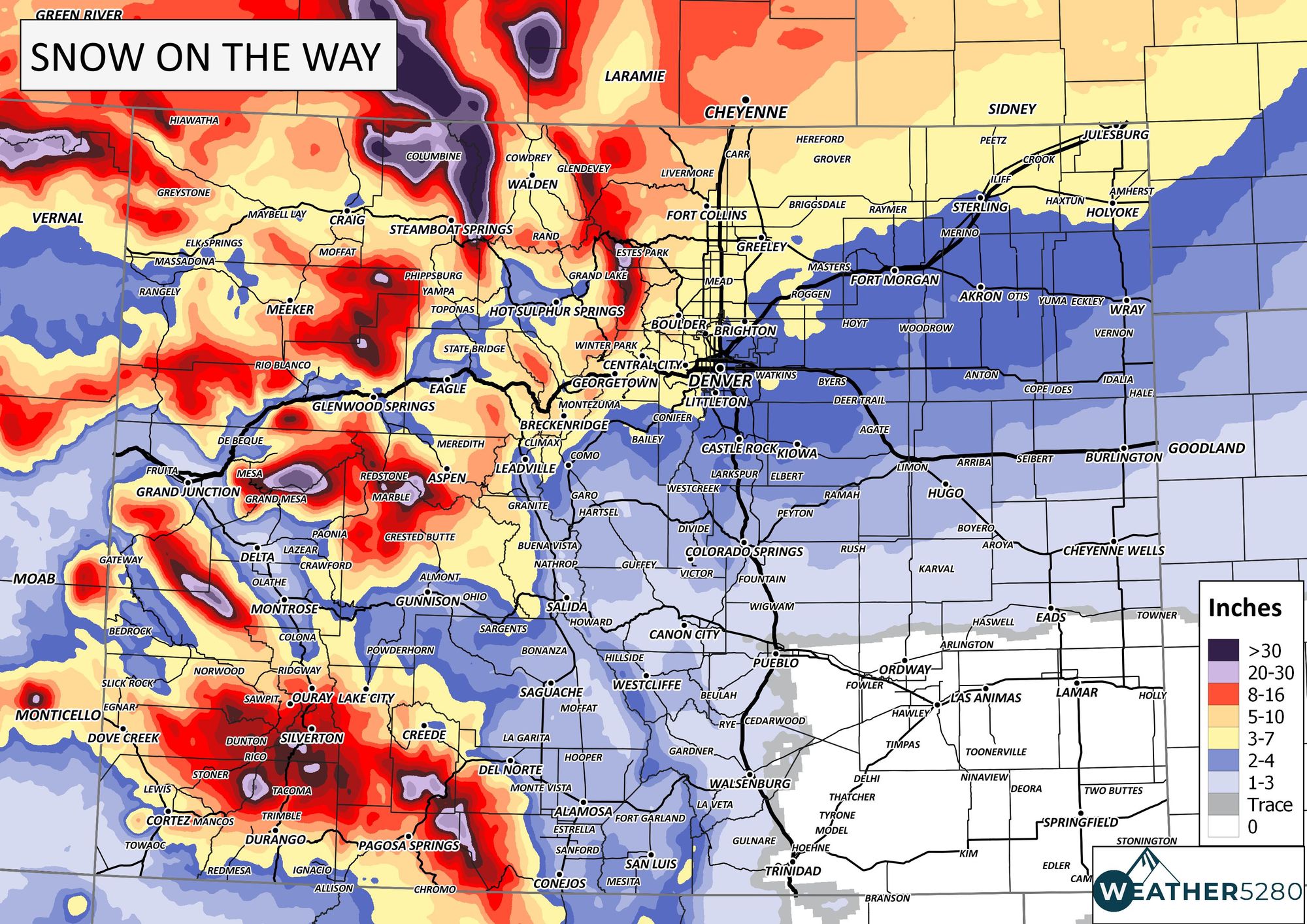 Fort Collins is sitting in the 3 to 7" range with 5-10"s north and west of the city. Boulder is in the same situation as Fort Collins. Denver has a 2 to 5" swatch across the metro area, Castle Rock in the 2 to 4" and Colorado Springs lowest - closer to a 1 to 2" possibility.
This is a major winter storm that will slam the Northern Plains and Upper Midwest. To see the storm on a bigger scale, here's the latest Daily Shower:
As we say, "Don't get left out in the cold!" – subscribe to our email list today – we send you an email when there's important information and forecasts to deliver, especially with our snowfall forecasts to come your way this week.