Sunday is shaping up to be pretty nice! There will be wind and it will focus on the Palmer Divide, and all across Southern Colorado before ramping up in the mountains and foothills west of Denver tonight.
Below are the alerts in place, we have a few regarding snow but most you see here are for winds, particularly east of the Continental Divide: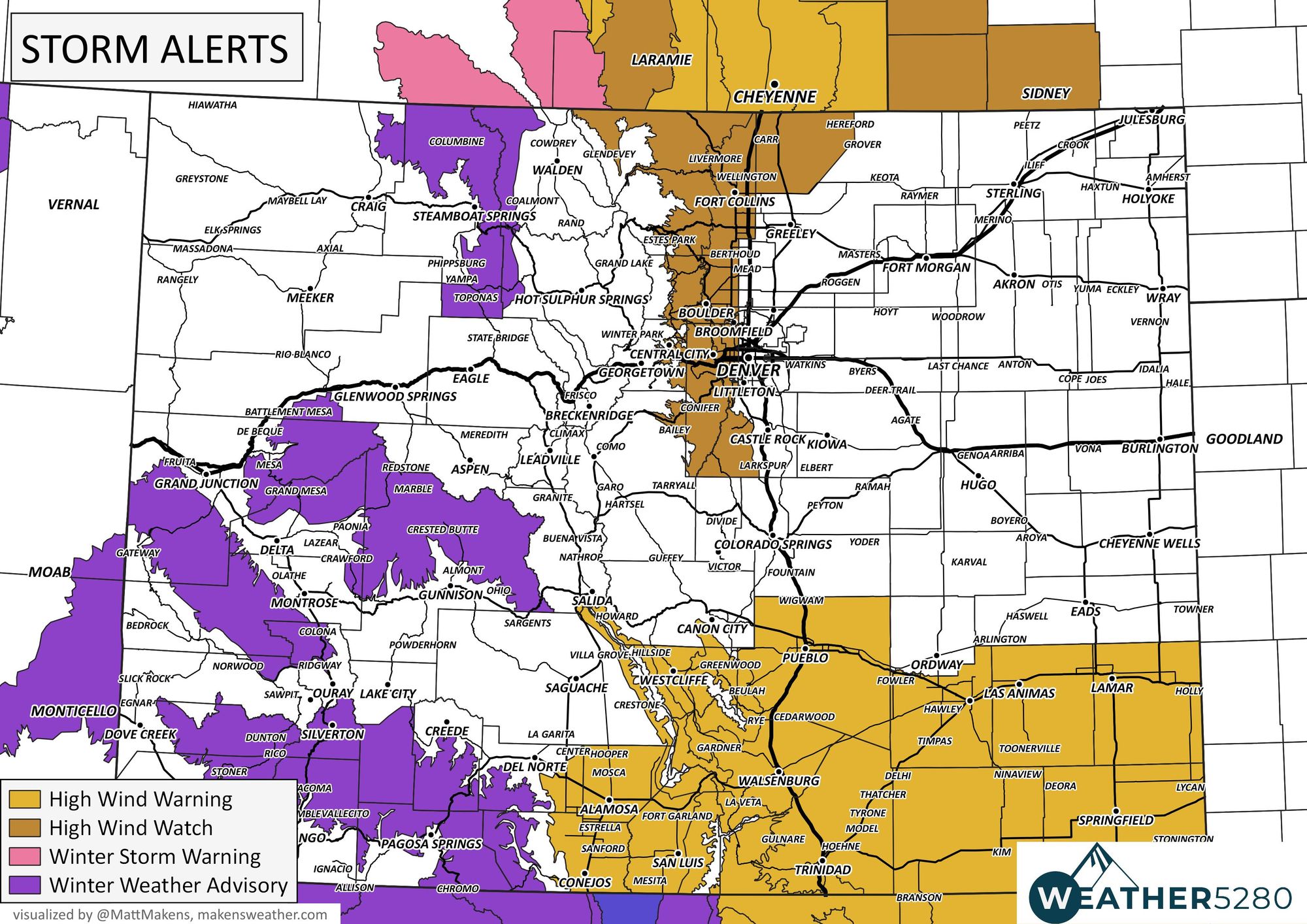 The specifics for those zones highlighted near Denver:
...HIGH WIND WATCH REMAINS IN EFFECT FROM 5 PM MST THIS AFTERNOON THROUGH MONDAY MORNING...  
* WHAT... West winds 35 to 55 mph with gusts up to 80 mph possible.  

* WHERE...The Northern Front Range Foothills, The Southern Front   Range Foothills, Fort Collins, and Boulder and the western suburbs   of Denver.  

* WHEN...From 5 PM MST this afternoon through Monday morning.  

* IMPACTS...Gusty winds will blow around unsecured objects and a few   power outages may result. Travel could be difficult, especially   for high profile vehicles. Strong winds will lead to elevated fire   weather conditions in areas without snow cover.
Temperatures for Sunday afternoon's highs are shown here. For Denver, we average out to about five days in the 60s each February, this year we have only managed one thus far.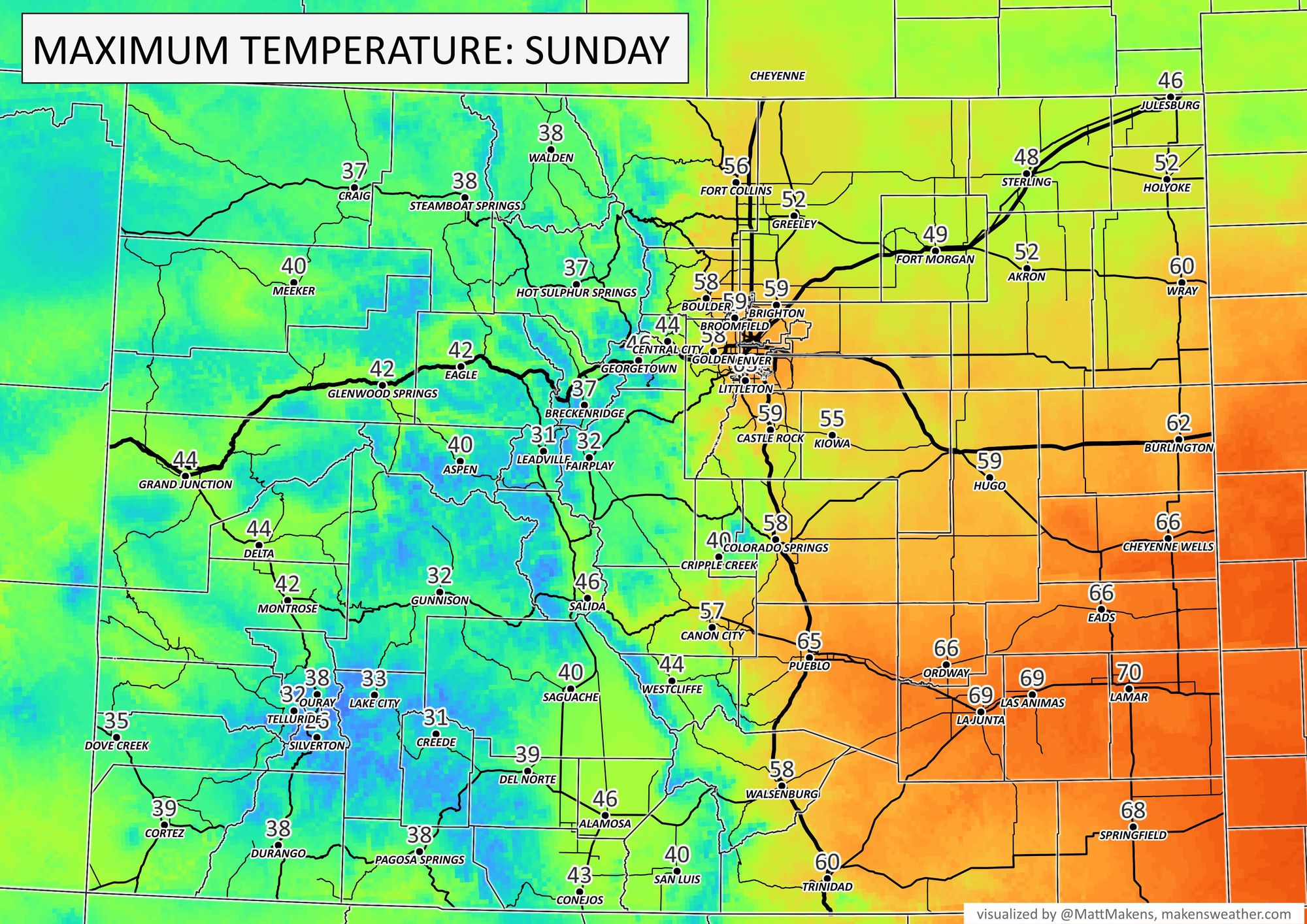 Further, temperatures this winter are averaging out to be near 28°, currently 14th coldest December to February period on the Denver Area record.
Temperatures after Sunday do begin a gradual decline, coldest Thursday and that's when the next system will have moved through.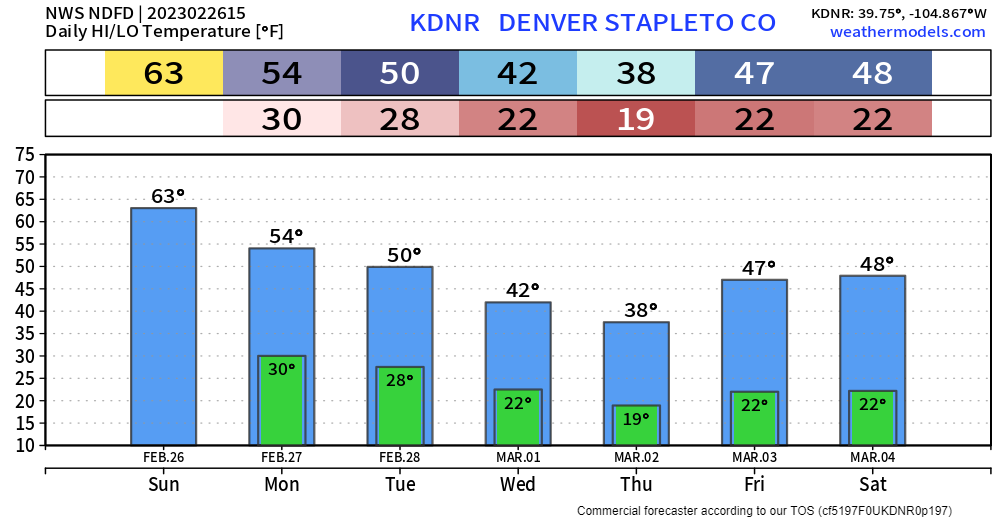 Let's turn now to snowfall, first by looking at how much snow fell this past week. For Colorado, I added some CoCoRaHS sites where public observers sent in their snowfall totals.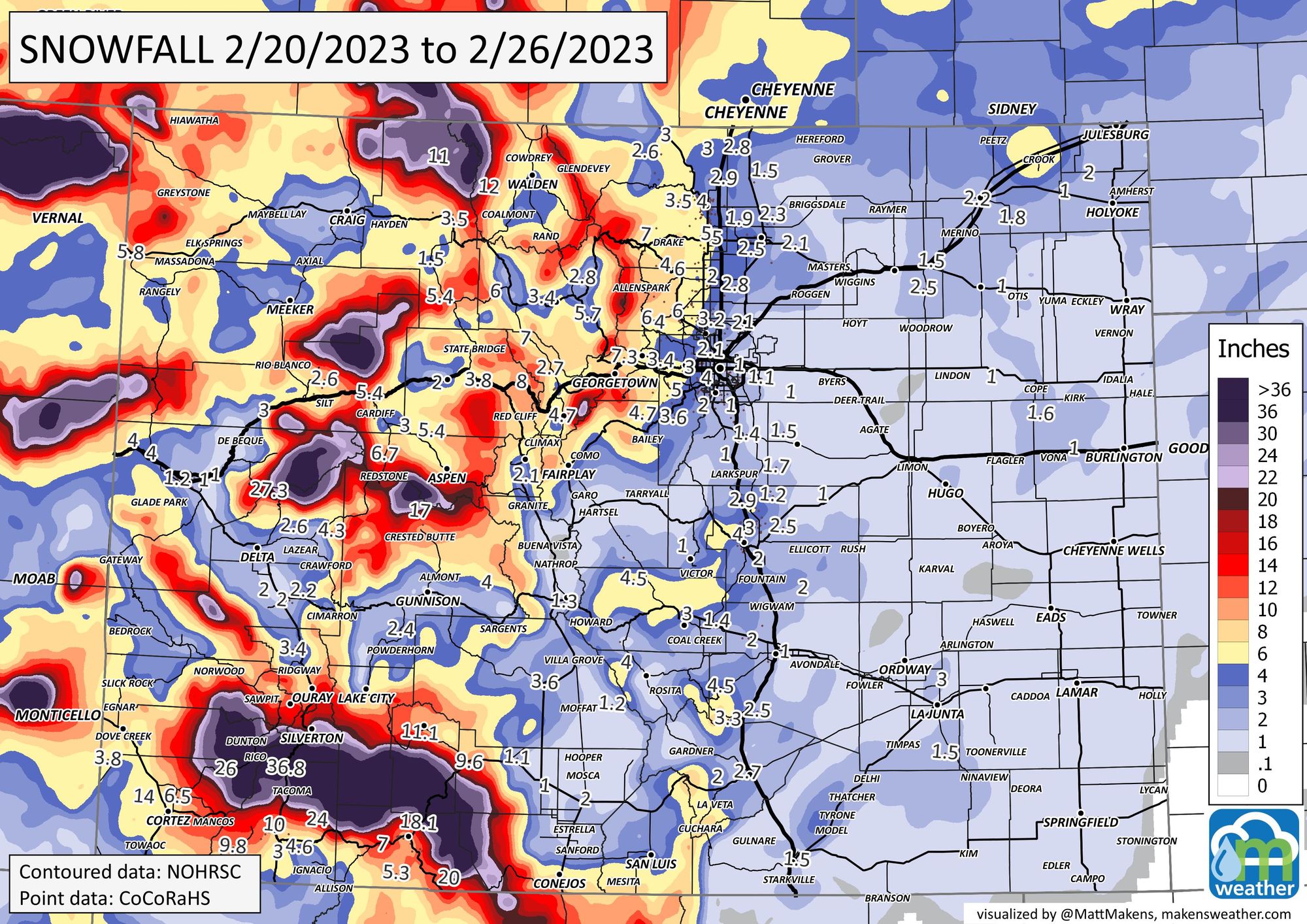 The San Juans in the southwestern part of the state had quite a week. So did folks across the Northern Plains, Upper Midwest, and out west in California.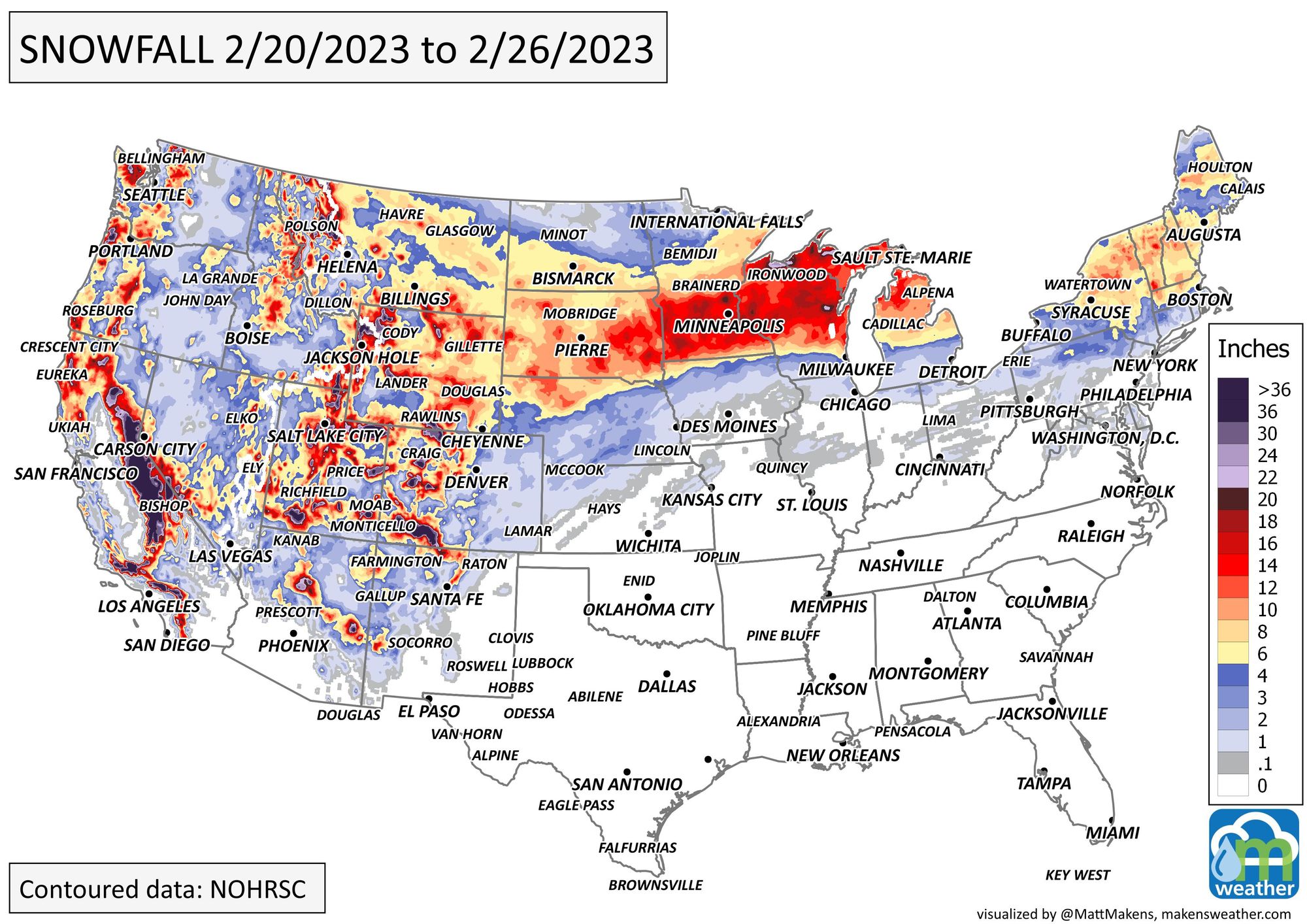 For the week ahead, there will be snow on the way to a lot of places, including Colorado by later Wednesday through Thursday. I cringe when folks make a snowfall forecast for city locations so far in advance, and we aren't going to do that here, but for a general idea of where the heaviest snow will fall, we can look at the next week to see that the West, and mid-Atlantic to New England states will have the most, with a relative gap through the nation's midsection.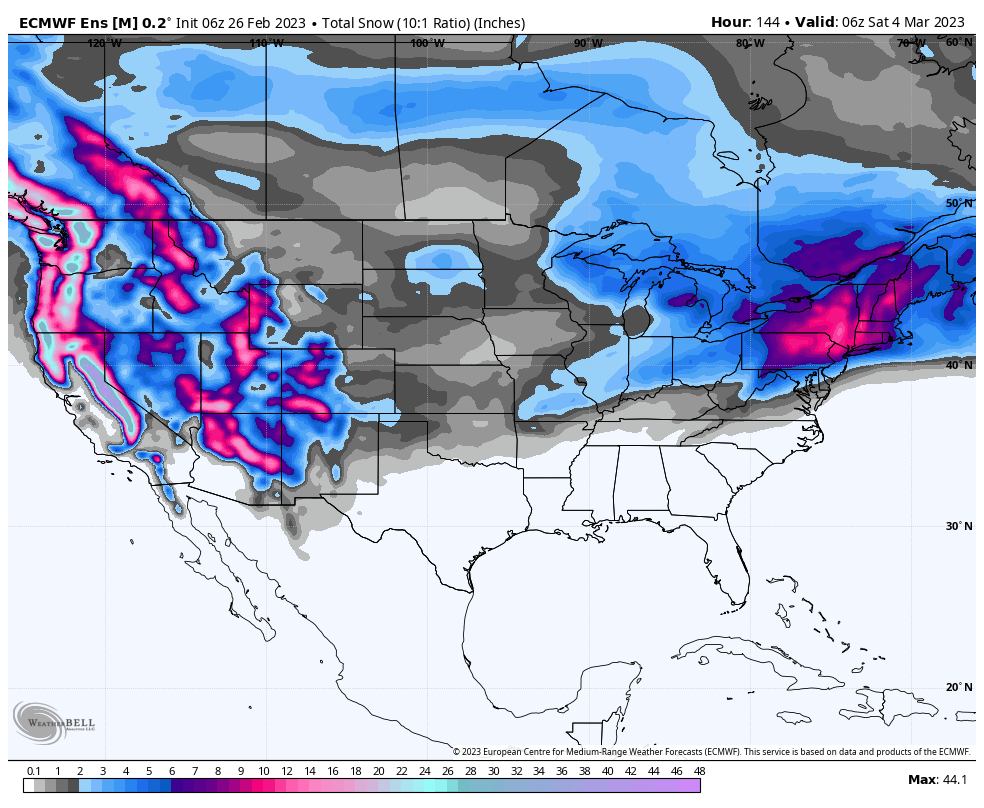 As we get within 72 hours of the storm, that's when we begin to get increasingly specific with the snow's timing and totals. Don't miss those updates – subscribe to our email list today – we send you an email when there's important information and forecasts to deliver.