Showers have moved into the state, and some have developed on the Plains and are trying to push into the metro areas. Expect periods of showers today through the next few days, although tonight through Thursday have the higher chances.
If you prefer a video discussion of the forecast:
The Latest: Let's begin with the chances timeline and we'll use Fort Collins for this example.

Notice two peaks in snow chances, later today and another later Friday. Considering these are hit and miss showers, let's look at possible intensity timelines for Denver and Colorado Springs.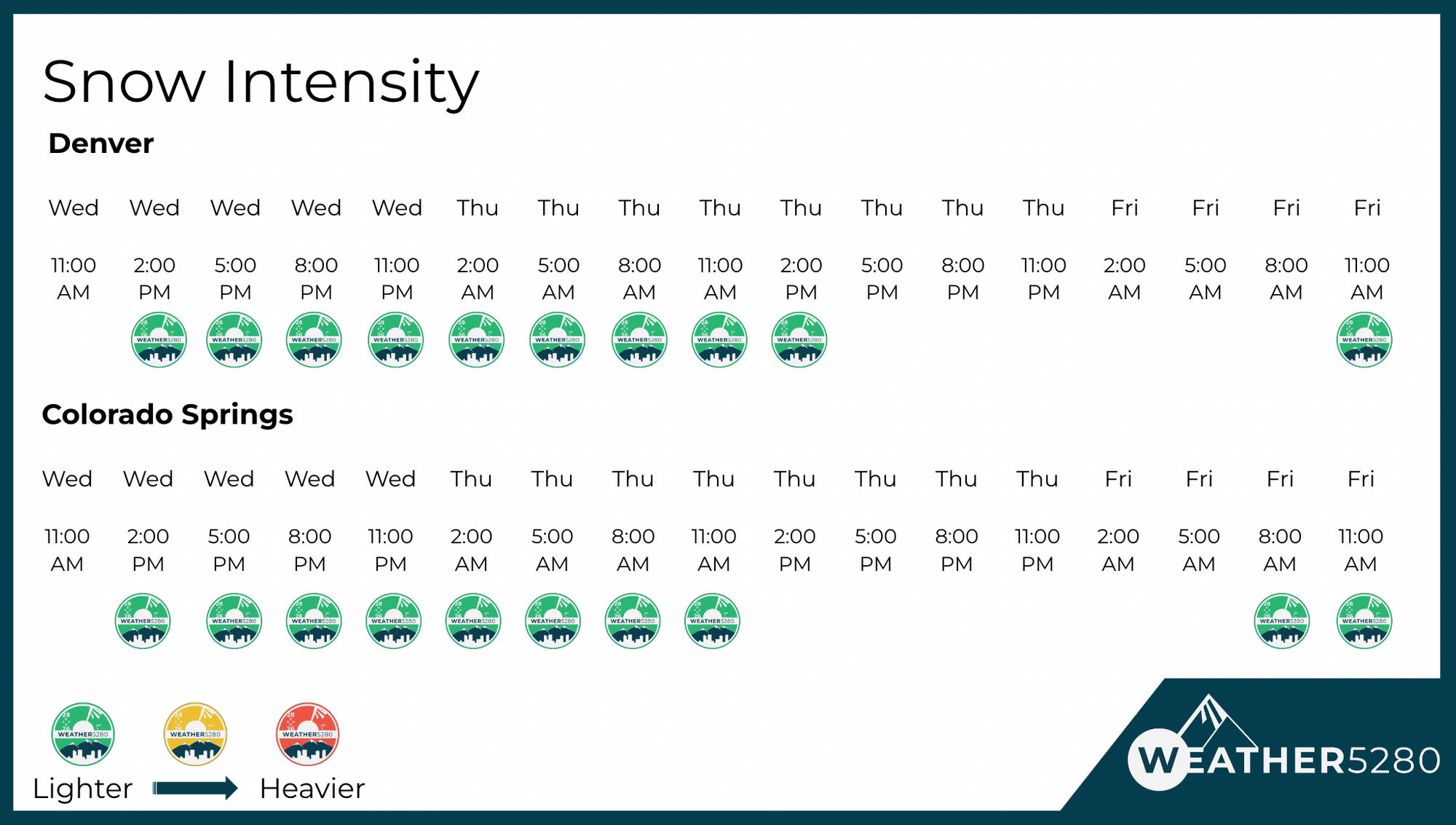 We aren't expecting an overly robust snow, and some of us won't even see it accumulate, but let's discuss where the bigger impacts will be.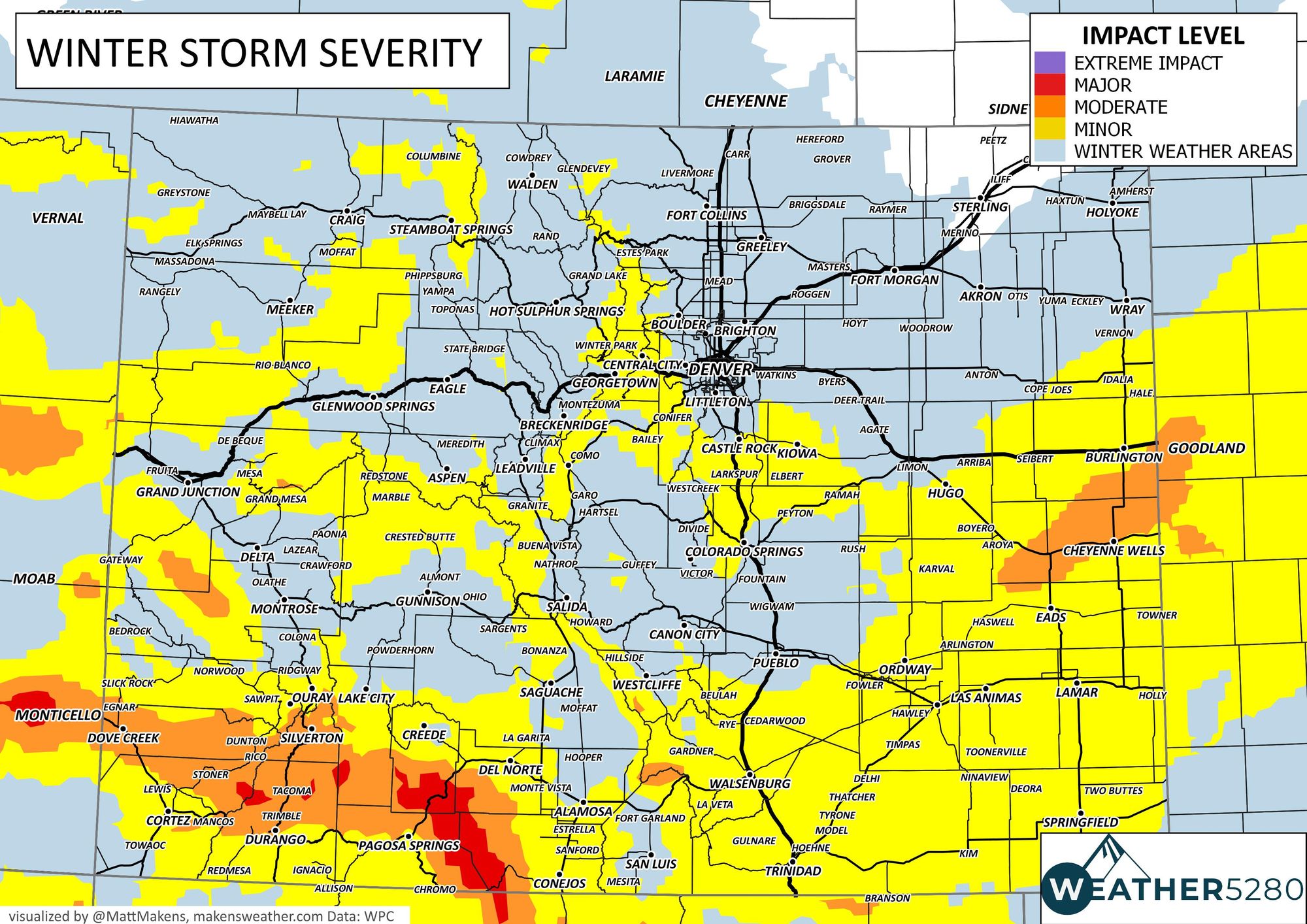 From that impact map, higher impacts will come to Southern Colorado and on the Eastern Plains near the state line with Kansas.
Those areas have the current alerts, no alerts are in place for the metro areas.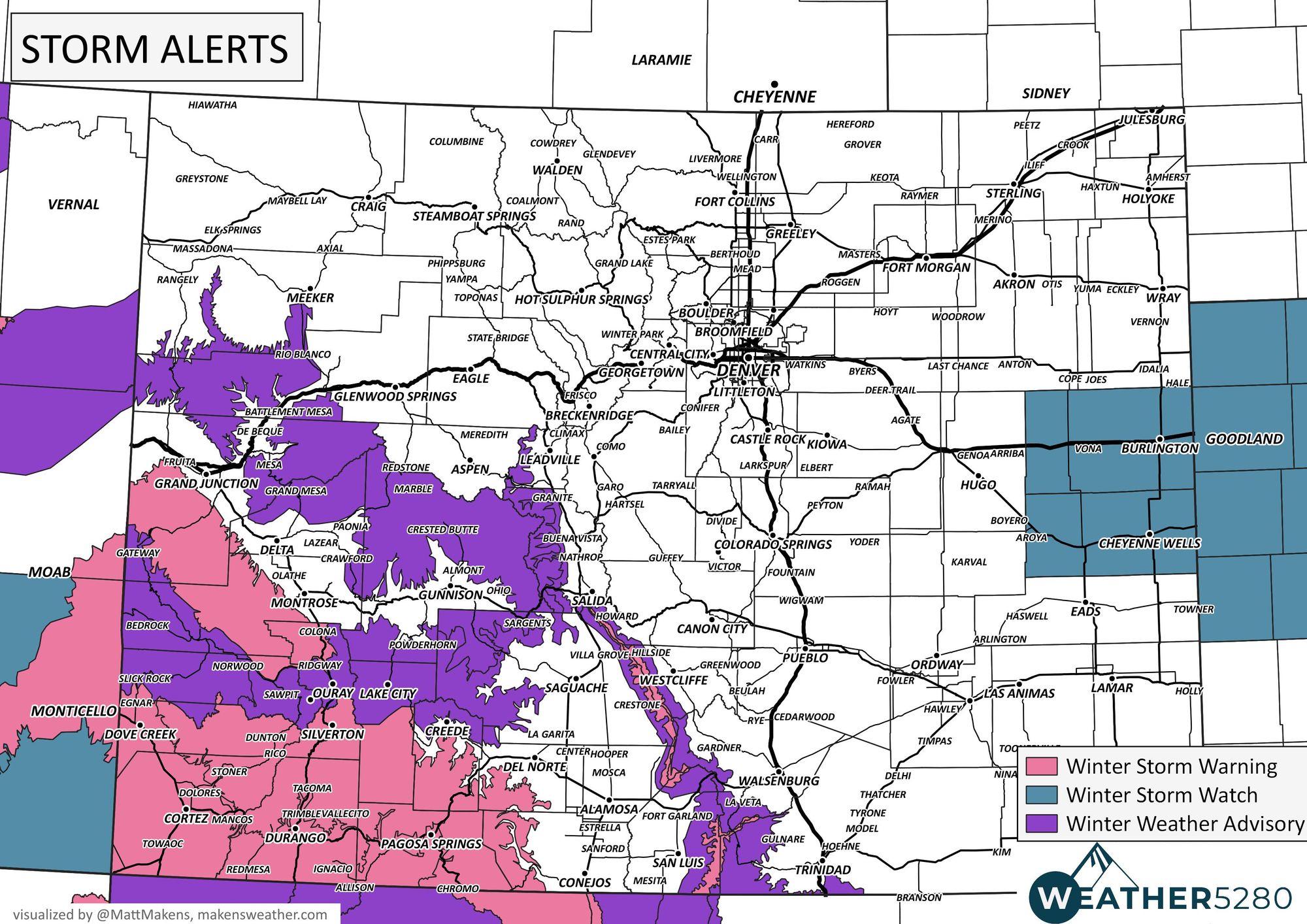 That's not to say there may not be some slick roads in either Denver or Colorado Springs, or any other community along the Front Range. That is to say that the odds are lower for widespread impact this time. The best way to visualize that may be with the snowfall forecast: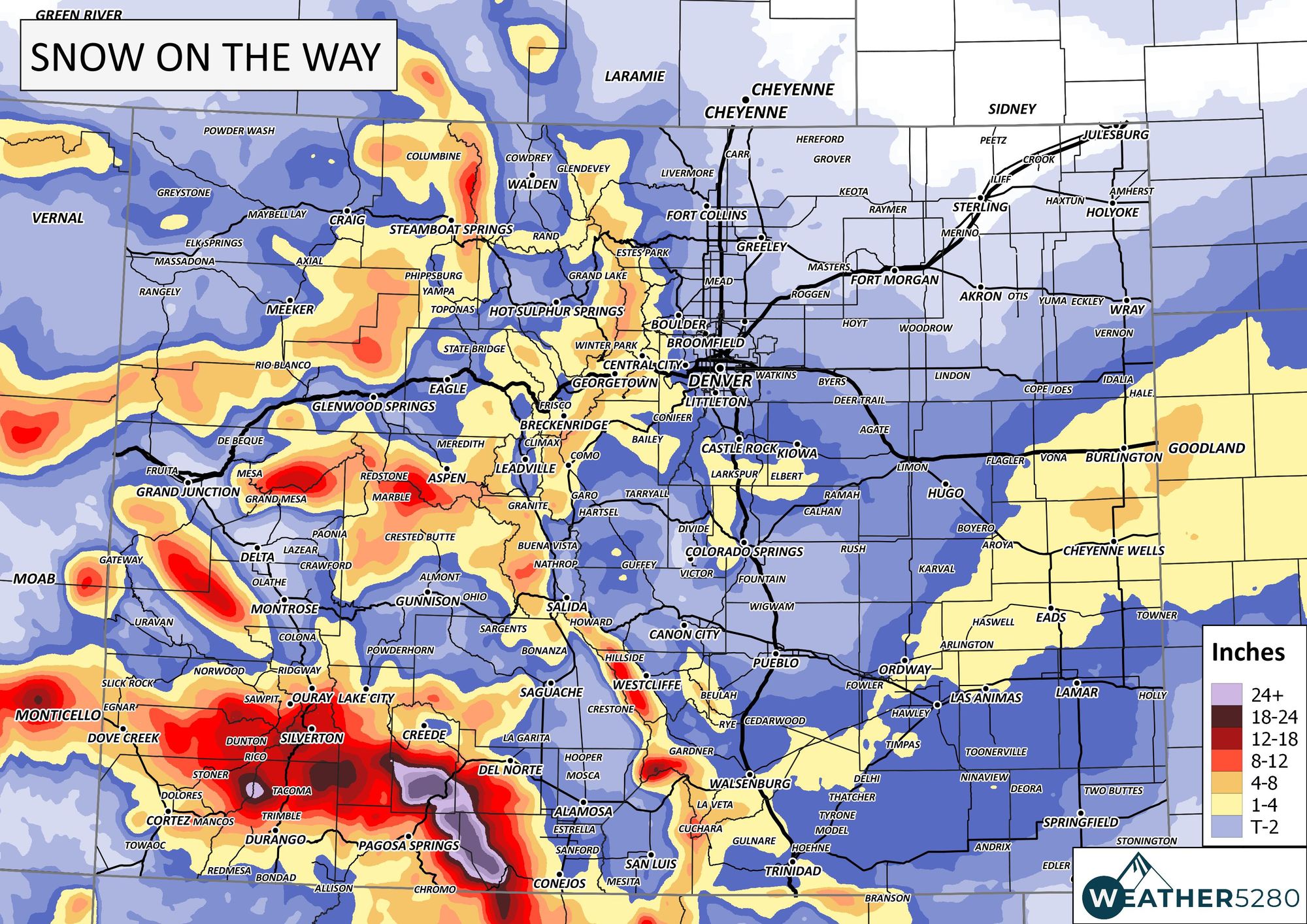 The San Juan Mountains will pick up a couple feet of snow, the Eastern Plains will have several inches, and a small pocket of heavier totals is possible on the Palmer Divide, so let's zoom in.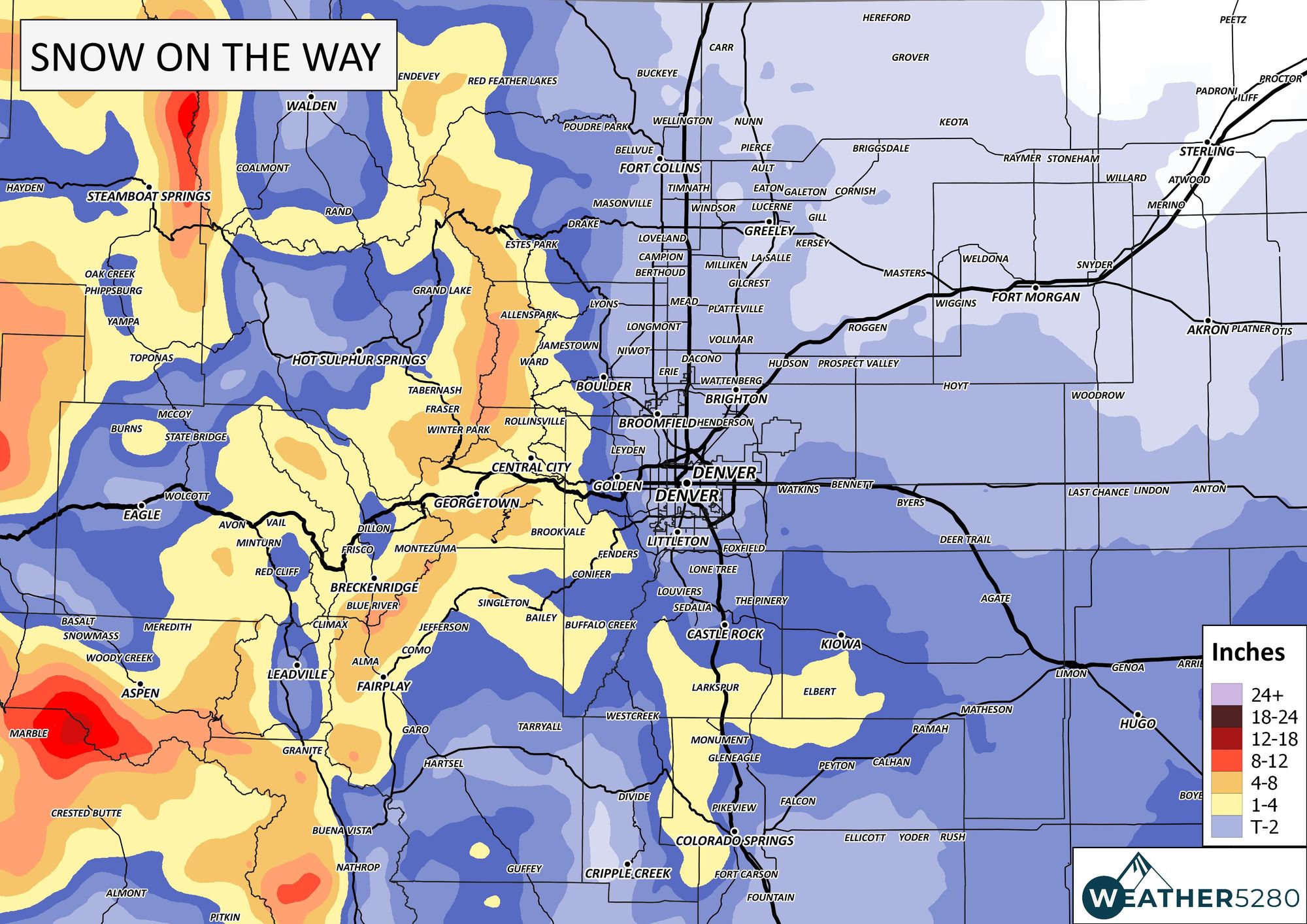 That pocket of heavier snowfall between Denver and Colorado Springs is possible, but even still with lower odds. Here's a look at our Gamblers Data for the Colorado Springs area, which shows a low-end potential for a couple inches.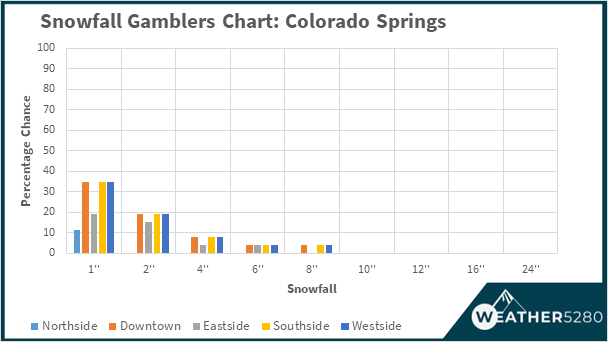 Bottom Line: Yes we have some significant snow to move through the state, but it isn't a major looking event for any of the metro areas - isolated impact areas, yes, but not widespread for the cities. We will continue to watch the snow chance that develops Friday and will have that forecast in a future article.
Don't miss those updates – subscribe to our email list today – we send you an email when there's important information and forecasts to deliver.
As we go through the day and night during today's event, we will provide radar images to our Twitter feed.