Another rather remarkable weekend of weather is on tap for the Western United States as another Atmospheric River event gets cranking across California, and high elevation snow across the west continues to pile up. Here's a look at all the wet weather moving inland over the coming days, the animation valid from this morning through Sunday night: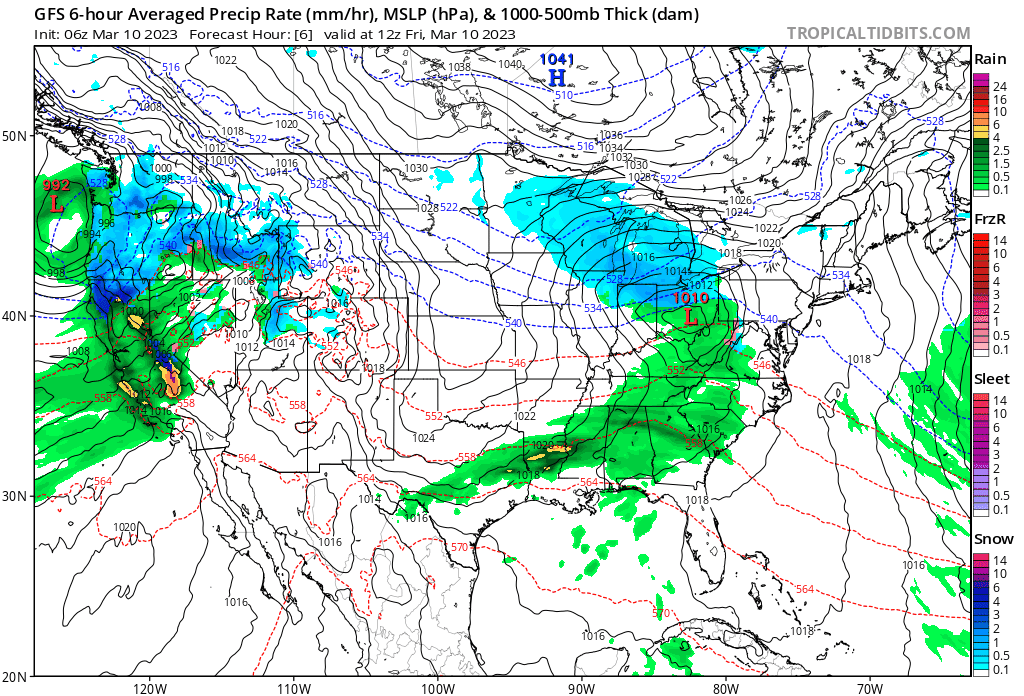 And the expected precipitation accumulation for the same period: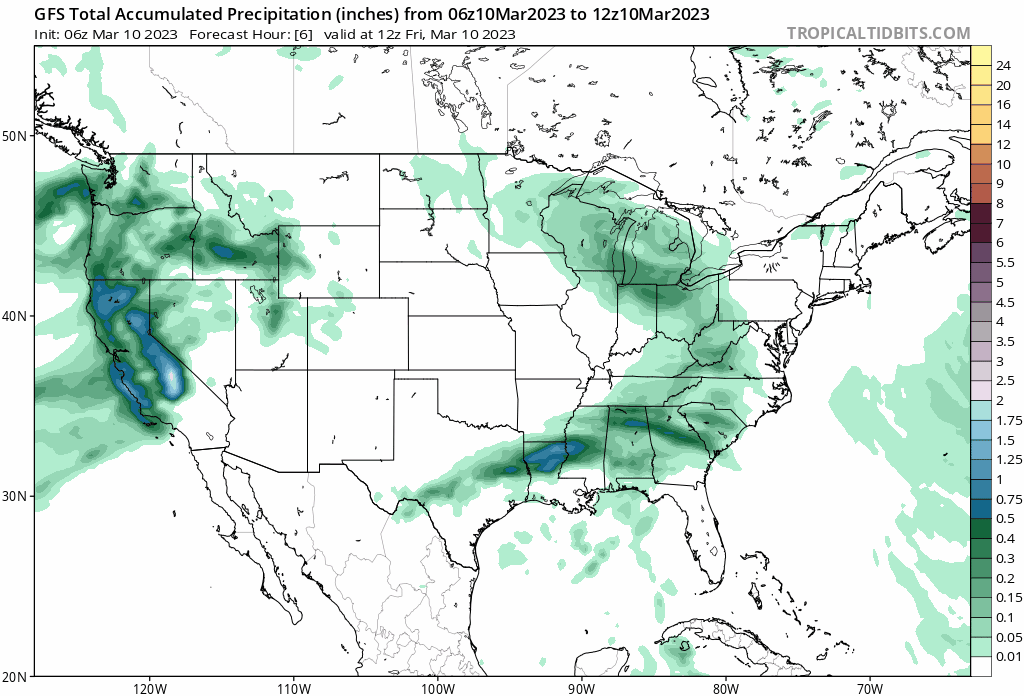 For California that will equate to more than 5" of precipitation in the coming days in some cases, with that falling in the form of heavy rain at lower elevations and high, wet snow at higher elevations. The flood risk will be quite high, with ongoing structural issues as snow continues to pile up on top of feet-deep snowpack across the state.
Colorado will capitalize on some of this moisture as well, with good snowfall in the forecast for much of the high country, particularly areas south of I-70. Most mountain locations are under a Winter Storm Warning from today through Saturday night, with totals ranging from 10 to 36" of snow.
Below is a look at current NWS highlights across the state, a lot of Winter Storm Warnings and Advisories in place!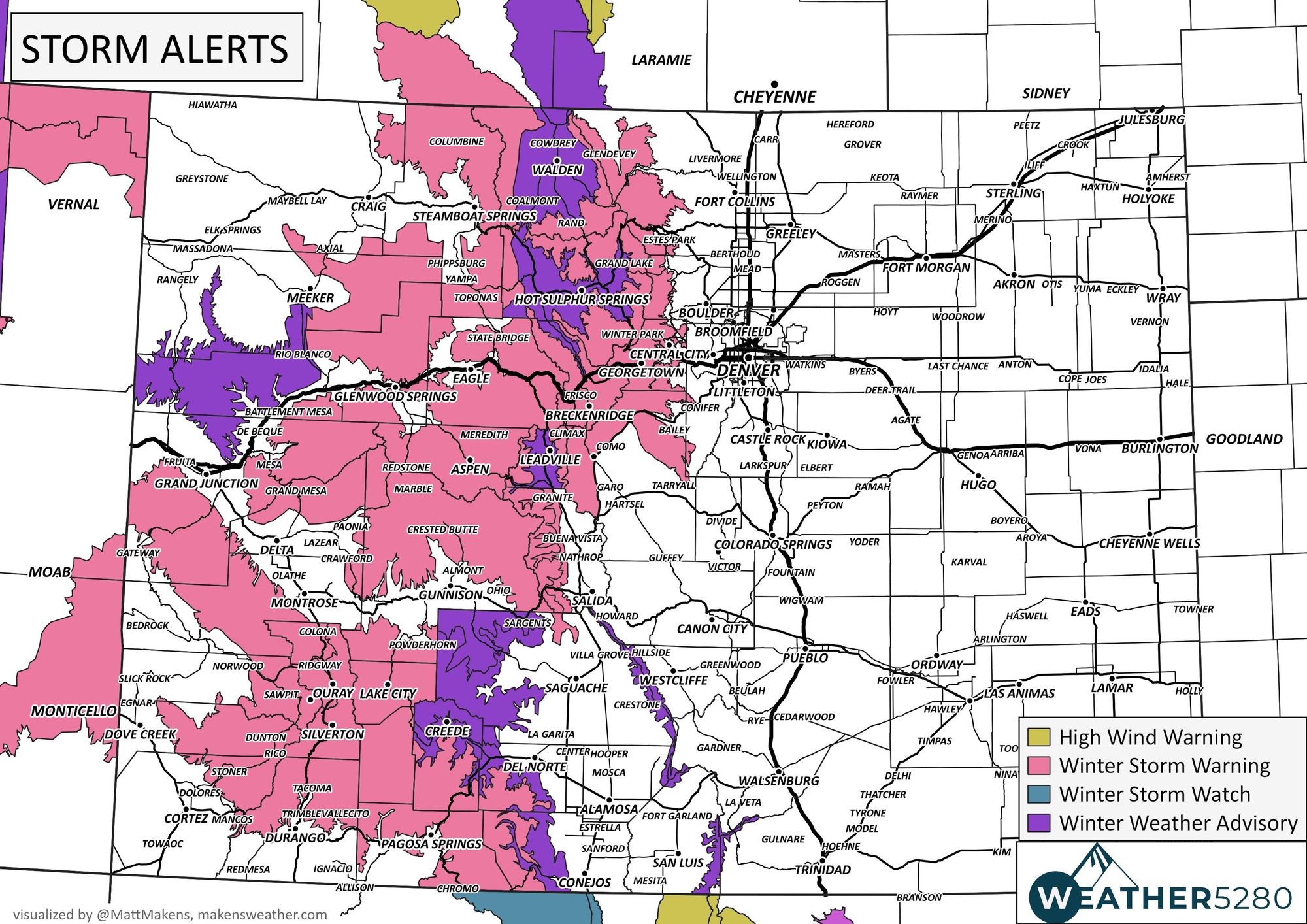 And expected snowfall through Sunday: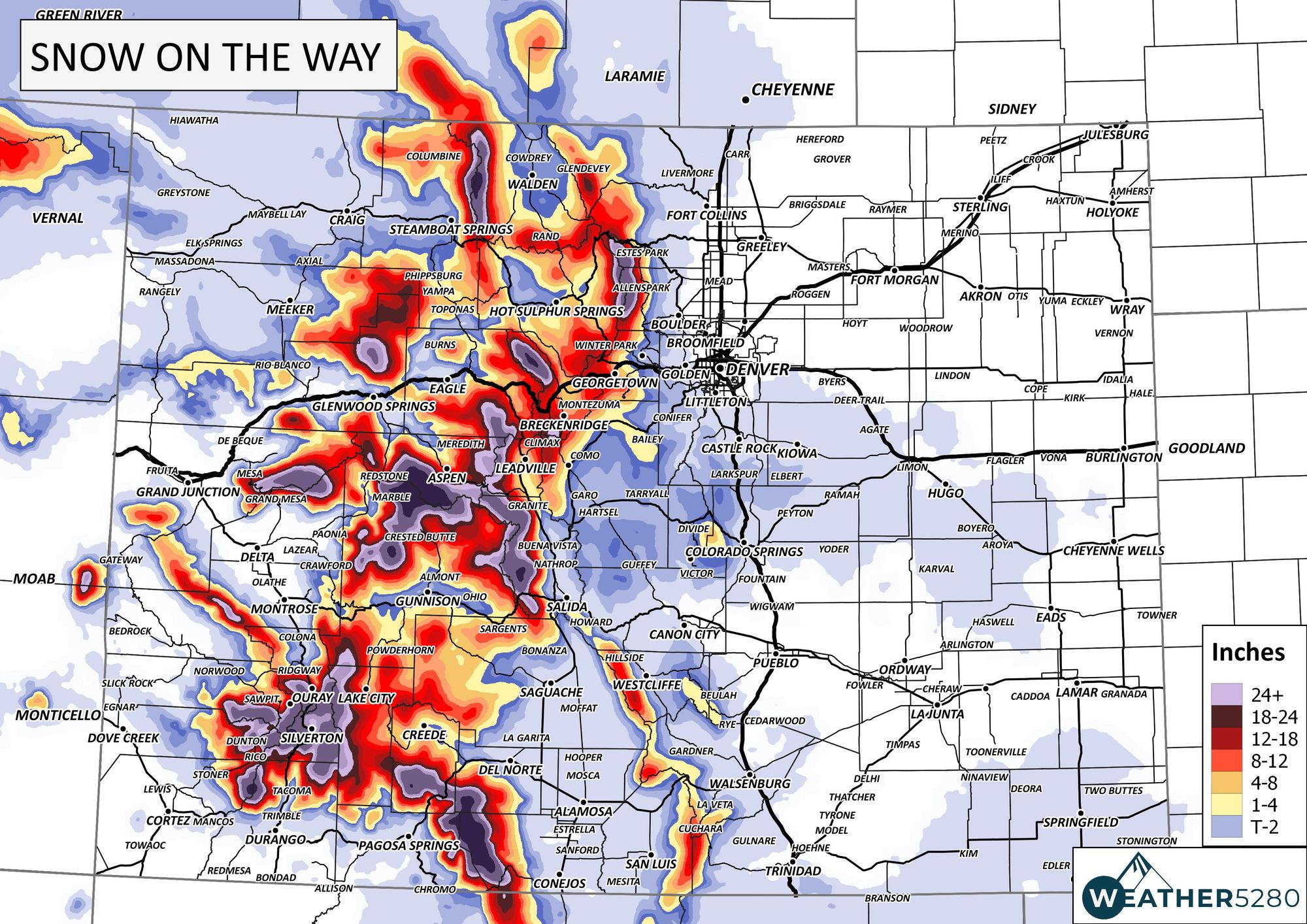 While the heaviest snow this weekend will fall in the mountains, you'll note the chance of snow we have in the forecast east of the hills too.
Precipitation chances will increase through the morning Saturday for the urban corridor and eastern plains. As this system does not have all that much cold air to work with, for many of us that means a chance of rain on the way this weekend.
By Saturday night some of that rain will changeover to snow, and where we do see that changeover it's possible we'll pick up a bit of accumulation as well.
Now, where that snow sets up (and if it sets up) is a hard question to answer. Most models favor the Palmer Divide (makes sense) with perhaps a bit of upside potential for Colorado Springs. Still others produce a rogue snow band from the east side of Denver out onto the plains. Really any of these solutions is plausible at this time, but certainly given the mild temperatures the higher elevations south/southeast of Denver would make the most sense as far as impactful snow potential goes.
The vast majority of folks along the I-25 urban corridor should not expect accumulating snowfall this weekend unless trends change as we head into the weekend. For those that do see that snow Saturday PM/Sunday we expect somewhere in the T - 4" range to be a possibility.
For planning purposes, here's a look at the hourly forecast for Denver: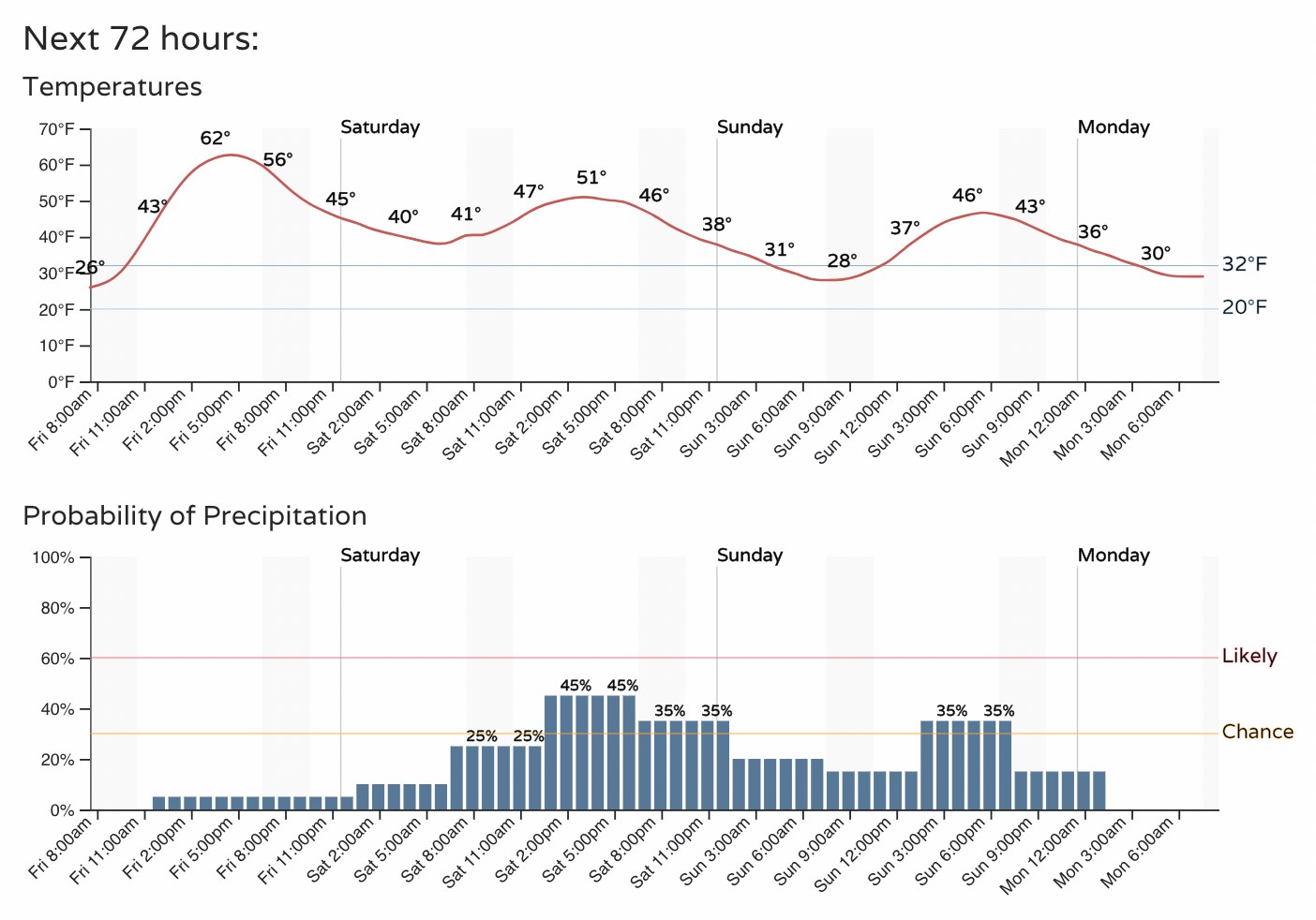 And Colorado Springs: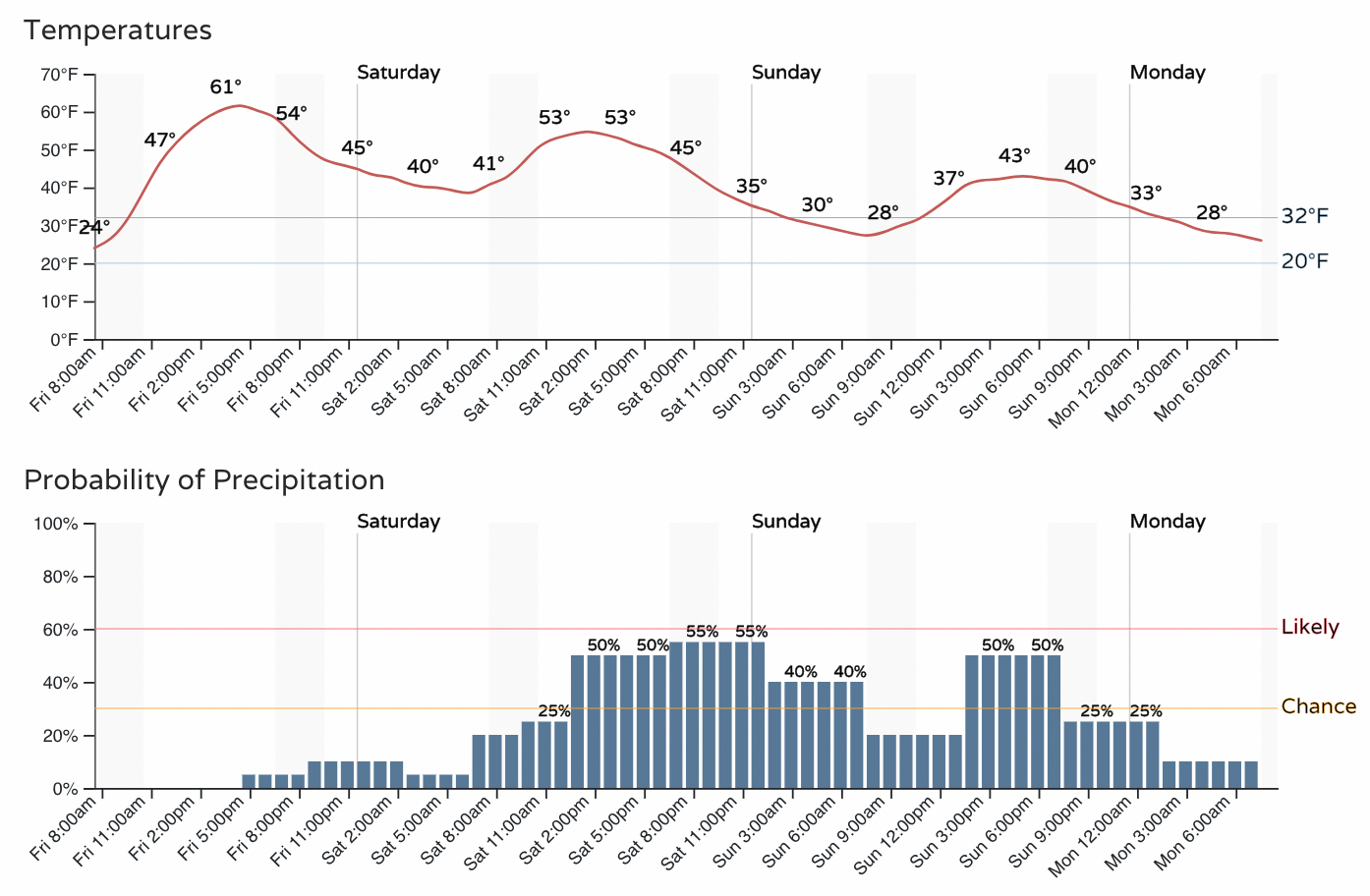 Note that in both cases highs are expected to climb into the low 50s on Saturday as the precipitation chances move in, which is a touch warm for snow. By Saturday evening and into Sunday temperatures will cool, so any lingering shower activity could produce those areas of snow we talked about above.
In addition to the rain and snow headed for the state, there will be some wind to contend with as well. This is particularly true for today and tonight along the Front Range, with the focus of the strongest winds setting up over southern Colorado Saturday before gradually calming Saturday night.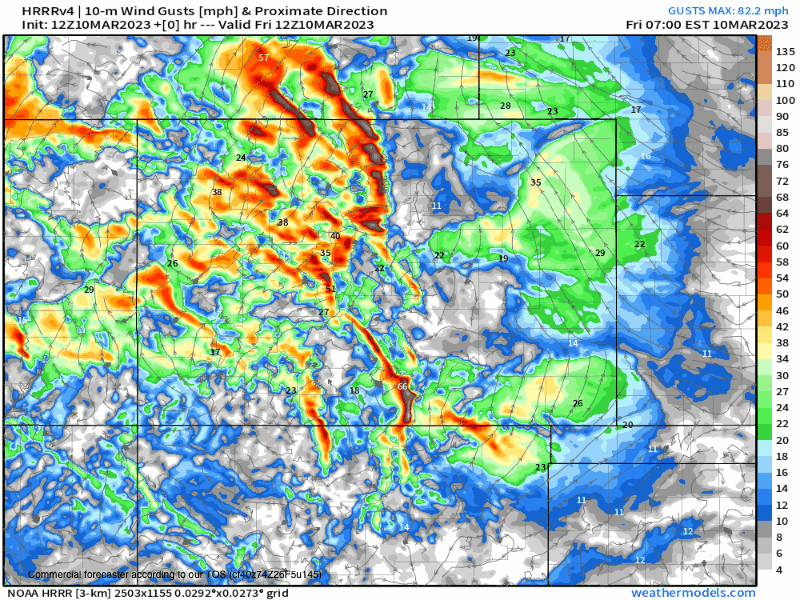 With all the wind, rain, and snow forecast to impact the state this weekend it should come as no surprise that travel will be quite difficult at times, particularly across the high country. The latest travel impact map shows this, so if you can avoid travel to the west this weekend it's a good idea to do just that! If you're out tomorrow evening in the Denver/Colorado Springs/Palmer Divide region, don't be caught off guard if you come across some snow!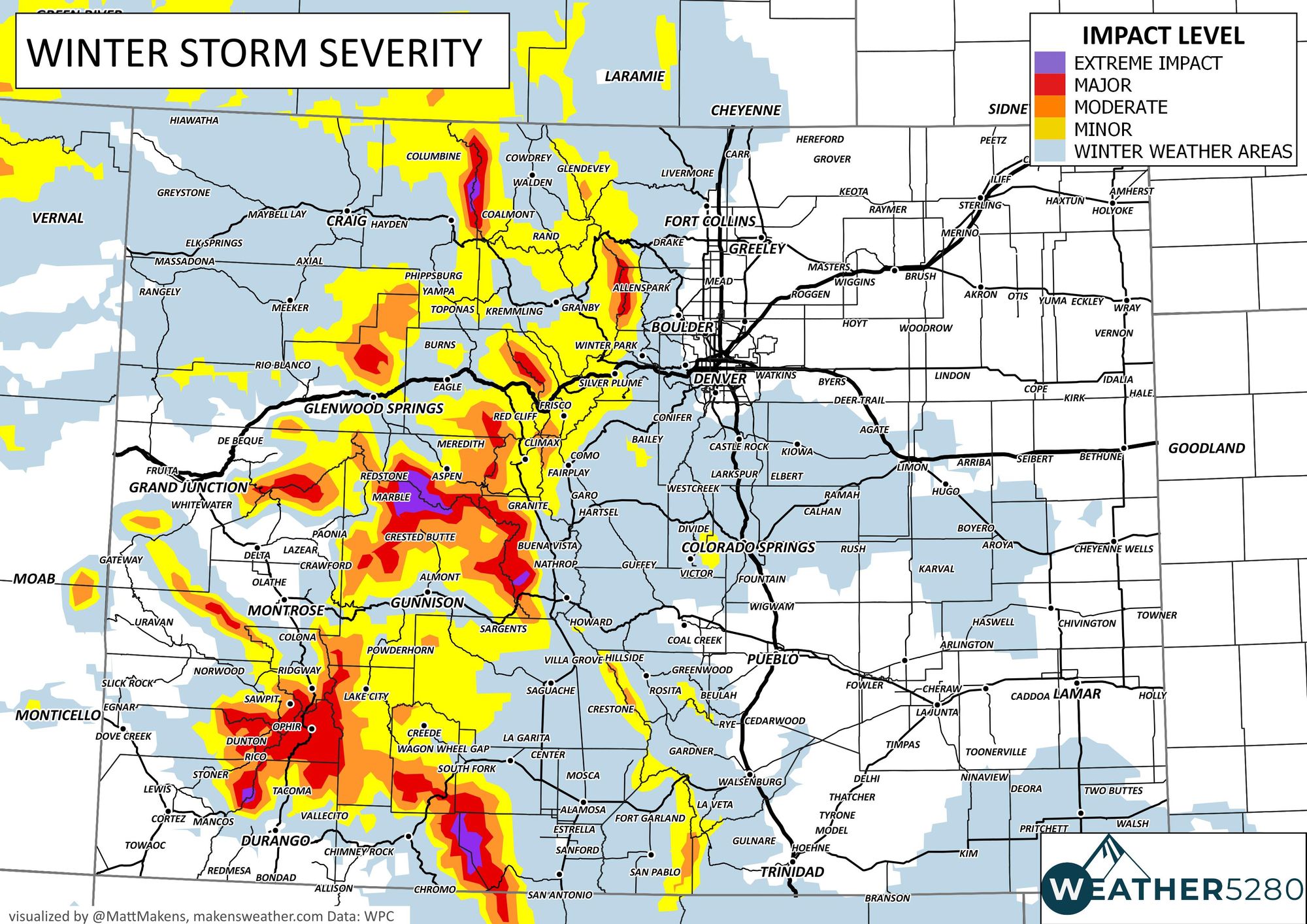 As we like to say here at Weather5280, "Don't get left out in the cold," – subscribe to our email list today – we send you an email when there's important information and Colorado forecasts to deliver.