Although we did warm up through the weekend, much warmer temperatures are on tap for the next couple of days before a system later this week may deliver rain and snow chances.
There was something significant about last week, before we jump to the warm up. La Niña was officially declared over as of the sea surface temperature data that came in from February through early March. Here's a video that talks about what this means, and if El Niño is next (we still have areas of drought to get through!):
First off, let's talk about the warming temperatures. Check out the hourly conditions for Tuesday afternoon, reaching to near 70°!

The last time Denver (using Stapleton/Central Park) hit 65 or warmer was February 12th - the warmest day of 2023 so far.
Tuesday will likely be the warmest day of the year so far, and for warm weather fans, don't get excited for a streak. We may be able to squeeze out back-to-back warm days before the next system arrives.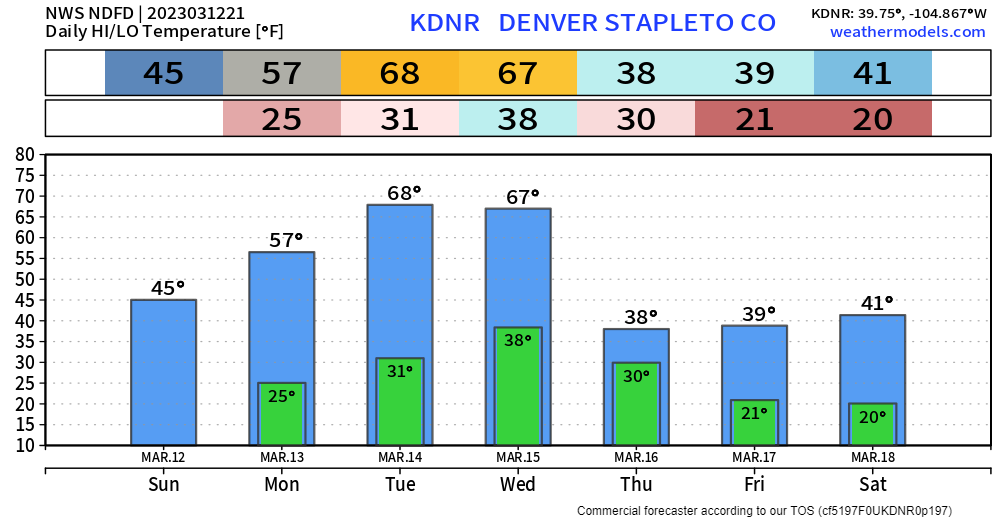 Then, we drop back down to the 30s and 40s after midweek as the next strong system moves through the region.
Watching that system here, we can see chances for showers late Tuesday (starting in the mountains) to late Wednesday (for the metro areas) through late Thursday.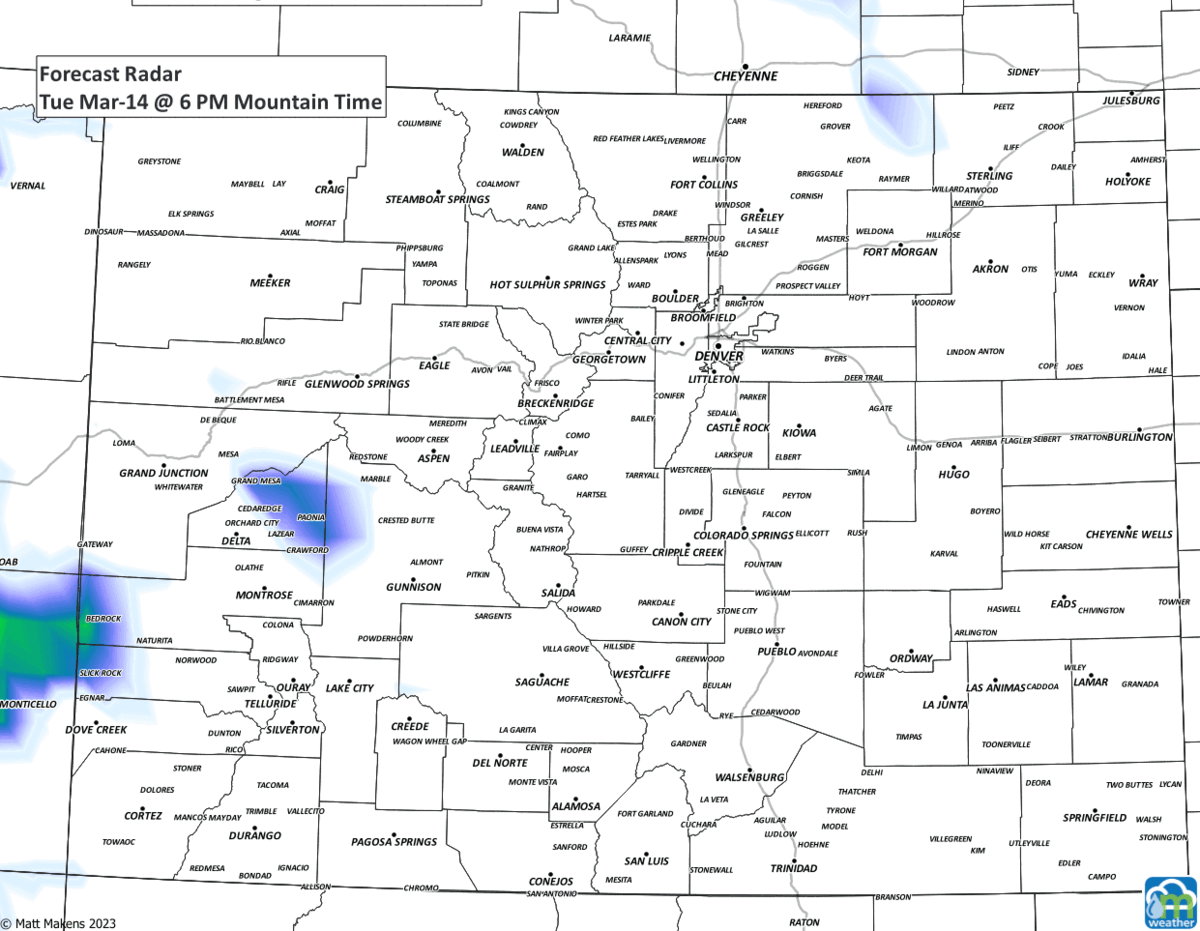 It's certainly too soon to be talking about snowfall totals, should we get to that point, but we are watching for the chance of rain and snow later this week. The snowfall gamblers charts (for our paid subscribers) do indicate totals, but we have a lot for this storm to do in order to produce these: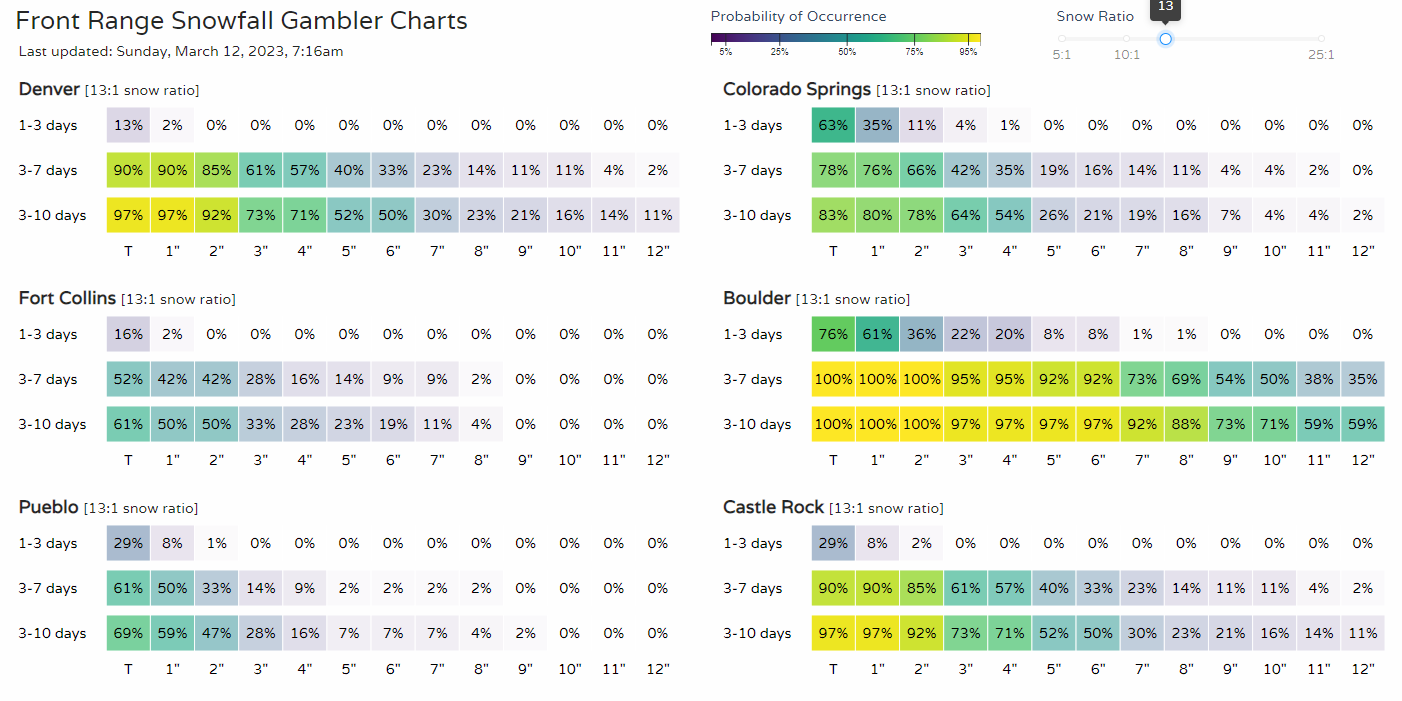 Part of our caution, and has been for most storms so far this year, is that they are modeled to be quite substantial several days prior to actually hitting and take a northerly or southerly track that ultimately reduces the potential.
Bottom line: Enjoy a warm start to the week with potential for colder temperatures along with rain and snow by Thursday. We will continue to watch the storm, it's path, and have rainfall and snowfall forecasts for you in future posts.  
As we like to say here at Weather5280, "Don't get left out in the cold," – subscribe to our email list today – we send you an email when there's important information and Colorado forecasts to deliver.