As our latest system clears all focus turns to the upcoming week and a system that holds some of the better potential than we've seen in quite a while across Eastern Colorado for widespread appreciable moisture.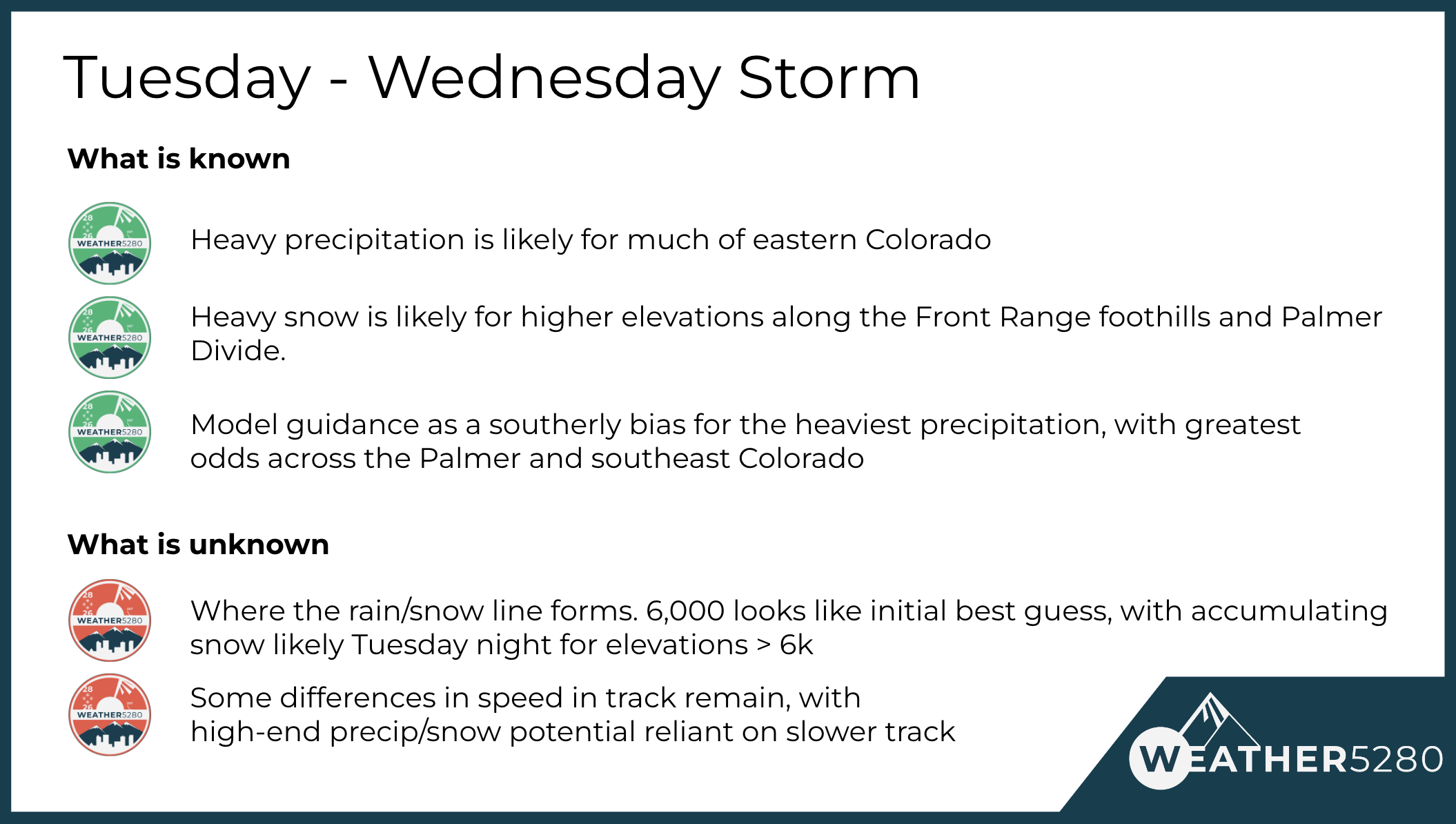 There's good agreement between most of the models that quite a bit of water is on the way for parts of central and eastern Colorado this week. There are differences in track that place more of that moisture across Northern Colorado vs Southern Colorado, but these track details will get ironed out as we get closer. The other big question will be around who sees rain vs snow, and when that changeover will occur.
As for the snow question, there's not a great source of cold air with this system, so right now it looks like communities below about 6,000 feet will see primarily rain. Should this hold, this would mean a far different experience this week in say downtown Denver vs the Palmer Divide – with heavy snow looking increasingly likely for the latter.
We'll come back to the snow topic in a bit, but for now let's focus on the timing and precipitation outlook.
For timing, we see a quieter day today before the chance of showers and storms return to the forecast along the Front Range again Monday evening. Not a great chance for most of us Monday, but a least some isolated thunderstorms will be possible Monday, with highs Monday afternoon topping out in the low 60s for the metro areas.
As you can see below, precipitation chances ramp up in earnest Tuesday afternoon, with heavy rain setting up along the Front Range and urban corridor, eventually transitioning to snow – for some – Tuesday night.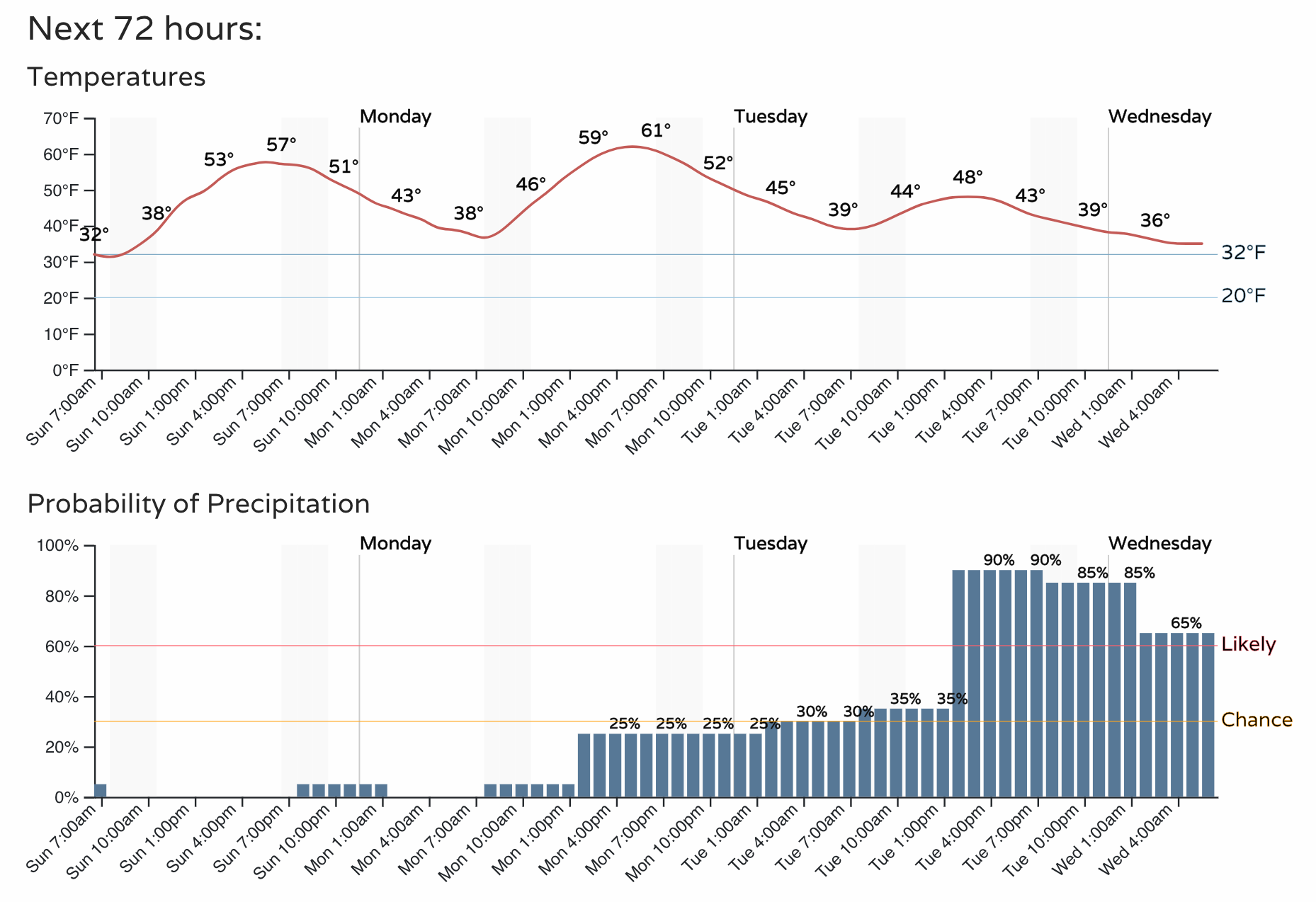 Models are in good agreement that the general track for this system will be quite favorable for precipitation along the Front Range, urban corridor, and eastern plains from Tuesday afternoon through Wednesday morning at least. The low will drop out of the Great Basin Tuesday and track across south-central Colorado Tuesday night and into the Texas/Oklahoma panhandles by Wednesday morning.
Overnight Tuesday we see deep easterly upslope up and down the Front Range of Colorado which will promote moderate to heavy precipitation, both in the form of rain and snow.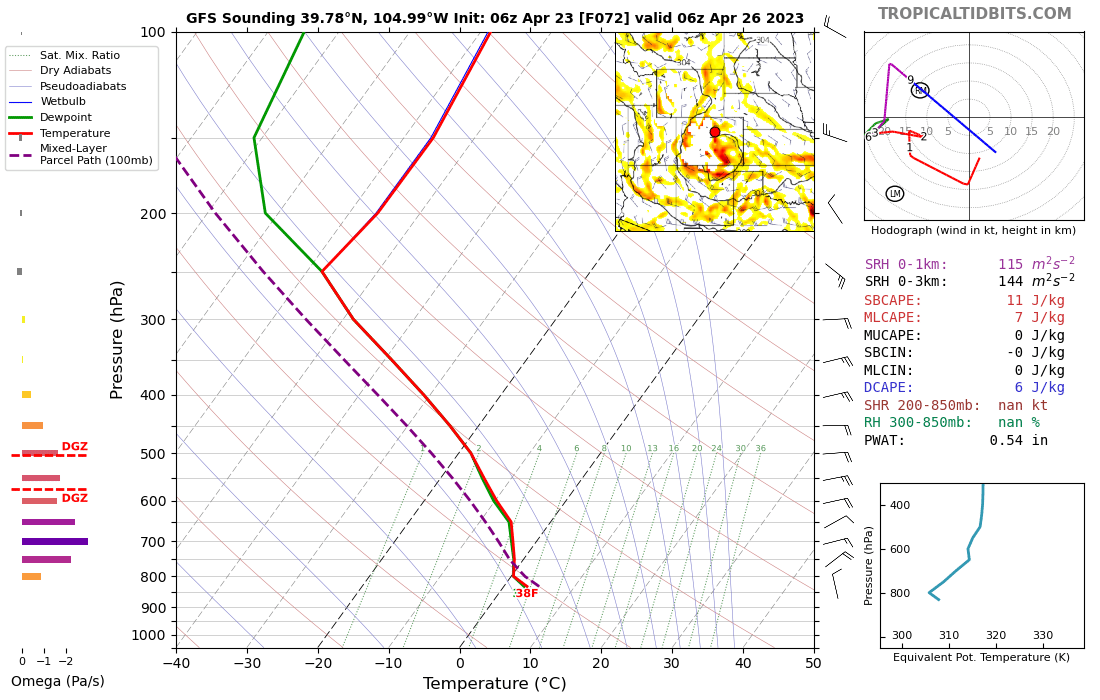 The WPC has put most of Eastern Colorado under a marginal to slight risk of flash flooding Tuesday, with the greatest potential for that flash flood threshold to be met right along the urban corridor and adjacent plains. This means there's a >= 15% chance for rainfall totals to exceed flash flood criteria Tuesday into Wednesday.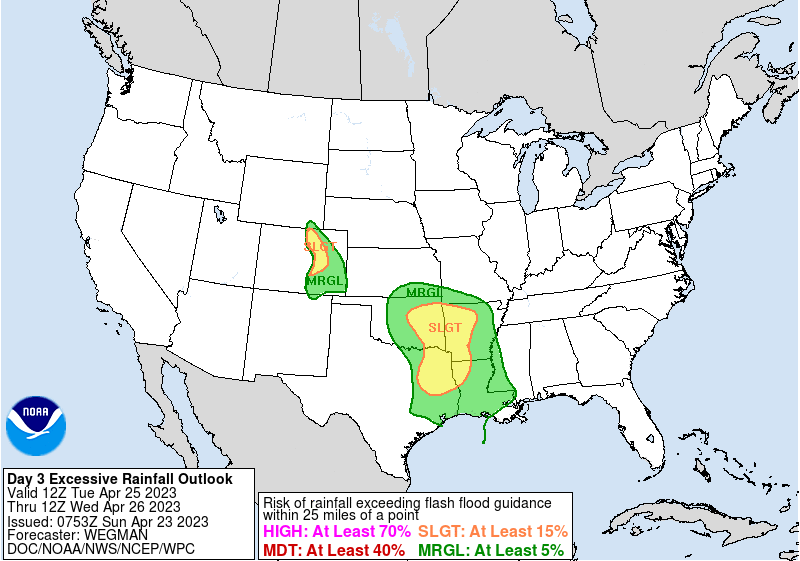 The trusty European ensemble model shows 1 to 2" of precipitation from Denver/Boulder south along I-25 and southeast. Lesser totals to Denver's northeast indicate the southerly bias of this storm: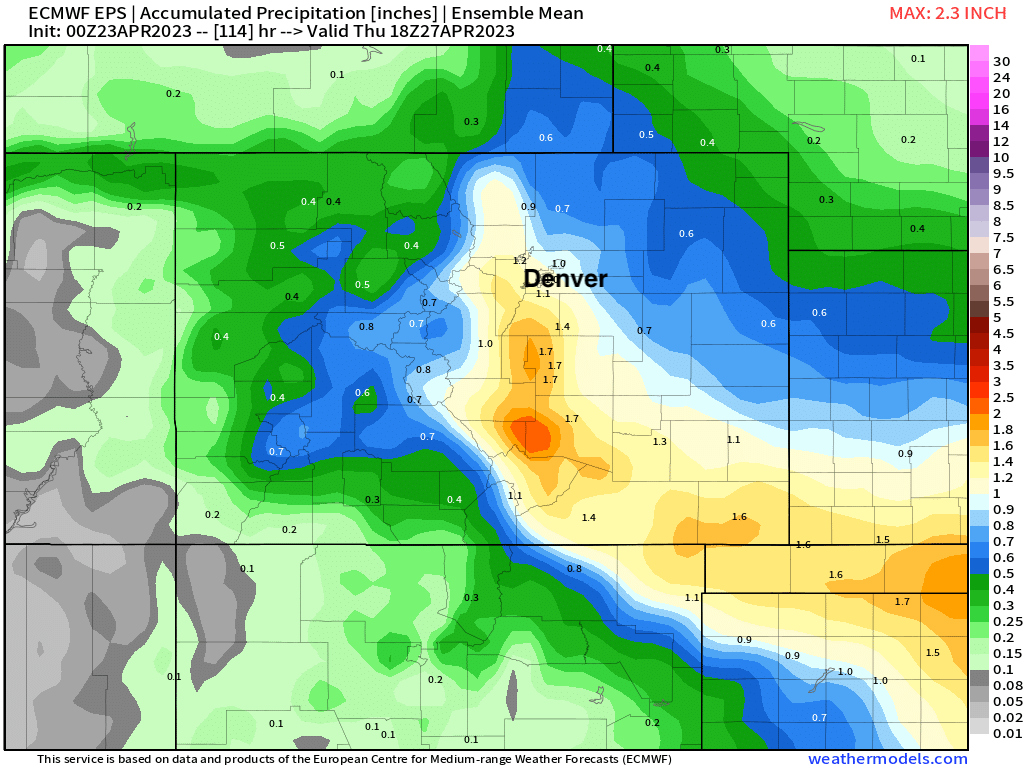 The blend of models show a similar idea, though show better potential for northerly areas as well. The bullseye for the heaviest precipitation would appear to be the Palmer Divide and parts of extreme southeast Colorado – which some MUCH NEEDED moisture on the way for the drought-stricken plains.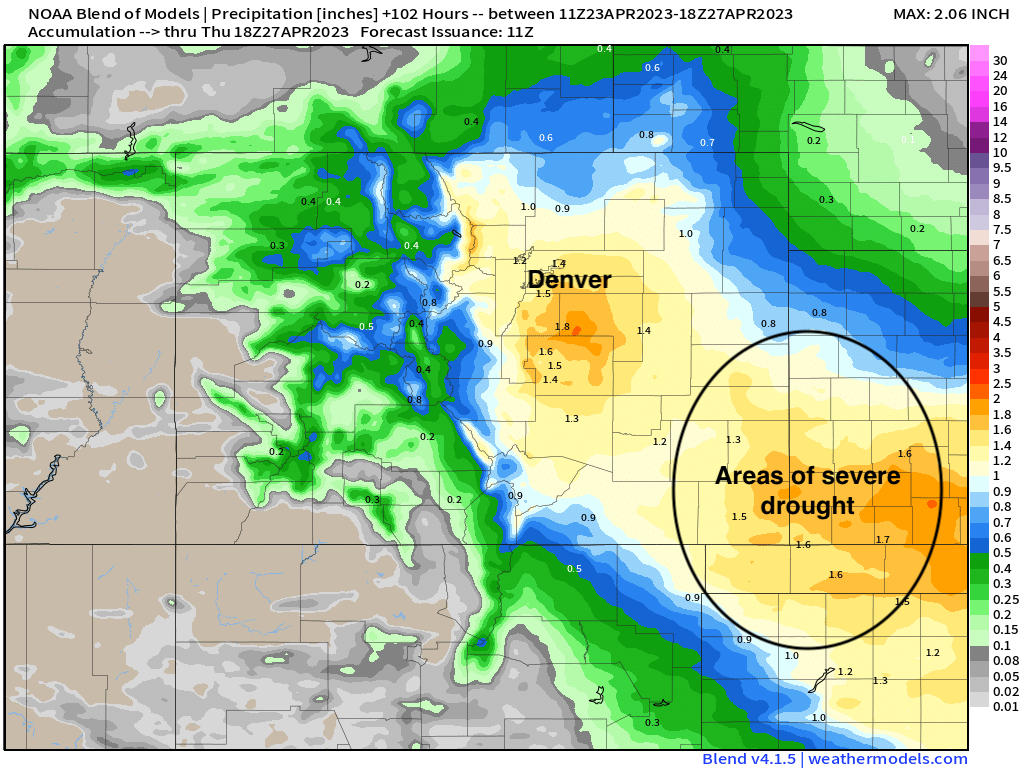 Given these are ensembles + blended solutions they won't show some of the high-end potential, with some deterministic models producing localized areas of 3.0"+ of precipitation from this event. A good one to pay attention to!
As for snow... If you live at elevations of 6,000 feet or greater you'll want to pay close attention to the forecast in the coming days. For areas lower in elevation, there's still some accumulating snow potential on the table, but it's much more in question.
The European shows pretty healthy odds for 6" of snow or more for communities west of Denver, west of Colorado Springs, and anywhere in between the two cities. Considering elevation and the southerly bias to the storm track, Colorado Springs looks to have greater odds at picking up measurable snow this week than Denver, though both cities likely remain the running.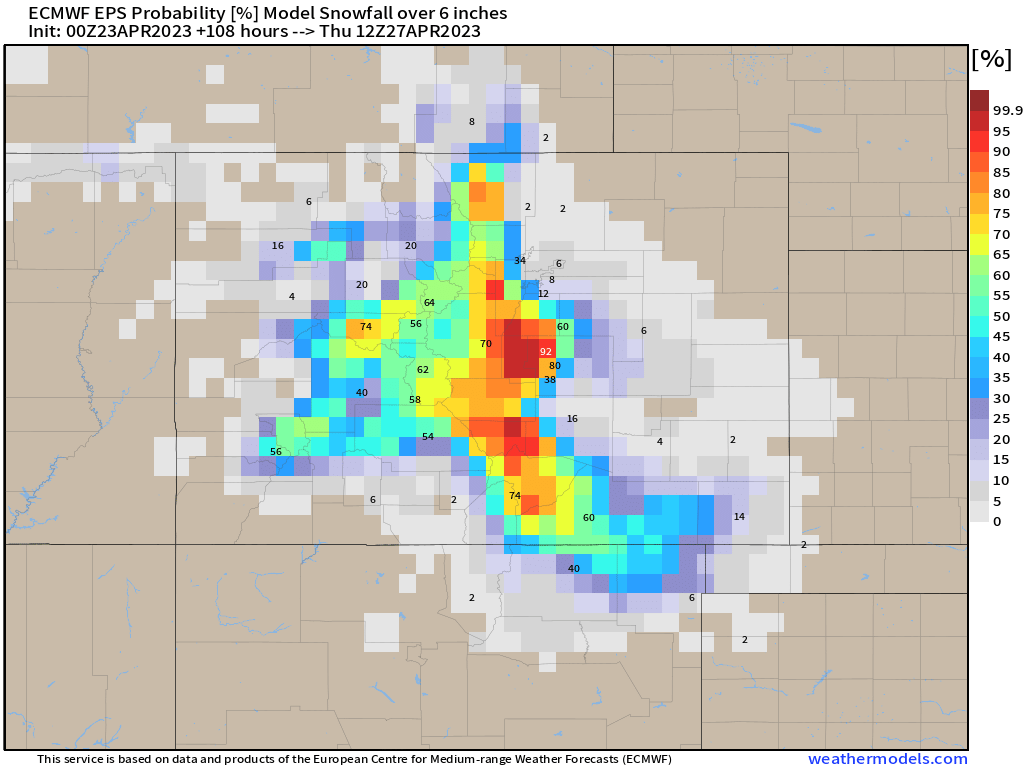 Again, not a lot of cold air to work with with this system, but elevation and enough cooling Tuesday night that snow is almost certain to be a factor in addition to what heavy rain we see.
A lot to track over the coming days. It'll be interesting to see if models jump on a more southerly route or not, which would lesser the impact for northern Colorado, or if a middle-of-the-road and good precipitation for most areas wins out. You'll want to subscribe to Weather5280 to get weather updates and reports by email. Stay tuned!