As we've been discussing the last couple of days, the Mile High City may not only have a temperature problem (re snow) but may also have a storm track problem. Models do continue to wobble as we head into now-forecast time, but overall bias remains south... with plentiful moisture for those that end up in a direct hit, but for Denver that could ultimately end up just out of reach. We'll know soon enough!
First, we trust this won't be a complete miss for Denver. In fact, in most circumstances we'd be rejoicing about the amount of water forecast to fall over the metro area.
If we look at the latest European ensemble mean, we see it has roughly 0.8" over DIA and upwards of 1.0" over the western and southern suburbs. Not bad! But notably the city is on the line of the heaviest QPF: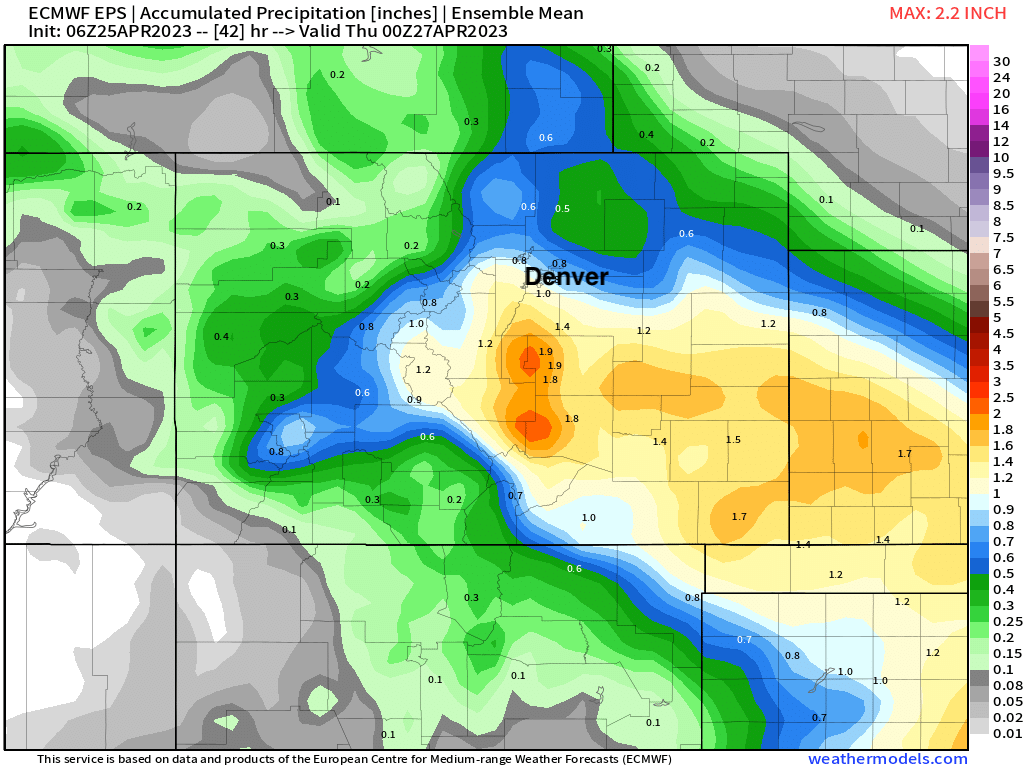 Similarly reassuring is the probabilities for 0.5" of liquid which are still quite high for Denver, but again, much more convincing to our south, and a quick drop-off north/east of Denver: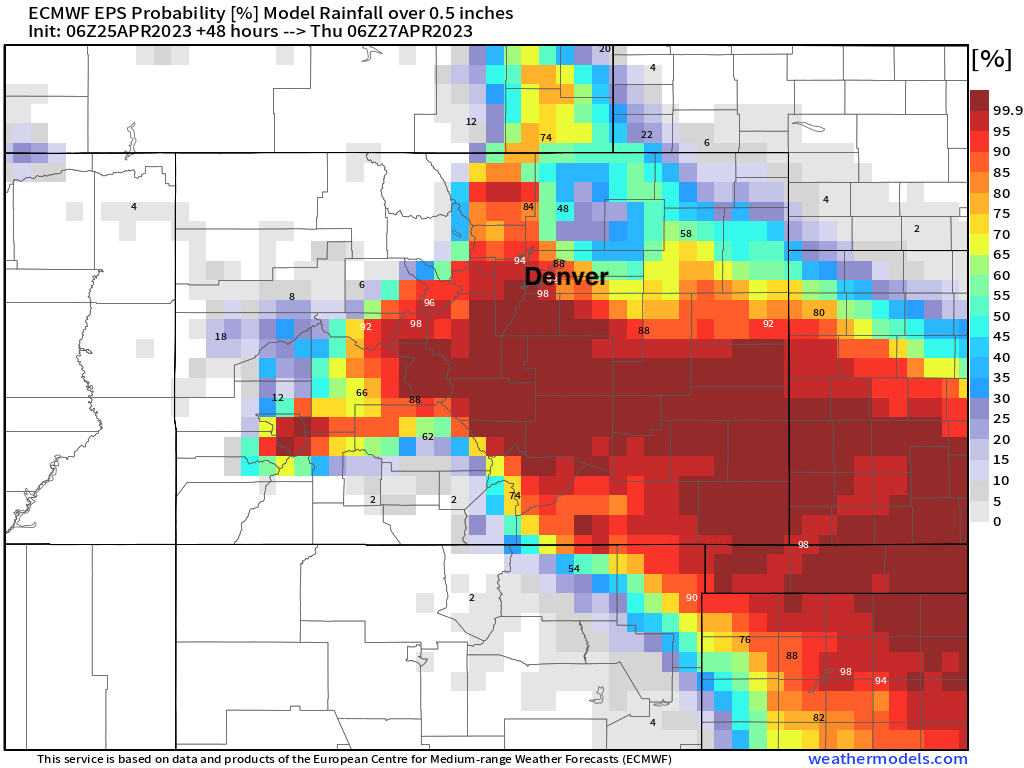 The blend of models starts to show some holes, but my guess is it'd be hard to find anyone upset with picking up 0.6 - 0.8" of precipitation. Note the heavier precipitation to our west – thanks to convective showers and upslope expected to develop later today and enhance precipitation rates across the Front Range foothills.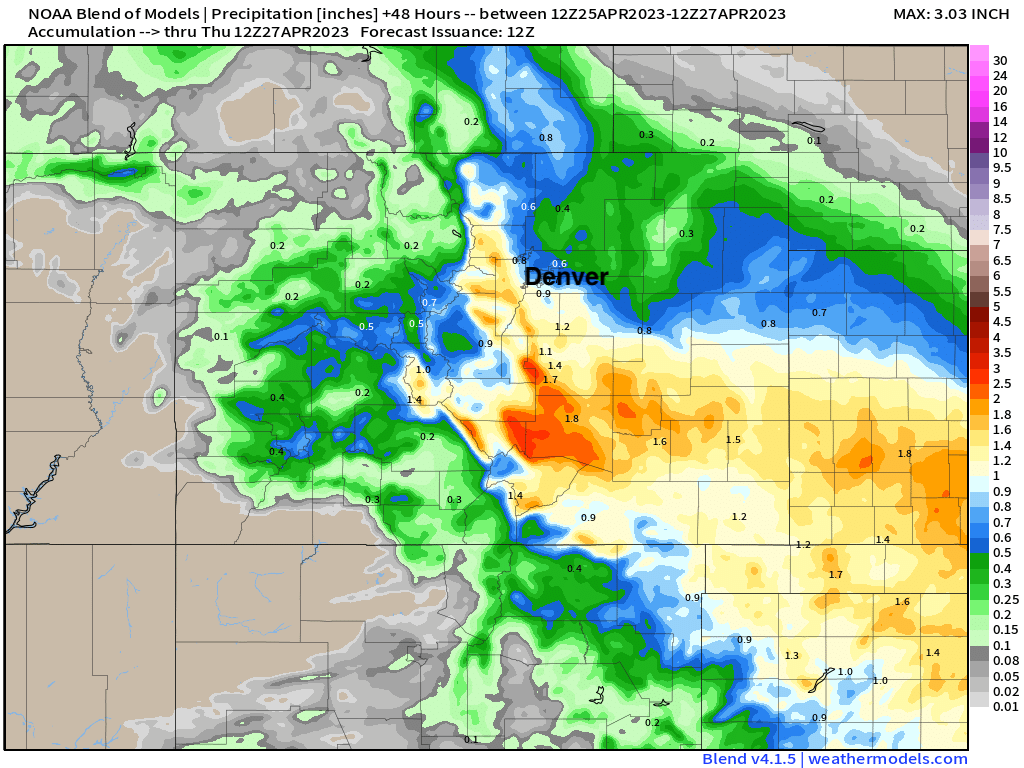 Still, some of the high resolution models are a bit concerning, and still feature big time run-to-run inconsistencies. The NAM is one of those, which keeps jumping north and south with each run. It's consistent in delivering good precipitation to the foothills and southern Colorado, but spotty for Denver and points east of I-25. Its latest run has just 0.2/0.3" of liquid for DIA, but upwards of 1" for the west side, say Golden.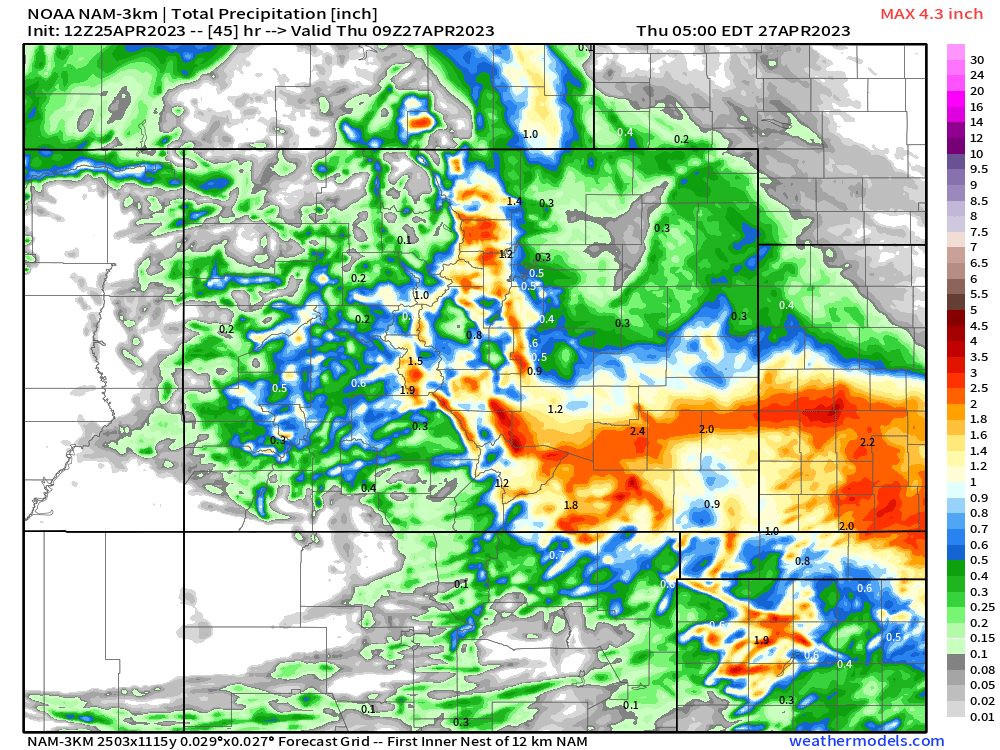 Details aside, we see consistently in all the data southeast Colorado favored for the most widespread heavier precipitation, as are the foothills and immediate Front Range mountains which hope to benefit from some good upslope this evening. For the urban corridor, particularly Denver north to the state line... I'm a bit more worried about the bust potential.
And, final thought on precipitation... if we are going to miss out to anyone, let it miss south! Below is a rough comparison between the HRRR precipitation forecast and Drought Monitor, showing some of the best precipitation over the next two days is expected right through the heart of the worst drought zone:

Snowfall forecast update
Winter Storm Watches will give way to Warnings later today.
Colorado Springs has been upgraded to a Winter Storm Warning, with Pueblo and Trinidad now under Advisories. Snow will be heaviest and most impactful across the higher terrain west of I-25, generally above 6,500 feet.
Here are the latest alerts from the NWS: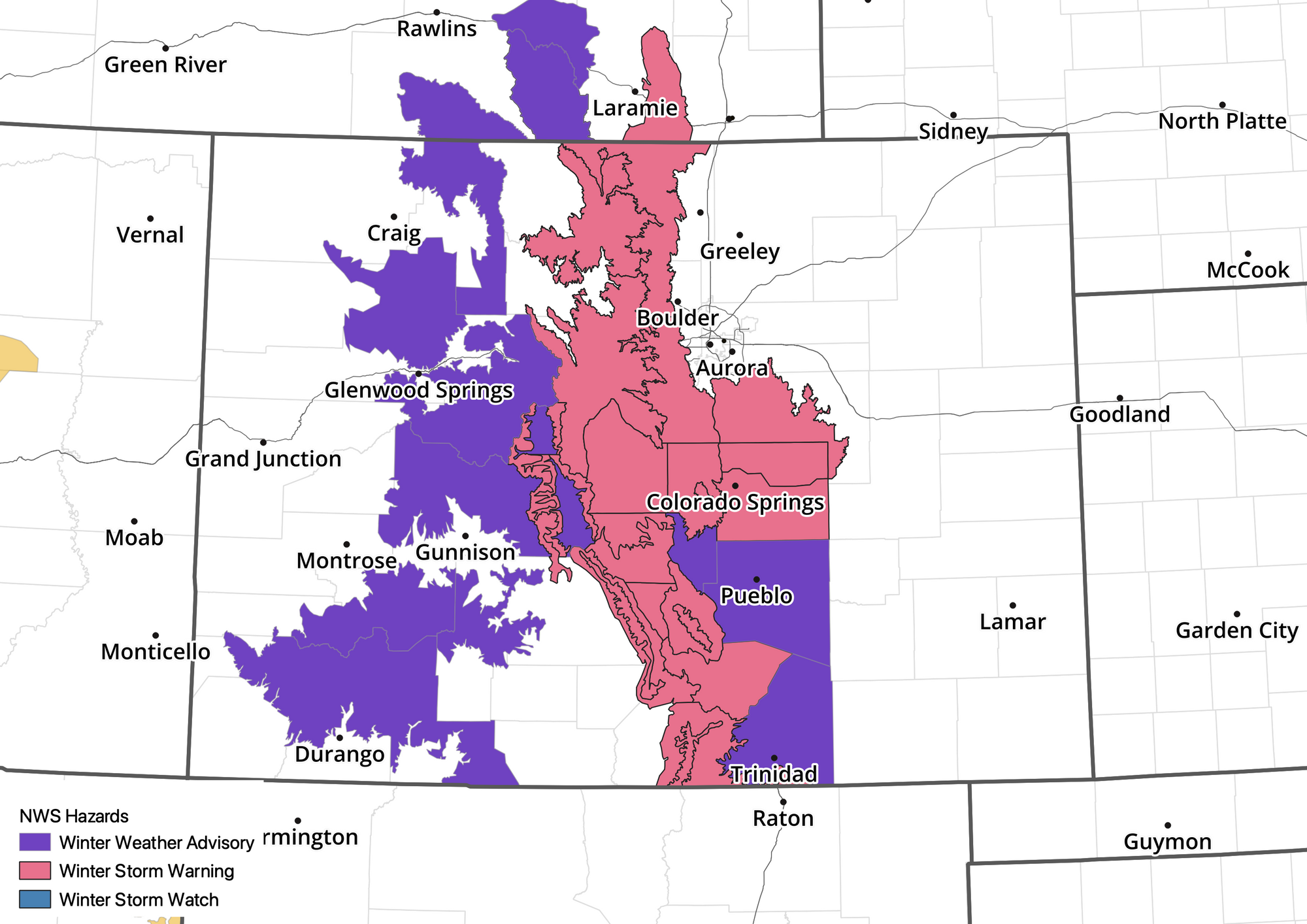 Denver is not under any winter weather highlights and we don't expect that to change. It'll be slow to cool around here. Temperatures will be marginal through most of the event, this is true even for Colorado Springs where the warning is in place.
For Denver we think the western and southern suburbs could still pick up a bit of accumulation (mainly on raised surfaces), and even downtown could see some snow, but totals will be limited. For the foothills and west of I-25 across the Palmer, some hefty totals still on the table, with snowfall rates hitting 2" and hour at times this evening.
Here are our latest forecast numbers, of course there will be lots of melting which will make it hard to measure...
Fort Collins: Trace
Boulder: Trace - 4"
Denver (downtown): Trace - 2"
Golden: 1 - 4"
Evergreen: 8 - 16"
Highlands Ranch: Trace - 3",
Parker: Trace - 4"
Castle Rock: 2 - 6"
Monument: 7 - 14"
Colorado Springs (north/west): 5 - 10"
Colorado Springs (central): 2 - 6"
I feel pretty good about these snowfall numbers. I think the biggest question mark is Colorado Springs. The city will be right on the edge of some of the heaviest precipitation and snow. It's easy to see a big bust down that way, or a potential boom. I believe the NWS warning calls for 4 - 12" of snow for COS... highlighting the uncertainty. We are in the 2 - 6" range downtown (more north and west), but that could almost as easily be 0" as 8". Really. Greatest chances will be where you get up in elevation outside the city, but if you live in town, let us know what you see!
Timing and impacts
As rain and snow gets going this afternoon, look for embedded thunderstorms which will bring pockets of heavier rain and snow: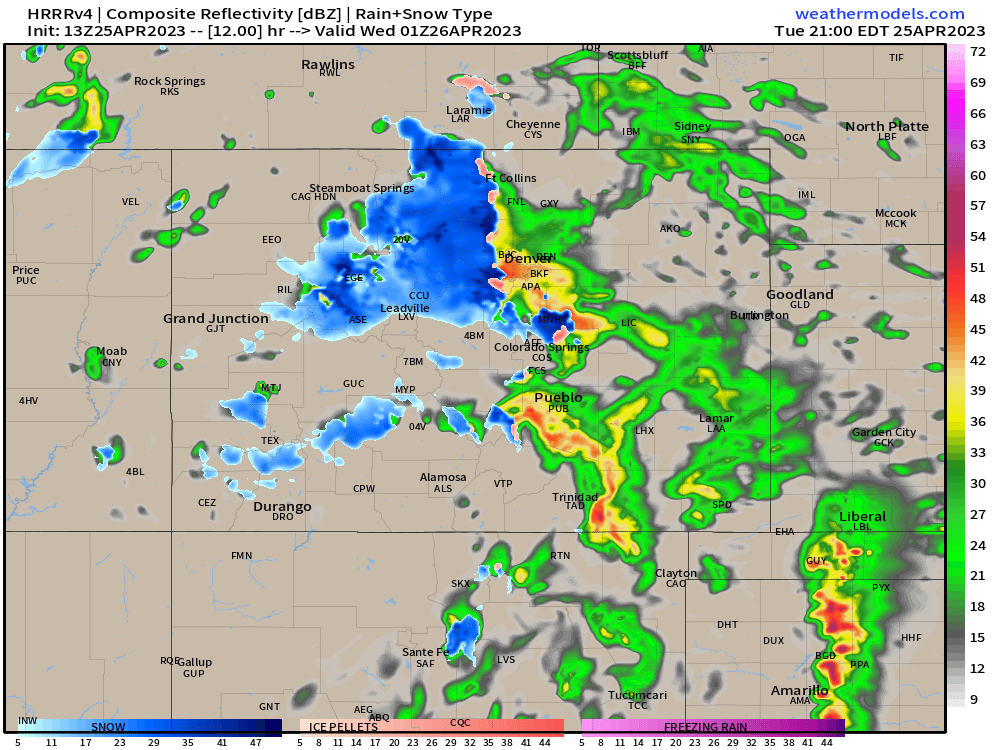 With even some lightning across the state through the course of the event: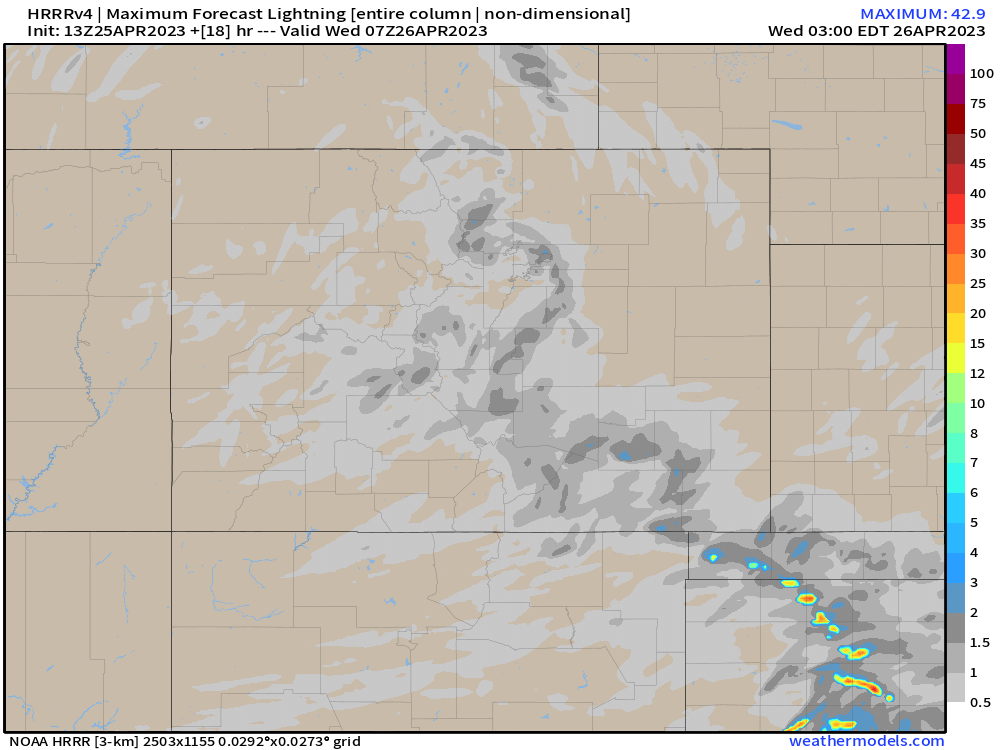 Precipitation starts ramping up by mid to late afternoon across the area. Mostly rain at lower elevations and a quick changeover to snow for the higher terrain. Rain and snow will continue off and on through the night, with precipitation coming to an end from north to south Wednesday.  Yes, there's another chance for more wet weather by the end of the week.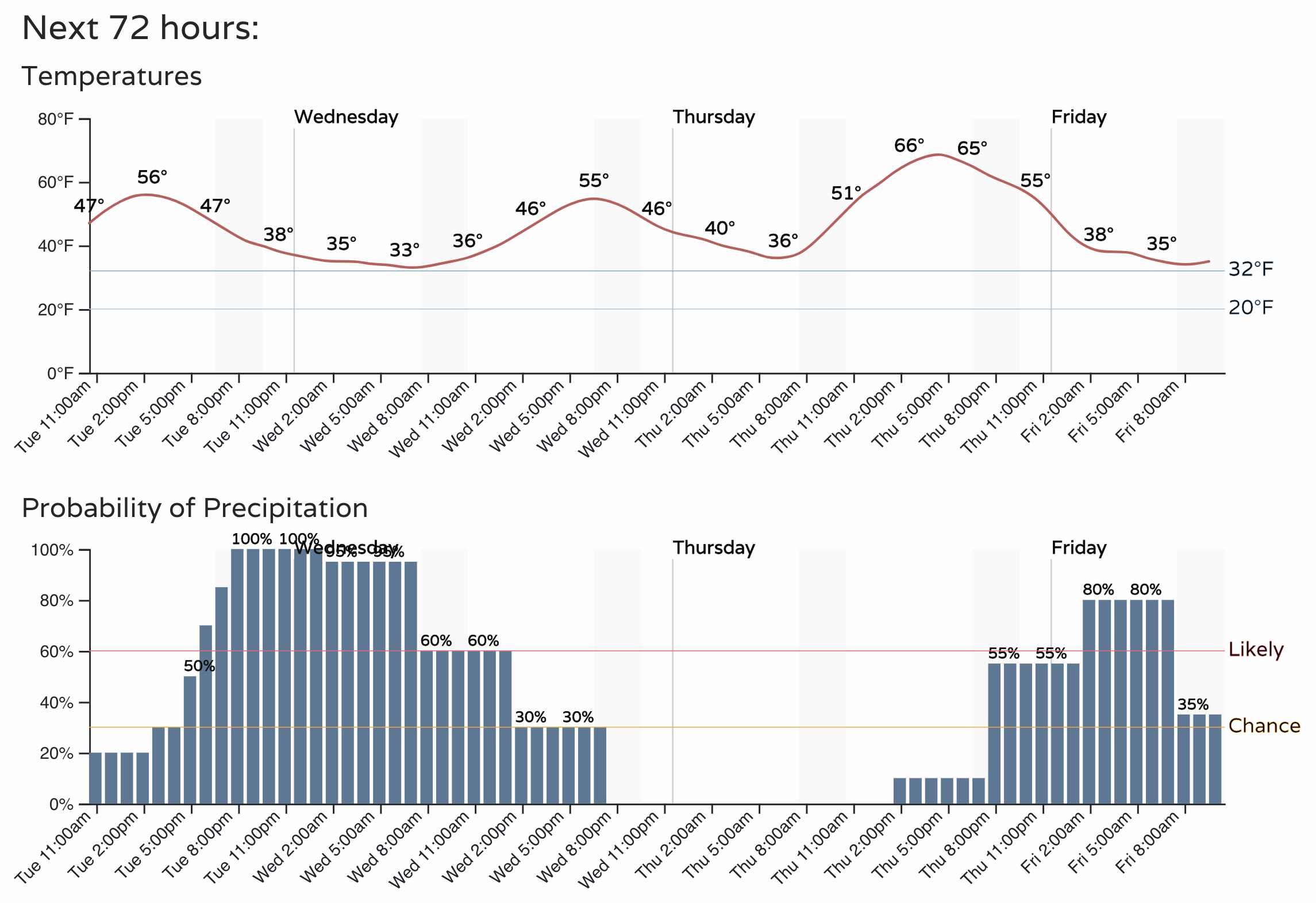 Travel impacts will be worst in the hills west of Denver/Boulder, and down across the Western Palmer Divide and Colorado Springs vicinity.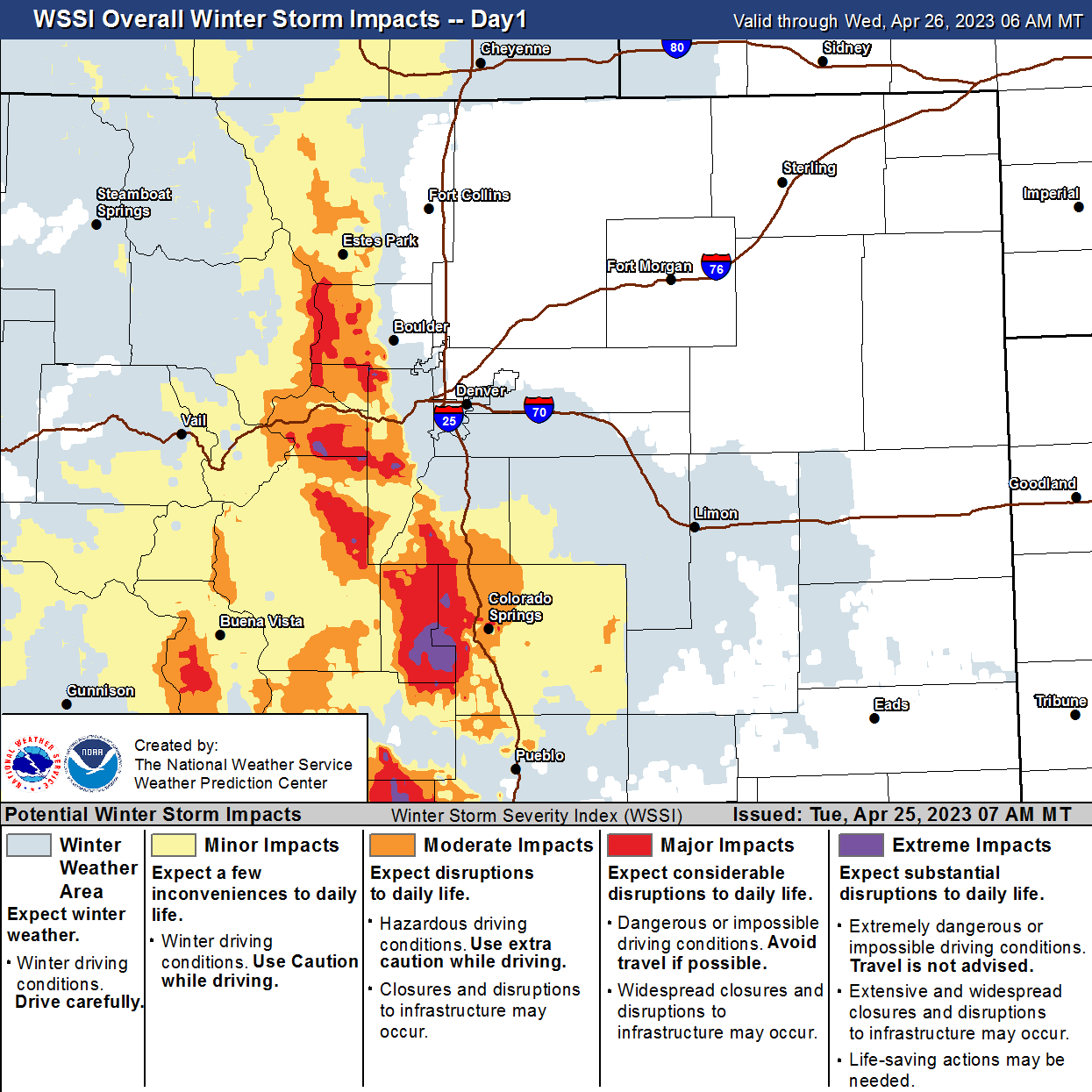 Let's see how it plays out! Keep us posted below.