The atmosphere remains smoky, though we've seen at least some improvement from our recent extreme poor air quality days. Fires continues to rage across large swaths of western Canada, and as long as that continues we'll be susceptible to influxes of smoky/poor air days. Look at the "swirl of smoke" that dropped south over the weekend!
While the smoke is quite evident in the imagery above, today's visible satellite shows the smoke less concentrated but over a larger area – with most of the high plains seeing those hazy skies this morning, including Northeast Colorado.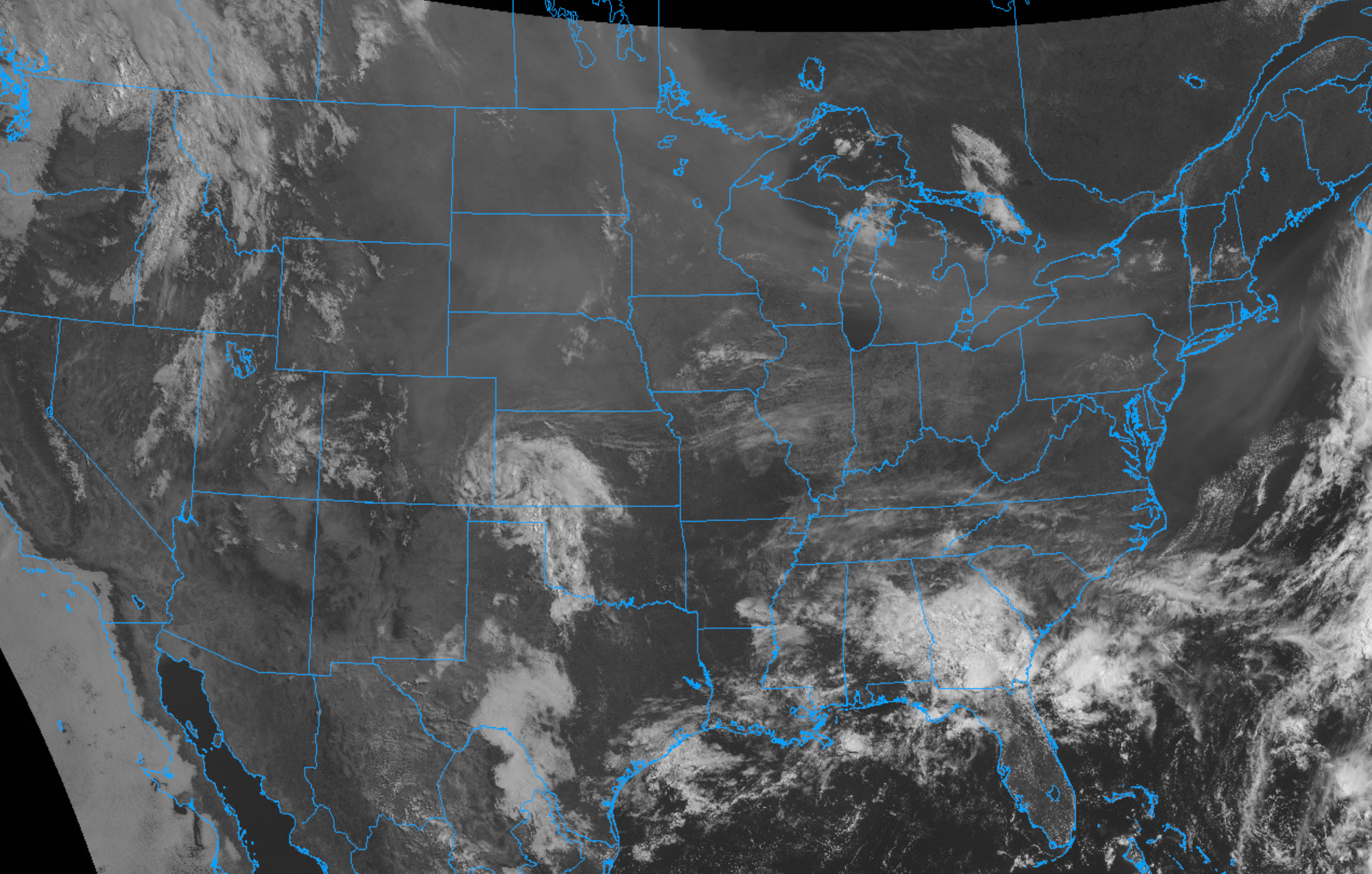 Along the Front Range we can see the smoky/hazy skies persist this morning, but no where near as bad as what we experienced a few days prior. Let's keep it this way!
Outlook for the week
While we'll be dealing with areas of smoke, especially today and tonight, the more positive news is more wet weather will to possible this week as well.
Today will be mostly dry along the Front Range with only an isolated shower or two possible. The chance of shower and storms will gradually increase through midweek, with highs in the mid to upper 70s for Denver. Thunderstorms will be likely Wednesday, Thursday, and Friday afternoons.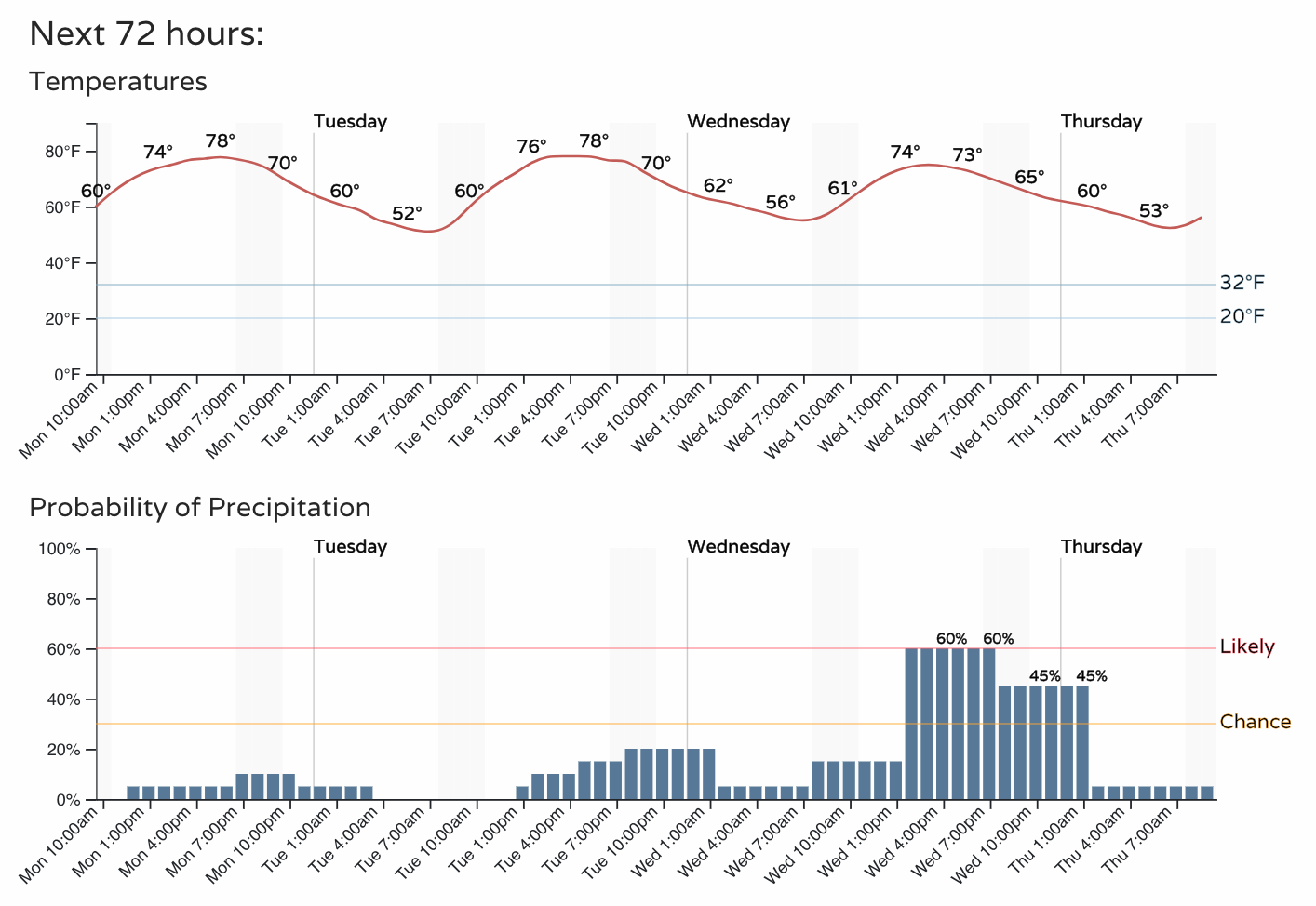 While no indication of anything particularly severe as for storms in the outlook this week, it's the time of year that almost any afternoon with storms across the Eastern Plains can produce severe thunderstorms – damaging wind, hail, and isolated tornadoes.
Over the next two days the greatest severe threat is south and southeast of Colorado. By Wednesday we see the Marginal risk creeping into Southeast Colorado. I would not be shocked to see this area grow to include more of Eastern Colorado as we get closer, with perhaps the introduction of a Slight Risk for severe storms to be included as well. Nothing to worry over, but a good reminder to stay weather aware, particularly this time of year.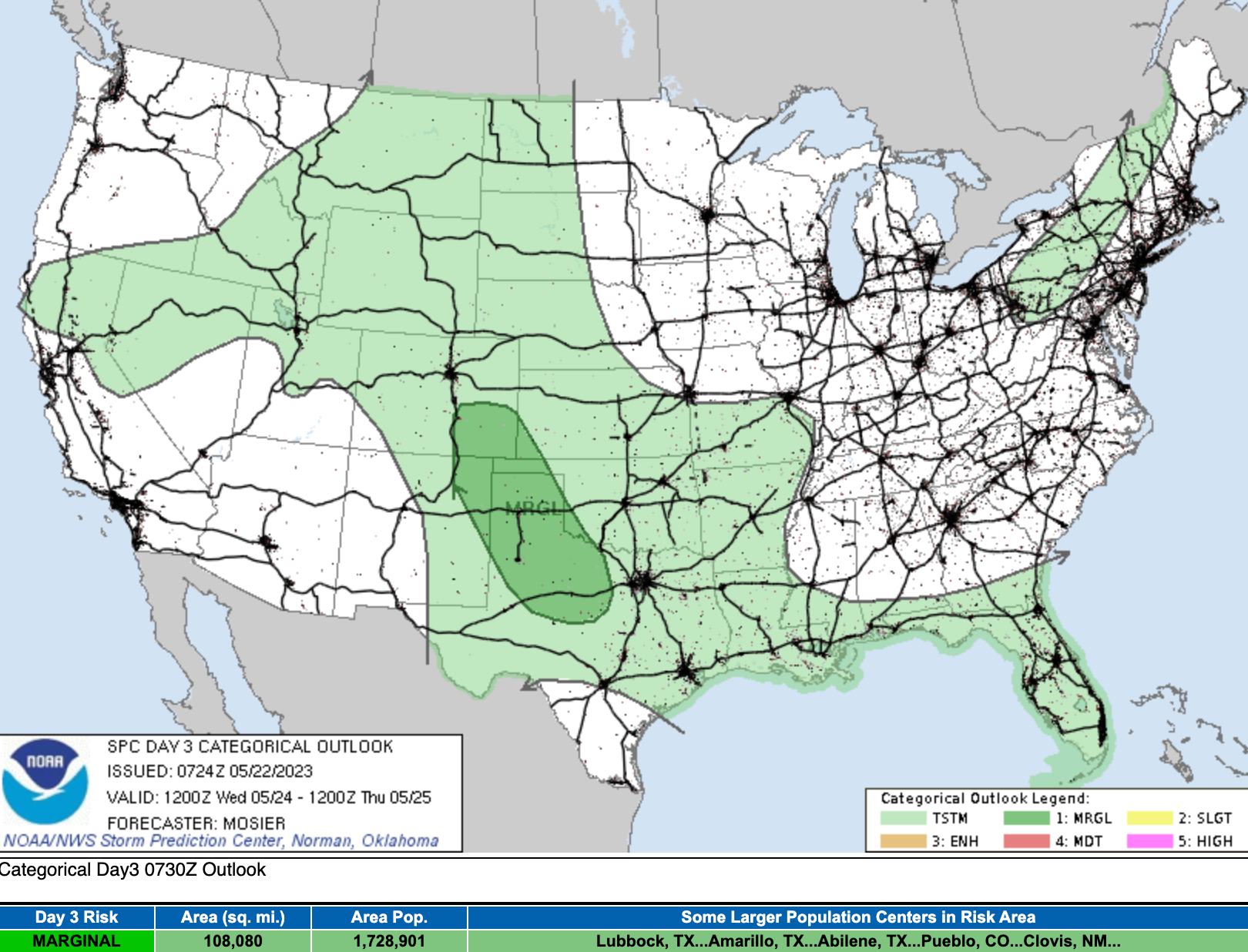 Through next Saturday evening we see the greatest precipitation anomalies for our area are forecast over Western Kansas, the Texas/Oklahoma panhandles and portions of eastern Colorado and New Mexico. You'll recall these areas remain the focus of some of the most severe drought in the U.S. currently, so of course this is welcome news!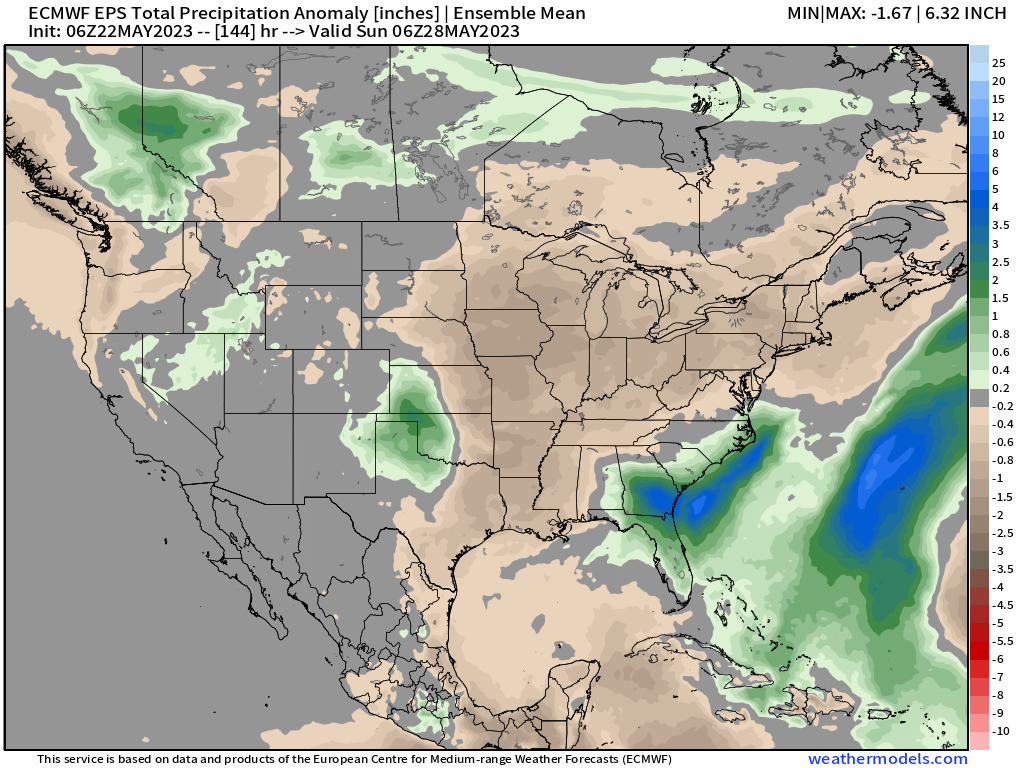 For the Denver area, spotty above average precipitation forecast for the Front Range foothills, with near-average precipitation in the ensemble mean for the metro area. Of course it takes only a scattered storm or two in just the right place to put any given back yard in the above average precipitation category on a week like this, which the ensemble isn't likely to pick up.
In short – not a bad outlook overall. Some smoke to contend with at times, and an increased chance of afternoon storms for the latter half of the week. Otherwise look for temperatures in the 70s to near 80 by late in the week, and a steady transition to summer continuing!
If you'd like to be getting the "heads up, hey there is a forecast to be aware of"' style emails from us, you can sign up for those for free by clicking here.