Moisture associated with a deep monsoonal moisture plume overhead will once again promote areas of heavy rainfall today in similar manner to what we saw Monday along the Front Range. A Flood Watch goes into effect at noon today, and extends through midnight tonight.
Speaking of Monday, here's a look at the warnings issued by the NWS across the state. Numerous Severe Thunderstorm Warnings from Colorado Springs to Fort Collins as well as Flood/Flash Flood Warnings up and down the urban corridor.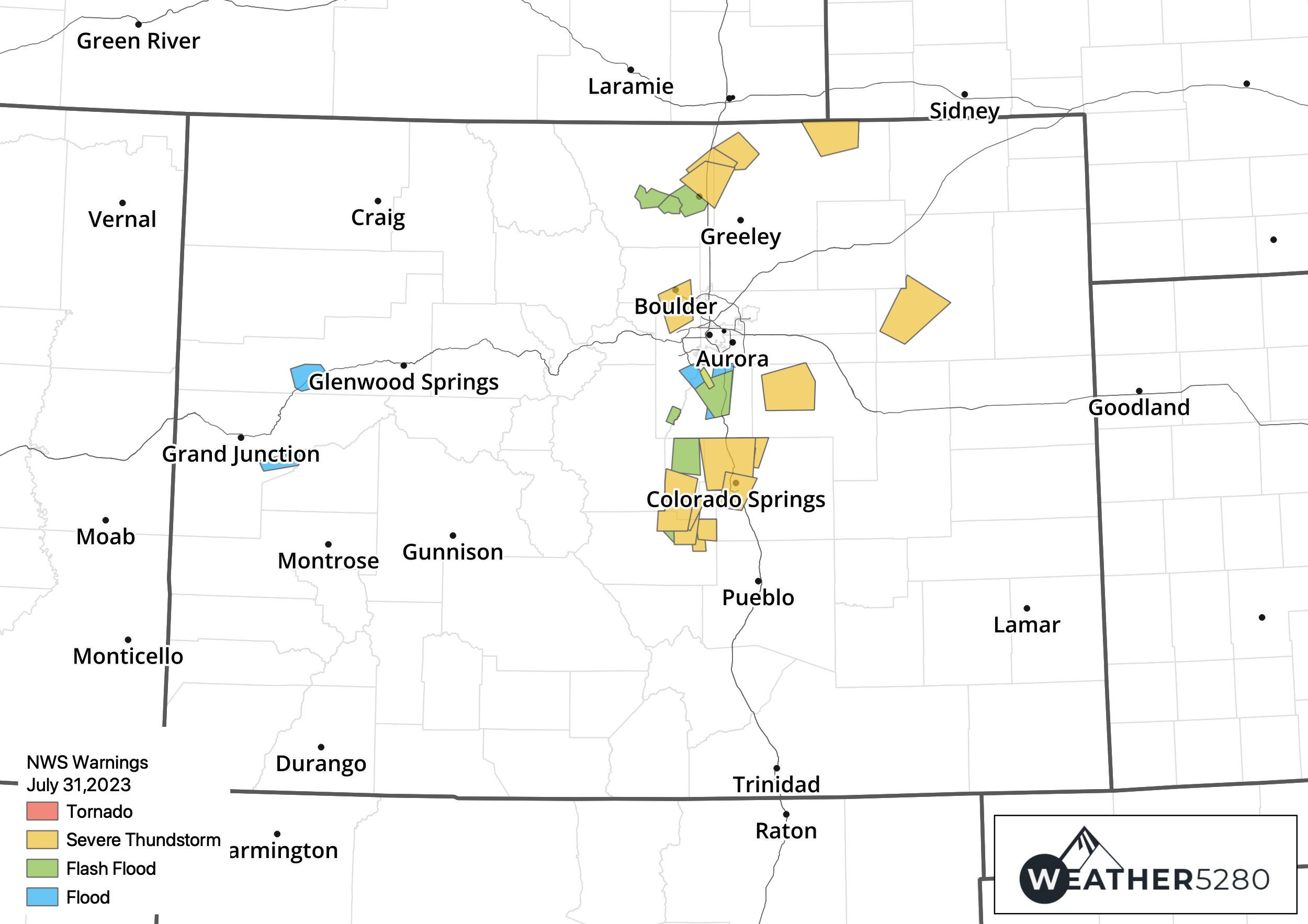 Some areas, such as Fort Collins, saw both the severe side and flooding side of yesterday's weather, with some truly impressive rainfall across the city Monday evening:
While Denver proper missed on some of the heaviest rainfall (DIA did pick up 0.30" of rain!) for others across the region the monsoon delivered on Monday. Here's a look at where the heaviest rain had fallen as storms started to push east of I-25 late last night (including the radar-estimated 2"+ totals from around Fort Collins):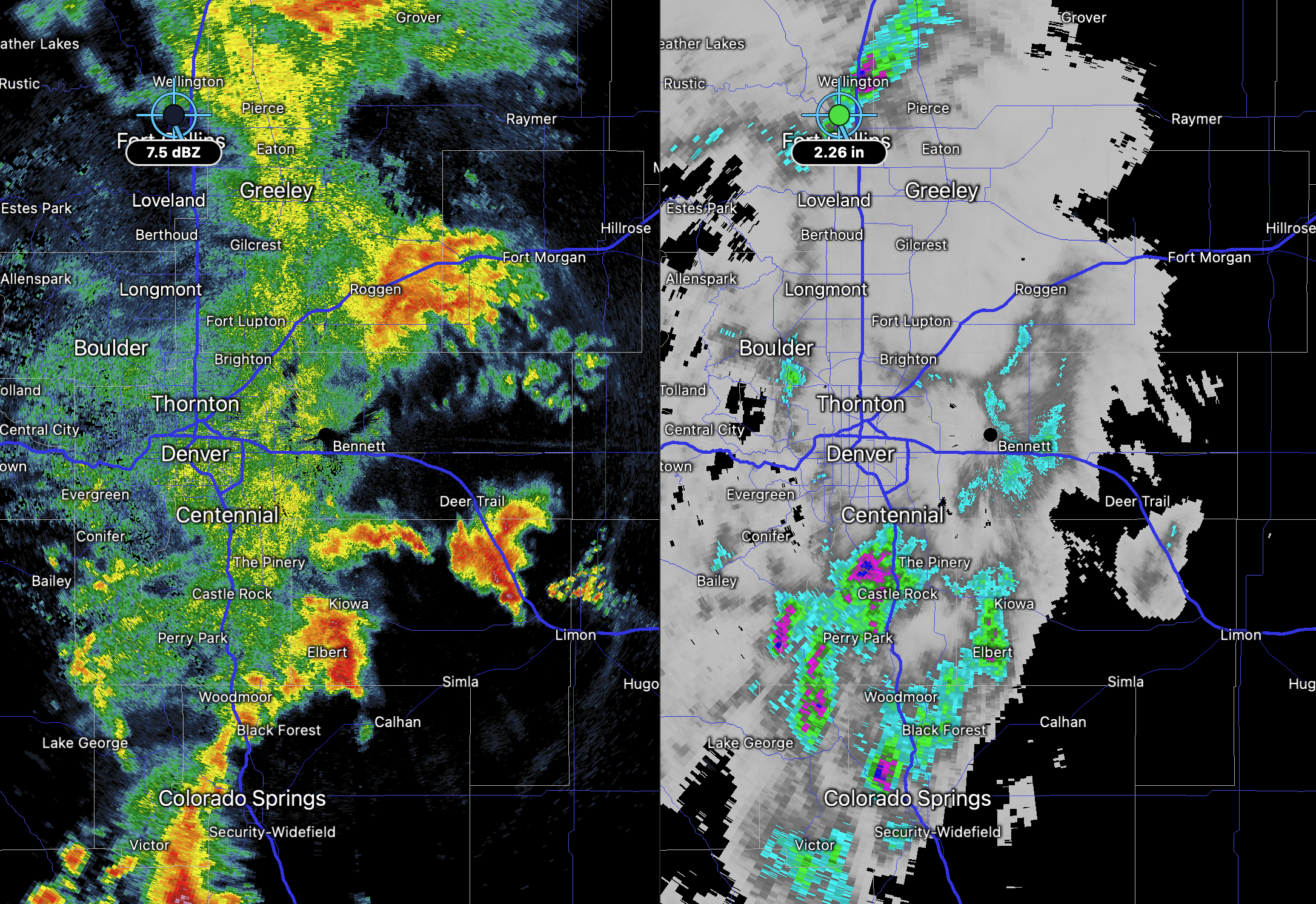 Flood Watch Tuesday
A Flood Watch goes into effect for most of Northeast and east central Colorado at noon today and extends through midnight. From the NWS:
* WHAT...Flash flooding caused by excessive rainfall is possible.  

* WHERE...I-25 Urban Corridor, Palmer Divide, northeast plains of   Colorado, Front Range Foothills, and portions of the northern   mountains.

* WHEN...From Noon until Midnight MDT tonight.  * IMPACTS...Excessive runoff may result in flooding of rivers,   creeks, streams, and other low-lying and flood-prone locations.   Flooding may occur in poor drainage and urban areas.

* ADDITIONAL DETAILS...   - Another round of heavy rain producing thunderstorms can be     expected again this afternoon and evening. Stronger storms will be capable of producing 1.5 to 2 inches of rain in 45 minutes or less.
Today's Flood Watch (green) covers an expansive area across the state, including Colorado Springs, Denver, Boulder, and Fort Collins: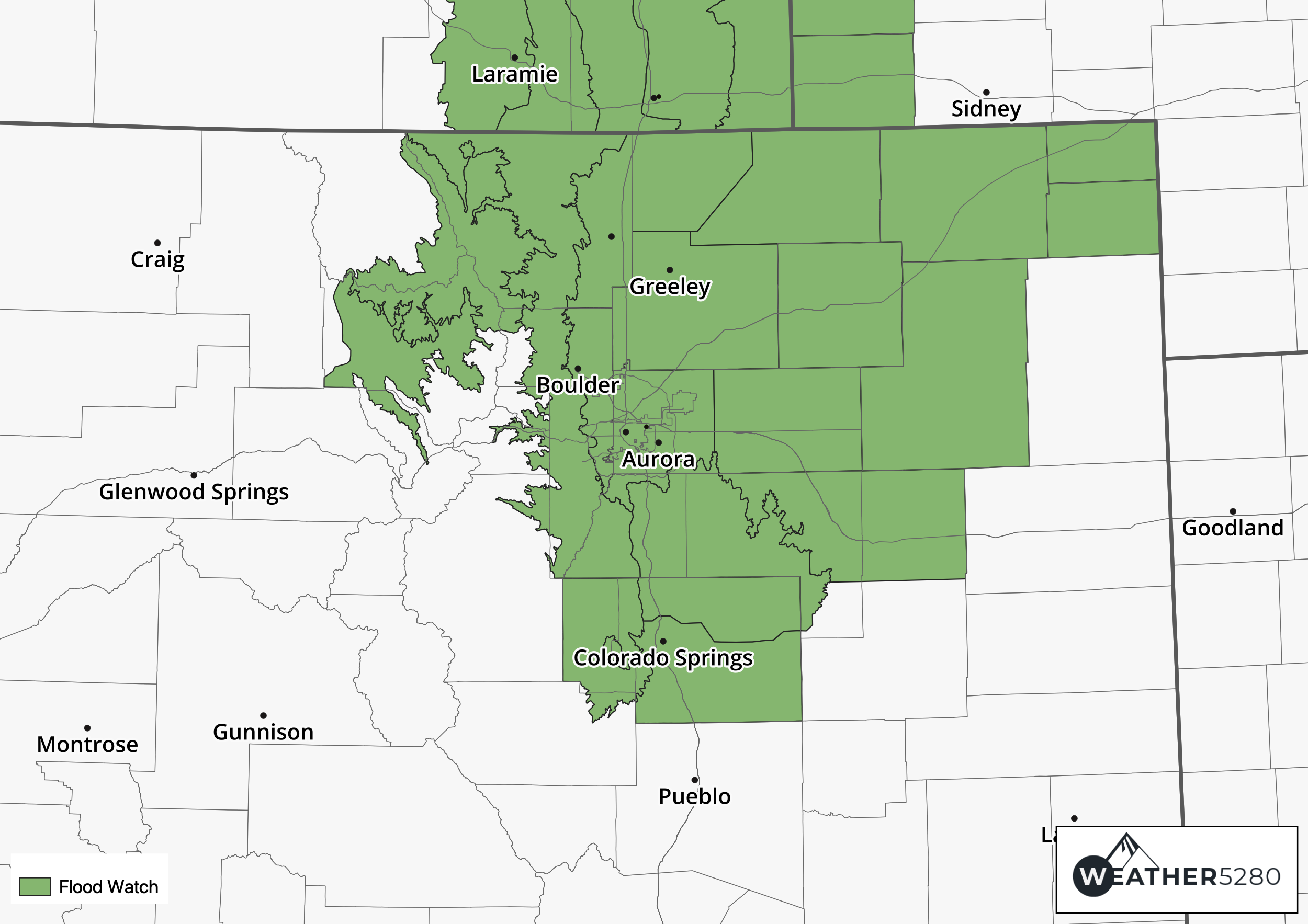 The map below shows precipitable water anomalies through Wednesday morning, with greens indicating above average PW values – indicative of increased monsoonal moisture across the region. Values will be at their greatest this afternoon and evening along the Front Range.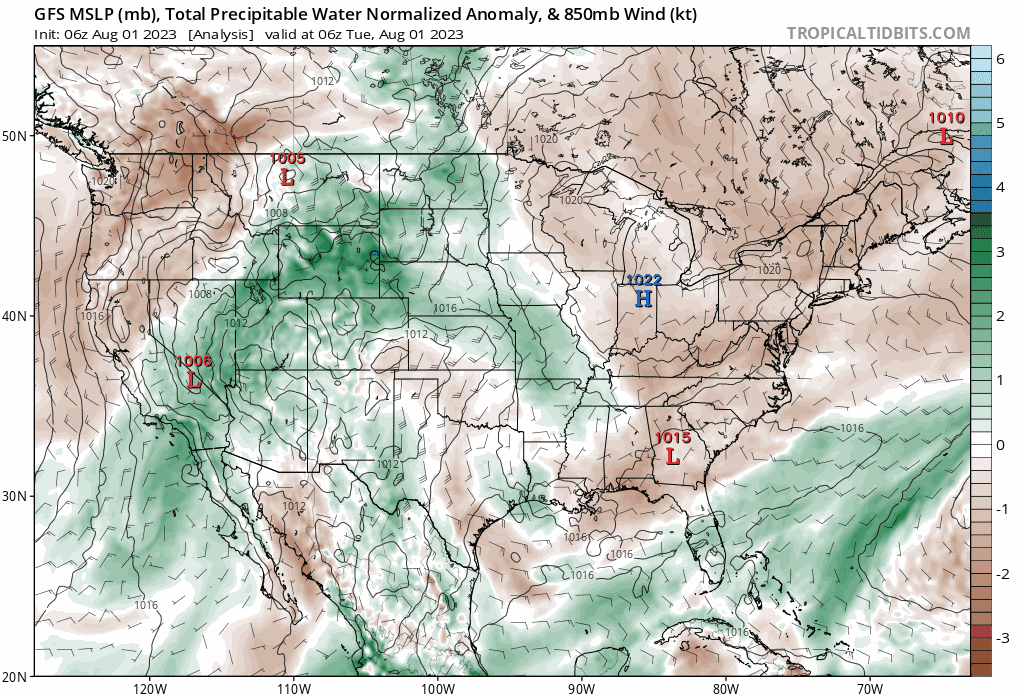 Storms are expected to develop along the Front Range by early afternoon, and gradually work their way east through the evening hours. From the HRRR we see it kicking off the first storms around Denver around 2 to 3pm: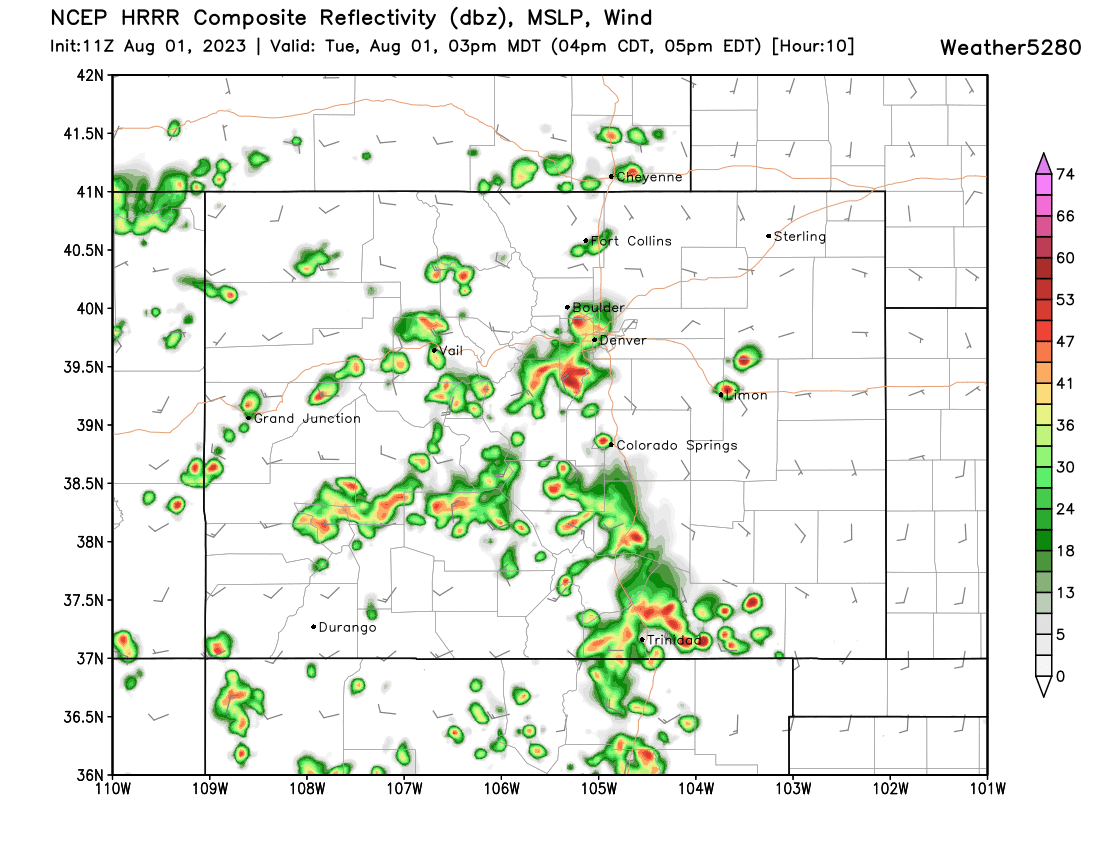 Becoming quite active by 5pm: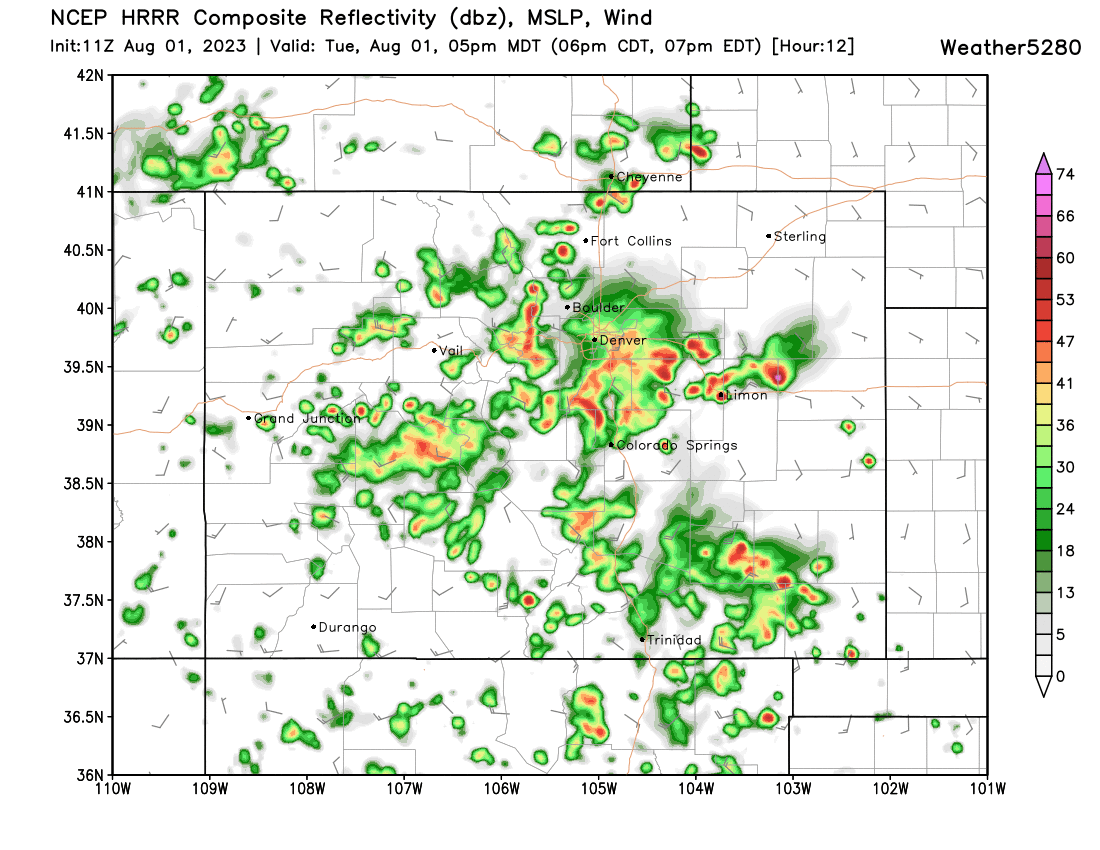 With rain, heavy at times, continuing into the evening hours along the Front Range and eventually out east across the Northeast Plains: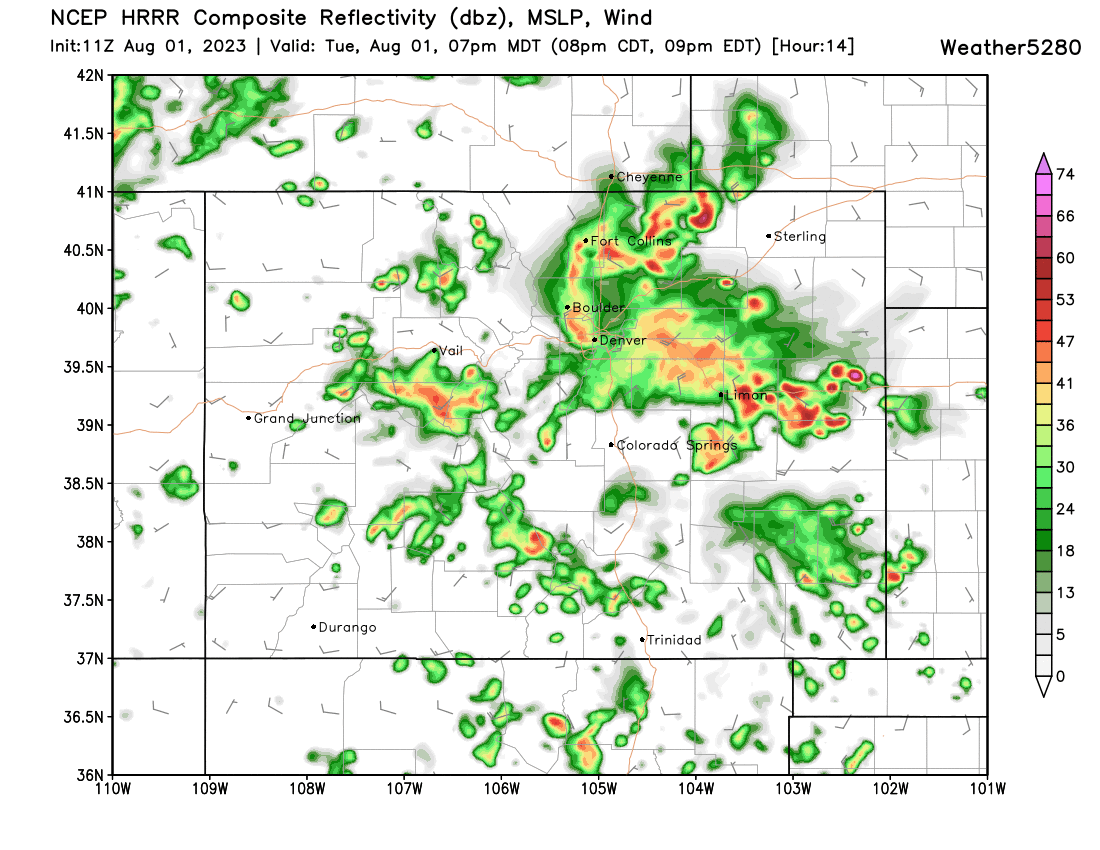 And finally, here's a look at the Excessive Rainfall Outlook for today, with Northeast Colorado under that heightened risk area: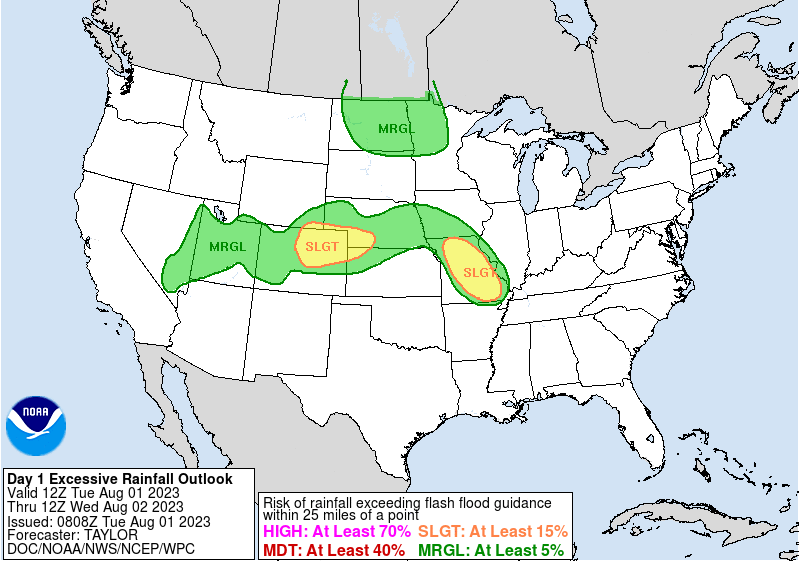 While the primary focus of today's weather will be the threat of heavy rainfall and flooding, as we saw yesterday severe storms will be a possibility as well. While odds are low overall, hail will certainly be possible under the heavier cells with gusty winds to boot.
---
Don't get rained out of your plans; If you'd like to be getting the "heads up, hey there is a forecast to be aware of" style emails from us, you can sign up for those for free by clicking here!
---
Stay safe, keep us posted, and if you happen to be out and about when the storms hit and you see water on the roadway, remember – turn around, don't drown!