An interesting weather pattern ahead for the U.S. as we track hurricane Hilary in the Eastern Pacific and a likely potent heatwave across the high plains and midwest by this weekend and into next week.
First, another cooler than average month through the halfway point of August not just for our region but across much of the CONUS save for Texas, parts of the Southeast and recent record heat across the Pacific Northwest: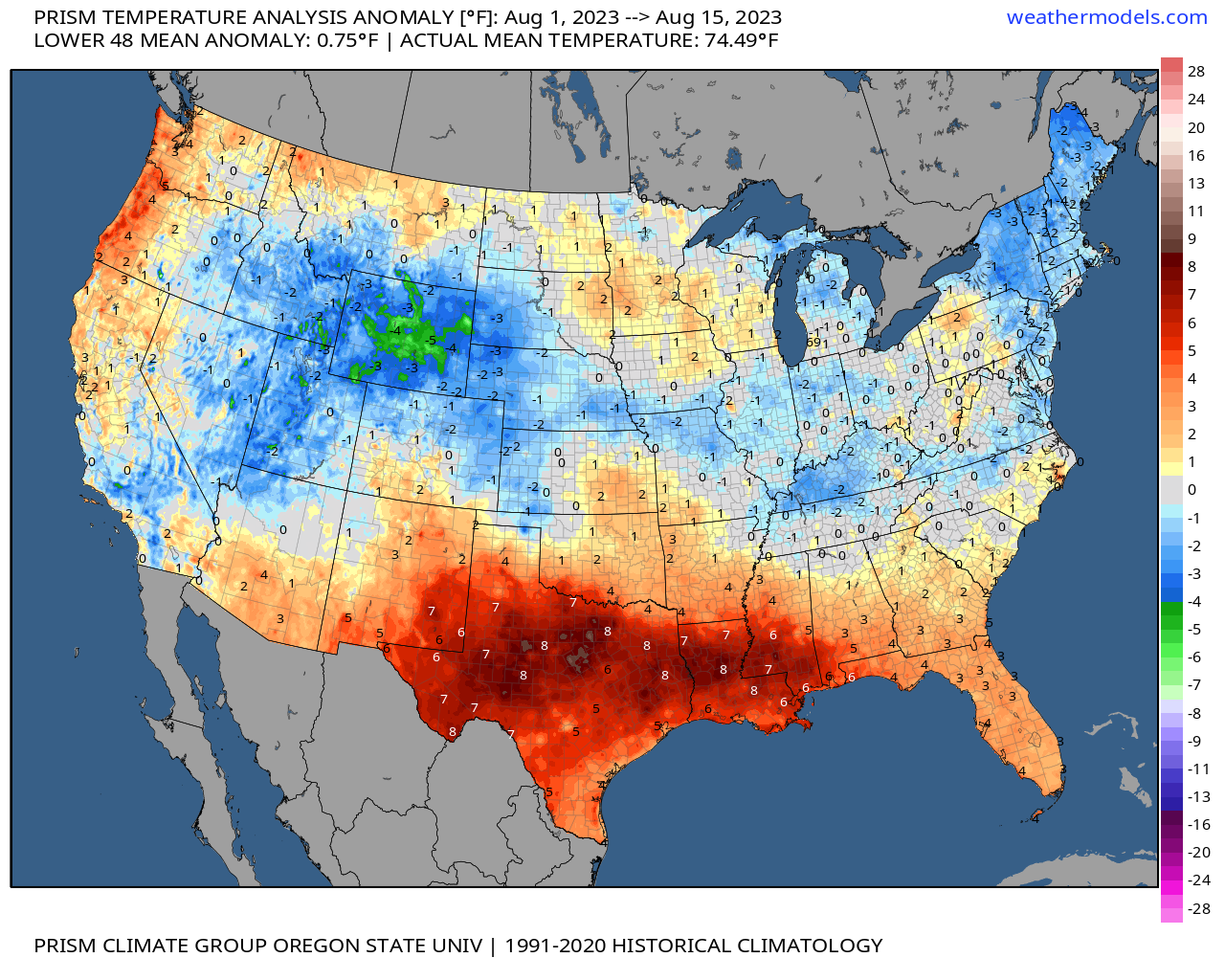 A couple changes to the pattern are in the works that will shift things this weekend and into next week and usher in plenty of heat for parts of the country that have largely escaped it so far this summer, as well as bring anomalous moisture to the Southwest U.S. by way of Hilary.
Hurricane Hilary is forecast to strengthen into a major hurricane as it moves north over the next couple of days, before weakening and moving into the Southwest U.S. by late weekend/early next week: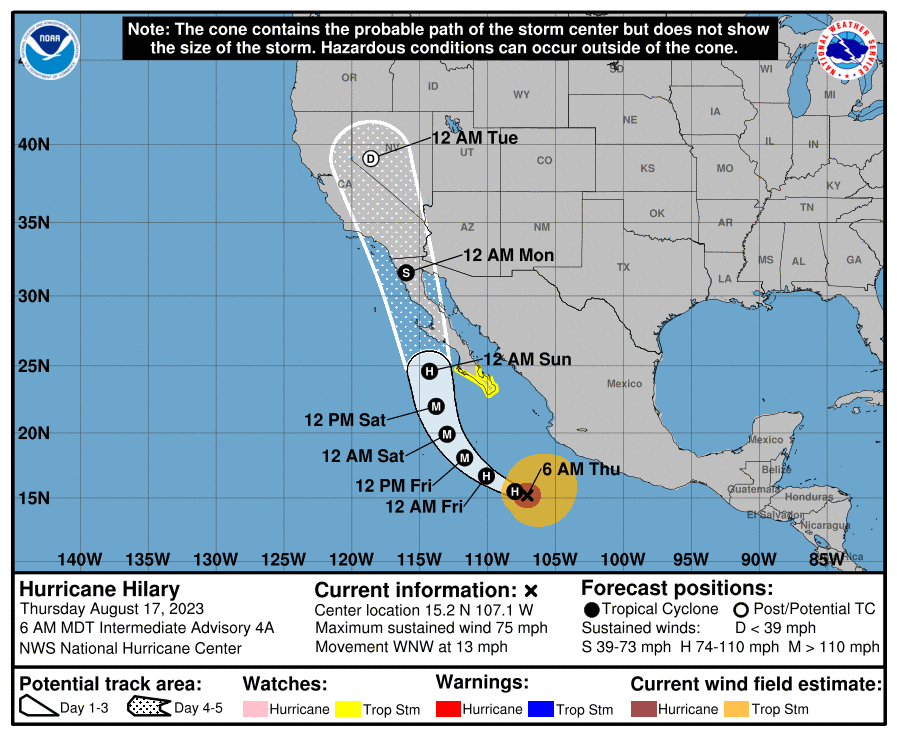 As this tropical storm/depression moves inland we expect a lot of water to fall in parts of this region with flooding becoming an increasing concern as we head for next week. By Sunday we already see that excessive rainfall threat on the increase, and this will continue to increase barring changes to the forecast as we head closer to Monday.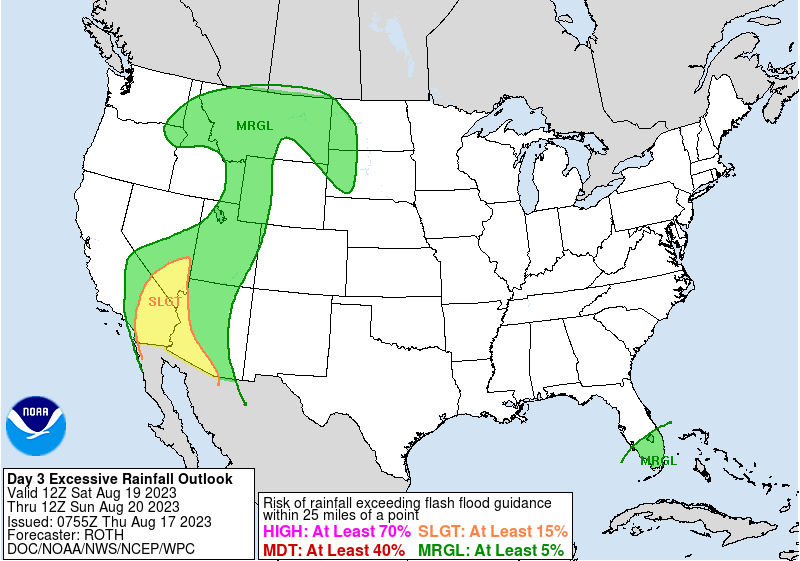 With probabilities for 1" of rain or more quite high now across southern California and into western New Mexico and Nevada: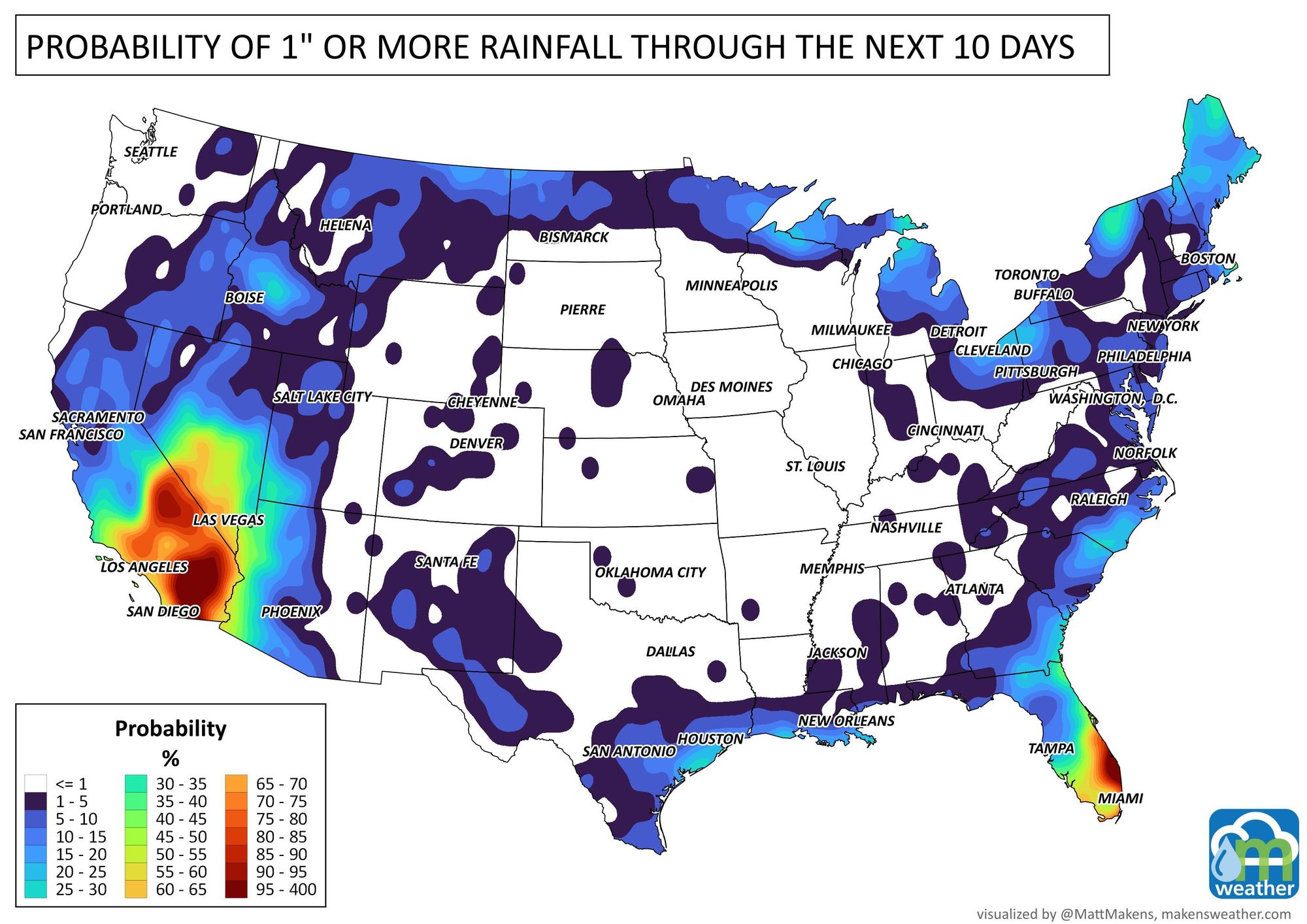 Needless to say, the greatest precipitation anomalies will be across the Western U.S. through next Friday with drier conditions along and east of the Rockies. Western Colorado will need to keep an eye on the forecast too, as monsoonal flow and Hilary remnants could provide better moisture than indicated here if things align right: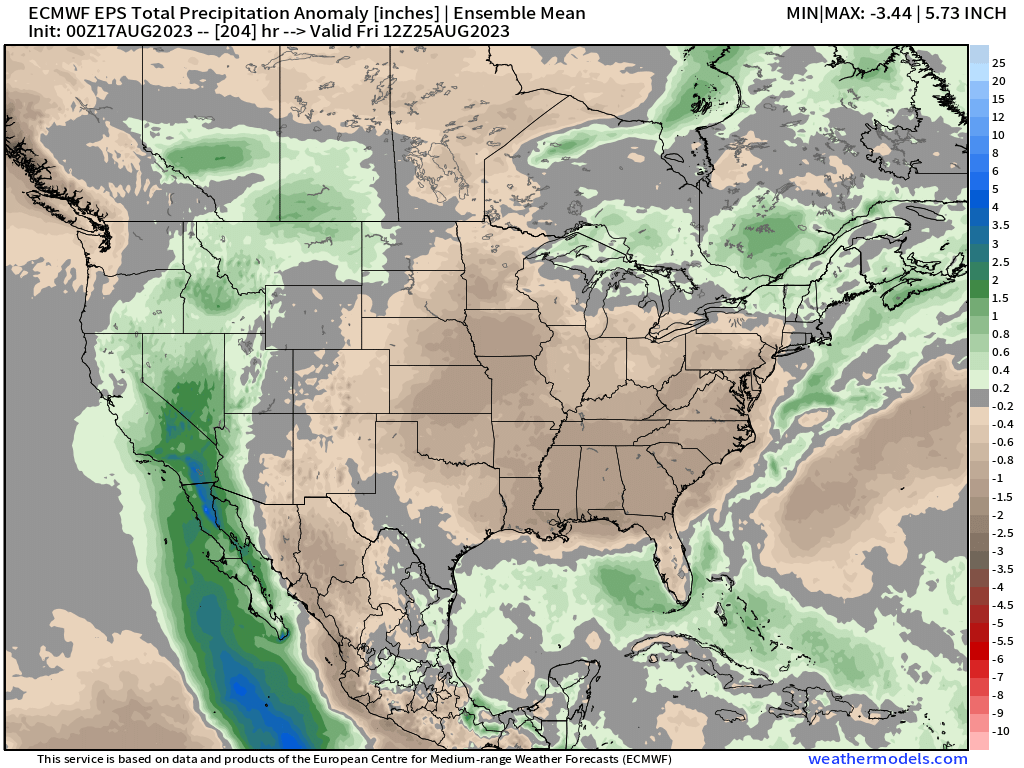 As Hilary comes inland, we'll see the ridge shift east across CONUS and strengthen quite dramatically over the heart of the country. This will not only help steer Hilary into California and the Great Basin, but also promote HOT temperatures across the midwest for much of the next week.
The 5-day anomaly ridge map for next Friday shows where the ridge will be centered: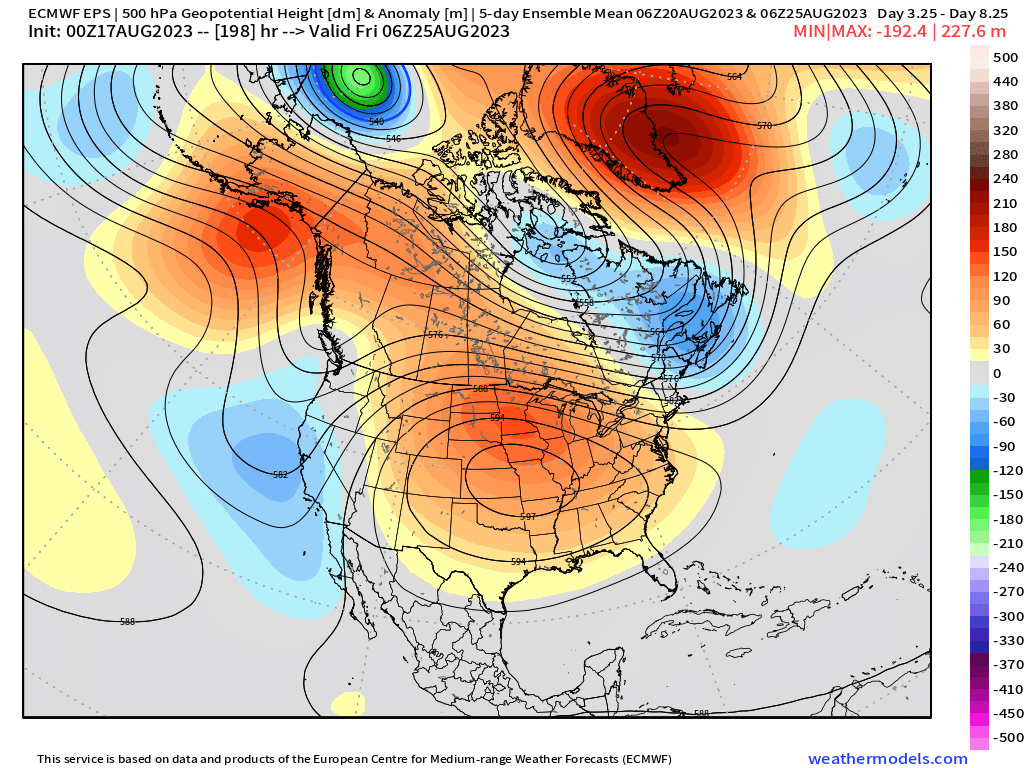 With plenty of heat to go along with that ridge (nice and cool under Hilary's path!):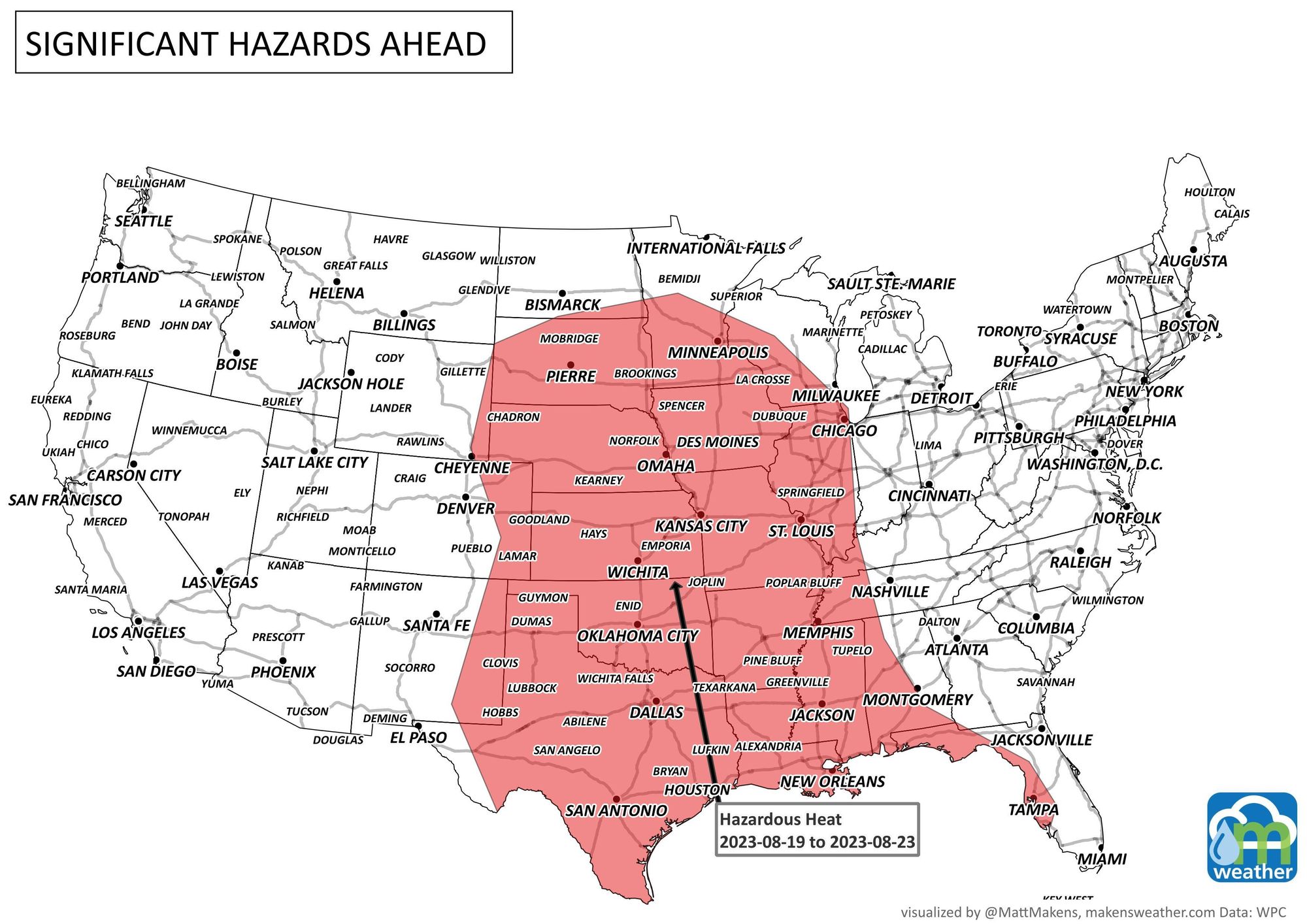 With any luck at all, Denver will be spared the worst of the heat – but the weekend and into early next week are expected to be quite hot nonetheless.
The blend of models has highs in Denver in the low to mid 90s through early next week before cooling finally late in the week: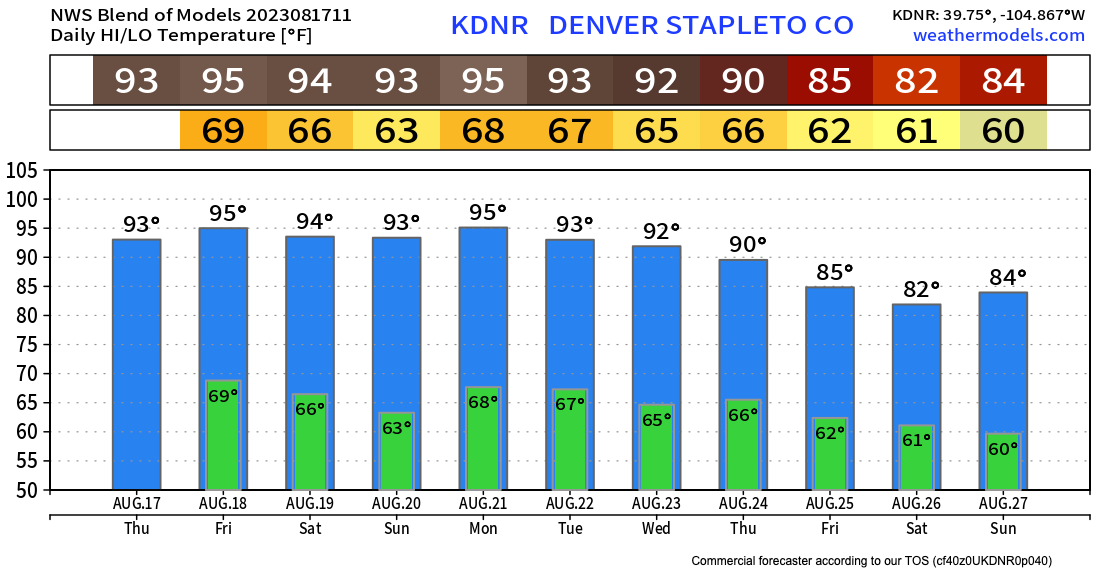 To our east the heat will be a bit more extreme, Topeka Kansas for example should be bracing for a stretch of several days with highs well above 100°F this weekend into next week: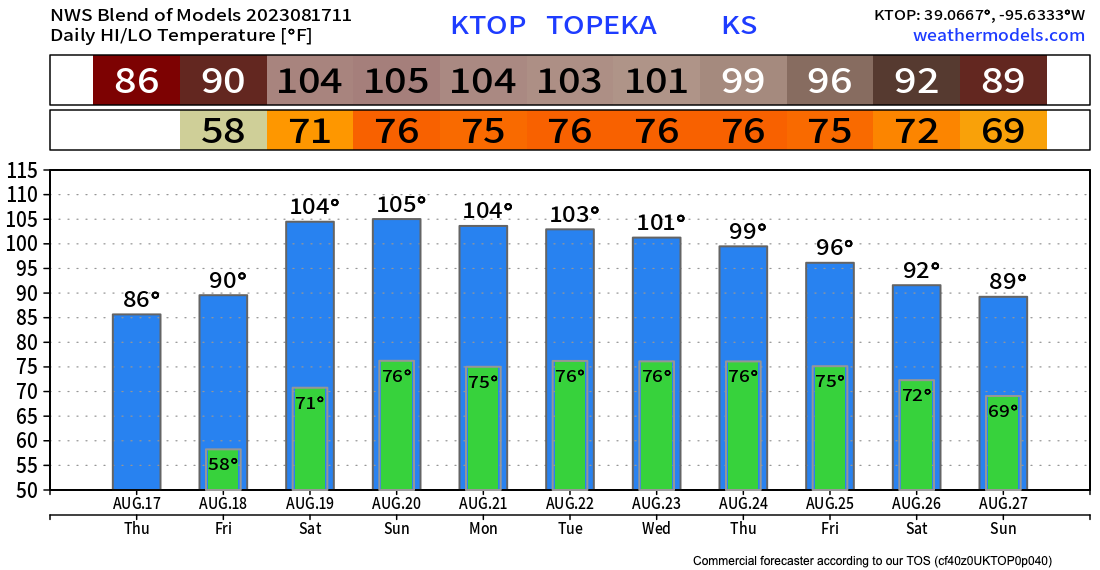 Lots to watch!
If your plans take you west this weekend you'll want to pay attention to Hilary's forecast as this is no doubt an evolving situation and for some areas wind and rain is likely to cause issues later this weekend into next week.