The heat continues.
Monday Denver set a new record high for August 21st hitting 99°F Monday afternoon breaking the old record of 97°F for the date. At 99°F, Monday also tied the hottest day of the year thus far in Denver, when Denver hit 99°F last week.
Here's a look at all the record and near record temperatures over the last 24 hours – some cool ones where Hilary moved through, but overwhelmingly hot across the middle of the country yesterday afternoon: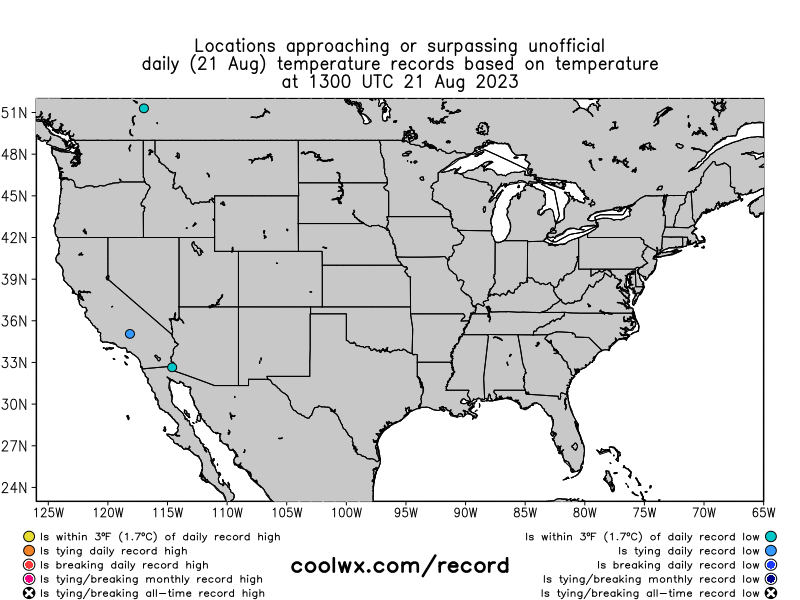 Today will be hot once more, but it looks like we'll fall a degree or two shy of the record – though it is definitely within reach.
The record high for today is 98°F, the current forecast calls for a high of 96°F in Denver with a Heat Advisory in place from noon through 8pm for the Denver area. From the NWS:
...HEAT ADVISORY IN EFFECT FROM NOON TODAY TO 8 PM MDT THIS EVENING...  

* WHAT...High temperatures will range from 96 to 102.  

* WHERE...Denver, Fort Morgan, Byers, Sterling, Akron, Julesburg,   and Holyoke.  

* WHEN...From Noon today to 8 PM MDT this evening.  

* IMPACTS...Hot temperatures may cause heat illnesses.
This all thanks to the ongoing record-breaking ridge that has parked itself over the heart of the country in recent days. Heat Warnings and Advisories will again be in place from the Gulf north to the Great Lakes today as millions swelter under the heat.
Happily, the record/near-record heat for the greater Denver area will come to an end as the week progresses, with highs dipping into the low 90s Wednesday and Thursday then cooling quite a bit Friday – 70s for highs anyone?!
The blend of models would suggest so, with a current forecast of 79°F on Friday and Saturday with an increased chance of rain on the way as well: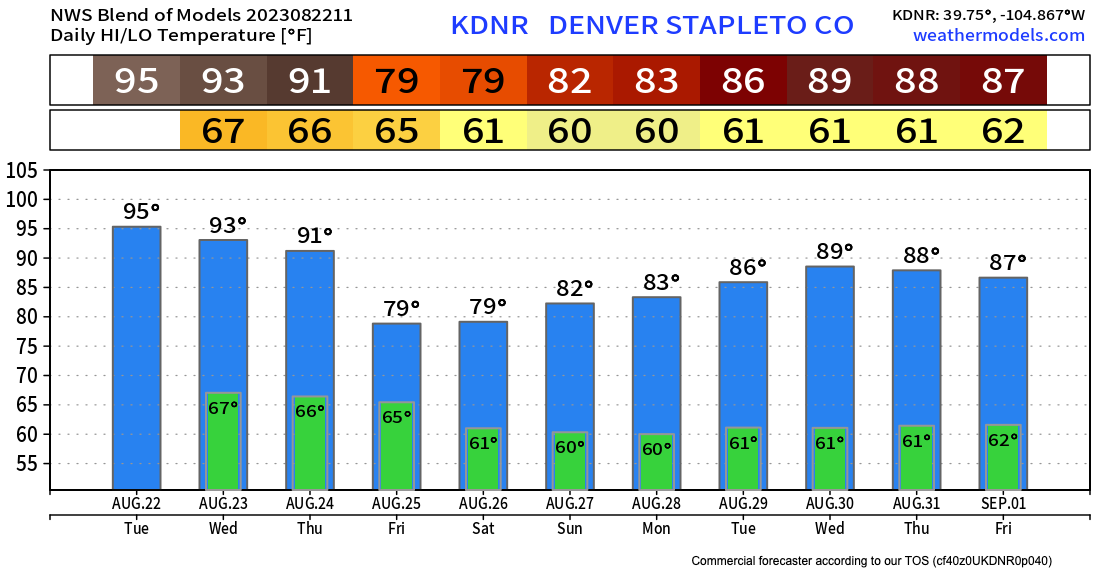 How much rain? We'll see, but indications are we could see some appreciable moisture across the region Thursday PM through Saturday as we tap into some anomalous moisture coming out of the Gulf (current tropical storm Harold) which will wrap around the high and eventually make its way into our area.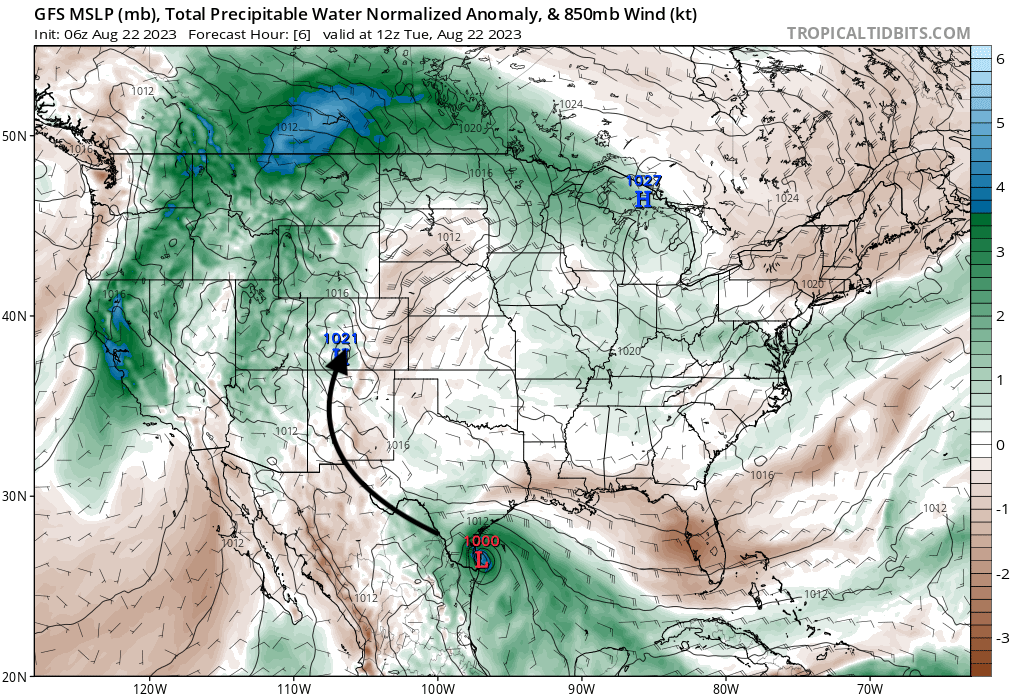 Again, models differ on how much rain we'll see, but a good chance of showers and storms across the area looks increasingly likely with some guidance pretty bullish on precipitation totals.
We see odds for precipitation really ramp up on Friday, and linger a bit through the weekend. Here are latest probabilities:

With the European ensemble mean showing that above average precipitation leading out of the Gulf and wrapping northwest across Colorado through Sunday: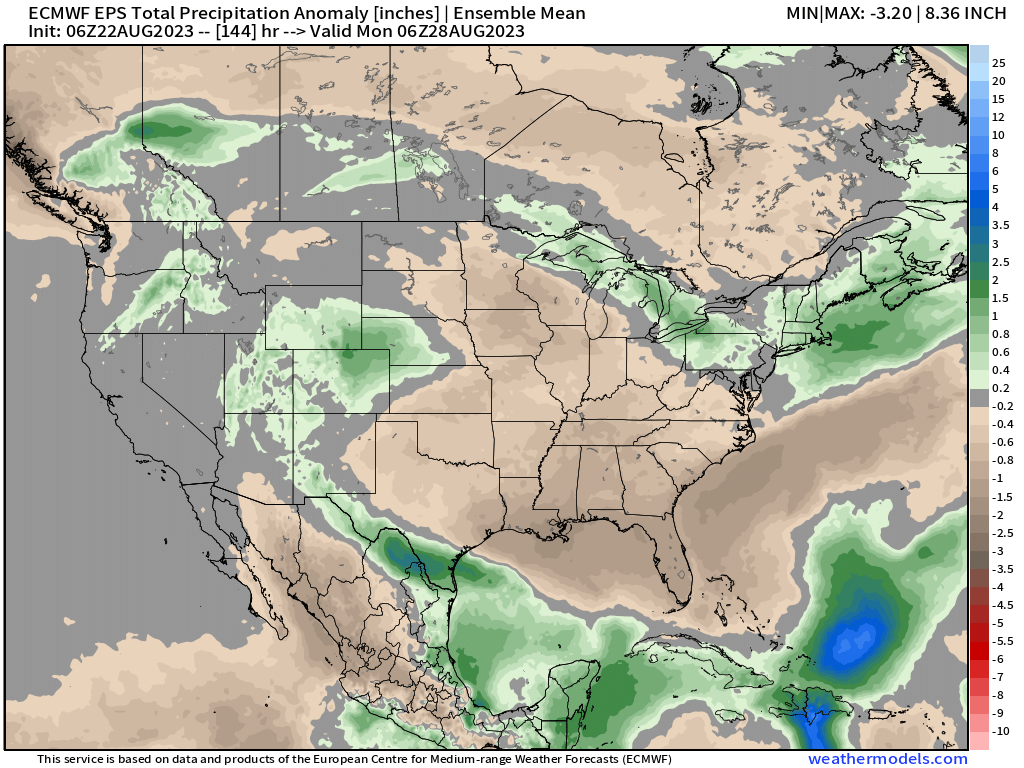 Stay cool today, and stay tuned!