It's not exceedingly common for us to see remnants from a tropical storm bring heavy rainfall to the state, particularly for storms out of the Atlantic. It's more common from the Eastern Pacific, but still, not exactly an event one associates with Northeast Colorado.
Yet, here we are. Tropical storm Harold which moved through southern Texas earlier this week is bringing areas of heavy rainfall to Colorado, Wyoming, and Nebraska today and tonight which has prompted the NWS to issue a Flood Watch which continues through much of Friday night.
We already saw a bit of rain move through the Denver area early this morning, and here is a look at where the heaviest rainfall is located as of 7:30am Friday: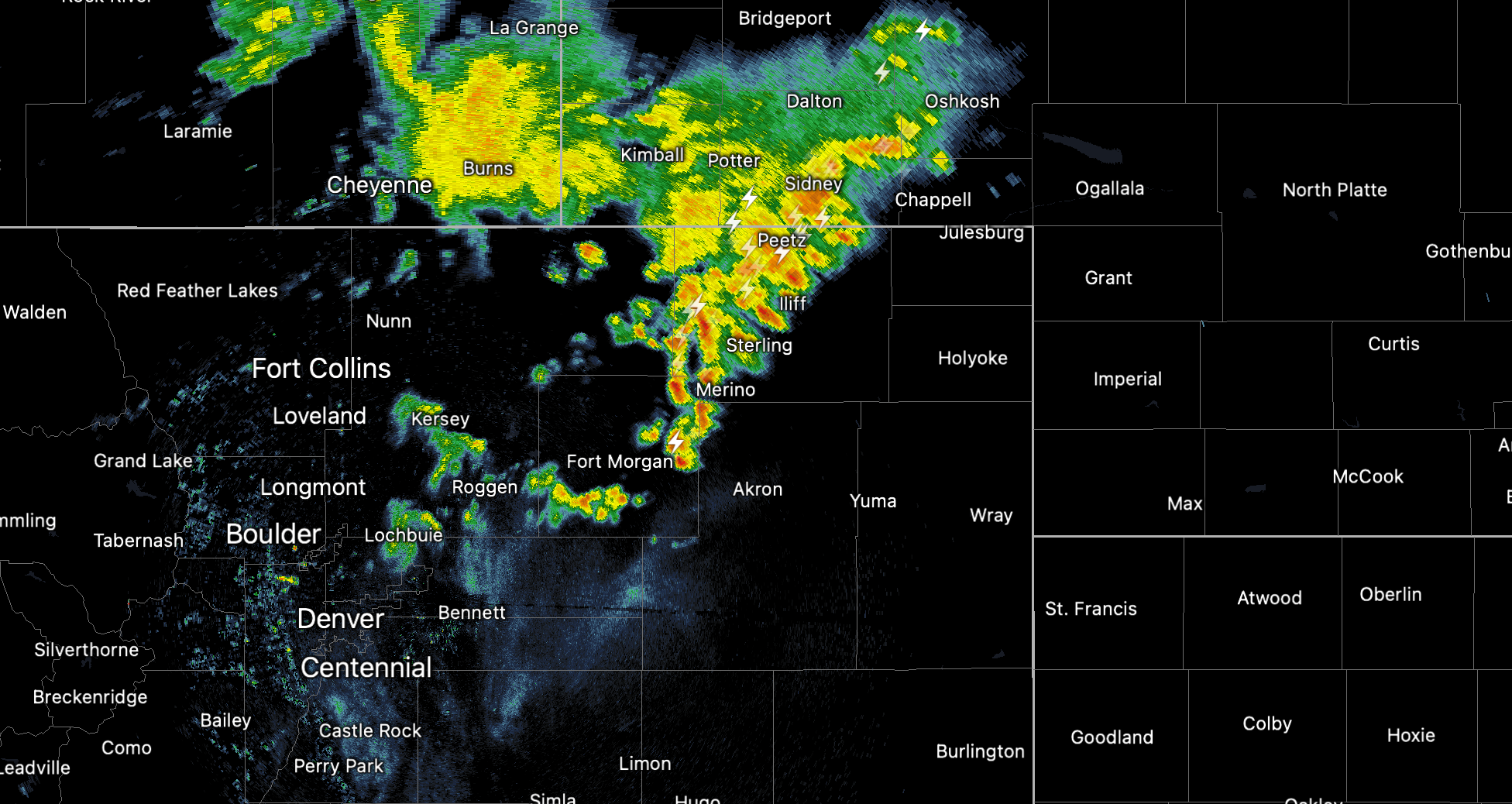 For the urban corridor we see the chance of rain increase again through early afternoon and looks to be greatest this evening, though the chance of rain will carry with us well into your Saturday. A secondary push of showers and storms is expected to bring more rainfall to the region Sunday into Monday.

Or, if you prefer to see where/when the storms will be, this series will take you through the day: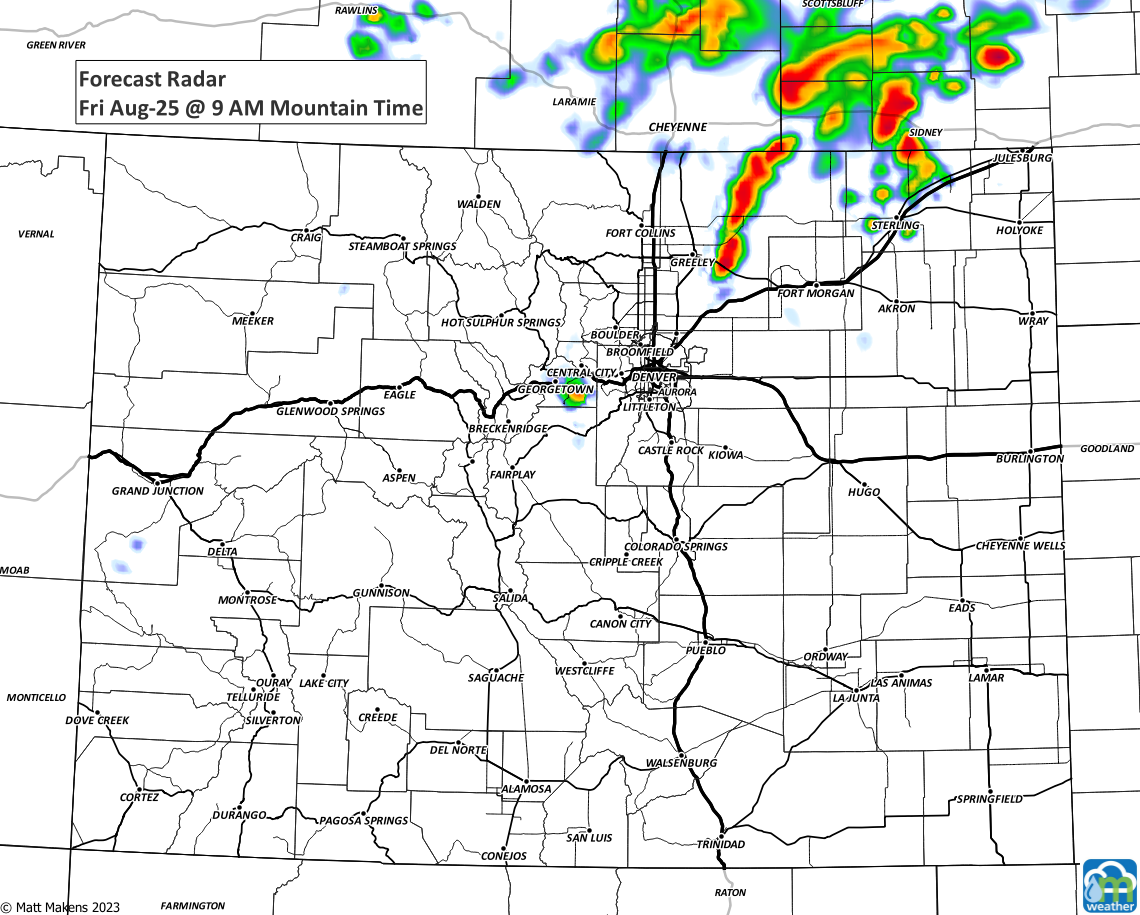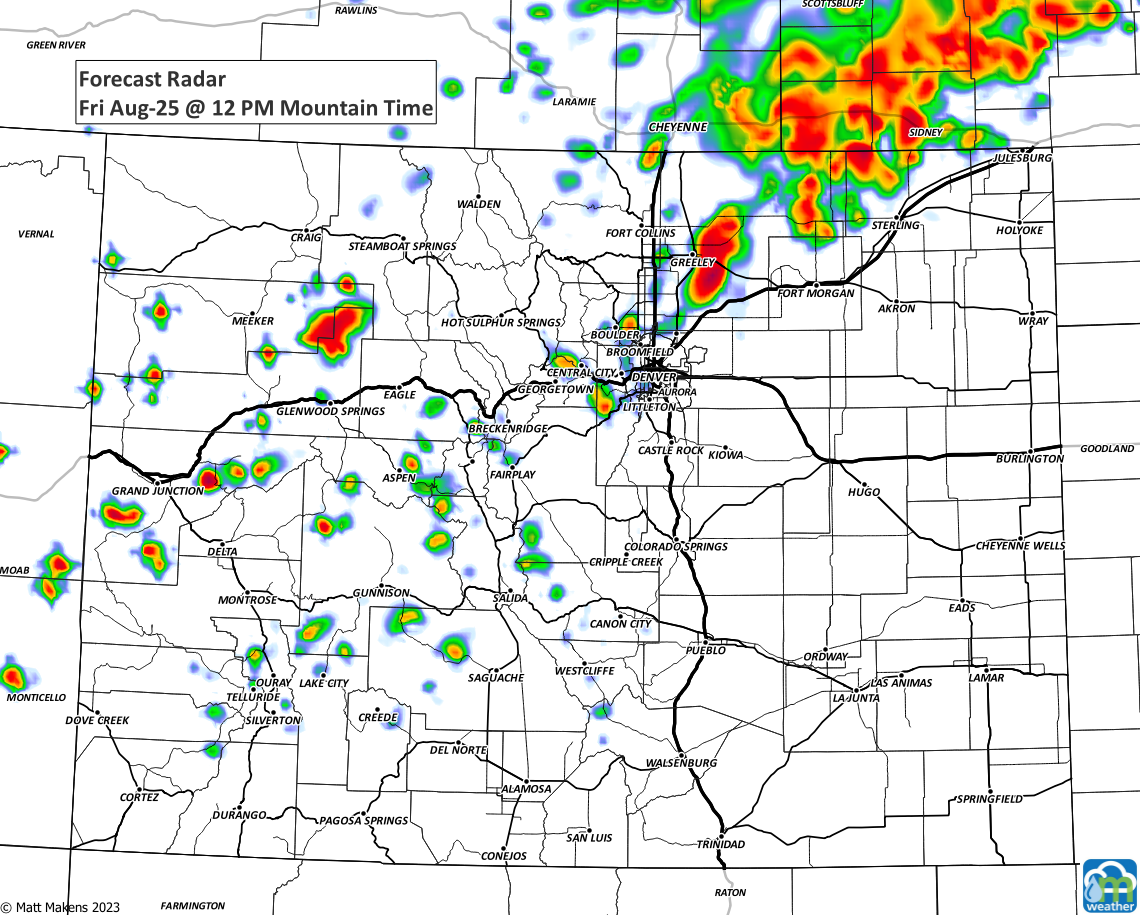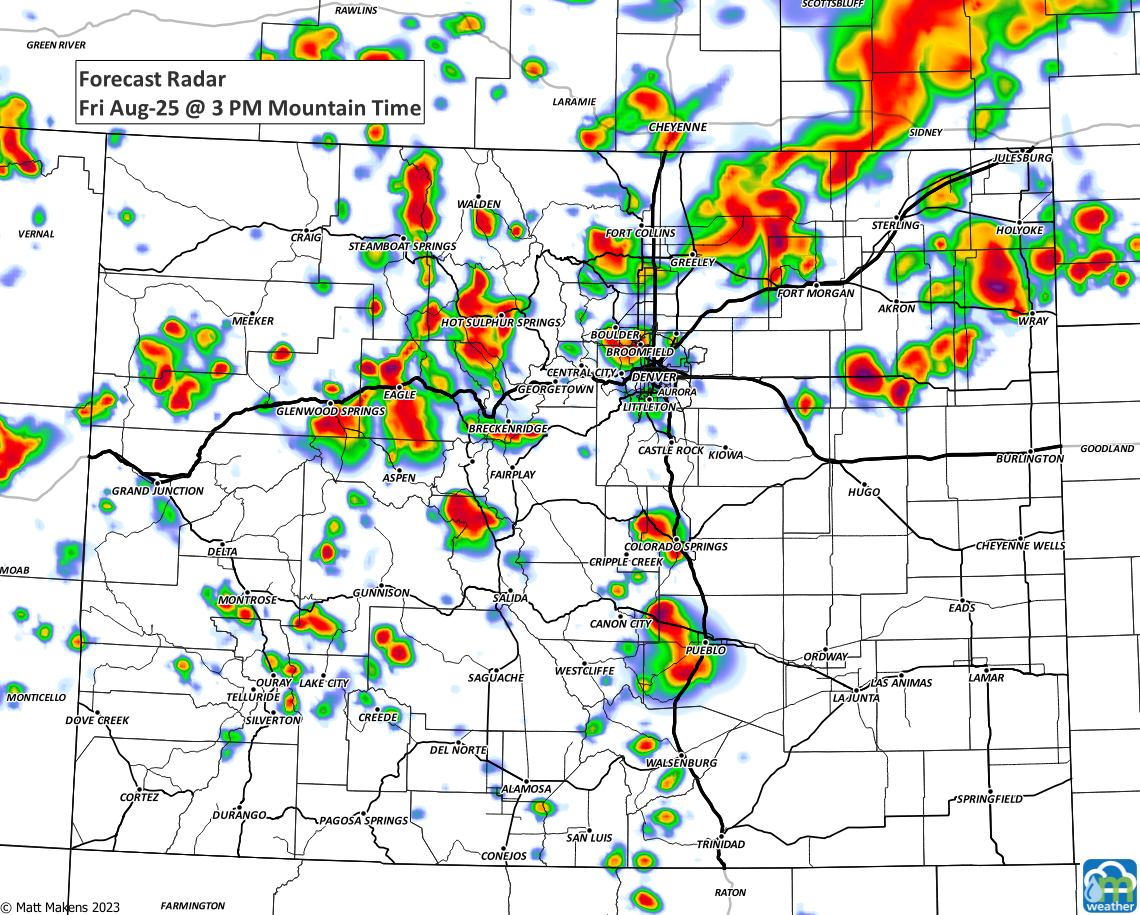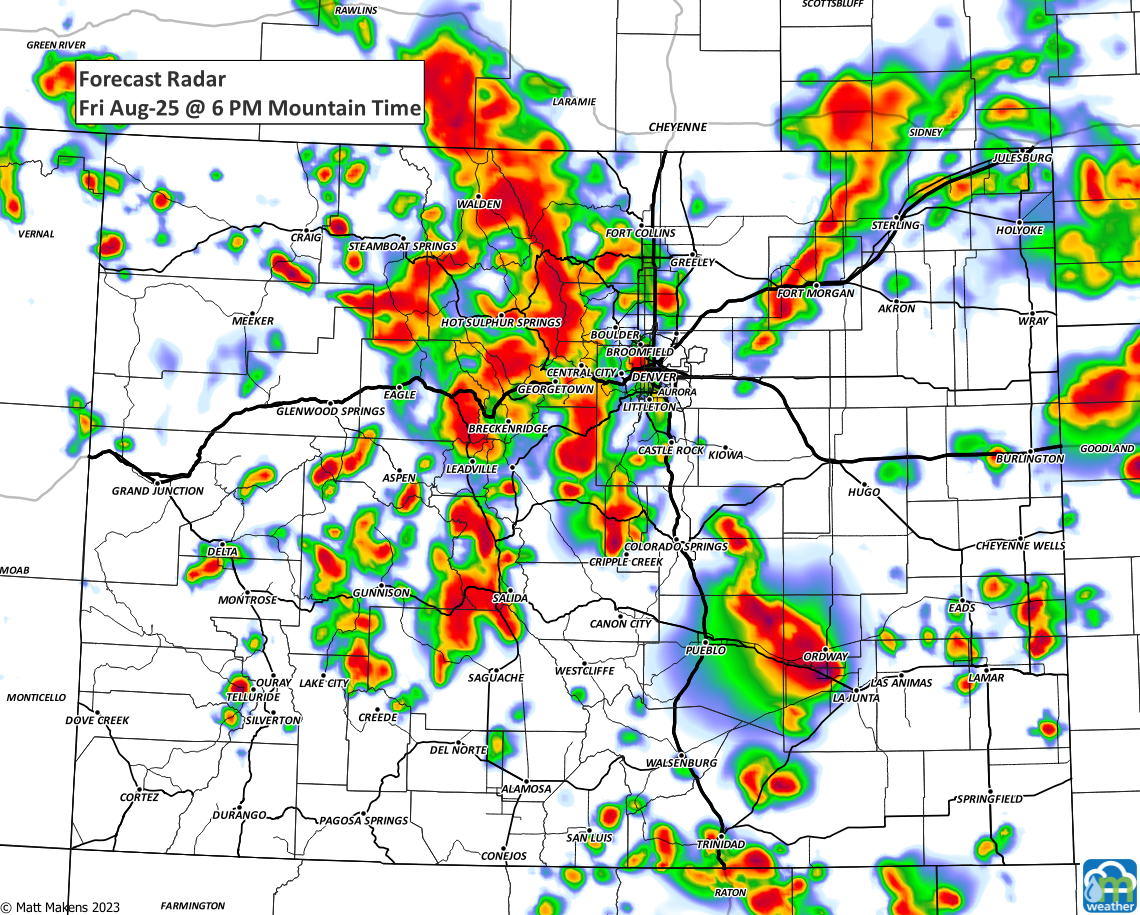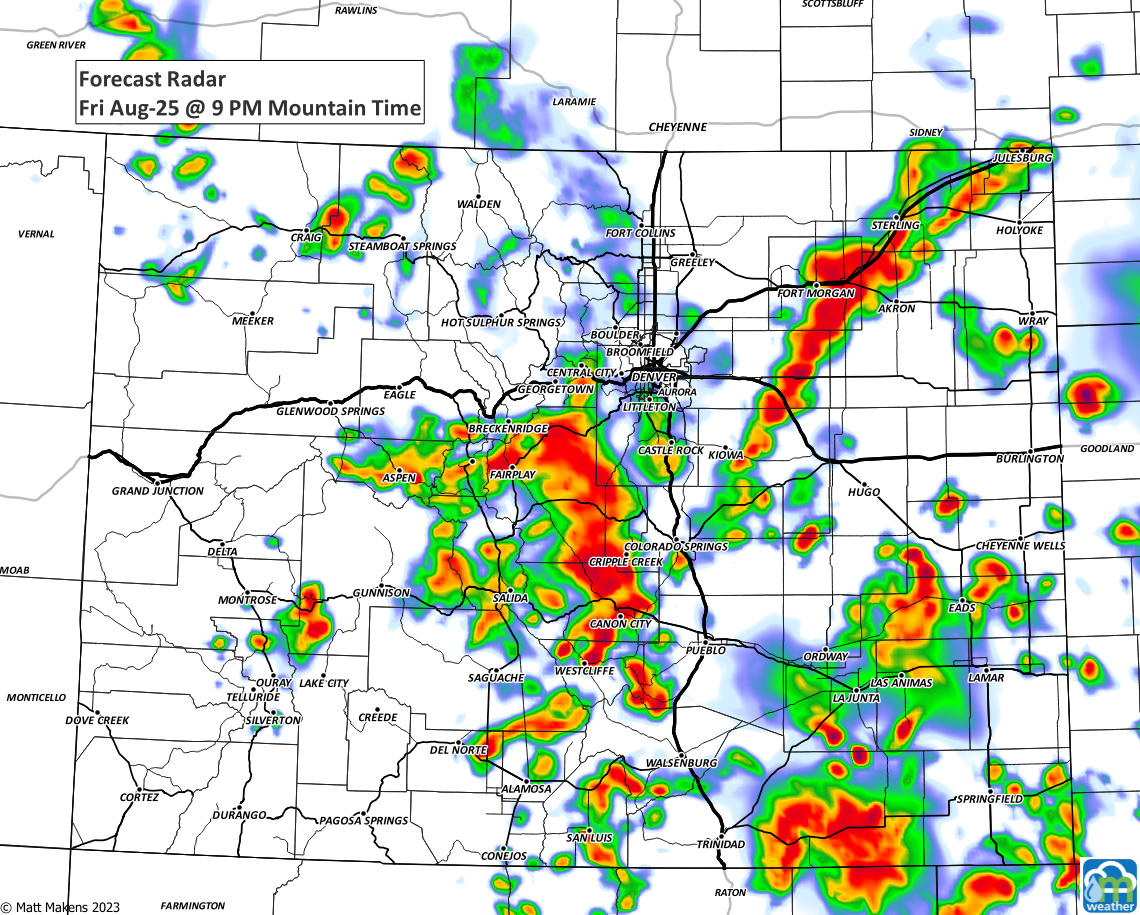 Here are the areas under the Flood Watch as of Friday morning: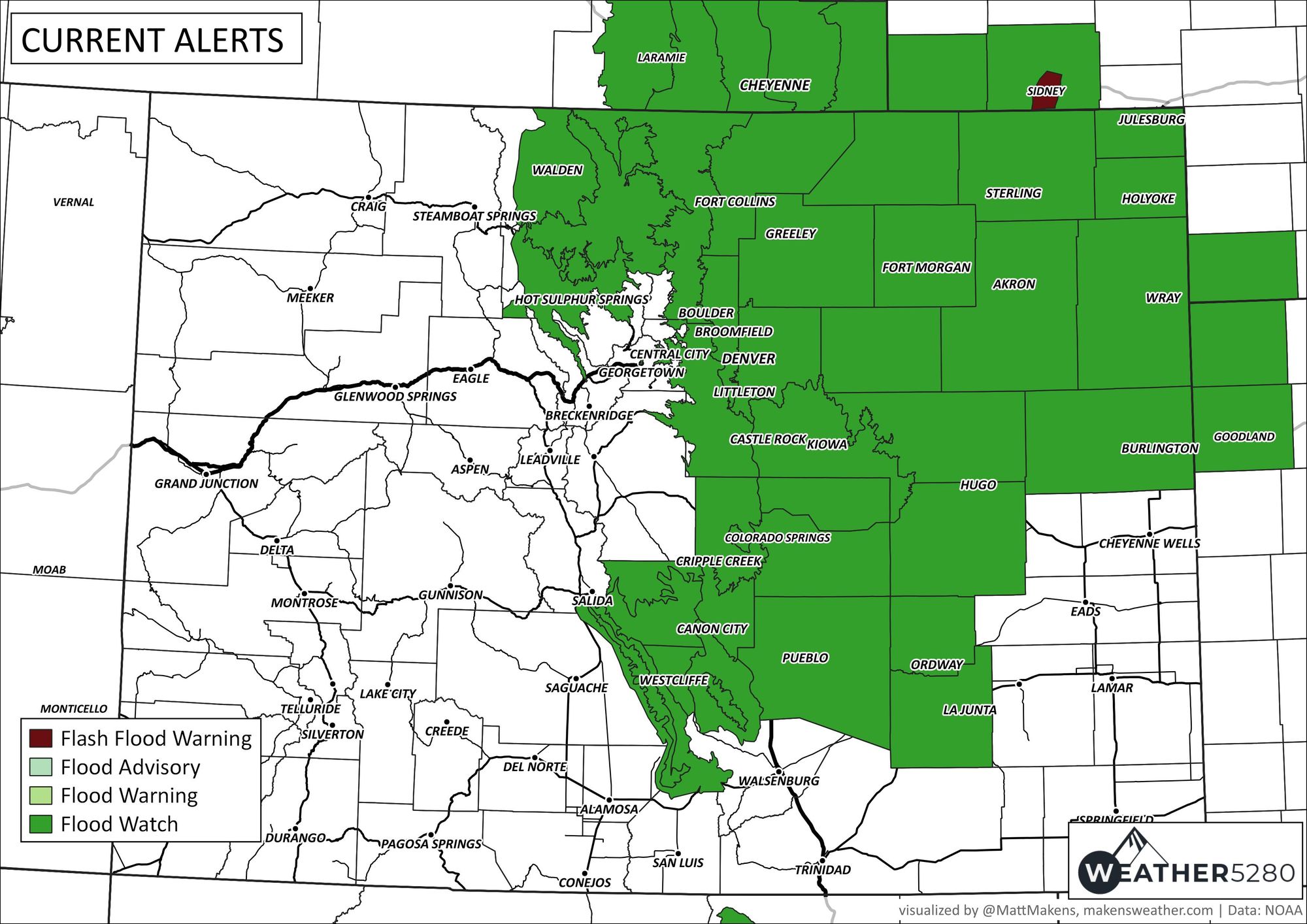 From the NWS:
...FLOOD WATCH REMAINS IN EFFECT FROM 9 AM MDT THIS MORNING THROUGH SATURDAY MORNING...  

* WHAT...Flash flooding caused by excessive rainfall continues to be   possible.  * WHERE...Portions of central, east central, north central, and   northeast Colorado, including the following areas, in central   Colorado, Jefferson and West Douglas Counties Above 6000   Feet/Gilpin/Clear Creek/Northeast Park Counties Below 9000 Feet.   In east central Colorado, North and Northeast Elbert County Below   6000 Feet/North Lincoln County. In north central Colorado, Larimer   County Below 6000 Feet/Northwest Weld County and Larimer and   Boulder Counties Between 6000 and 9000 Feet. In northeast   Colorado, Boulder And Jefferson Counties Below 6000 Feet/West   Broomfield County, Central and East Adams and Arapahoe Counties,   Central and South Weld County, Elbert/Central and East Douglas   Counties Above 6000 Feet, Logan County, Morgan County, North   Douglas County Below 6000 Feet/Denver/West Adams and Arapahoe   Counties/East Broomfield County, Northeast Weld County, Phillips   County, Sedgwick County and Washington County.  

* WHEN...From 9 AM MDT this morning through Saturday morning.  

* IMPACTS...Excessive runoff may result in flooding of rivers,   creeks, streams, and other low-lying and flood-prone locations.   Flooding may occur in poor drainage and urban areas.  

* ADDITIONAL DETAILS...   - Slow moving thunderstorms are forecast to develop late Friday     morning and continue through Friday night and early Saturday.     Heavy rain is likely with these storms. Localized rainfall     totals in excess of 3 inches are possible where training     storms develop.
As noted, where heavier rainfall does occur totals of more than 3" of rain will be possible. The fact is, we know there will be plentiful rain across the region today and tonight, but the exact placement of the heaviest rainfall remains very uncertain. I have no doubt in my mind that some folks will wake up on Saturday and ask – "what rain?" – while those that end up under 3 - 6" of rain will know quite well our concern.
Even in the last 2 runs from the NAM we see quite varying solutions in the placement of the heaviest rain... from just a few tenths in spots to upwards of 5" under the heaviest showers, there will be quite a variation in totals but the high-end potential exists.

Here is a broad-brushed look at expected precipitation totals across the state, but note that these totals will be highly variable.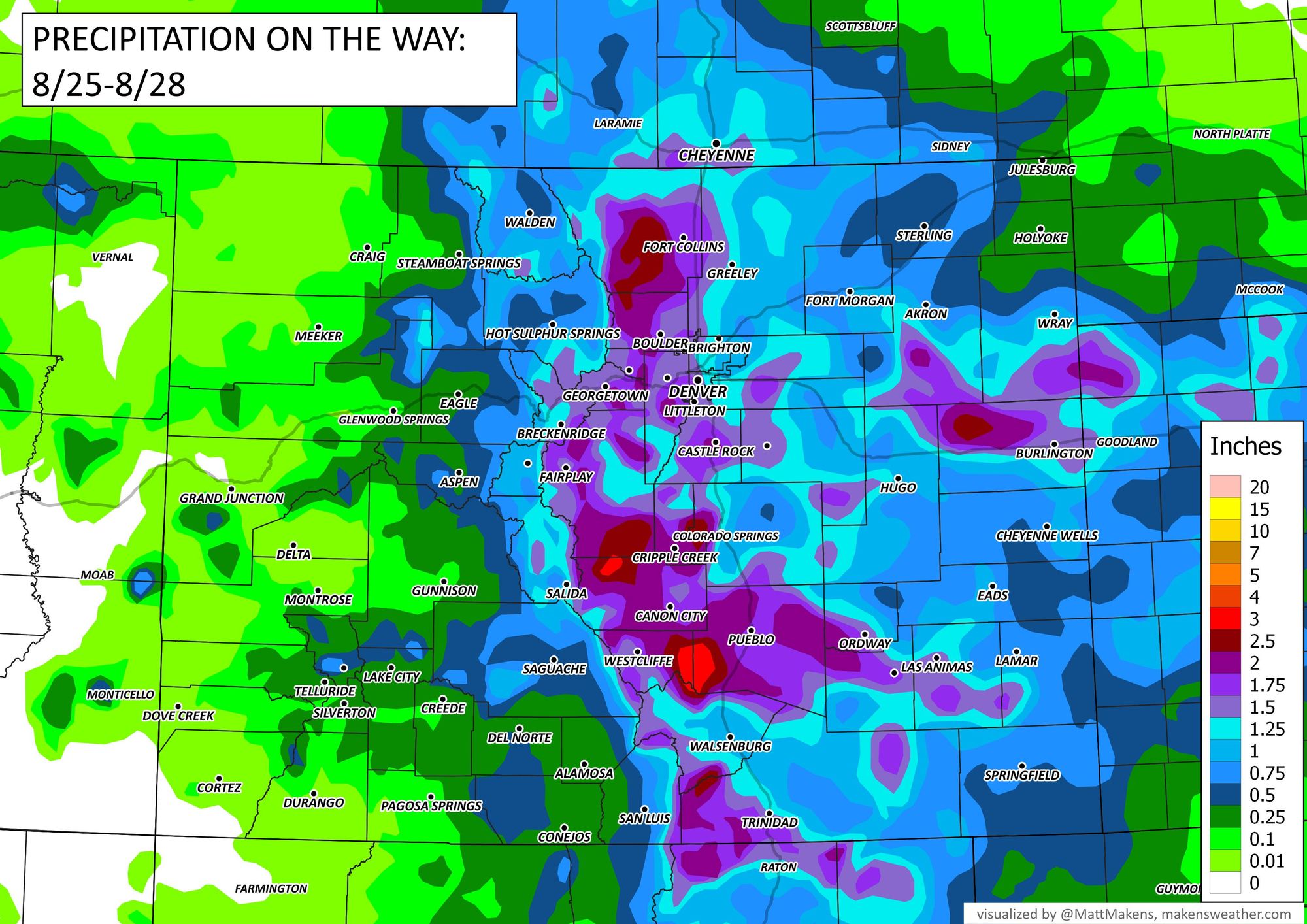 If you're curious, below is a map showing each state's rainfall maximum from a tropical cyclone (includes both Pacific and Atlantic storms). For Colorado that's 8.16" back in 1911. Not sure we'll exceed that with Harold, but it seems likely that we'll see an impressive total or two across the state when all is said and done.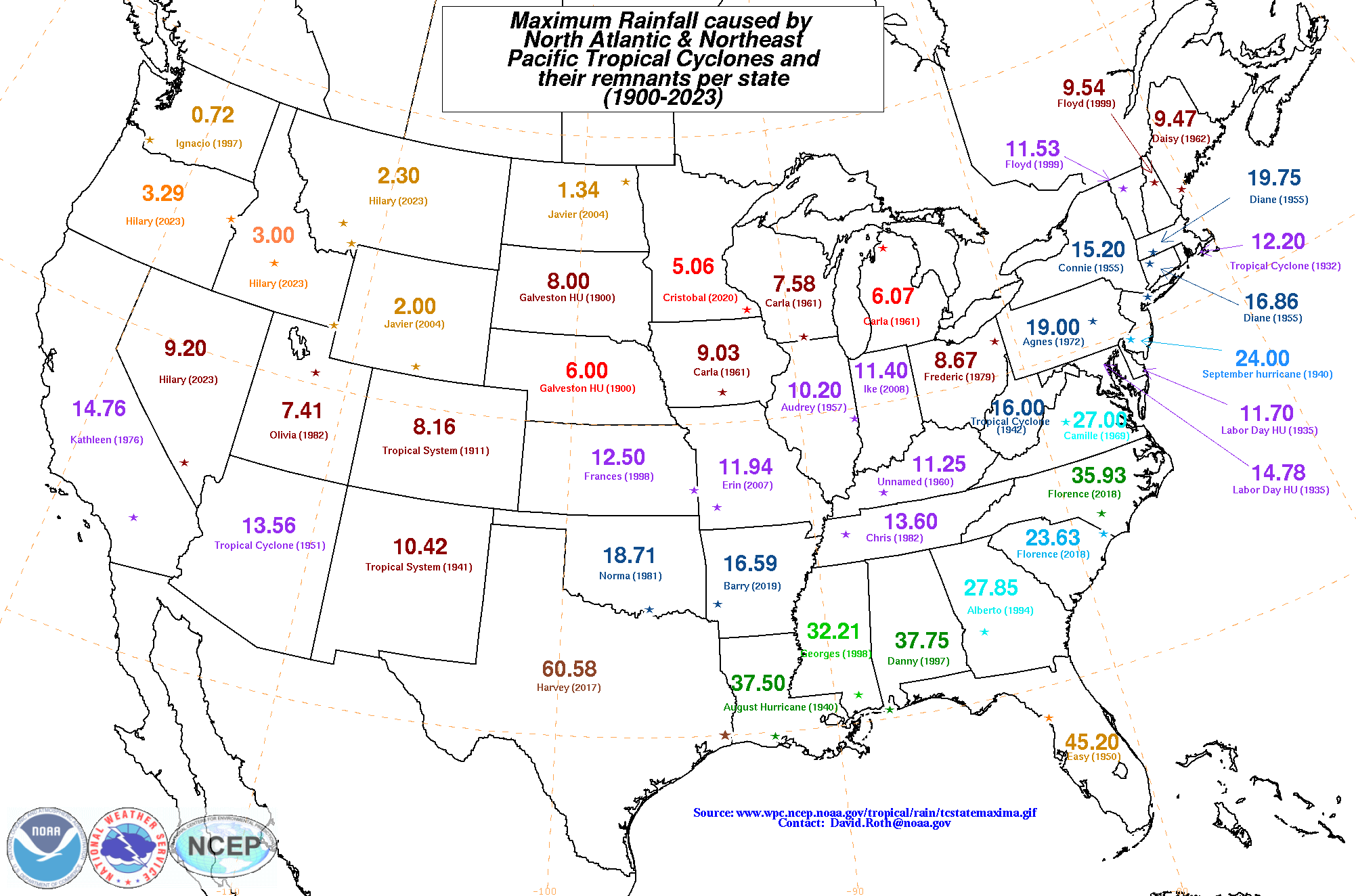 Stay safe everyone, and remember, if you see flooded roadways...
Turn around, don't drown!