Hurricane Idalia has entered the Gulf of Mexico and strengthened this morning as it picks up speed and heads north toward the Big Bend region of Florida for an expected early Wednesday morning landfall. It is forecast to make landfall as a major hurricane, with winds in excess of 110 mph.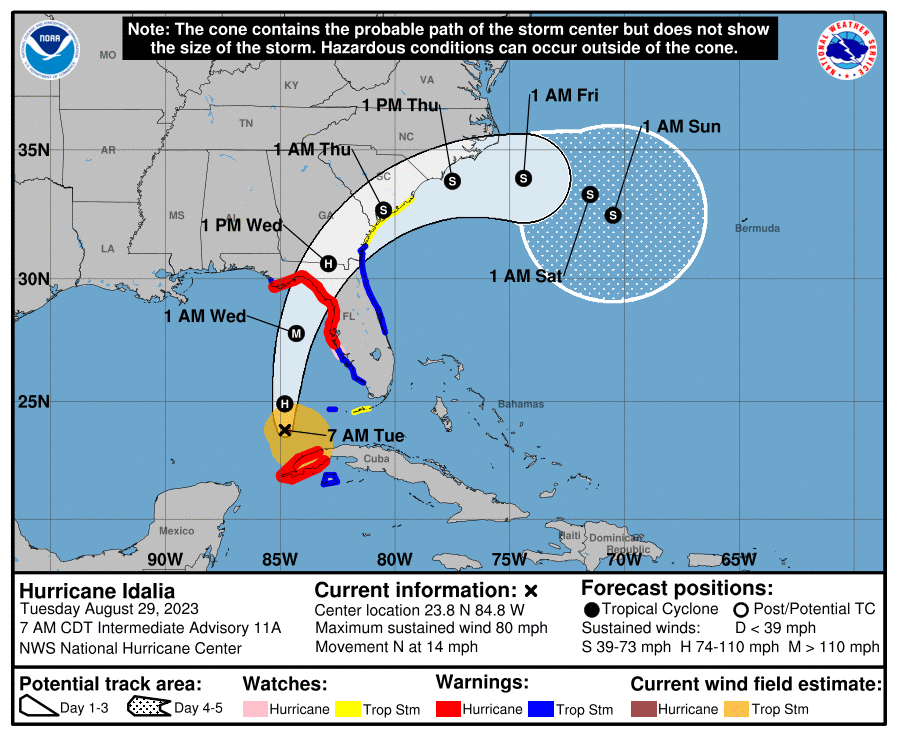 The only notable changes in the ongoing forecast for Idalia over the last day or so has been the placement of the landfall. This is normal and expected and we'll likely see a bit more wobbling in the data today as we zero in on exactly where the storm will ultimately come ashore. The general area remains unchanged.
Trends overnight move that landfall a bit further west than how it looked 24 hours ago. Not significantly so, but enough to have local impacts if you are in the general vicinity of where the storm is headed. Should the current track hold, this will put the Big Bend region of Florida at greatest risk for potentially catastrophic storm surge as the storm makes landfall Wednesday.
The NHC has issued hurricane and tropical storm warnings and watches ahead of Idalia from the west coast of Floria up through southeast Georgia and now into coastal South Carolina: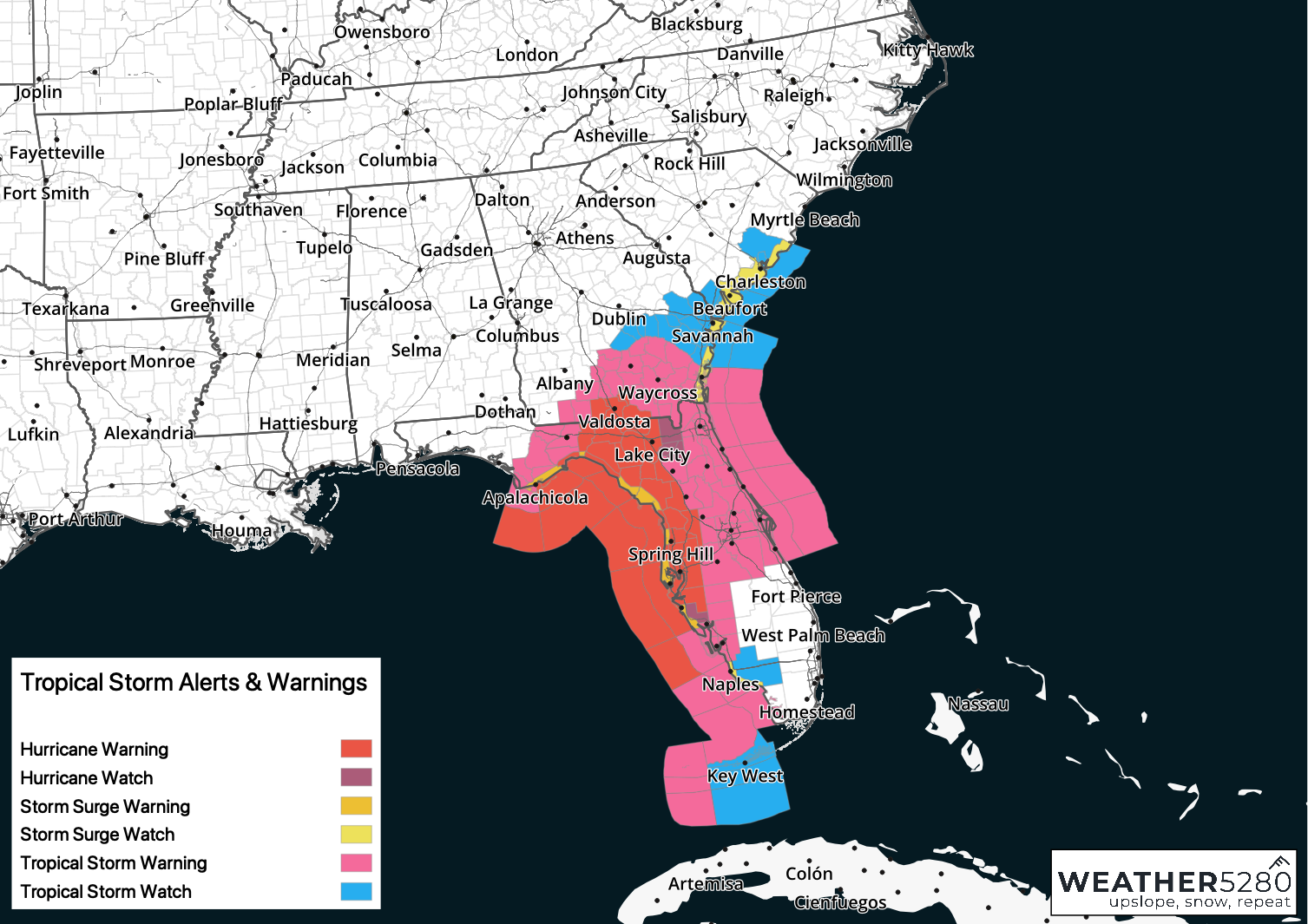 Like all tropical storms, the threats will be multi-layered, from storm surge, to wind, to heavy rain. For coastal Florida in the Big Bend region that means an 8 to 12 foot surge Wednesday morning, but even coastal Georgia and South Carolina will be bracing for a surge of several feet with southeasterly winds as the storm moves north Wednesday: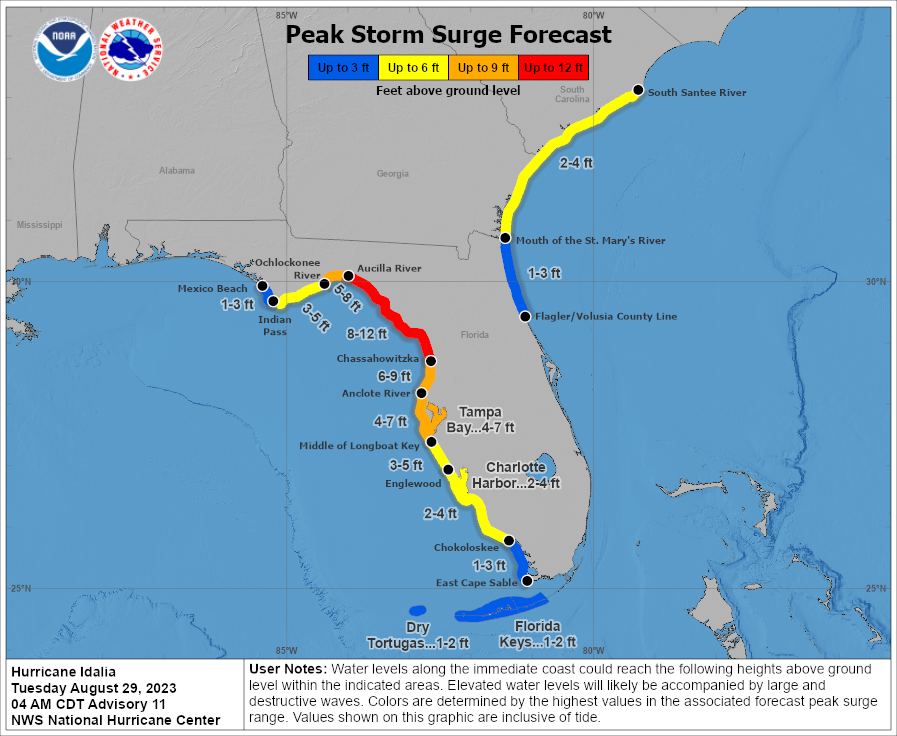 Idalia will produce heavy rainfall as well, upwards of 6" for some inland areas from Florida northeast through Georgia and the Carolinas. Here is the current flash flood risk assessment for Idalia:
And projected rainfall totals: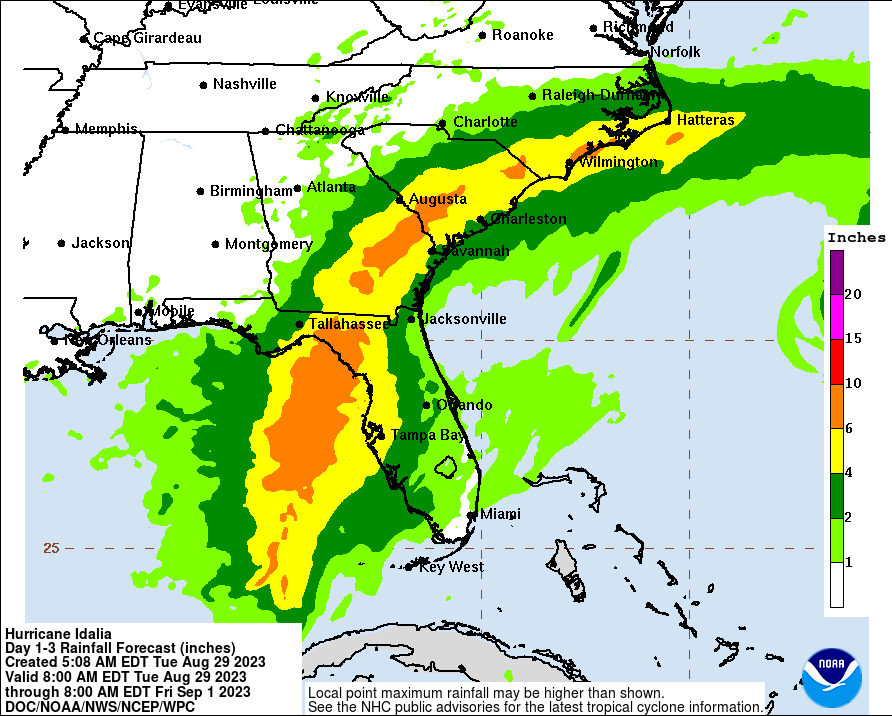 If you live in the path of Idalia or have travel plans to the region please plan accordingly and follow all local and state official's guidance with regard to storm preparation and evacuation orders.
Again, Idalia is expected to make landfall as a major hurricane, and bring with it destructive storm surge, wind, and flooding rains. Wind damage and flooding won't be confined to where the storm makes that initial landfall, but imporantly for inland areas across several states over the next couple of days.
As always, you can track the latest forecast and storm track on our tropics page here, and for all the latest visit the National Hurricane's site: