As of this writing, we have a few hours before significant change blows across Colorado. First, wind will increase fire dangers and the annoyance factor before temperatures drop dramatically and then some of us will see snow and/or rain showers before the first hard freeze of the season for some places.
Let's get to the impact map to sort out areas of greatest change.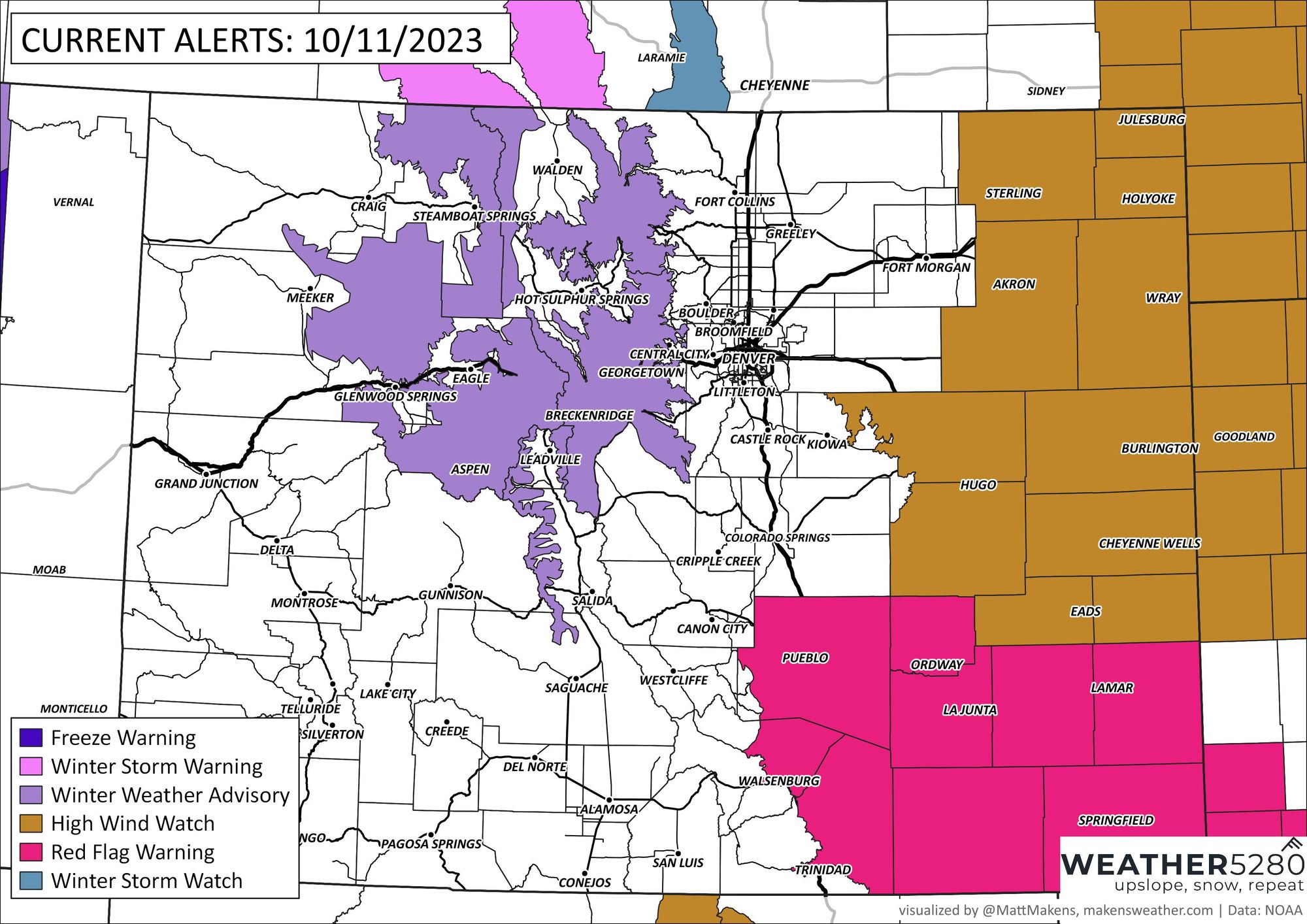 The winter weather advisory for the high country is issued by the NWS with the following details:
WINTER WEATHER ADVISORY REMAINS IN EFFECT FROM 6 PM THIS EVENING TO 6 AM MDT FRIDAY...  
* WHAT...Snow expected. Total snow accumulations between 6 and 14   inches. Winds gusting as high as 60 mph on Thursday.  
* WHERE...Rabbit Ears Pass, and Rocky Mountain National Park, and   the Medicine Bow Range.  
* WHEN...From 6 PM this evening to 6 AM MDT Friday.  
* IMPACTS...Roads will become slippery, especially through mountain   passes tonight and Thursday morning, but lowering to valley floors   toward Thursday evening. Use caution when traveling.
Indeed there may be some travel issues with snow from these areas to Wyoming. Here's the winter storm severity index to alert travelers to the problem areas.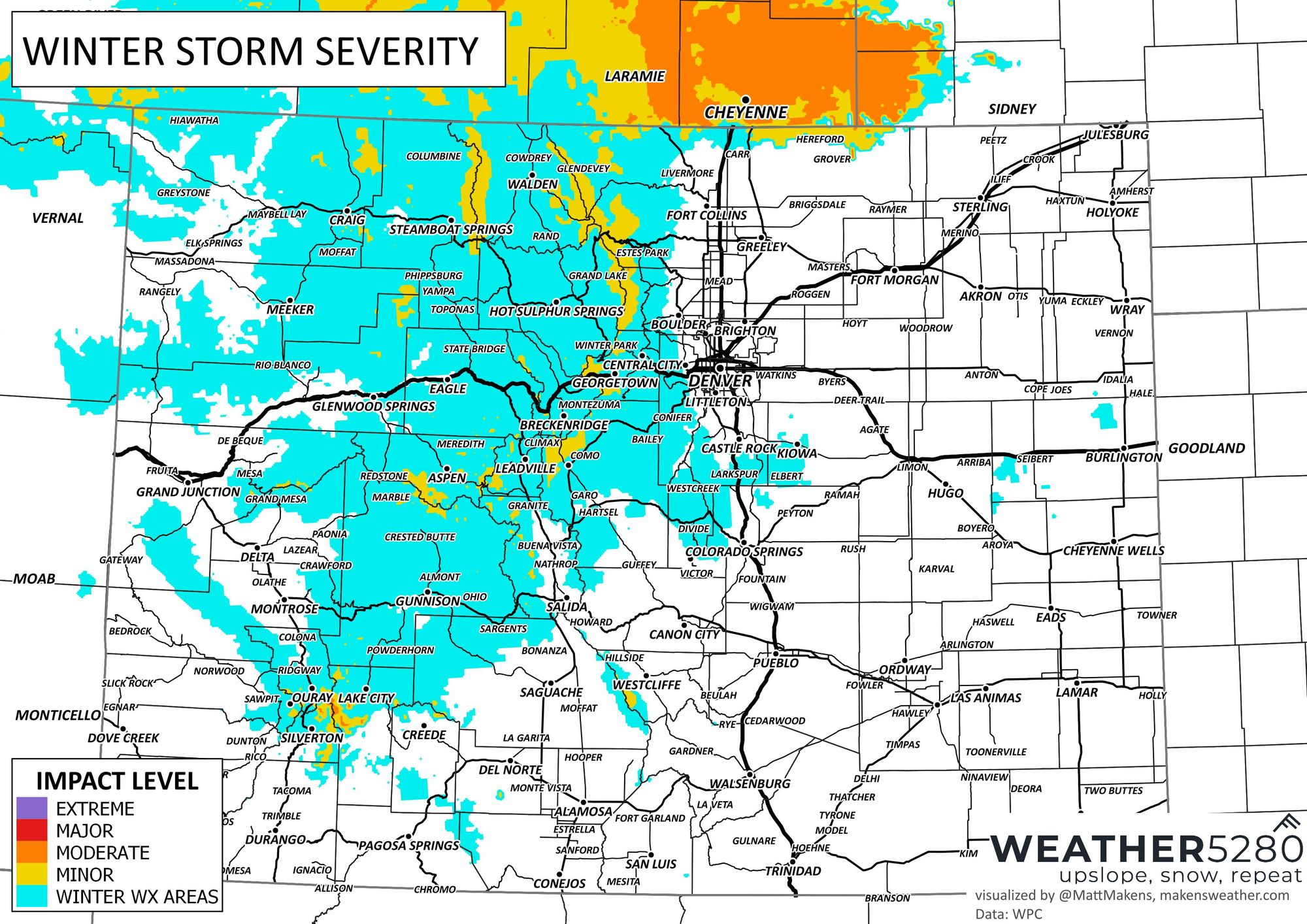 I-80 across southern Wyoming and parts of Colorado's higher highways will have some issues coming. A lot of that impact is from wind, so let's turn to that now.
Wind will be strongest over the plains where gusts may top 60 mph from Thursday into Friday. For Denver, the annoyance factor will increase from the wind during the next few hours and particularly Thursday. Here's a wind timeline for the city.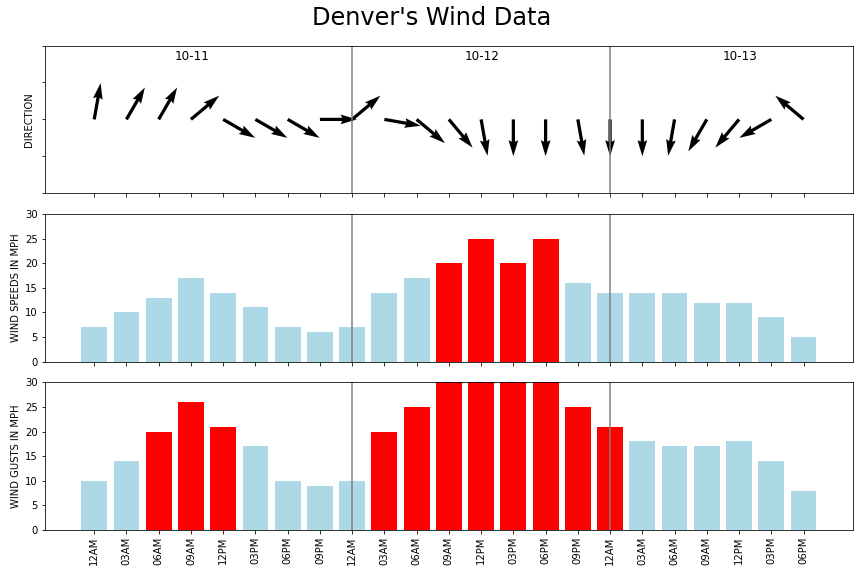 That wind and wind shift will send in cooler temperatures, resulting in the first hard freeze for many spots. The chance for widespread frost and freeze is shown here: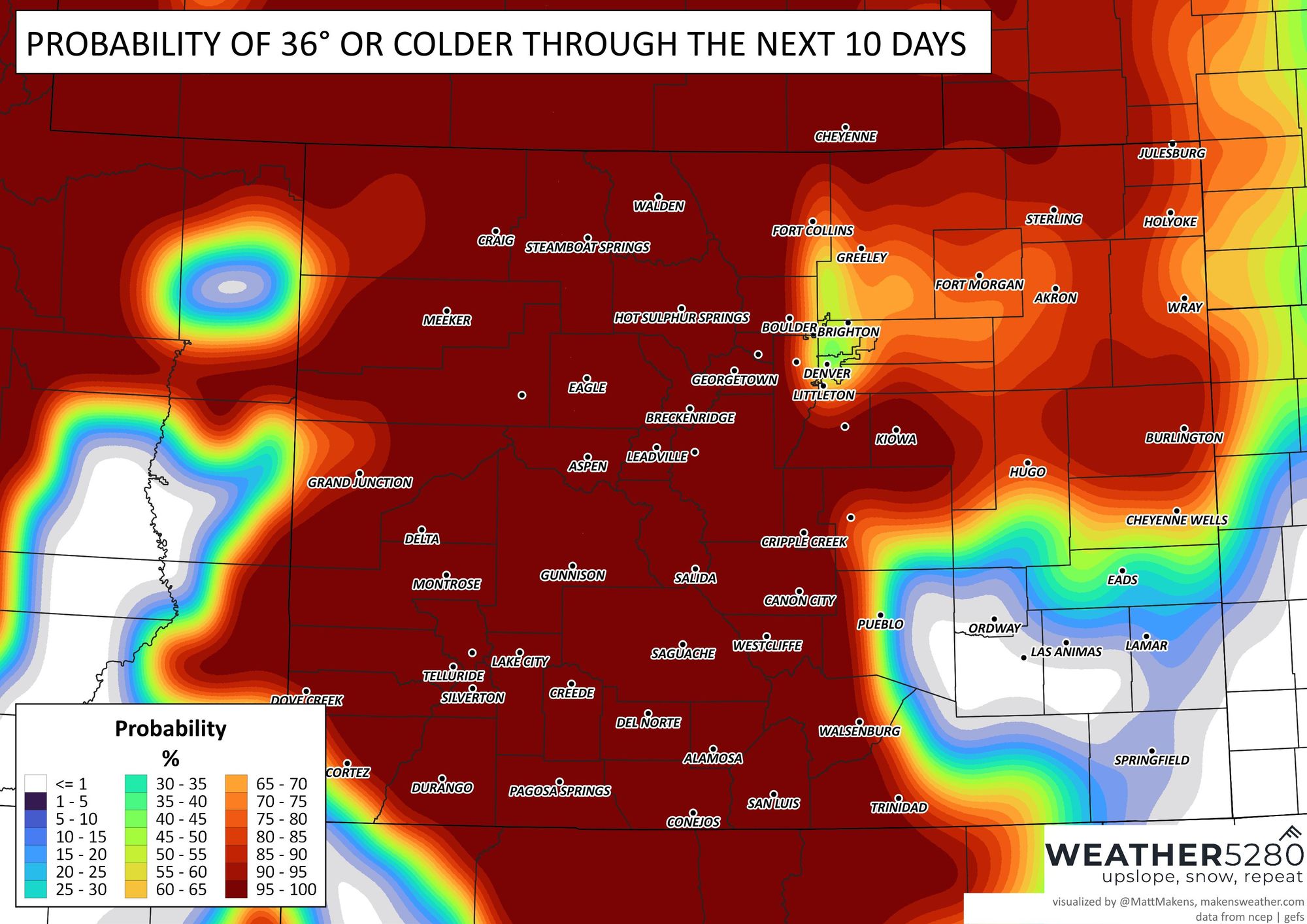 That's the vast majority of the state. We hope you have your sprinkler systems ready! For Denver, here's a timeline of temperatures and precipitation.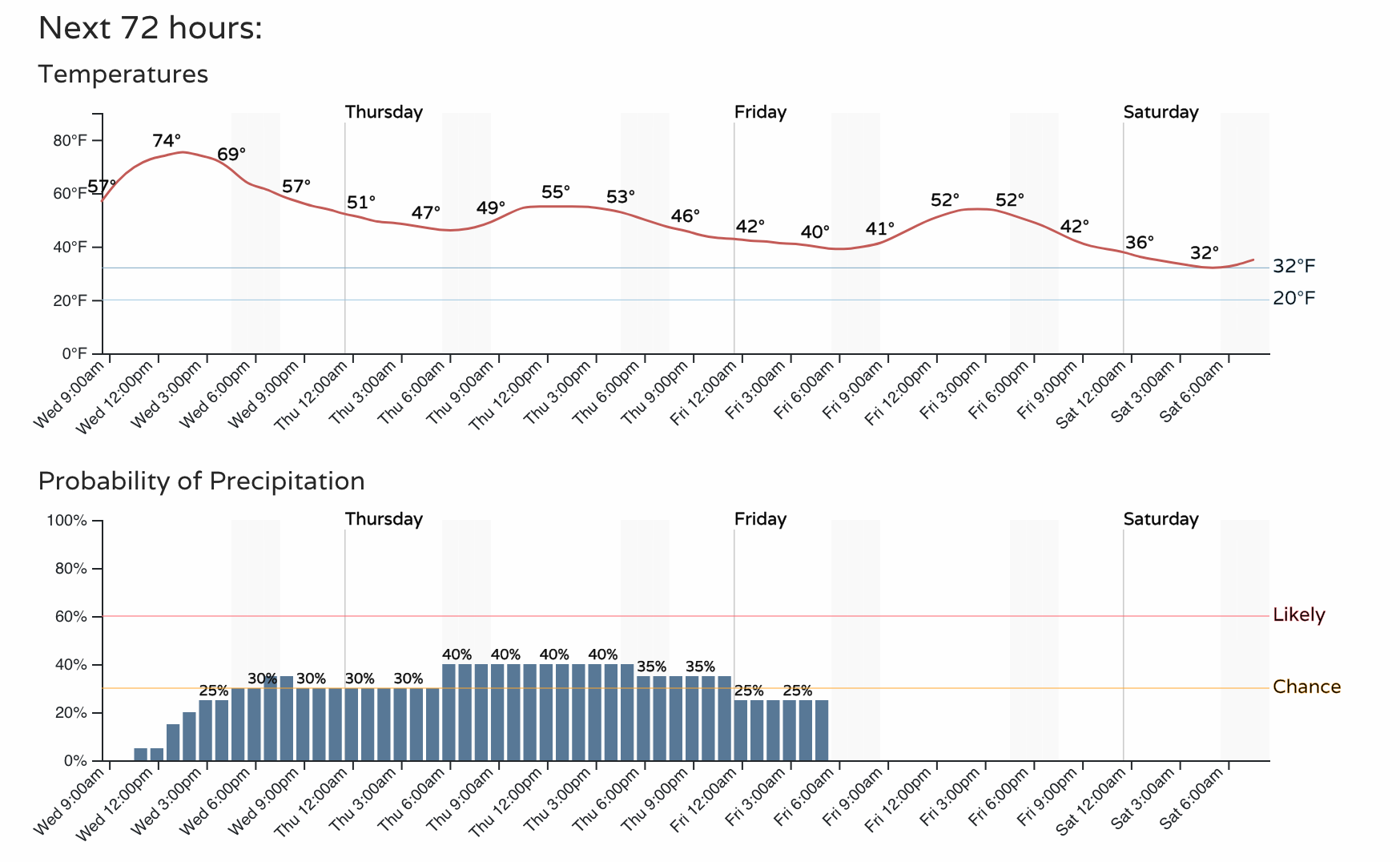 From Wednesday to Thursday, Denver's temperatures are to be 20 degrees colder plus don't forget that wind which will have a "bite" to it. The coldest will be toward Friday night/Saturday morning when the city hits freezing and surrounding areas cool below freezing.
Now, to that timeline of rain for the city. Here's a look at the total precipitation (rain and snow combined) and you'll see the focus is on the mountains and northern counties.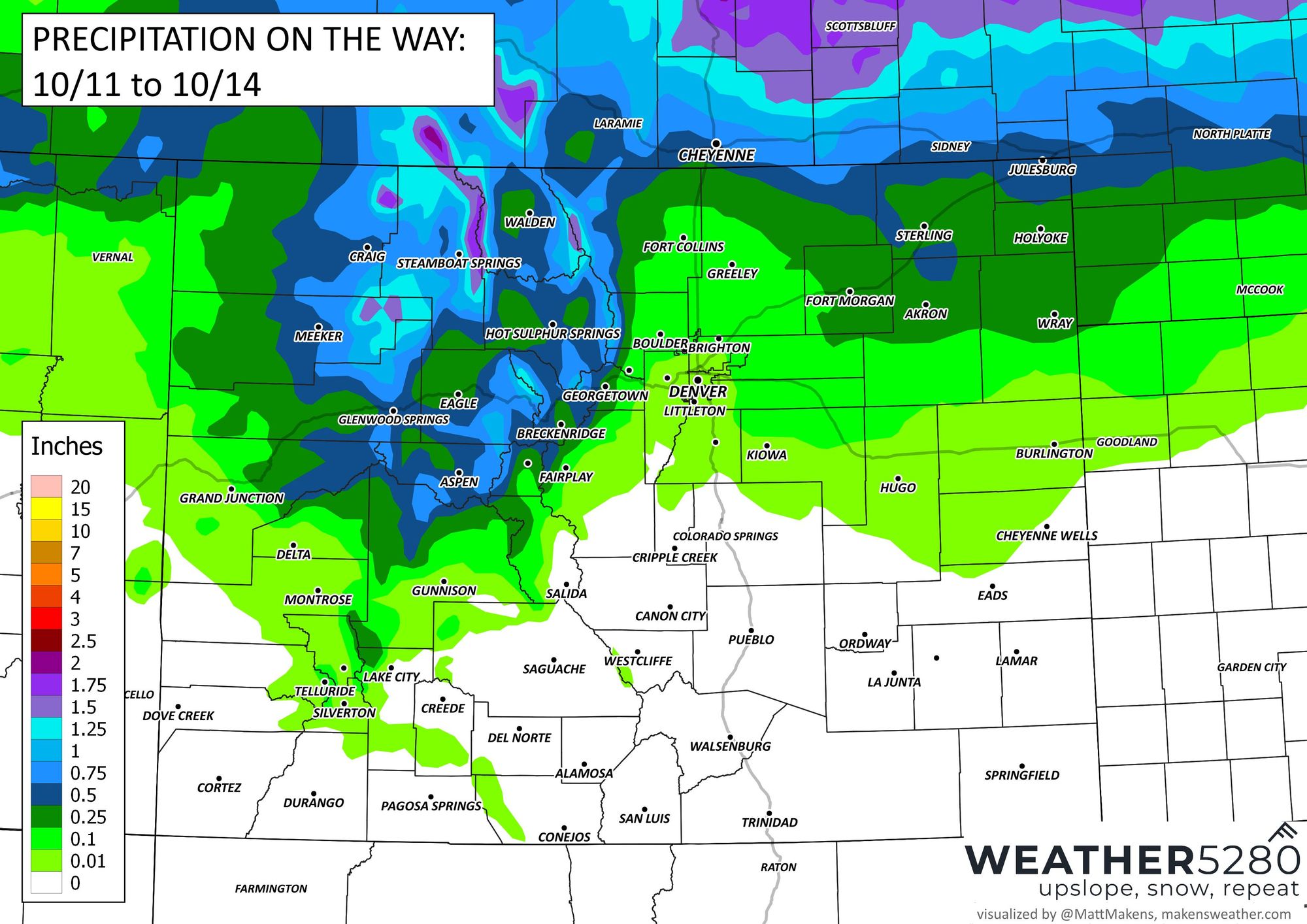 If you look at just the chances of seeing snow, some metro locations may see a few flakes falling.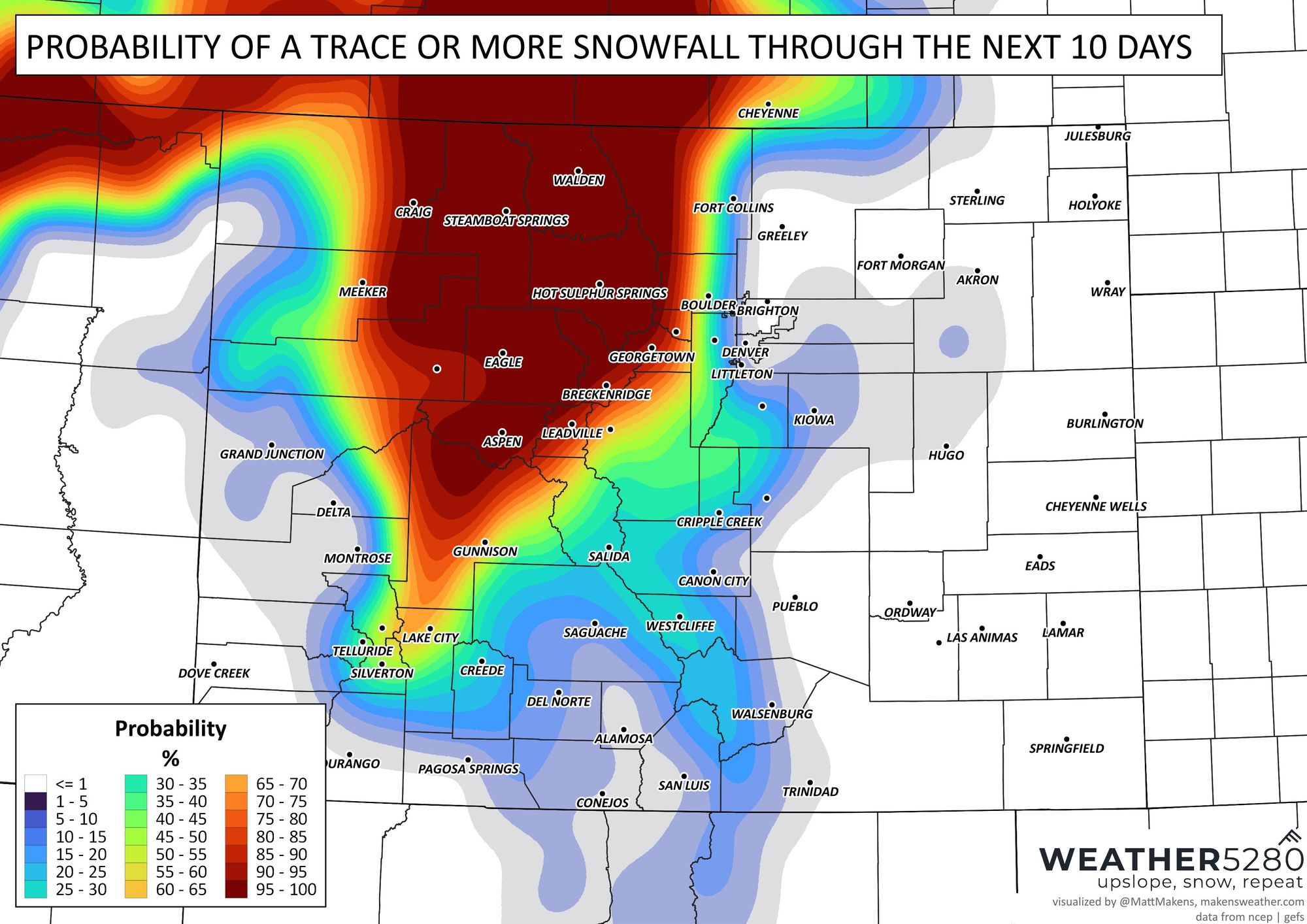 So, yes some on the Front Range may see snow but the accumulations will be confined to the higher elevations.
Time to grab the Halloween decorations, prep the sprinklers, and find the vest. With the snow season heating up, don't get left out in the cold this winter! Stay one step ahead of the changing weather by subscribing to our email list today!