About a week and a half ago, we posted about a possible active end to October in our State of the Atmosphere post. Coming just in time, we have a blast of winter weather on the way this weekend. Now, we're not going full-blown bomb cyclone with this thing, but much colder air and some accumulating snowfall is all on the table.
But first – let's get through some housekeeping
We have a weak system is passing to our southeast Tuesday afternoon, remnants of Norma and a weakening upper level trough. That's the reason for the gusty winds, and a few sprinkles on the Palmer Divide up to Denver. We should see a bit more sunshine Wednesday.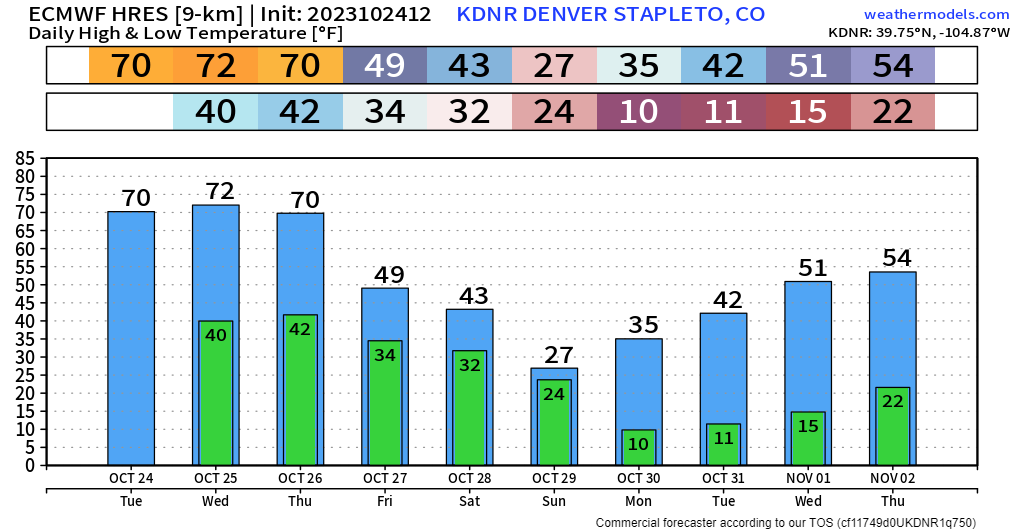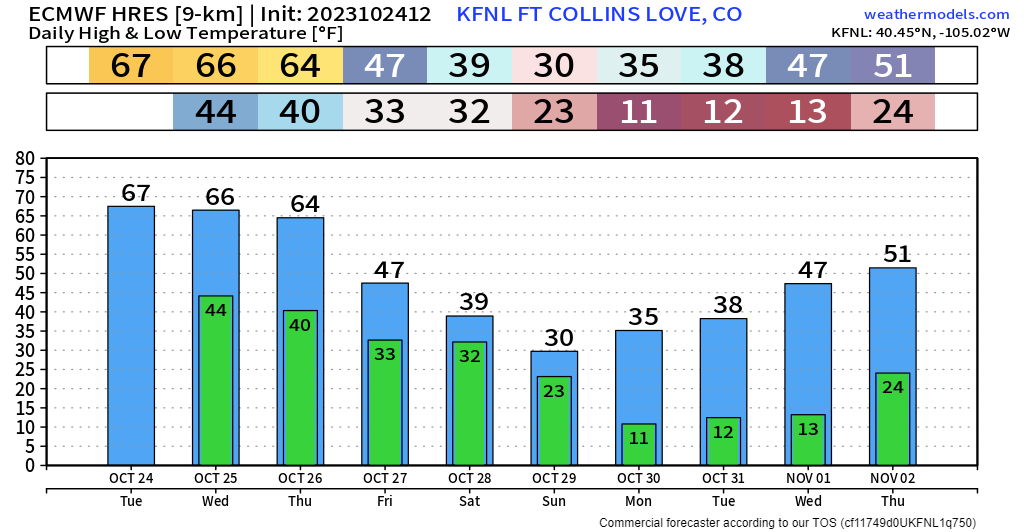 As we go ahead, temp charts through the weekend are pretty telling. Mild and breezy through Thursday... For Friday and beyond, all about fall and eventually winter along the Front Range. The wintry cold front will come in two stages.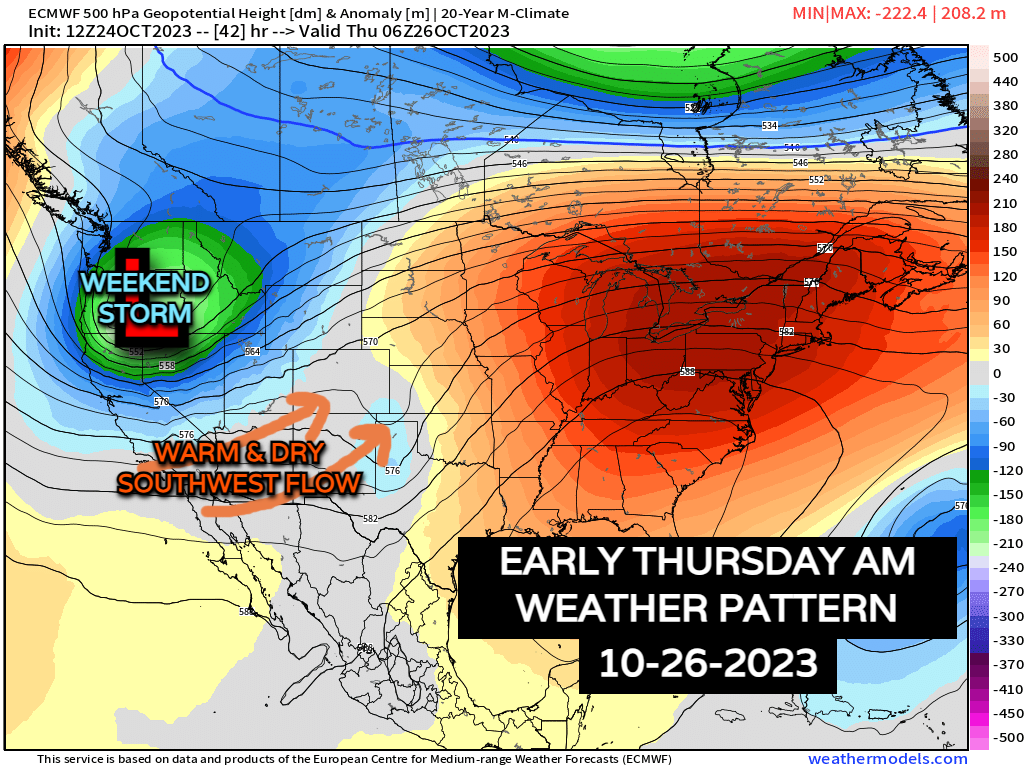 By Friday morning, the upper-low over the Pacific Northwest will throw some energy in our direction. That will lead to some light accumulations of wet snow over the mountains of N. Colorado, perhaps a couple sprinkles along the Urban Corridor Friday morning too.
Keep in mind the mountain snow chances if you're planning on traveling into the high country this weekend. We'll talk more about that further down.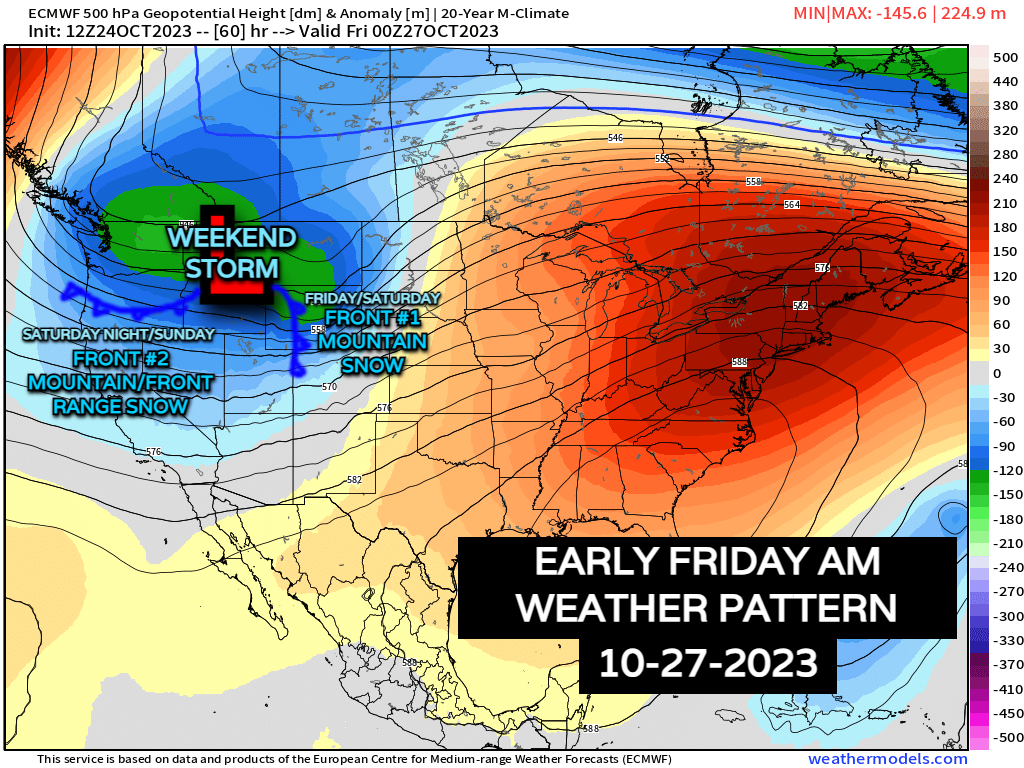 It will be noticeably colder and breezy for Friday. High temperatures will only manage to get into the 40s & 50s for Denver and surrounding areas. Winds will gust between 15-30 mph.
As mentioned before, Friday's cold front won't bring a ton of moisture with it, other than the higher elevations. That will change with cold front #2 going into Saturday night.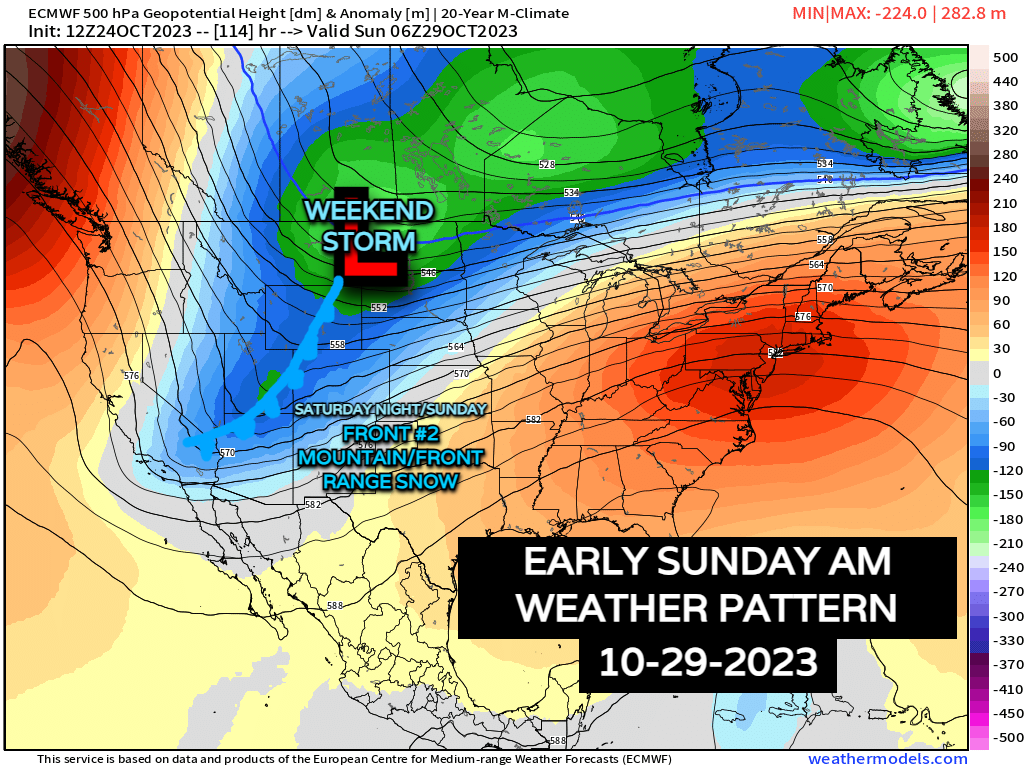 Saturday will be even colder than Friday. Expect 20s and 30s for the Mountains and Foothills, generally low 40s for Denver and the plains. The cold front will surge through Saturday night dropping temps down into the 10s and 20s by Sunday morning for everyone!
If you haven't taken care of the sprinklers yet, get it done before the weekend. There are several nights of hard freezes ahead after Thursday.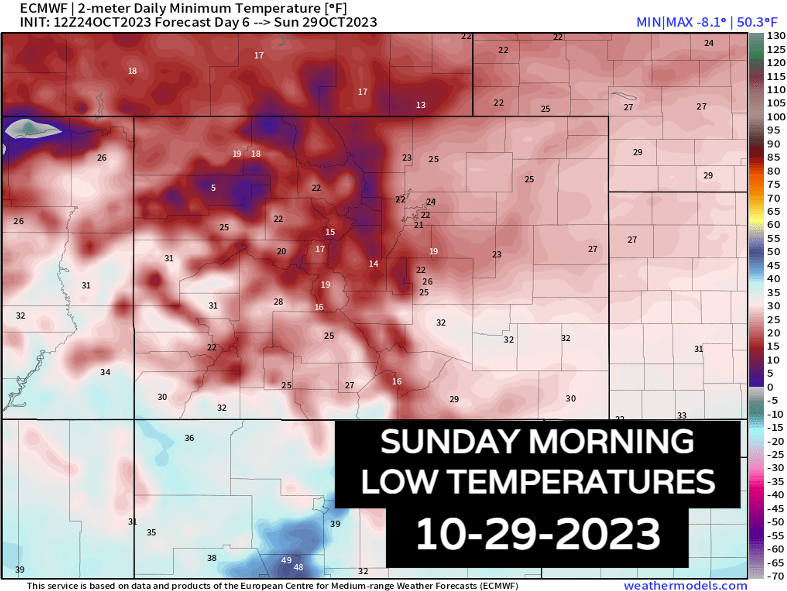 Now... the part we all came here for: Snow chances
This looks to be the best shot we've seen for snow so far this fall for Denver and the Front Range. Keep in mind we're still subject to see a few changes here and there in terms of exact snow amounts and timing, but we can draw out a rough sketch for now.
Potential timeline for this weekend
Friday AM: Mountains see a few early morning snow showers. Urban corridor remains mostly dry. First round of cooldown.
Friday PM: Early on, mountains and the lower elevations will hold off snow. Scattered snow showers will pick up a bit after midnight.
Saturday AM: Scattered snow showers start to pick up in the high country, with travel slowly but surely deteriorating, especially after noon.
Saturday PM: This is where things will start to turn sideways a bit. The 2nd cold front will race south, enhancing snowfall in the mountains, with snow showers beginning to crop up for the Urban Corridor. For areas like Fort Collins, snow showers could start falling as early as 1 to 3pm Saturday. For Denver/Boulder, starting around 2 to 4pm. Much colder into the evening too.
Travel throughout Saturday could become hazardous in the mountains. If you plan on a weekend in the higher terrain, I'd get up there before Saturday morning. Passenger/commercial traction laws in the mountains will be likely during this time, so make sure your vehicle is properly equipped!
Stay in touch with the latest updates from the Colorado Department of Transportation and their Twitter page.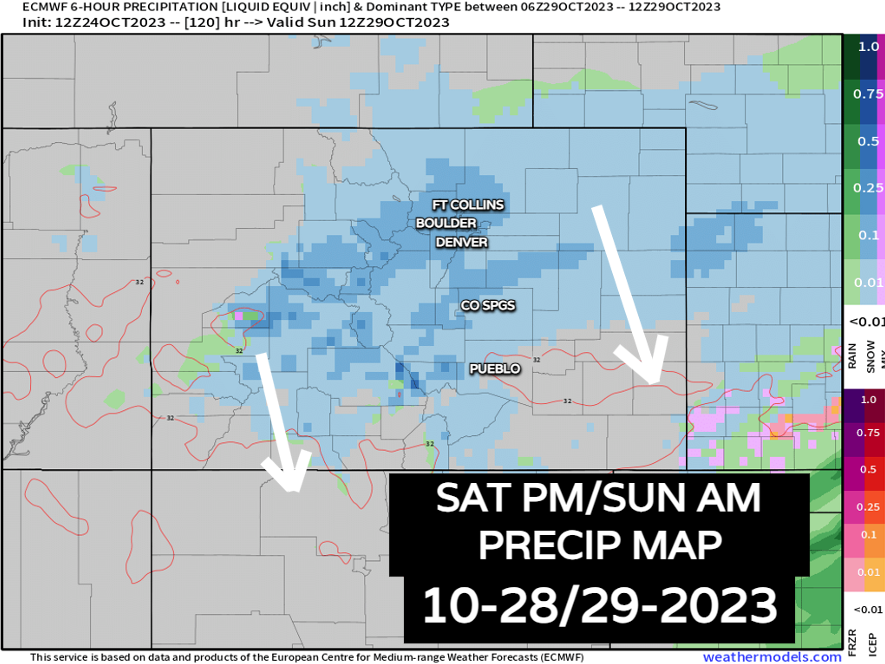 Sunday AM: Snow will continue most of Saturday night in the mountains and along I-25/eastern plains before slowly tapering off through lunchtime on Sunday. Travelling throughout the Urban Corridor will probably be slow, slushy and slick – plan accordingly. High country travel will remain an issue as well.
Sunday PM: We're mostly on the down-swing Sunday night with snow slowly ending. Any slushy or slick spots Sunday night will see refreeze Monday morning. Temps for everyone will fall into the 10s, with spots in the higher terrain falling to the single digits and for some below zero!
Monday AM: If everything works out as planned in this forecast, expect another slow, but doable morning commute – I'd expect the biggest issues would be on any unplowed side roads that see accumulation. Sunshine Monday afternoon should help things out a bit though. Monday remains cold. 10s/20s for the hills with 20s/30s for I-25 and east.
Note: Wind and blowing snow likely won't be a huge factor, but if the snow comes down at a heavy clip, visibility will become reduced... any little breezes enhance those problems.
As for potential snowfall amounts...
We'll iron out totals city by city once we get a bit closer. Below is a snow map of blended model data from the National Weather Service... it's a good first draft for now. Notable totals across parts of the high country, much lighter east but still what could be the first accumulating snow for many locales across Eastern Colorado.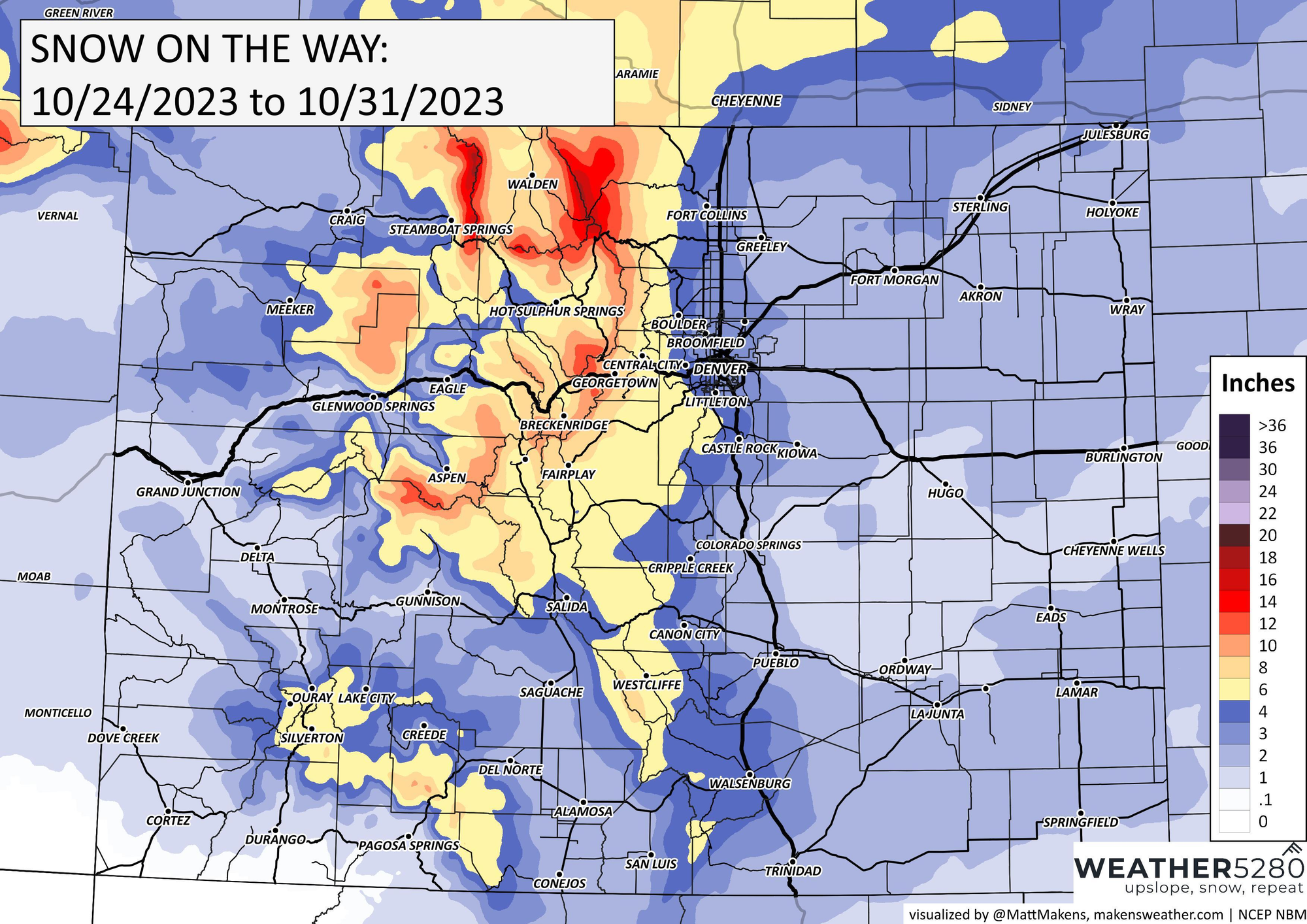 Quite a bit for what won't be the storm of the century, but hey, the first snow chance always gets the blood pumpin', and great to see a good round of snow on the table for the high country as we round out the month.
For the parents worried about Halloween, just have the coats ready – Tuesday evening will be pretty cold  (20s/30s) as we stay locked into the backside of this airmass. Be mindful of slick spots around the neighborhood too due to refreezes.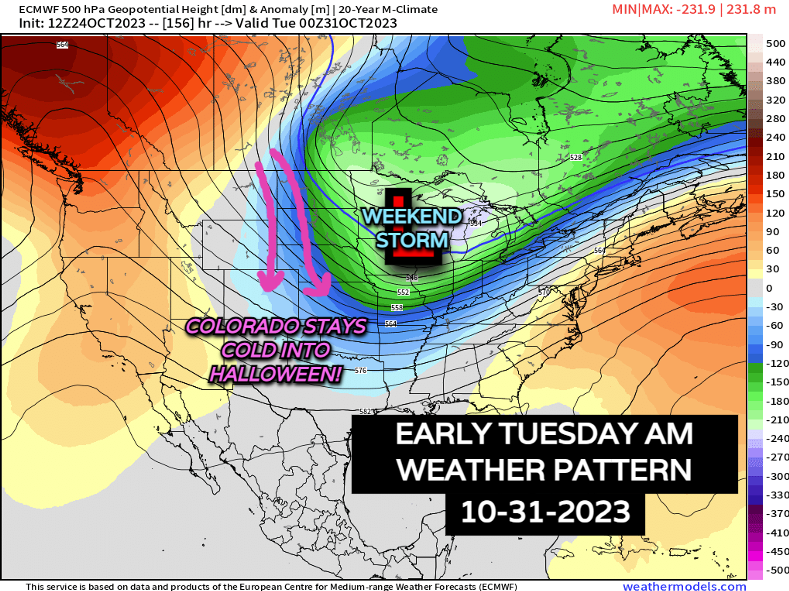 As always with winter weather, keep yourself informed throughout the week. A forecast for 3-4 days out can still see some changes, but we're starting to get into the ballpark in terms of storm threats. Stay one step ahead of the changing weather by subscribing to our email list today!
More to come!