A lot to get to this morning as the season's first snow along the urban corridor comes to a gradual end today.
First, Denver saw its first official snowfall of the season. As of midnight, Denver had picked up 5.8" of snow officially at Denver International Airport, which means the 2023 First Snowfall Prediction Contest came to a close yesterday. DIA has since added a bit to that total, with the latest number from the airport being 6.5" storm total as of early this morning.
Eight contestants guessed the correct date, with over 400 entries overall. Unfortunately I failed to capture names for this year's entries, so I can't share them here 🤦‍♂️, but the three placed winners will receive emails notifying them of their excellent forecasting work, and of course Weather5280 shirts as the prize! If you guessed October 28th, please comment below. Congrats!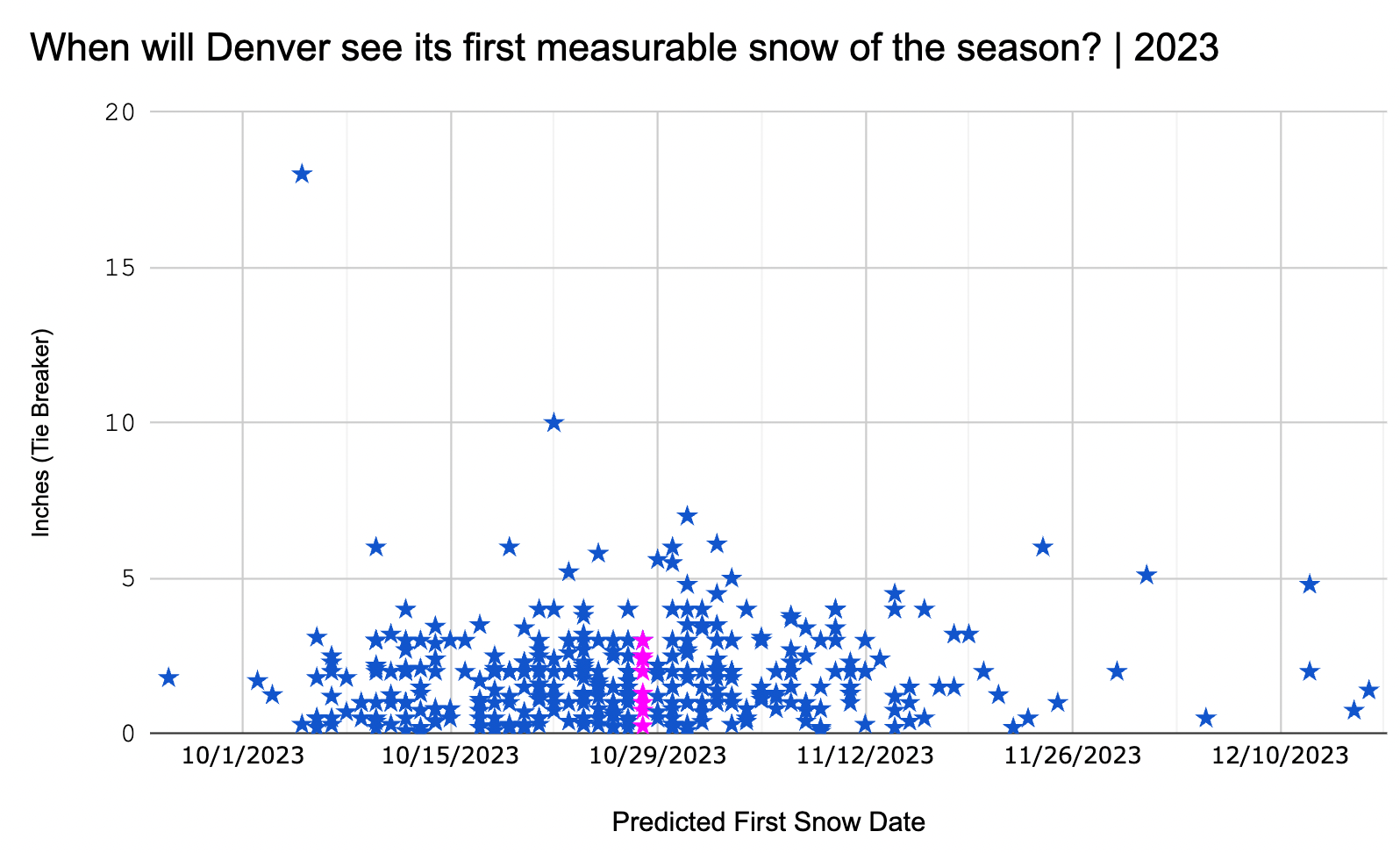 Snowfall totals and storm recap
If memory serves, we actually had a number of similar setups last year with similar results. That is, banded, jet-induced snowfall events that 1) make pinpointing forecast totals extremely difficult, and 2) a bias in the models to run the bands further north than what happens in reality.
With this system, temperatures in the end weren't all that much of an issue either, which helped produce some pretty healthy snowfall ratios, particularly for this time of the year.
A look at CoCoRaHS totals this mornings we see there were a couple of bands that setup along the Front Range which delivered swaths of heavier snowfall, with much lesser totals between them. The primary band we have been talking about for some days ended up over the southern Denver metro area and across the Palmer Divide, rather than just north of the city where a lot of guidance had placed it, including our forecast.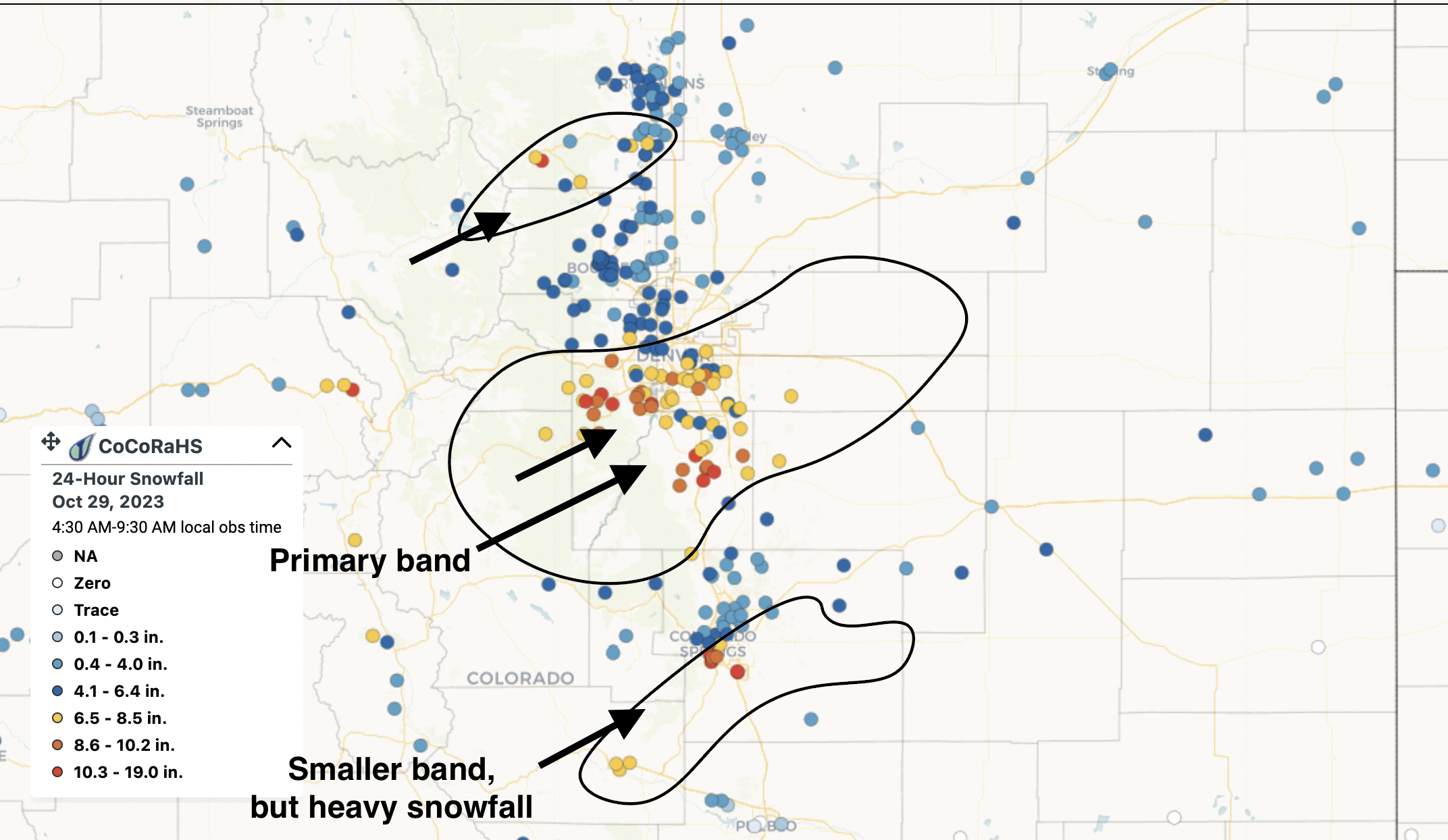 Another rather remarkable band of snow setup early this morning over the Colorado Springs vicinity, mainly over the southern portion of the city. Central and northern Colorado Springs picked up 3 - 5" of snow through 7am (a bit more is falling today) but upwards of 10" of snow fall across the southwest reaches of the metro area!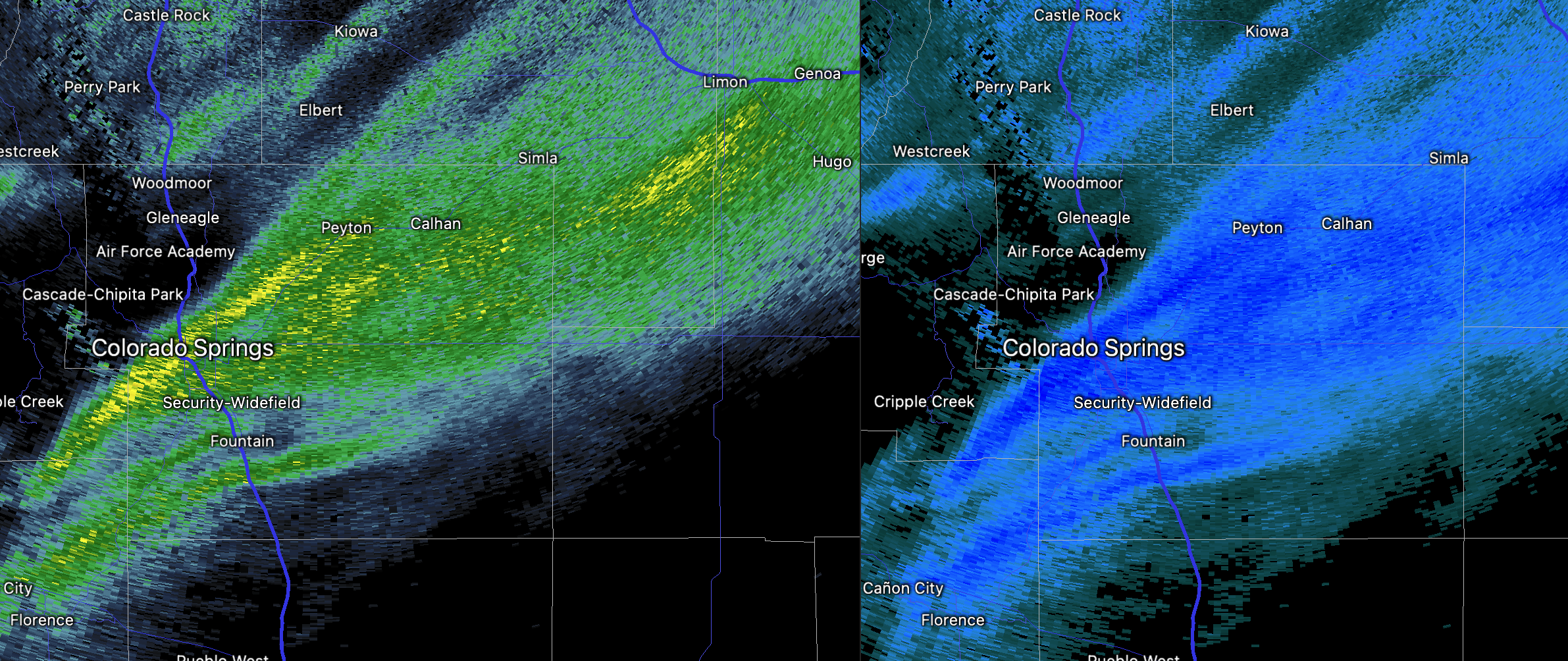 The mountains also got buried with this storm, with 1 - 2 FEET of snow for many of the ski resorts this weekend as some hold their opening day of the season. Take a look at all the freshies at Breckenridge this morning (below). Crested Butte also reported 20" of snow as of Sunday morning with more falling.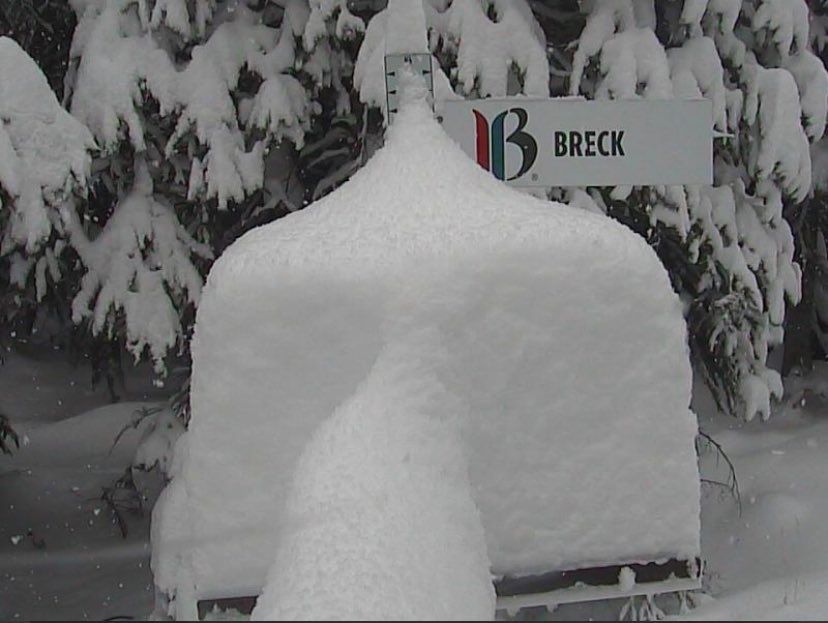 And finally, a look at estimated snowfall totals through Sunday morning across the state: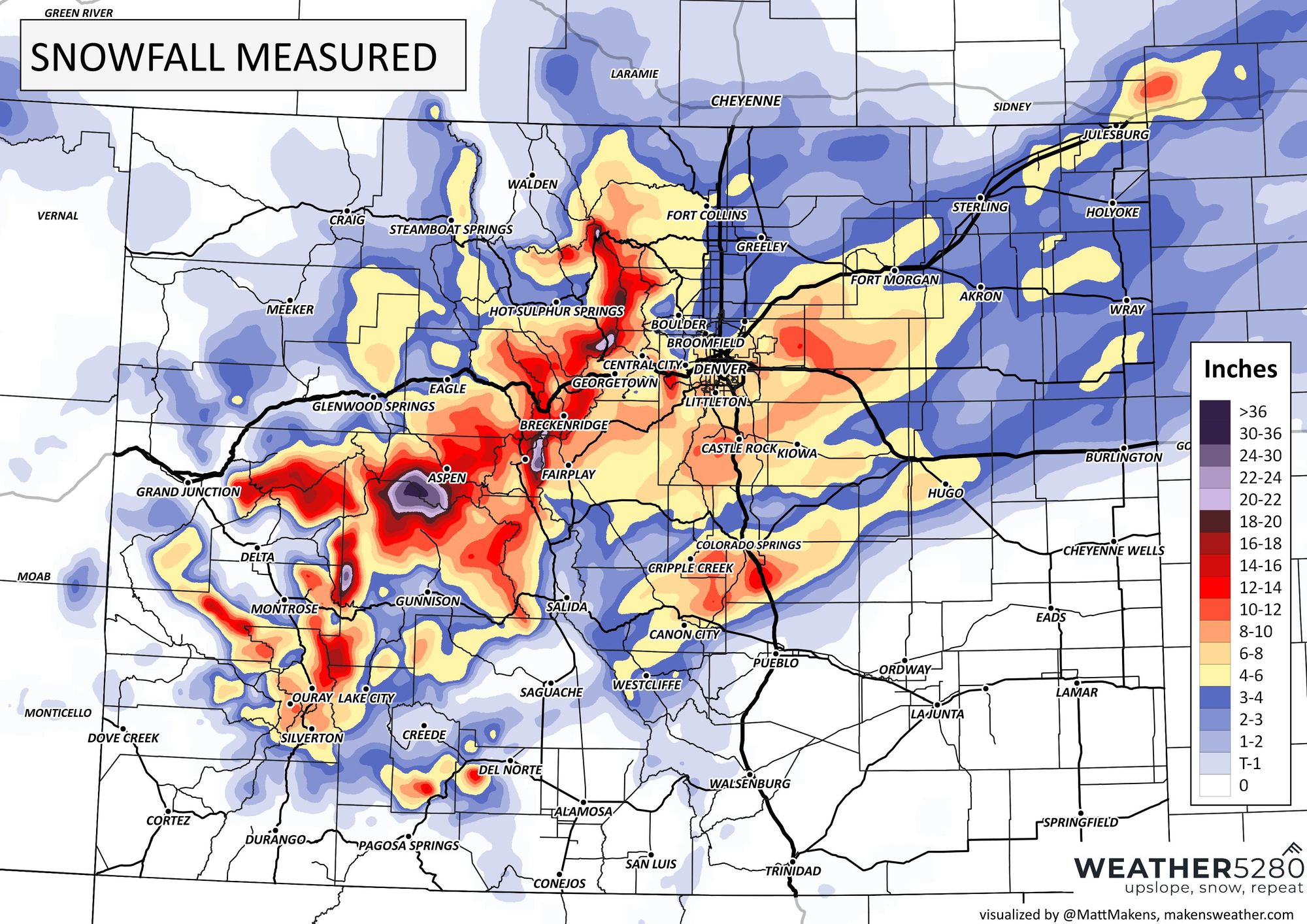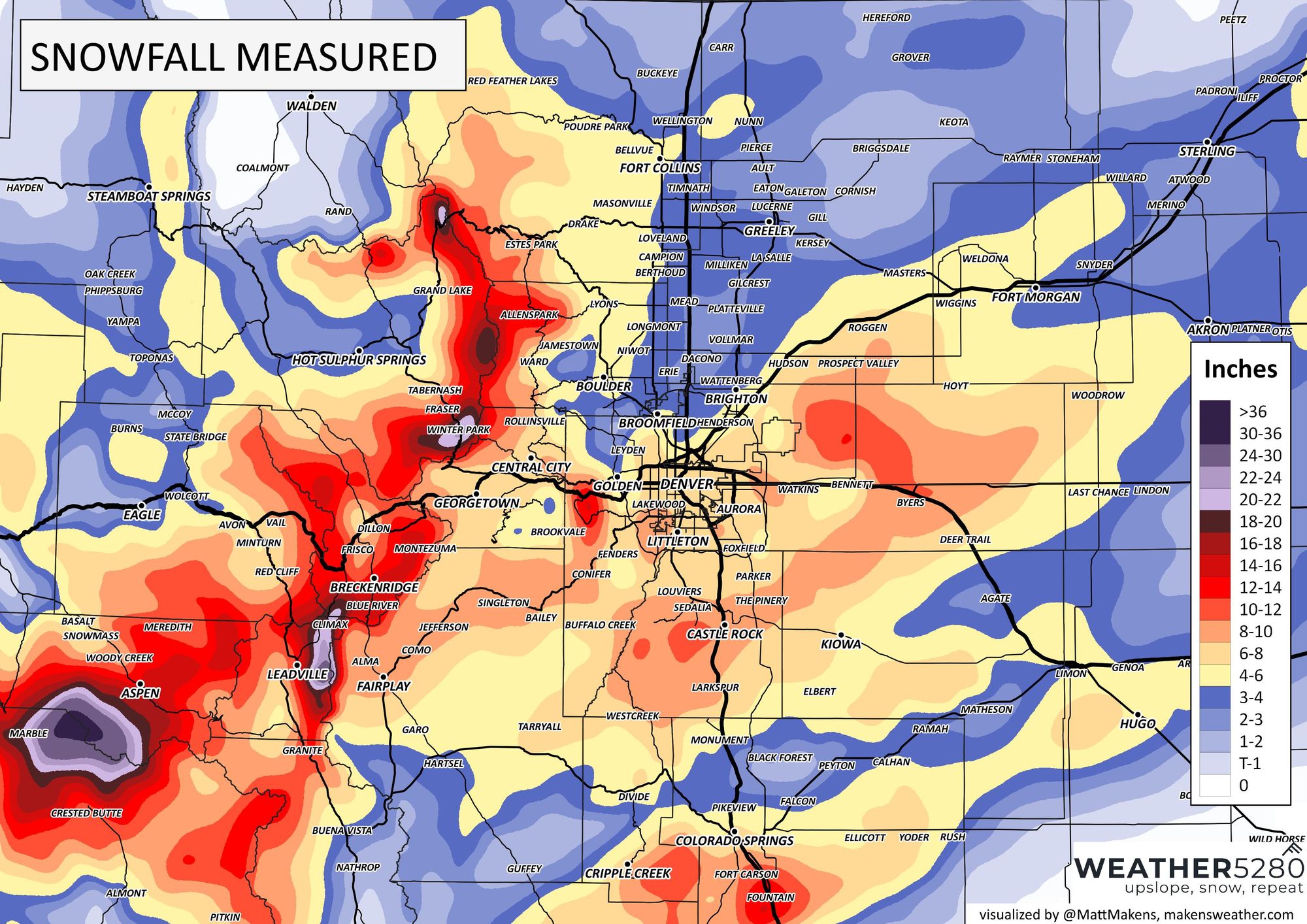 Where the heaviest snow setup was largely reliant on the jet dynamics at play last night. As we mentioned repeatedly over the last week, that's quite often near impossible to tell where that'll be until it happens.
If we look at the GFS forecast from 2 days ago for last night we see the strongest winds at 250mb extending from southwest to northeast over central and northeast Colorado: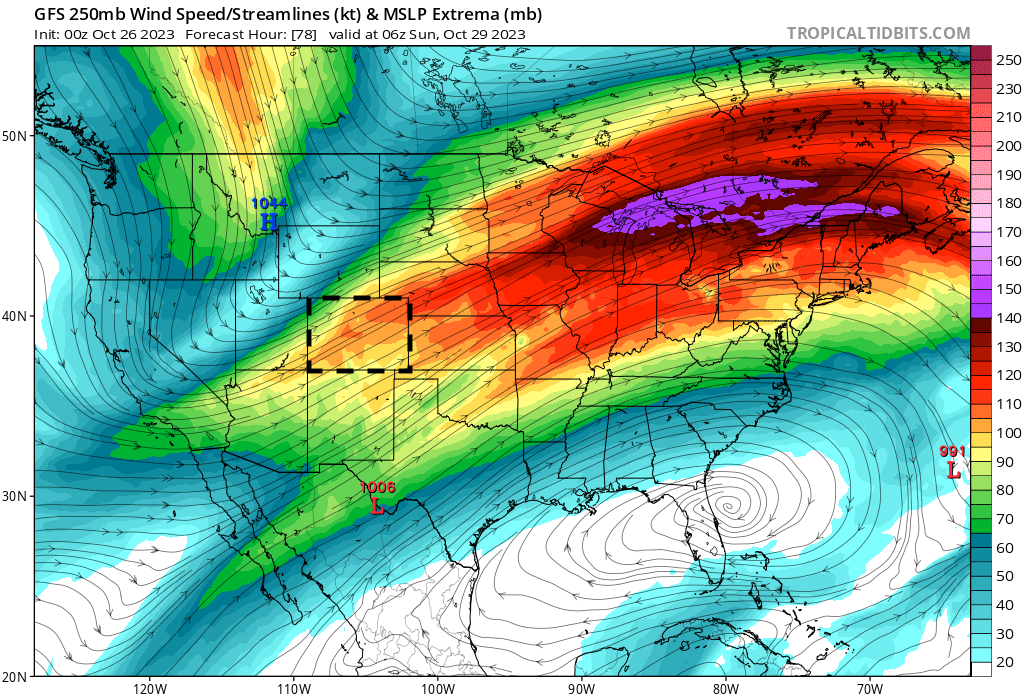 It's subtle, but what we see from the analysis valid the same time last night is everything nudged just a bit south. This opened the door for a "boom" snow event across the Colorado Springs area, and also placed that heavier snow over the Palmer/southern Denver metro area vs up north of the city.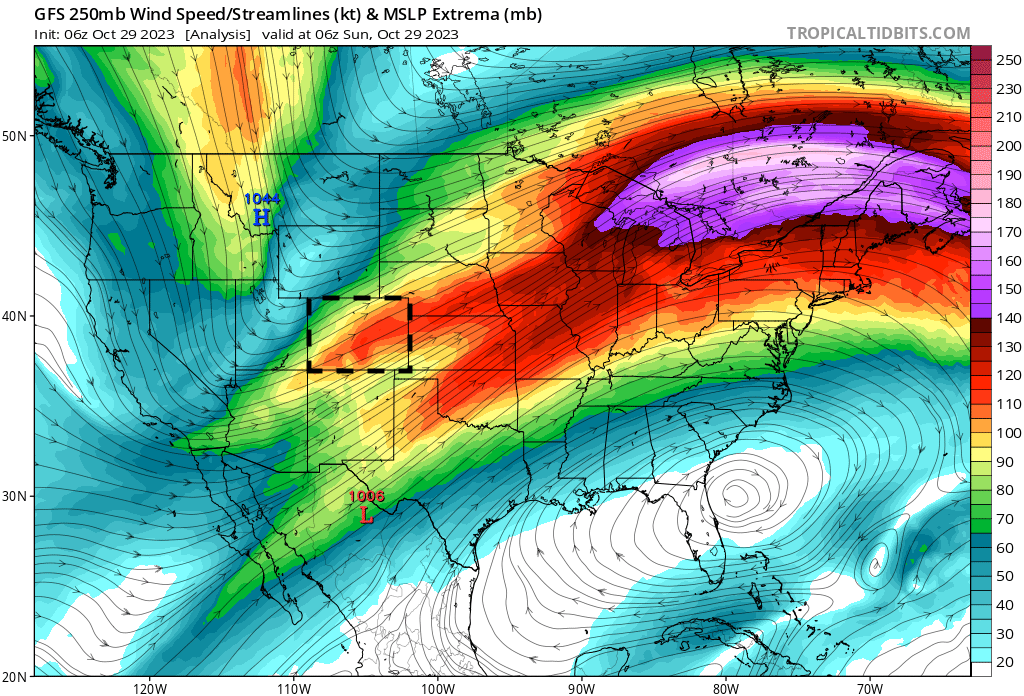 Forecast
For most of us the meaningful snow is done now. The latest HRRR forecast shows just a trace to 1/2" more of snow across the Denver area today, with the best lift well south of us now and energy continuing to exit the state as we head into the afternoon hours.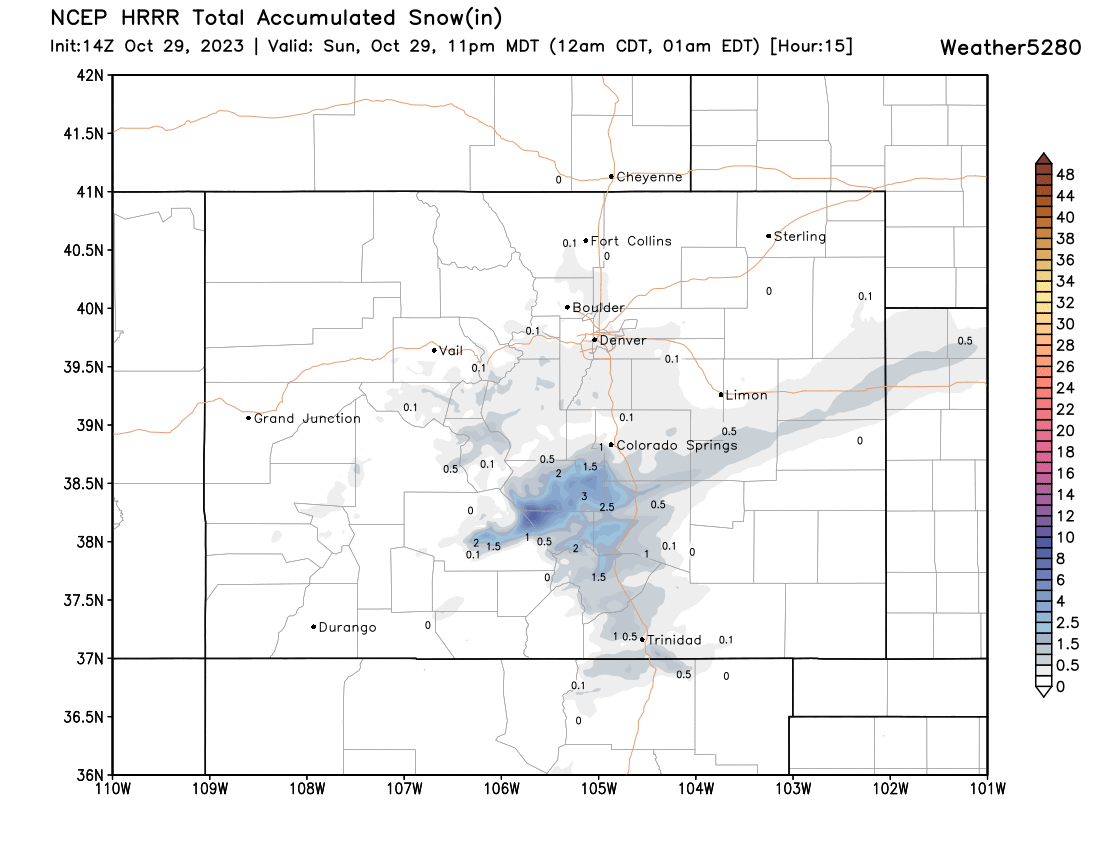 Temperatures won't rebound much, however, even as the snow gradually comes to an end. The planner for Denver shows highs in the low to mid 20s today, with overnight lows tonight perhaps dipping into the single digits. The chance of snow drops off during the early afternoon, and should be replaced with drier weather over the coming days.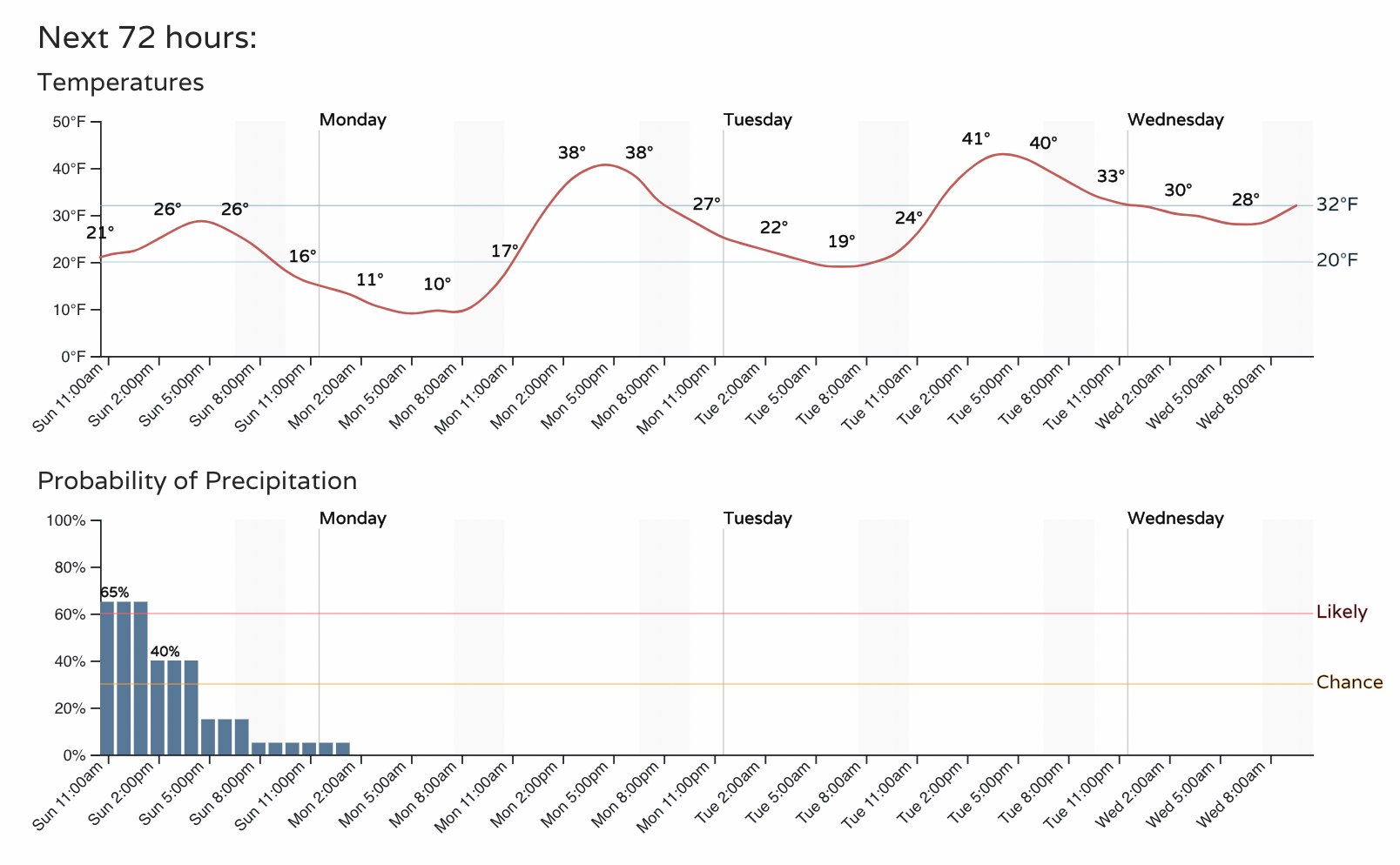 While we shouldn't be in risk of hitting any record lows along the urban corridor lows in the teens and single digits will no doubt be much colder than average for this time of year (33.1°F is the average low in Denver). A few record lows could be seen across the High Plains early Monday, however, as this early season cold continues to push south and east across the CONUS: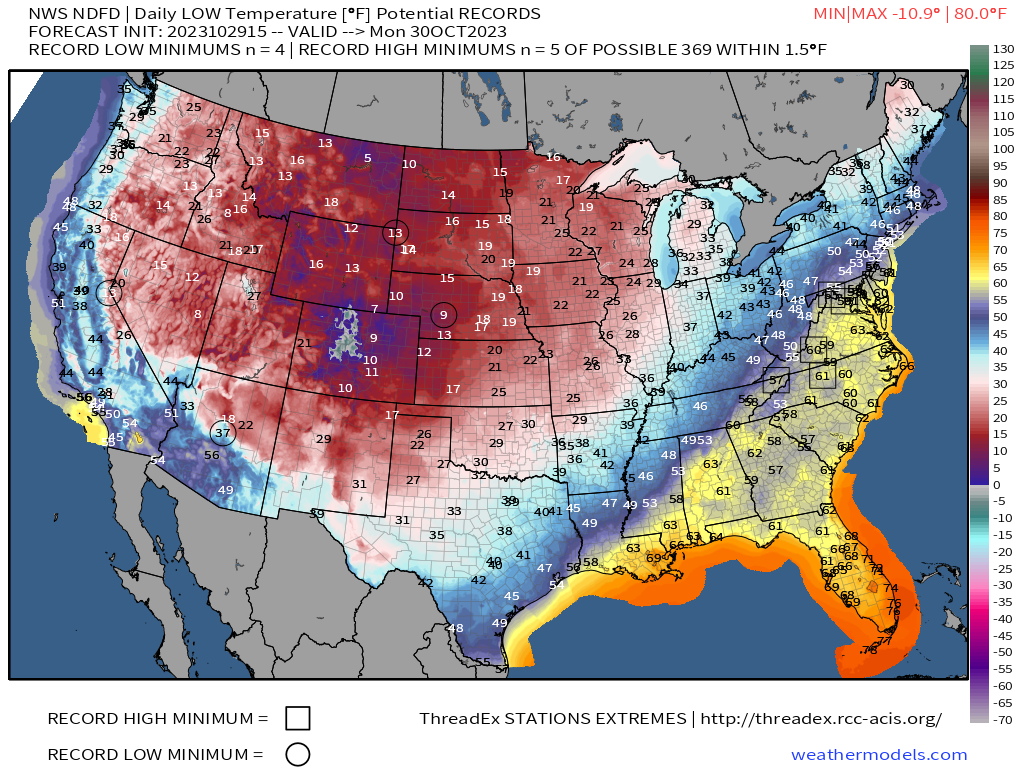 For the Front Range, chilly temperature stick around for a couple of days, but look for gradual warming through the week. Halloween will be cold for those Trick or Treaters, so bundle up, but after tonight's temperature's we'll at least all be able to say... it could be worse!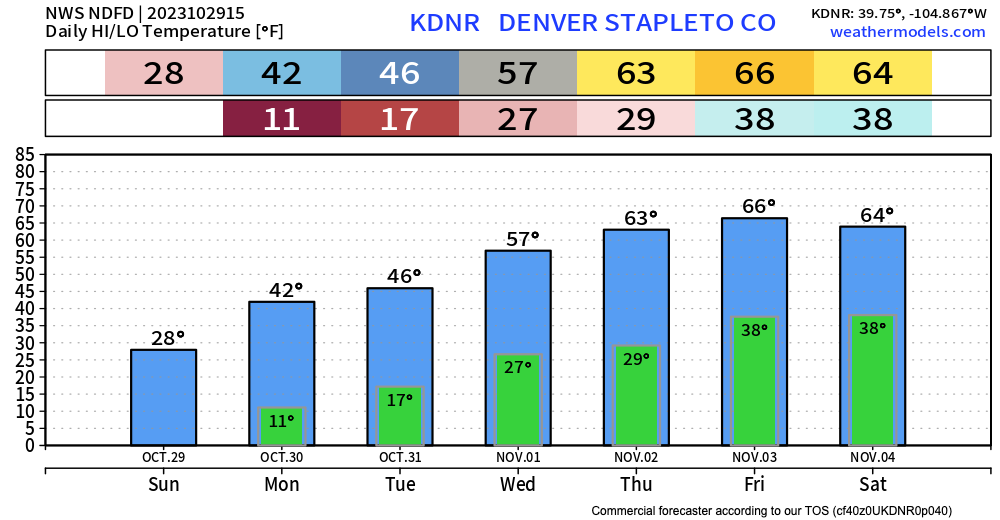 Please leave your storm reports and images below! We hope everyone stayed safe during the storm, and as always, stay one step ahead of the changing weather by subscribing to our email list today!