It's kind of like when you have trouble getting the engine started. We've had some flashes of life here and there with the weather, but outside of that, a LOT of downtime. We discussed in our last SOTA post that we're starting to shed into a pattern change. It's still looking like we'll see a decent storm for the mountains starting Sunday and lasting into Monday. Model data the past few days has had some trouble pinning down the forecast for the front range and lower elevations.
The big picture
When you run into a lot of inconsistency between model runs, it can be important to pull back and see what you long-term trend looks like. Certain trends over several days may "stick around" more than changes over 24 to 48 hours.
We take a look at temp charts for Denver and Fort Collins over the next week, the big picture changes are apparent. Our front that brings snow to the mountains Sunday only cools the front range down a bit, before yet another midweek warmup, that leads to a much stronger push of winter air by Thanksgiving day and into the weekend.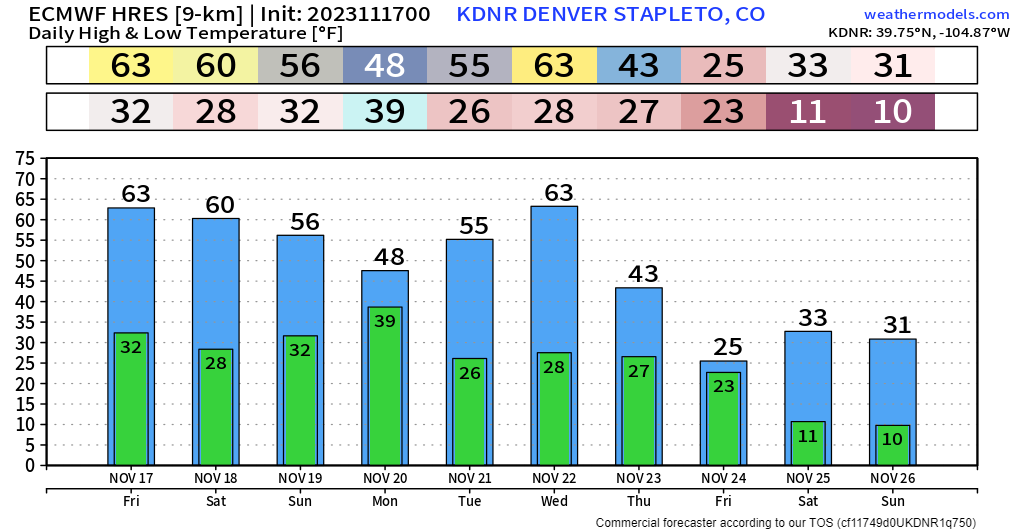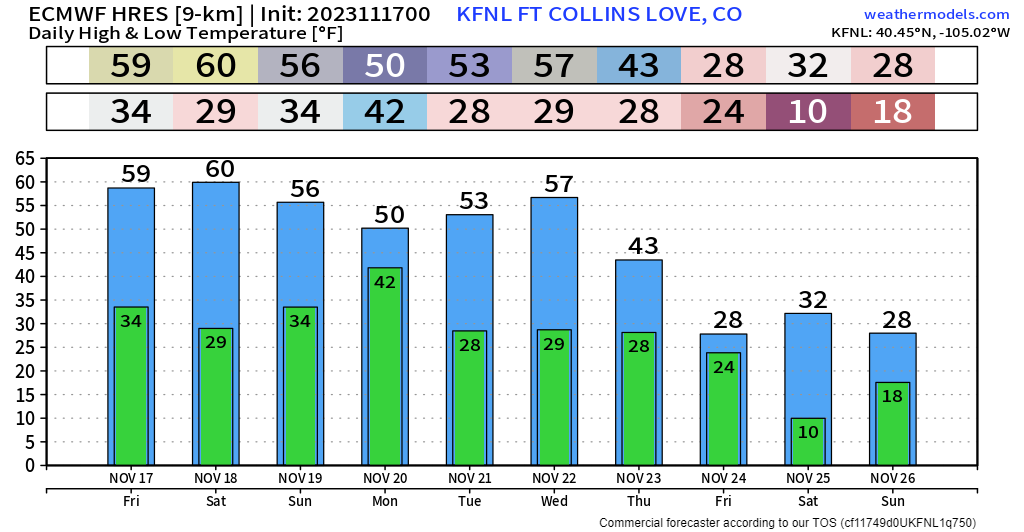 Does that cold air push around the holiday mean snow? In short, maybe. We can get to that in just a second, let's focus on our storm for the weekend.
Here's simulated radar imagery for the weekend into midday Monday: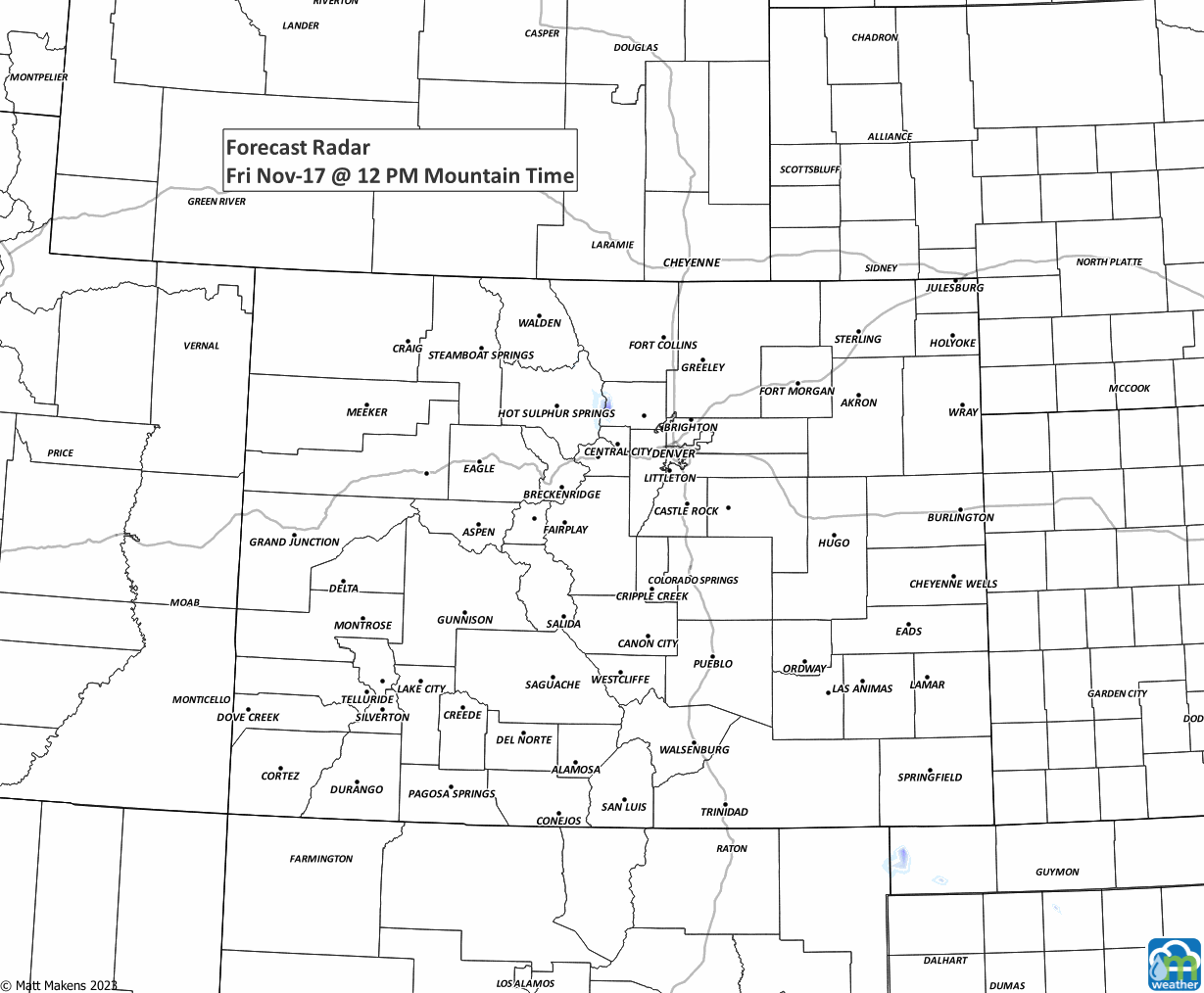 A good boost for the slopes?
The ski country still waiting to develop some healthy snowpack – many of the big spots have had to keep up with "fake" snow. We'll try and get some of that done naturally this weekend.
The first wave arrives Saturday afternoon and evening. We won't have a ton of cold air to work with – snow levels will hover around 9,000 or so feet. This first bundle of energy looks to bring the best snow to Wolf Creek, but with mixing issues possible, you may get your best snow at the higher peaks.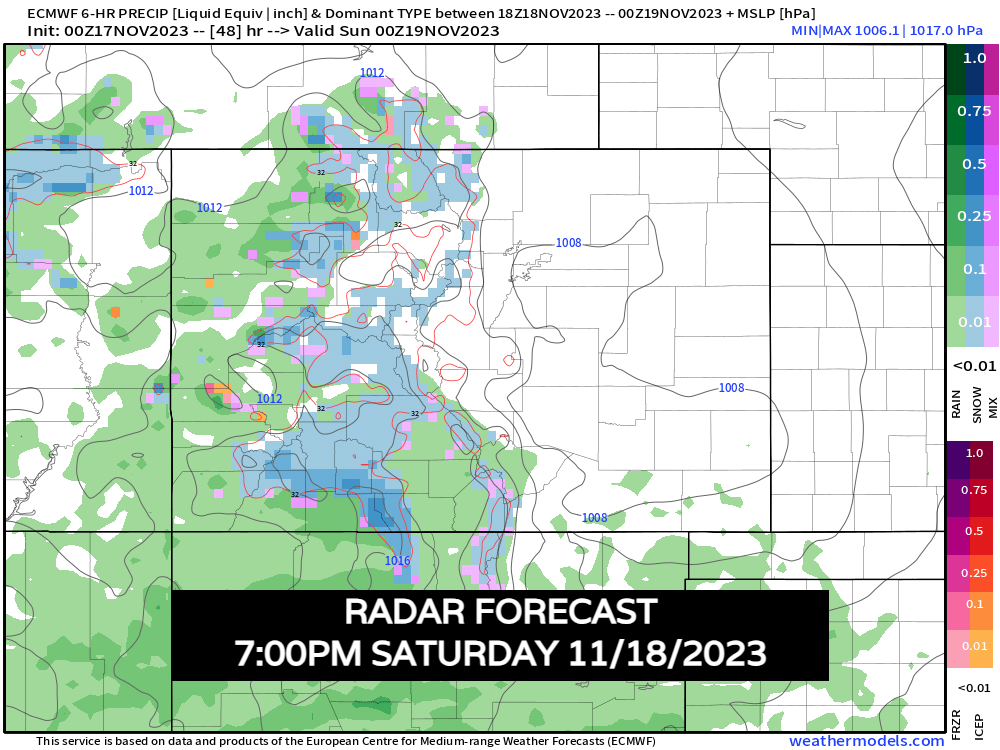 Overall, mountain travel will be most impacted in the San Juans Saturday evening, with Wolf Creek Pass being the trickiest.
We'll see a bit of a lull come Sunday morning. We won't be completely dry – scattered mountain snow showers may be heavy in a few spots, but it will be tough to pin down exact locations on that.
Sunday afternoon a reinforcing cold front will push through increasing snow activity over the mountains into Sunday evening. Snow levels drop to 7,500-8,000ft.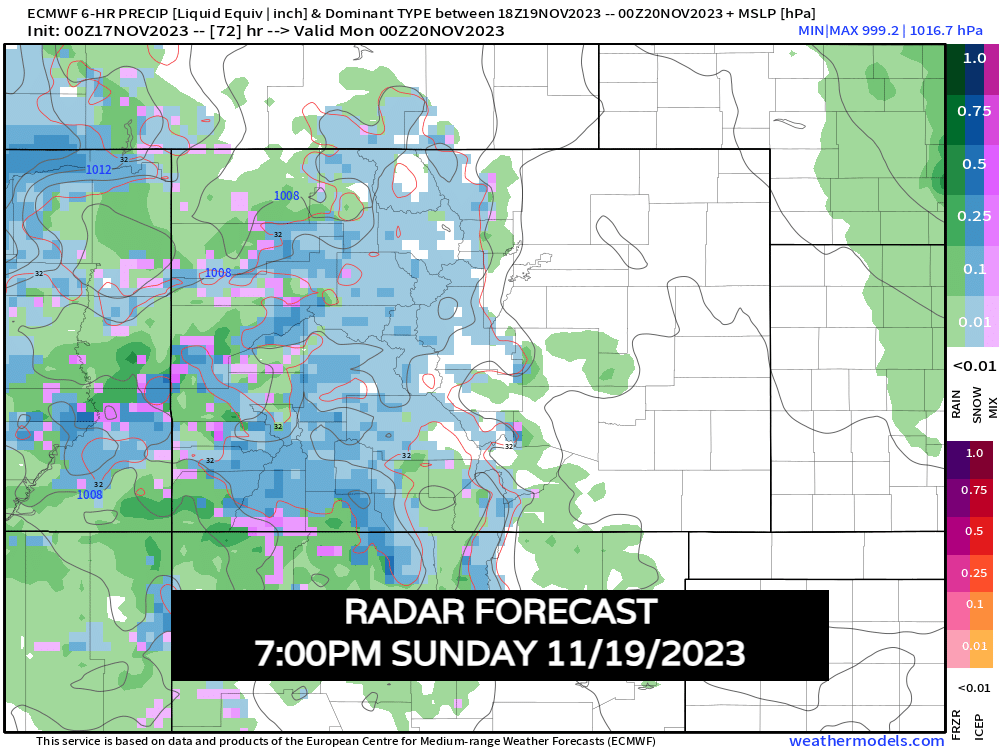 Moisture will slowly spread east Sunday night into Monday morning. Travel looks to deteriorate for most mountain roads during this time. Use caution if you're heading back from the high country. Most of the energy from this storm is moving east by Monday afternoon. There will be some leftover mountain showers and rain/snow showers along and east of I-25.
As the system departs Monday morning, it's going to carry 30-50mph wind with it over the Palmer Divide which could lead to very low visibility during the Monday AM commute. Keep this is mind between Denver and Springs.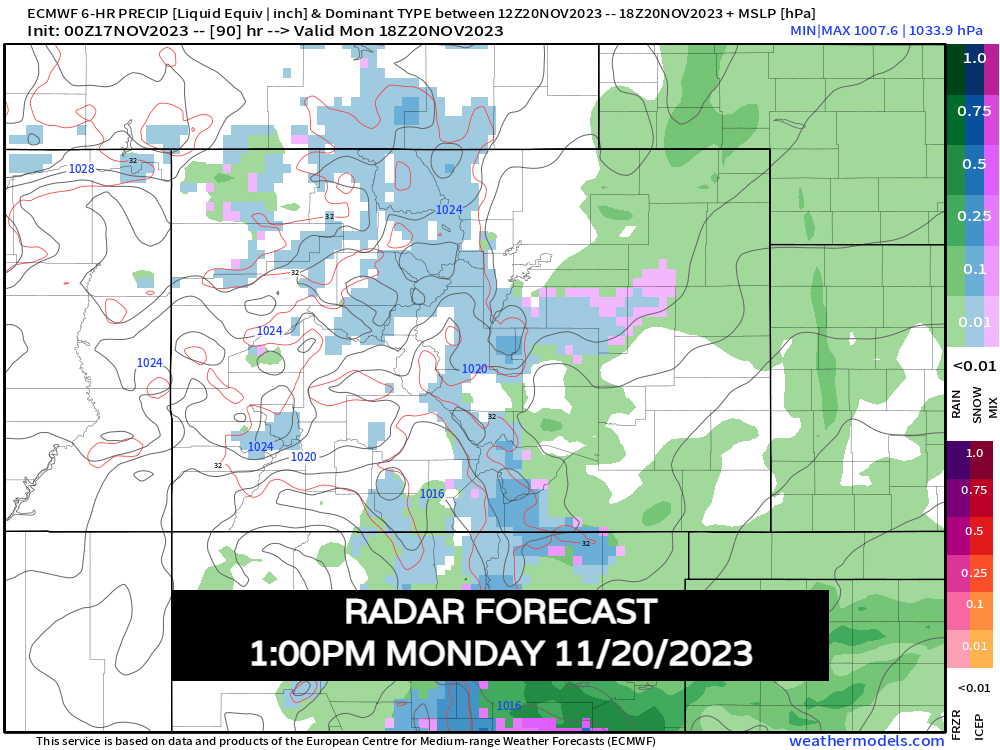 Most of the accumulating snow will be in the mountains with this system. Downsloping winds, along with marginal temperatures will limit snow/rain impacts for most of the urban corridor.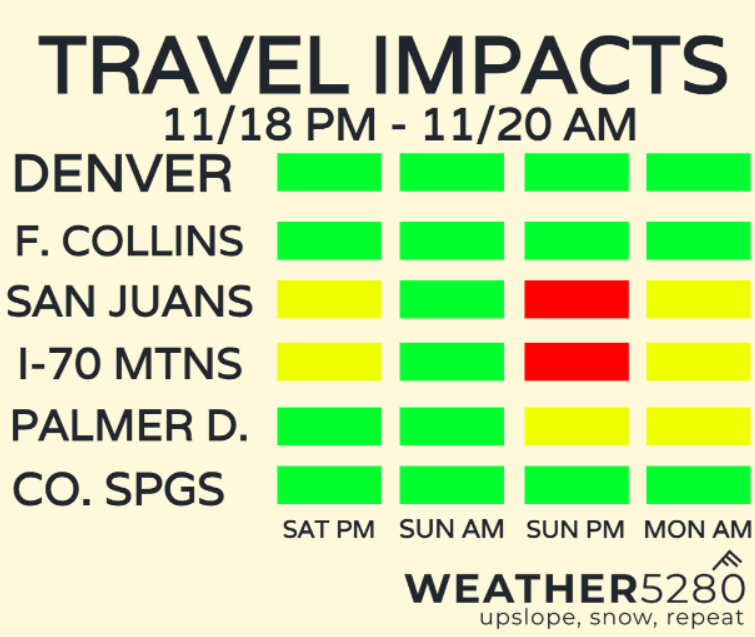 Snowfall maps
Below is a look at 3"+ probabilities for snowfall. Nearly 100% for many major ski towns. Another bullseye is popping over the Palmer Divide, locations like Palmer Lake, Monument and Larkspur might squeeze of a few inches of slush. A similar look for parts of Jefferson County in the foothills west of Denver. La Veta pass could also be a problem by Monday morning.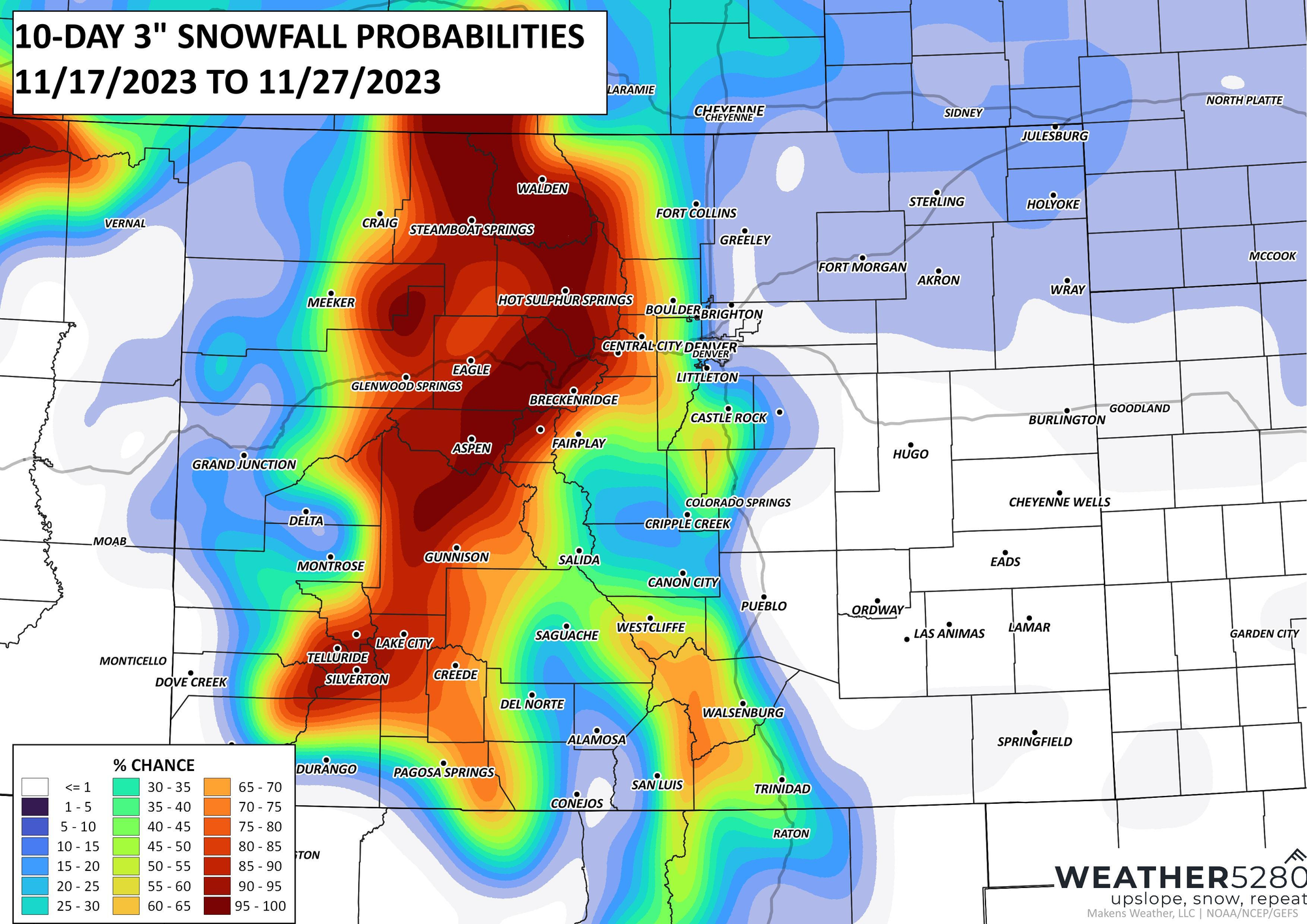 A more focused look at potential totals below: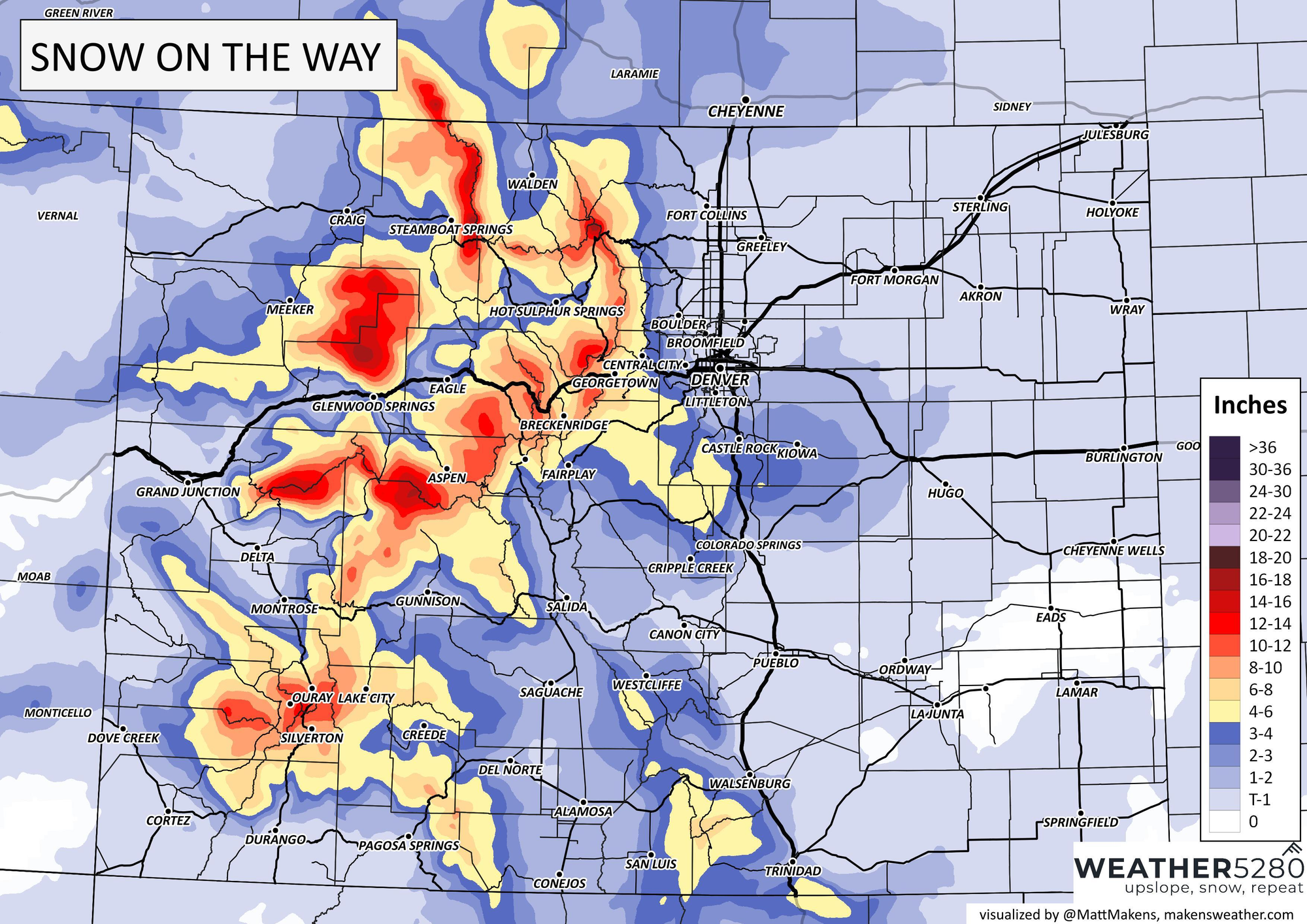 Areas like Breckenridge and Aspen could push out 6-12" of good powder once this is all said and done. May see some problems on the Palmer Divide Monday morning where 2-4" of a slushy mess could fall. We'll also combine this with wind.
The key takeaways here: Sunday evening mountain travel will be tough. If you have to get back out of the mountains, the earlier the better on Sunday will be key.
Thanksgiving week, any travel issues?
The good news is that once we get into Tuesday and Wednesday, getting to our holiday destinations, at least statewide looks good. If you're flying out east, Wednesday could have some delays out of the big hubs around New England. Otherwise, U.S. travel looks ok.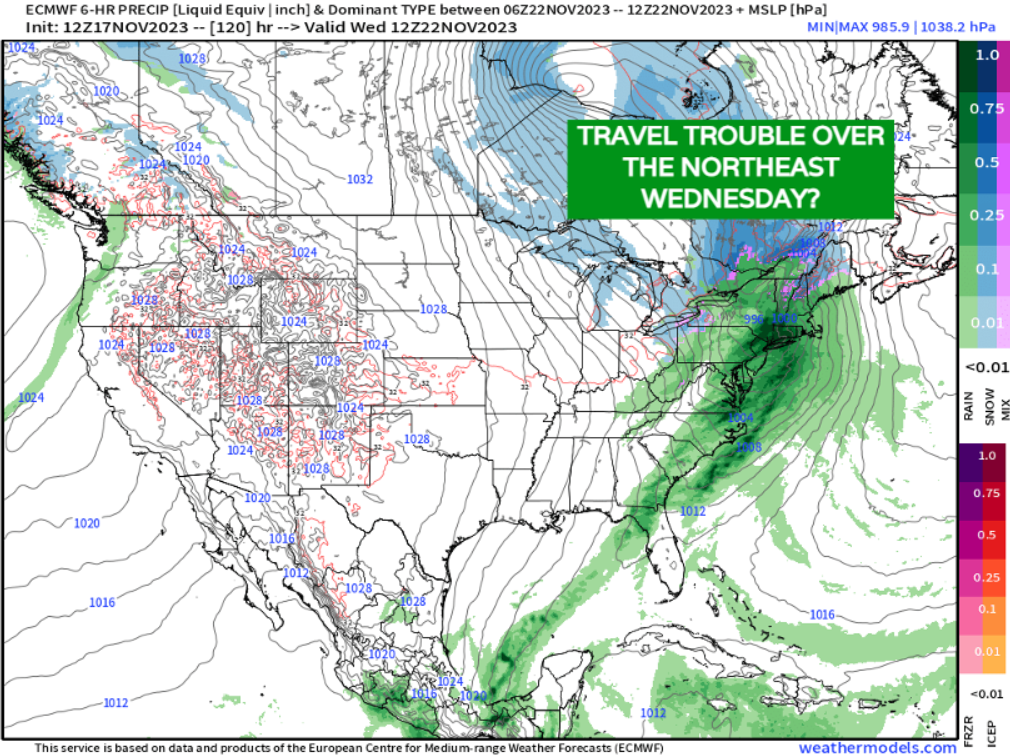 As we mentioned earlier in the blog, a strong push of winter air could move into Colorado by Black Friday. At this time, the EURO is pretty aggressive with some of our fluffiest snow potential of the year. Other models are less convincing, but still the overall pattern is supportive of some much colder air and snow across the region, with the devil in the details of course. With that, this one bears some watching at this range, especially with the holiday... travel back into or out of Colorado following Thanksgiving could have some issues.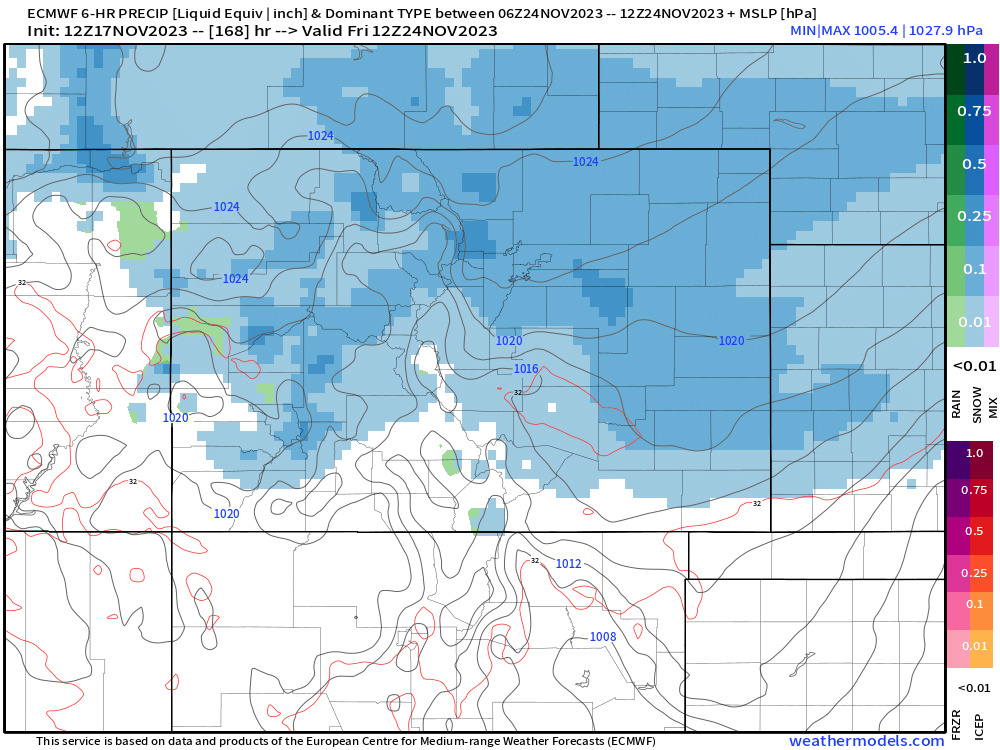 We'll walk you through any changes for the weekend system, as well as Thanksgiving weekend travel going into next week! Stick with Weather5280 and keep yourself ahead of any weather changes by subscribing to our email list today!