There are two main disturbances that will impact the weather across Colorado, including travel impacts in Denver, through Thanksgiving Week with the first hitting now through Monday.
The first system has some alerts in place, so let's begin there. Isolated impacts expected in the mountains, most of which focus on the San Juans.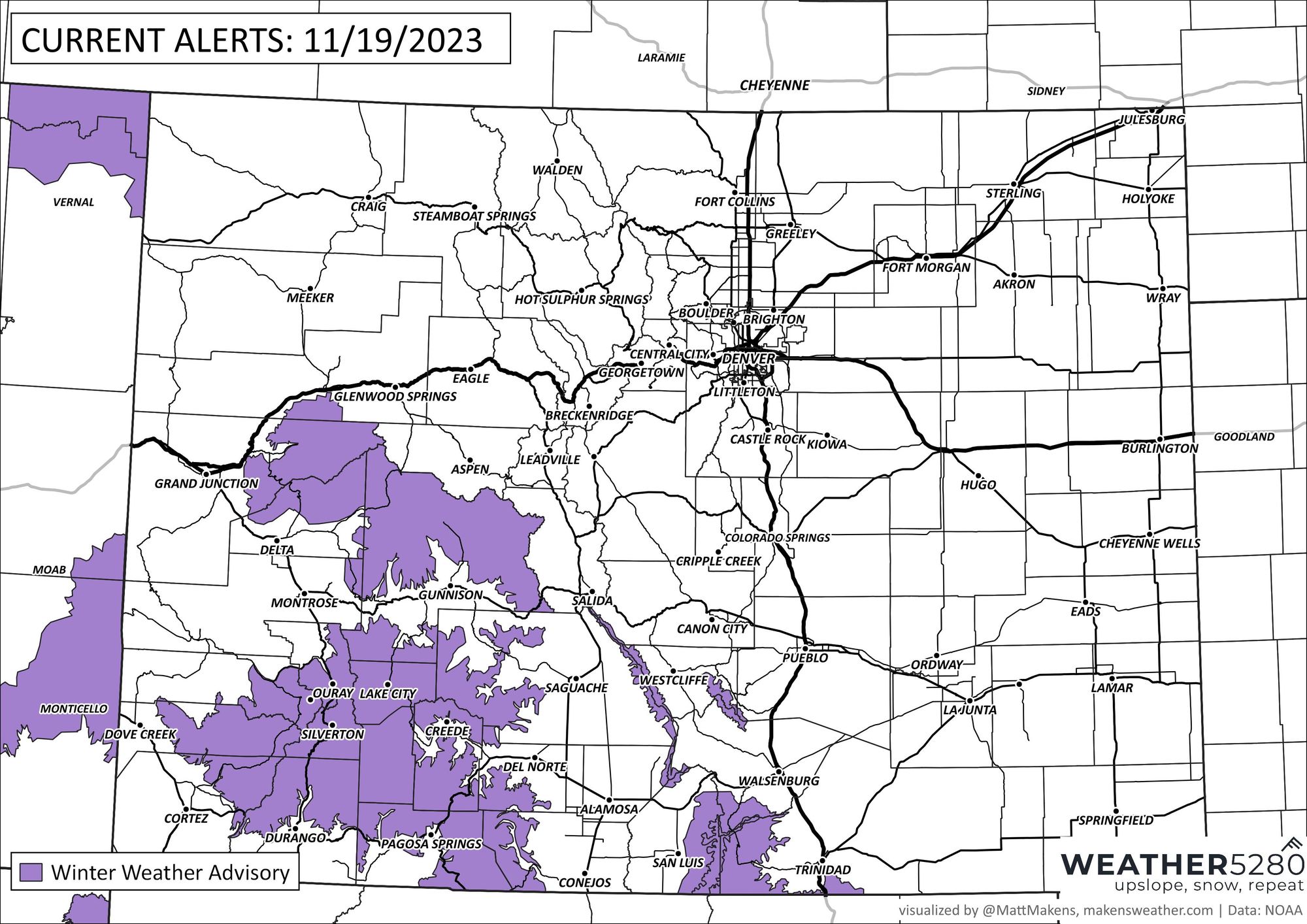 Let's watch as the forecast radar shows us where and when to expect some precipitation.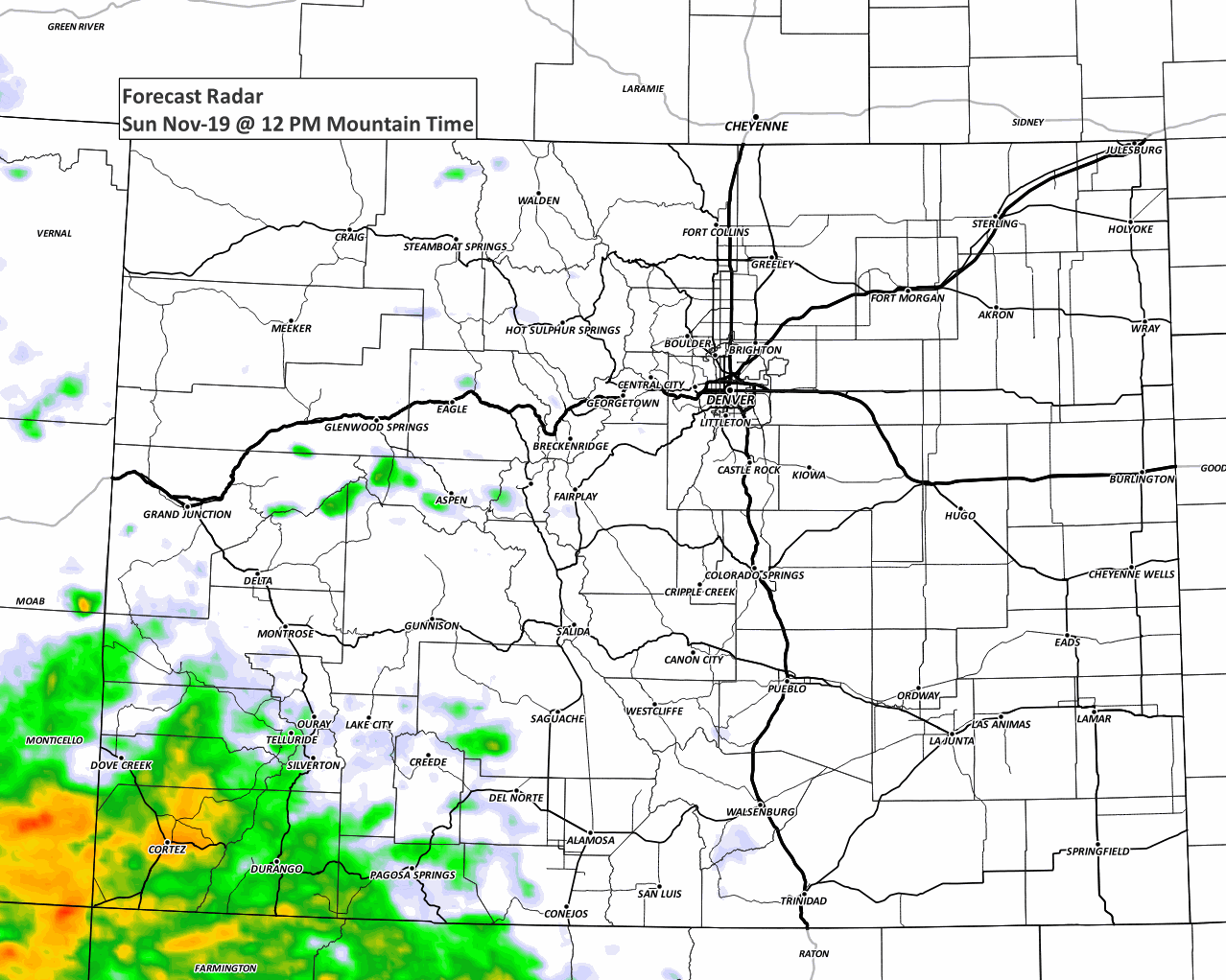 Then, just an hourly timeline for Denver's precipitation chances shows chances through Monday.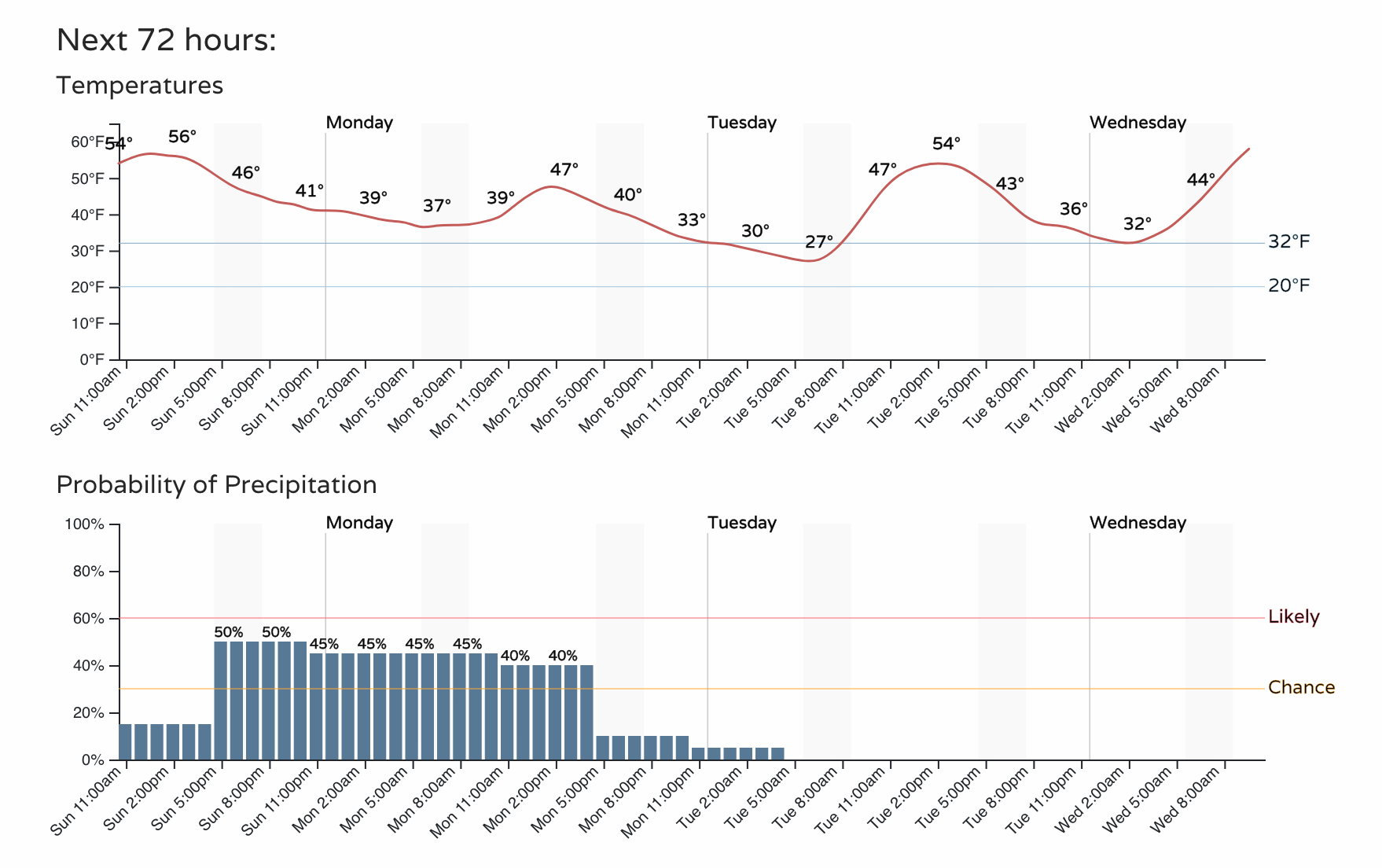 The Colorado Springs planner shows a peak more so Monday.
You may have noted the drop in temperatures with the increase in moisture chances. Temperatures are cold enough to support some snow and that may create some slick road conditions for Sunday and Monday travelers. Here's the overall threat levels associated with this first system.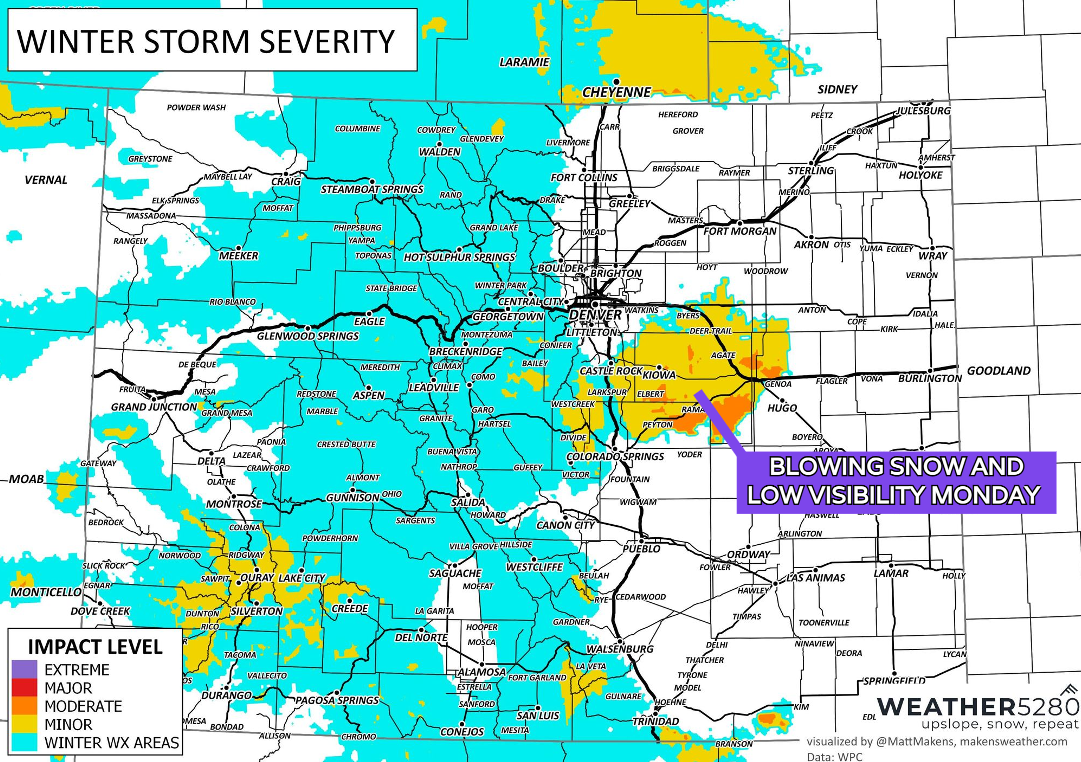 For travelers, I-70 on the Plains and spots in the mountains, I-25 in Wyoming and between Denver to the Springs, Hwy 24 from the Springs to Limon, and 86 from Castle Rock to Limon may have the bigger impact relative to other major roads.
Those impacts are due to a light amount of snow, but some freezing conditions to keep roads slick along with some very gusty wind. Winds as high as 55 mph will be possible over the Palmer Divide on Monday, with the worst in the morning.
Here is the snowfall forecast through Monday - not a lot but enough to make some slick spots.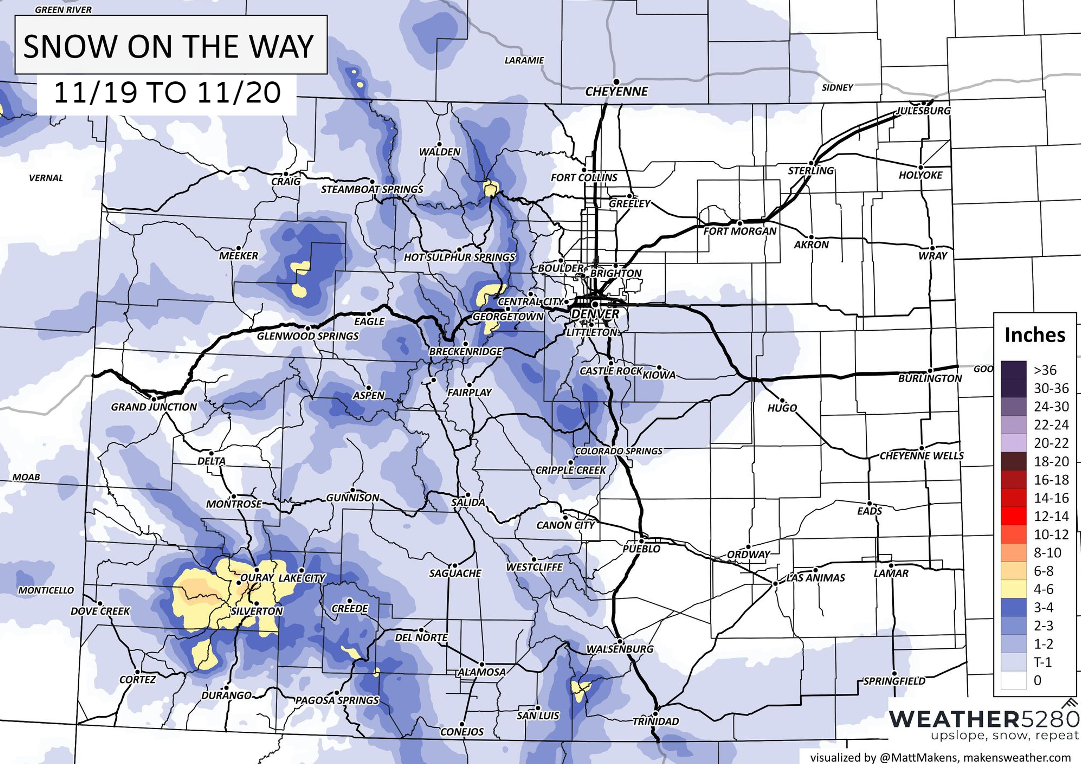 Onto the second system for late this week
This one likely carries a bigger impact, arriving Thanksgiving lasting into the weekend. Since we just mentioned snow, let's see what an early estimated snowfall forecast will be for the latter part of the week ahead - again, separate from what comes through in the next couple days.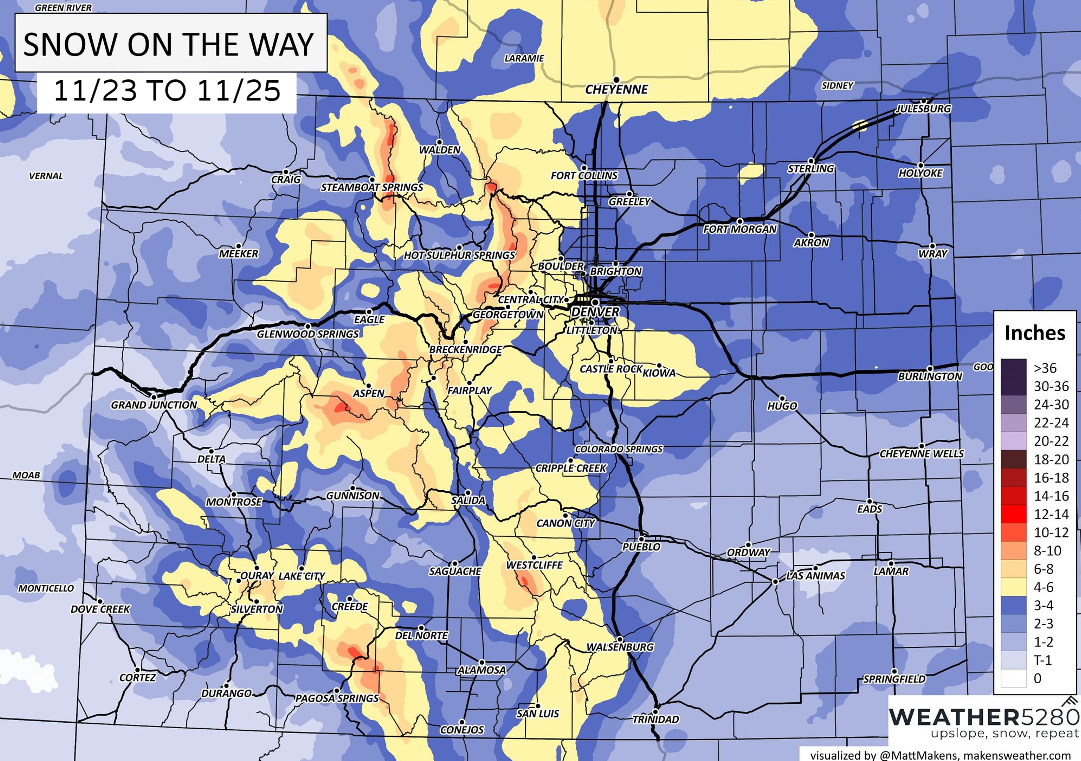 There's a more significant jump in the 4 to 6 inch totals for parts of the metro areas with this second system and that will create travel issues of its own.
Plus, it will have colder air to work with. Just looking at Denver's daily highs and lows for this week shows that sharper change arriving in a few days.
Many times we rely on smaller scale things such as terrain/wind direction for upslope, or localized jet stream banding. This can lead to haves and have nots, similar to the first snow we saw this year. The late-week storm system has a bit more to work with.
Two jet stream cores will be moving across the country by Friday, leaving Colorado in a sweet spot for what we call "upper-level divergence". Basically, that means the very top of the atmosphere is pulling air up from the bottom, which creates widespread lift, which can mead more widespread moisture. We're even seeing the possibility of a little bit of  "jet coupling" in the scenario below, where the two jet cores work in tandem to produce lift air from the surface.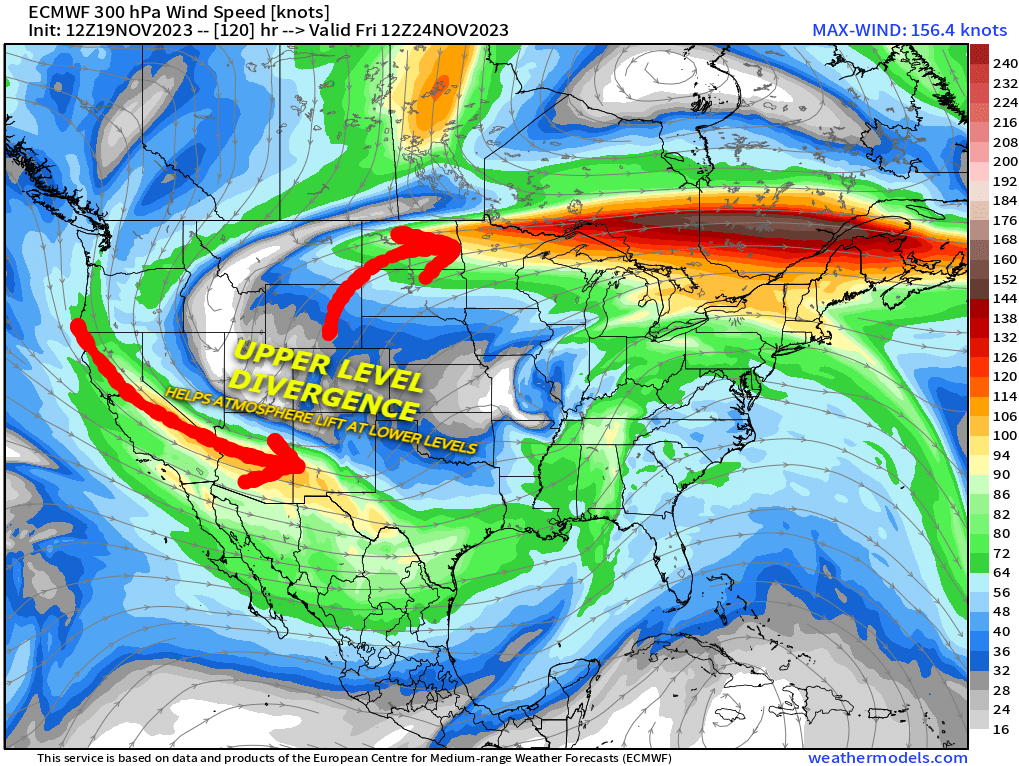 In addition, the colder air should provide for a fluffier snow with a higher ratio. This means it could add up faster, as well as make a mess of roads quicker too.
Still, time to track this one but certainly anyone with travel plans later this week should stay alert on this next system. Stick with Weather5280 and keep yourself ahead of any weather changes by subscribing to our email list today!