After nearly breaking two record highs Monday and Tuesday, we are transitioning today to a cooler, more "January-like" end to the week.
A massive ridge provided the recent warm weather, and this ridge will be tough to break down much. So, this next system won't bring a major change. Noticeable, but not major.
While we were enjoying the warmth, an area of moisture from the Pacific and Mexico slowly moved northward into the southwestern US. With the help of a lower level jet (weak!), a weak low developed near California. However, trapped under the ridge the low has very little to work with. Nonetheless, areas of the southwest have faired okay with rain, and some heavy snow will move toward northern New Mexico – and like our southwestern mountains, New Mexico desperately needs some snow too. For Colorado, we will be on the northern side of the moisture.
As for temperatures, we are seeing the ridge weaken enough to allow the Canadian air to slowly sink closer to the state. As the ridge continues to weak the rest of this week through the weekend, the cold air will gradually move in. I should be cautious, however, calling it cold. It's not cold at all – it's seasonal.
With a weakening ridge, the combination of colder air and higher moisture will bring us the increased chance for rain and snow. The mountains will catch a bit of snow as well as a few of us in the metro areas and on the plains. Considering our temperatures though, it will be a rain/snow event, if anything, for the plains.
Currently, the moisture of the system is sitting as a relatively unorganized thunderstorm cluster west of Mexico.
And, the cooler air is now making some southward movement through Montana, but mostly directed toward the Dakotas.
As we go through Thursday into Friday and Saturday the combination of the two features will bring us our more January-like change.
For Thursday, look for increased cloud cover and for that cooler air to arrive. Highs will be nearer 50-degrees, which is still warmer than average.
Friday will be much like Thursday. Although, the moisture gets a bit closer so snow in the mountains will be more widespread.
Saturday into Sunday are entirely dependent upon the strength of the ridge. A stronger than expected ridge will mean that the Pacific/Mexican moisture will be lesser as well as the colder air. If you take full stock into current modeling, the ridge will have weakend enough to allow colder air, and that moisture to both arrive. With that said, expect 30s with a chance of rain and snow. That chance is best on Saturday. Again, this fully assumes the current modeling be accurate with the low's location near the borders of New Mexico, Arizona, and Mexico by Saturday night. I wouldn't be surprised to see the chance for moisture delay even more. That moisture is with a cut-off low to our southwest and has very little reason to move, so why can we just totally accept currently models on pushing that low to the east? I don't completely buy into that. I'd caution you to know that the rain/snow chance and cooler temperatures are subject to shift later than expected...as that low will likey meander in that region for quite some time.
There is some model data to support this. The teleconnections indicate a good cold source from the EPO data, but also a bit of a blocking pattern in the NAO. A blocking pattern to the east supports a slower cut-off low movement, and if true the coldest air will also be blocked to our east. Should the forecast of that blocking pattern pan out, it's later in the weekend and early next week before we see enought support to allow the low to move eastward, as is forecast in today's deterministic models to occur 24-48 hours earlier. Don't get me started on how crappy the initialization is in some of the current climate modeling. That's for a rant for another time. All I'm going to say now is, look at how the CFSv2 is initialized with the Caribbean SST...about -10 degrees below average which is bogus. I digress...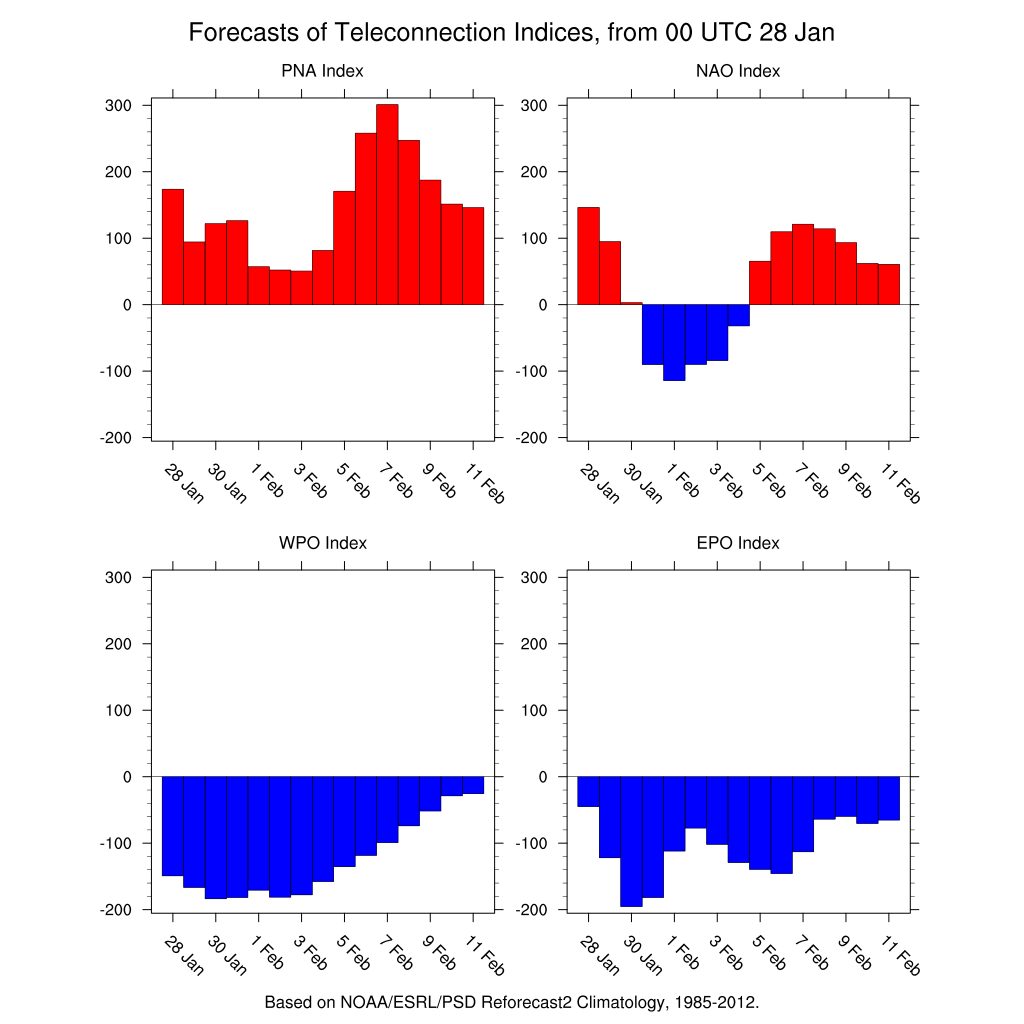 Further, if the models keep you guessing, as they are now, go with persistence. Persistence would tell us to expect like what we've had on average this winter. In this case, whenever the colder air (we'll need 30s) decides to arrive rain/ice/snow will all be possible in minor amounts, but enough to cause a pain for some.
I hear you asking, how much snowfall if it does snow? Assuming the low travels south as expected and with a bit of local weak upslope from that cold air advection, we will be looking at a minor snow event. There is such a lack of dynamics to produce much at all. However, a northward track shift of the low would put southern Colorado into a better snow zone. As of this writing, the Colorado Springs area has a much higher uncertainty in the snowfall forecast than does Denver. I see the Springs as being a better location for a snow spotter than Denver. Yet, any northward shift of that low will be favored by you snow lovers. I don't see any reason for it to shift northward unless it wants to try to beat down the ridge even more... call me "negative Nancy".