Although technically two separate systems are imapacting Colorado, as discussed in Wednesday's post, only one holds the cards for possible precipitation.
The upper low meandering over the southwestern US and Mexico will continue to provide rain and snow to Arizona and New Mexico. This system will come close enough to Colorado to give some areas some snowfall today and Saturday.
The second system, which you've felt already, is the colder air that has followed a Thursday cold front. Although not impressively cold, these cooler temperatures will carry through the weekend.
Let's focus on the upper low. The low has no reason to move much as it's trapped under the western US ridge and therefore has little wind support to give it any "push". The global models rightfully leave it a hopeless wanderer over Arizona, New Mexico, and Mexico. This is providing very valuable moisture to the Southwest, despite being cutoff and expected to weaken the next two days. Here is my inhouse view of the RPM, initialized at 12z Friday and accumulating precipitation through 51 hours: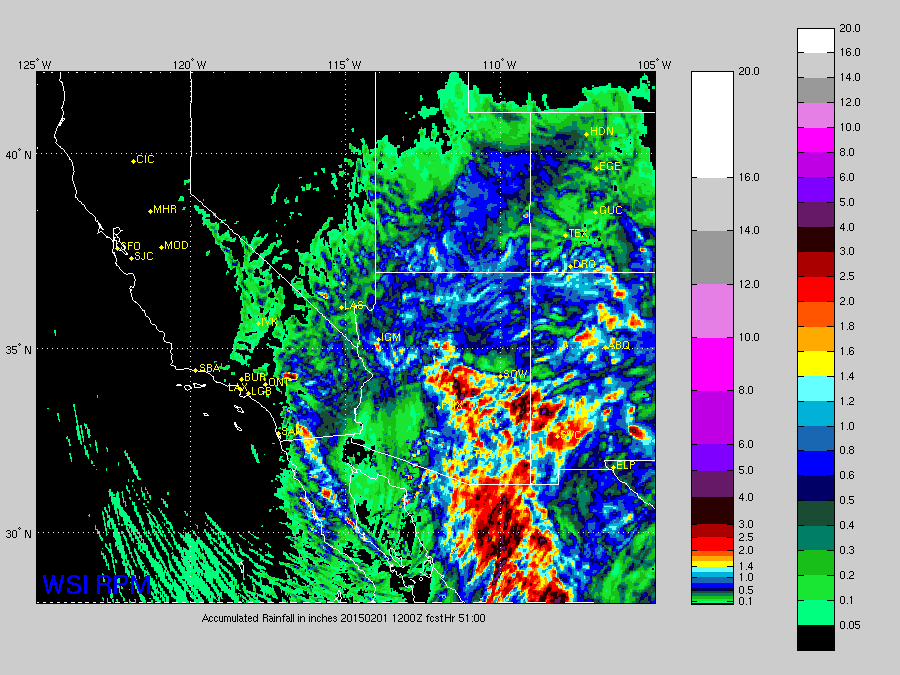 That's some great moisture for them! However, look at lonely Colorado in the upper right. We need a lot more moisture than what is coming our way.
For example, the 4km NAM accumulates these amounts of precipication through the weekend: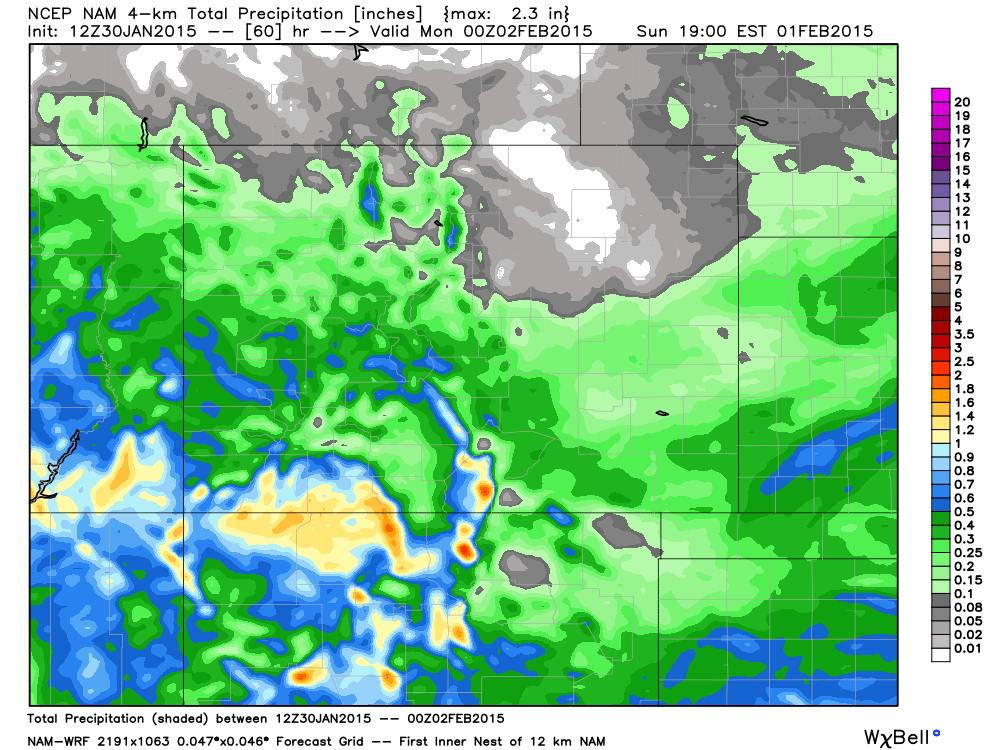 Sure, the San Juan's may fair well with that 1-2+" projection, but it's a seriously dry system the farther northeast you look.
Let's now look at snowfall through 5am Saturday: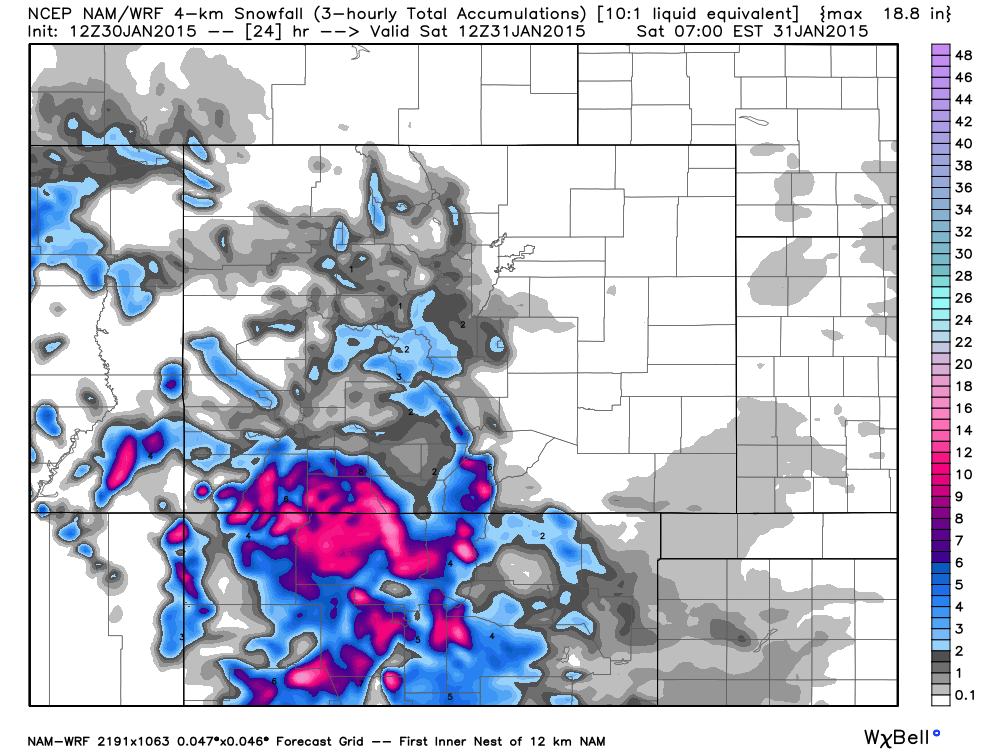 And, through Sunday at 5pm: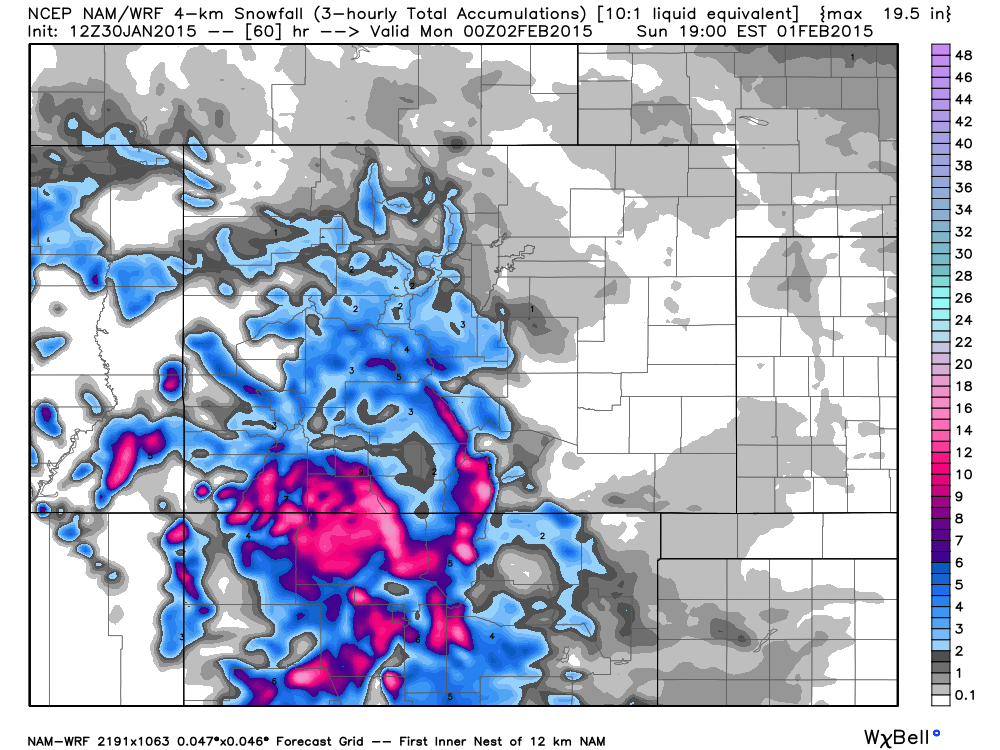 Snowfall is bleak! I broke the snowfall projection down into two times, because for the Front Range we have a chance for snow later today and on Sunday. Denver's best chance will come this weekend.
Also note that the total snowfall doesn't equate to the accumulated precipitation. There's rain expected with this system too. For example, the 1/10th to 1/4" of precipitation expected for much of the southern plains may very well come as rain, not snow. Surface temperatures remain too warm, as has been the case for a few other systems this winter, too.
For example, the SREF plume viewer for precipitation type keeps most of La Junta's precipitation as rain: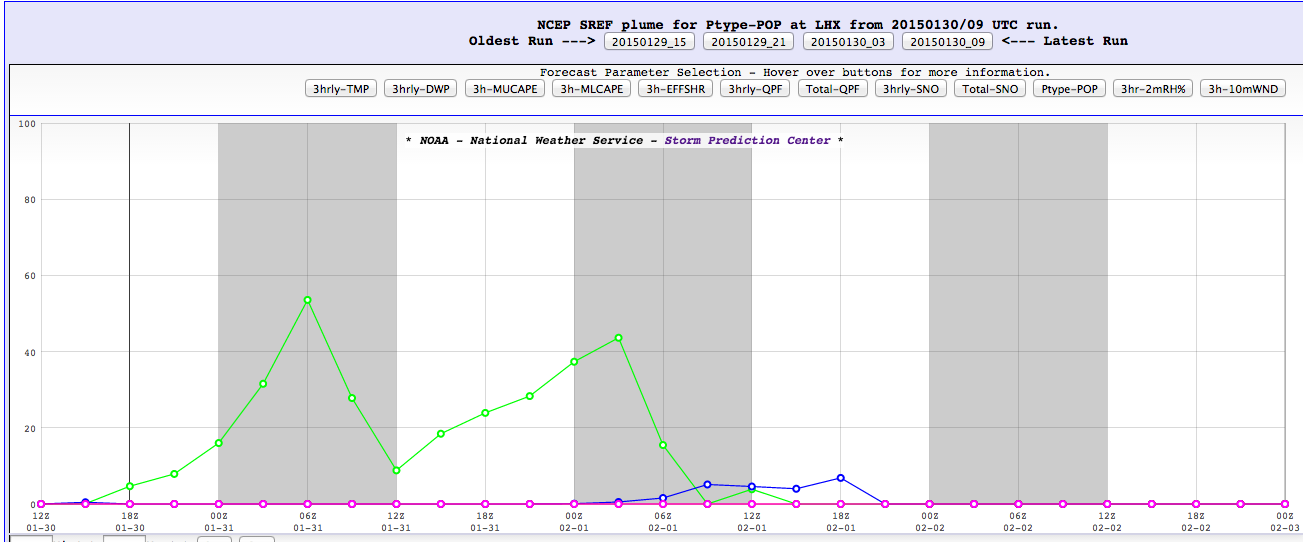 For Colorado Springs, the higher elevation should help limit the rain chance in favor of snow: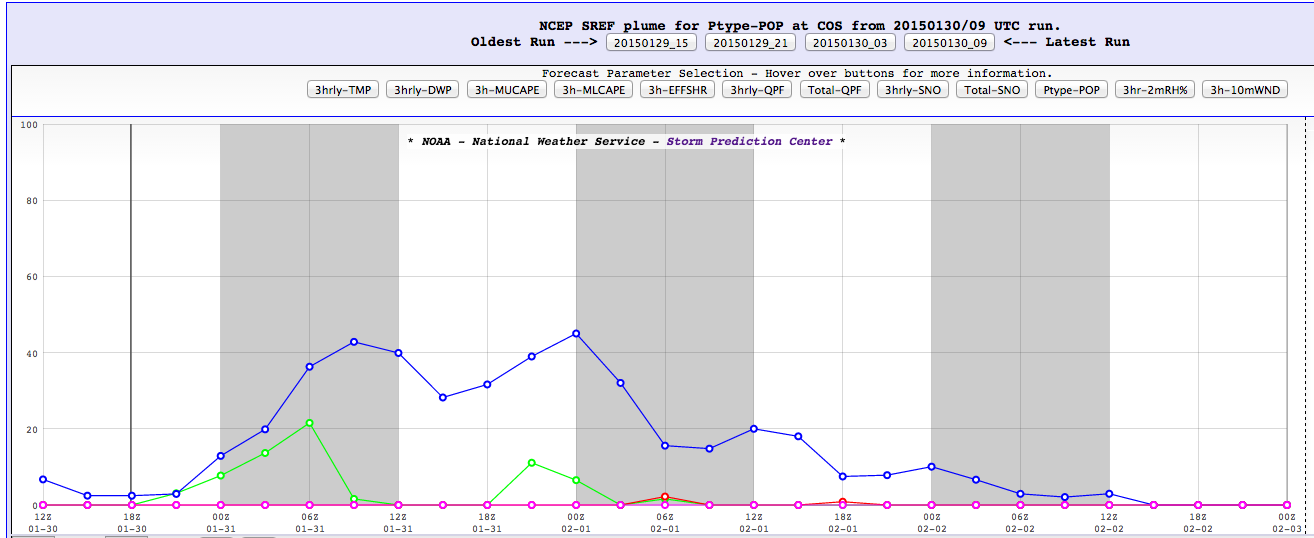 And for Colorado Spings, the timeline of said moisture will begin later today and may, at times, continue through the weekend. In SREF's "mind" it has two best chances for moisture, early tomorrow morning and again tomorrow afternoon.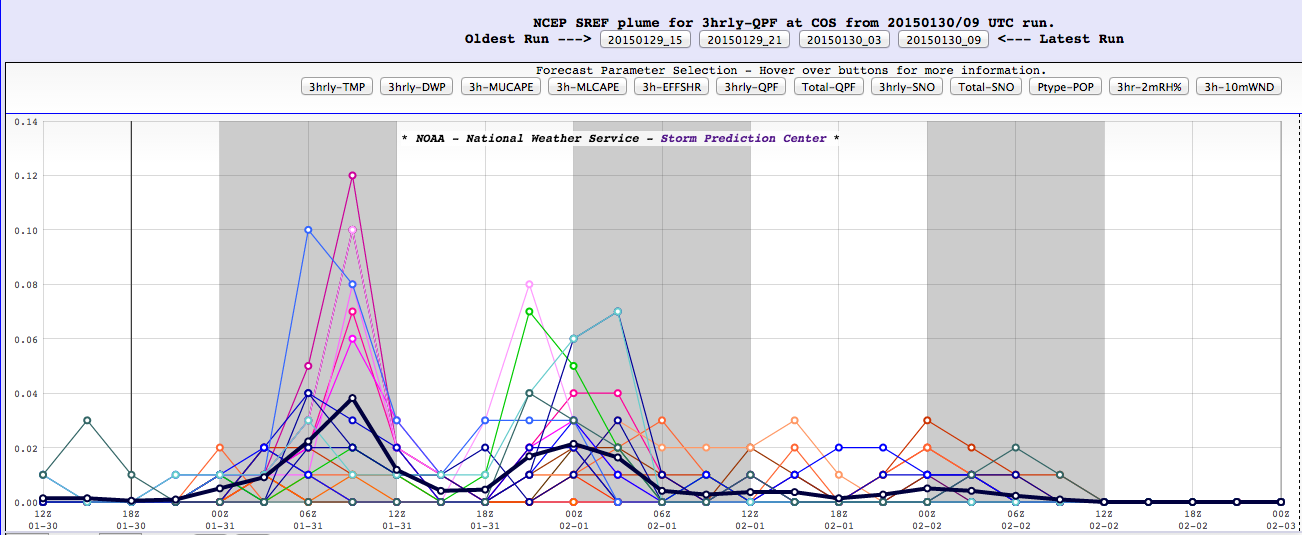 The amount will generally be light, as shown earlier with the 4km NAM projection. However, Colorado Springs is the most likely of Colorado's big metro areas to have some accumulating snowfall.
For Denver, blah. Our precipitation will likely be a mix of rain/snow, but mostly snow. That's if anything falls at all throughout the weekend. Here's the plume (this system is one of bleakest we have had this season) for DIA: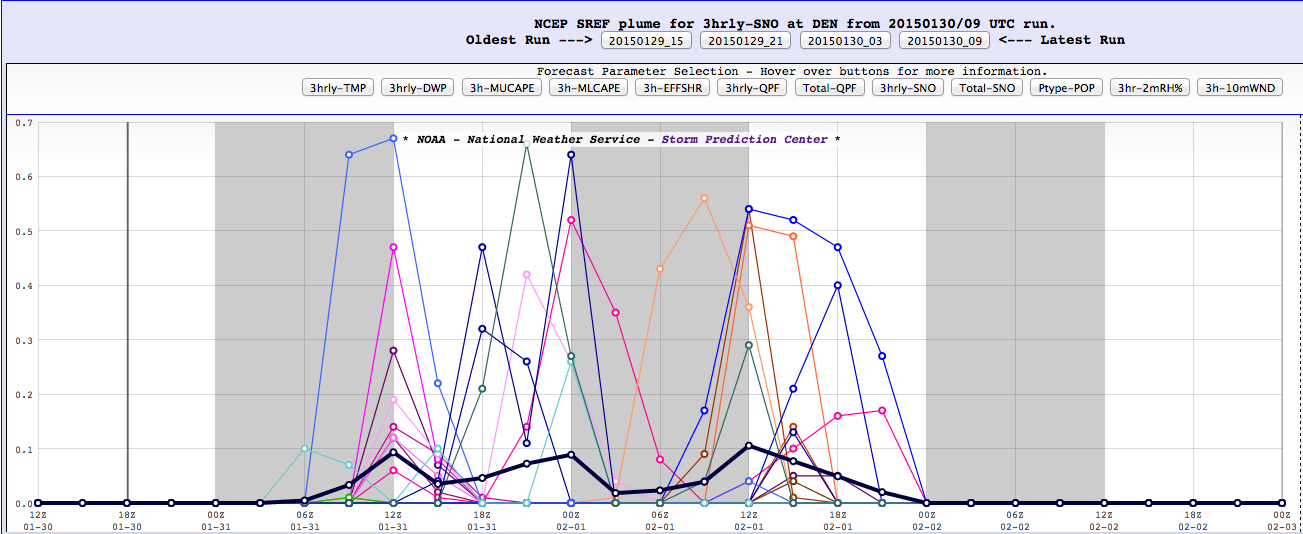 Unless a radical shift in the meandering low were to occur, don't expect much this weekend. Head between Castle Rock and Colorado Springs if you want to see some snow/rain. Or, west of Denver for some light stuff in the foothills. A true snow chaser has a long drive to reach the state's southwest mountains for some real snow.
Once the radar gets a bit more colorful for the Springs, and hoping for Denver, we'll get an update out with specific snowfall totals if need be.
Oh, by the way, early next week it looks as though the ridge brings us more heat and drought... We'll keep a slight ring of optimism and say we're watching something for Feb 04 - 06 timeframe, but the overwhelming outlook is for a (re-)strengthening ridge again into next weekend.