Model play continues on weekend system
The weekend system remains intriguing to say the least. Intriguing because of its potential for significant snowfall, and the dramatic swings in the modeling from run-to-run and from model-to-model.
Brian's comments in his post yesterday are absolutely spot on with the variability in the modeling. Yet, some outlets continue to confidently tout numbers as if this system was "set in stone".
The variability in GFS alone, for just today's runs, is incredible. This is the snowfall accumulation (assuming a 10:1 liquid to snow ratio) through Tuesday morning. Look at the dramatic change with every 6 hour update.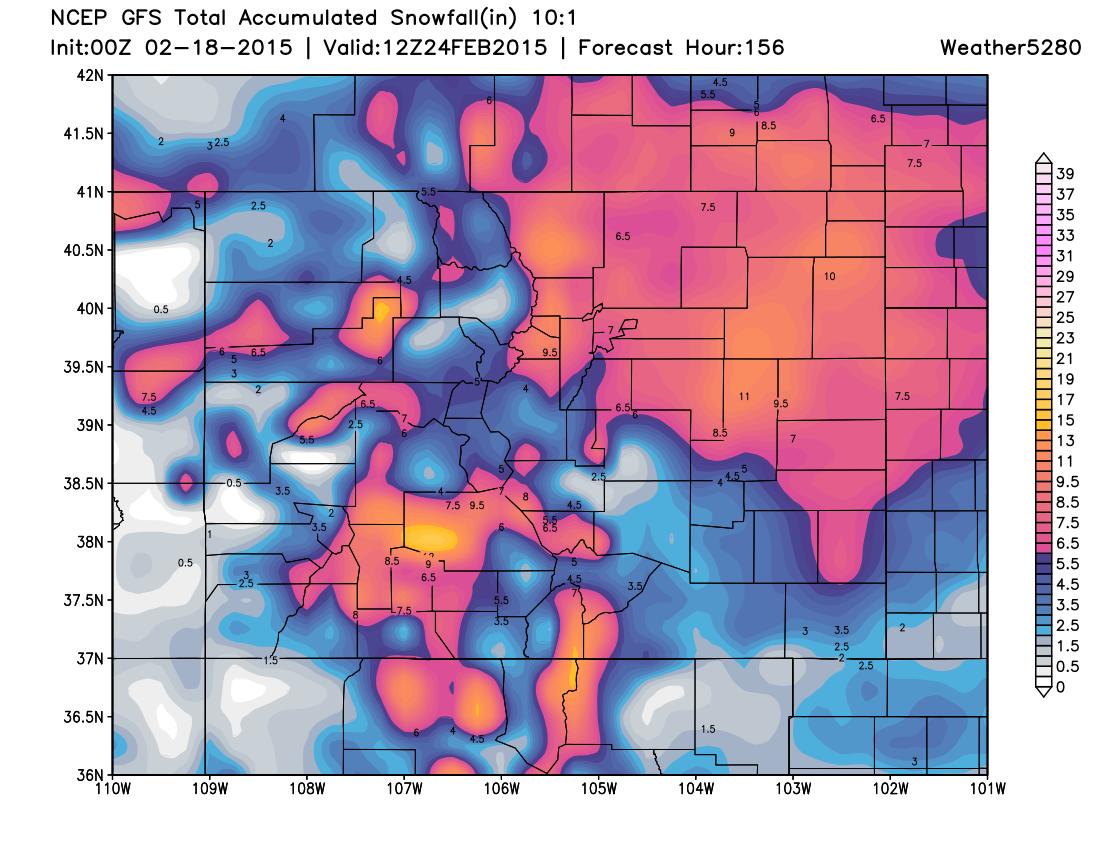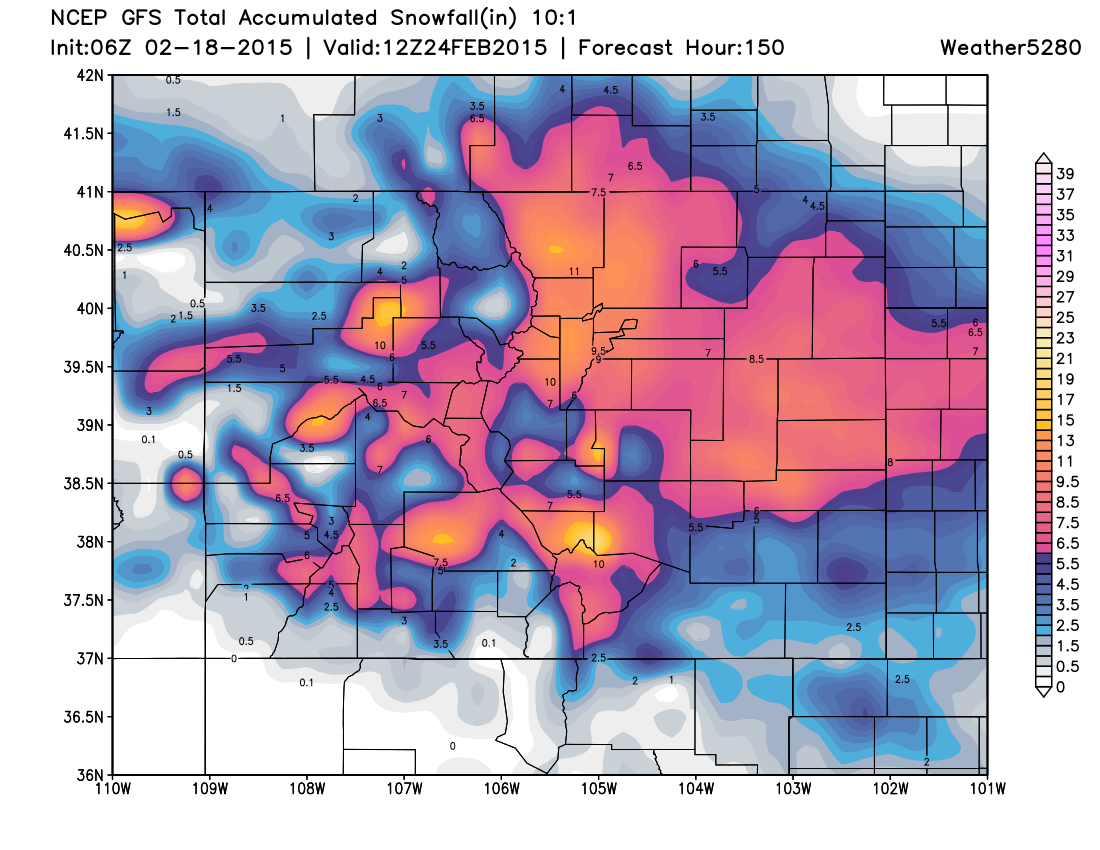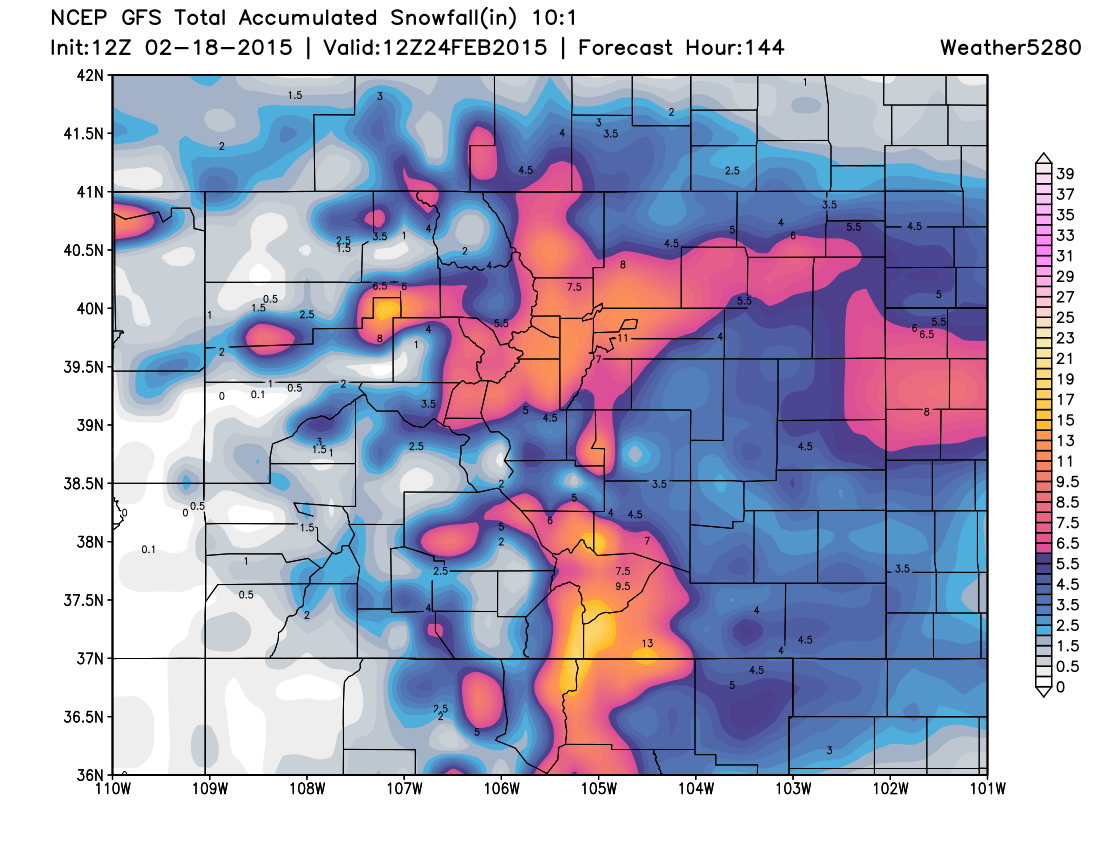 This inconsistency between model updates isn't unique to GFS. The ECM, GEM, and the UKMET all show similar inconsistencies of the highest snowfall accumulations. These models change with every 6 or 12 hour update.
Although each model is inconsistent in snowfall outputs, the collective trends have increased my confidence in the 500H pattern. Now that GFS, ECM, and GEM are relatively similar in their operational and ensemble 500H pattern I have greater confidence – someone on the eastern half of the state will likely see a great snowfall.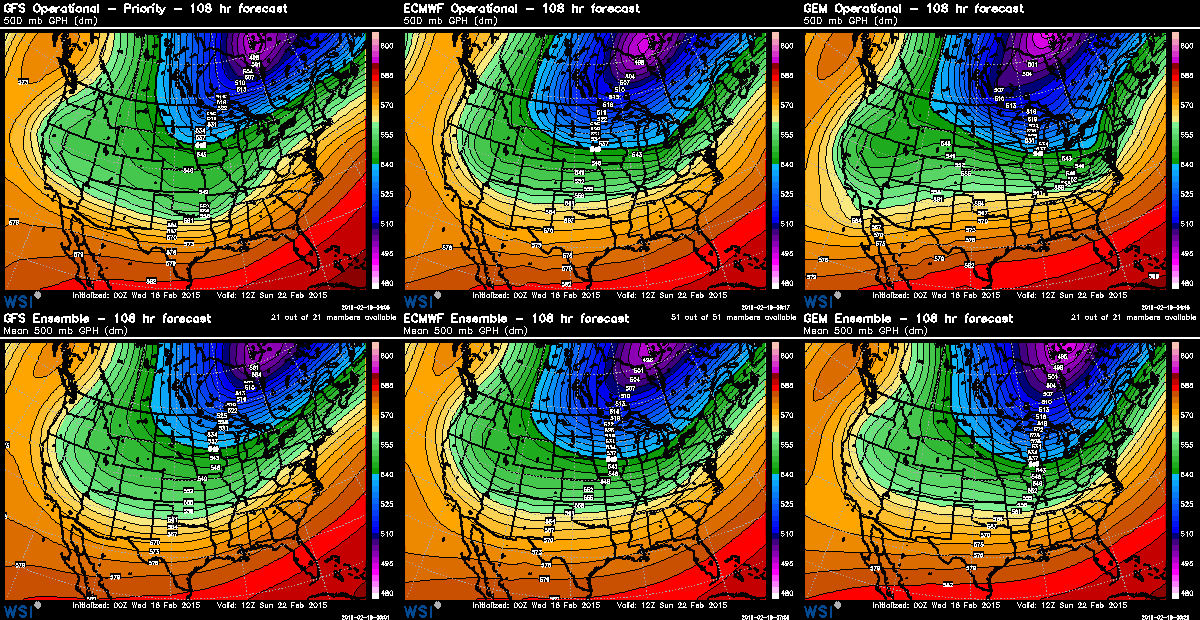 The elongated, relatively deep, slow 500H trough will approach Friday night then exit Tuesday. Couple that with the yet to be consistently resolved surface cold front(s), and the combination should create upslope with upper-air support. Given the longer duration of the event, high totals somewhere along the Front Range are certainly possible, if not becoming likely.
Further, the teleconnections indicate a significant trough event (PNA shifts sharply negative) with cold air support (EPO strongly negative) and a blocking pattern to the east (NAO incredibly positive) to slow the progression of this system.
Keep in mind, however, that we remain on the edge of the greatest trough to the east. This winter pattern, to date, has kept Colorado largely on the edge of the coldest air and deepest troughs. That could be a factor to consider here. Also, we're still dealing with what largely looks like an open wave, which should lend some pause with regard to how much QPF is showing up.
Brian's point yesterday about location and strength of vorticity (consider too the jet stream placement) will be a great determining factor for the evolution of this system. Both vorticity and jet stream dynamics remain as variable as the snowfall projections; they are tied together afterall.
I suspect it will be another day before consistency develops in these models. Until the trough takes hold to our northwest, the models are just wildly guessing on its strength and placement. As it forms more deeply, models then will initialize more accurately and their output will reflect a greater consistency and confidence. With that trough formation expected during the next 24 to 48 hours, the models will get their act together.
Until then, we'll continue to monitor things and pass updates as needed. If you're not subscribed to Weather5280, now is a great time to do so to stay ahead of the storm.