What is Denver's snowiest month on average?
March. The Mile High City sees nearly a foot of snow on average during the month of March, with 11.5" on average from 1882 to 2014. Ignoring the issues around moving the city's official record keeping location four times since 1882, it's fair to say March will often make or break a snow season for Denver.
Today we look back at the top 5 biggest March snowstorms in the city's history, do you have memories of any of them?
#5. 16.9" March 20-21, 1952
At number five on this list comes the storm of 1952. The season of 1951-52 as a whole was a snowy one for Denver, with 84.9" of snow recorded between September and May, which is an impressive 27.4" above normal.
March of 1952 saw 25.2" of snow, and of that 16.9" came in less than two days from March 20 to 21st.
Here is a look at the surface map for March 21, 1952 from the Department of Commerce.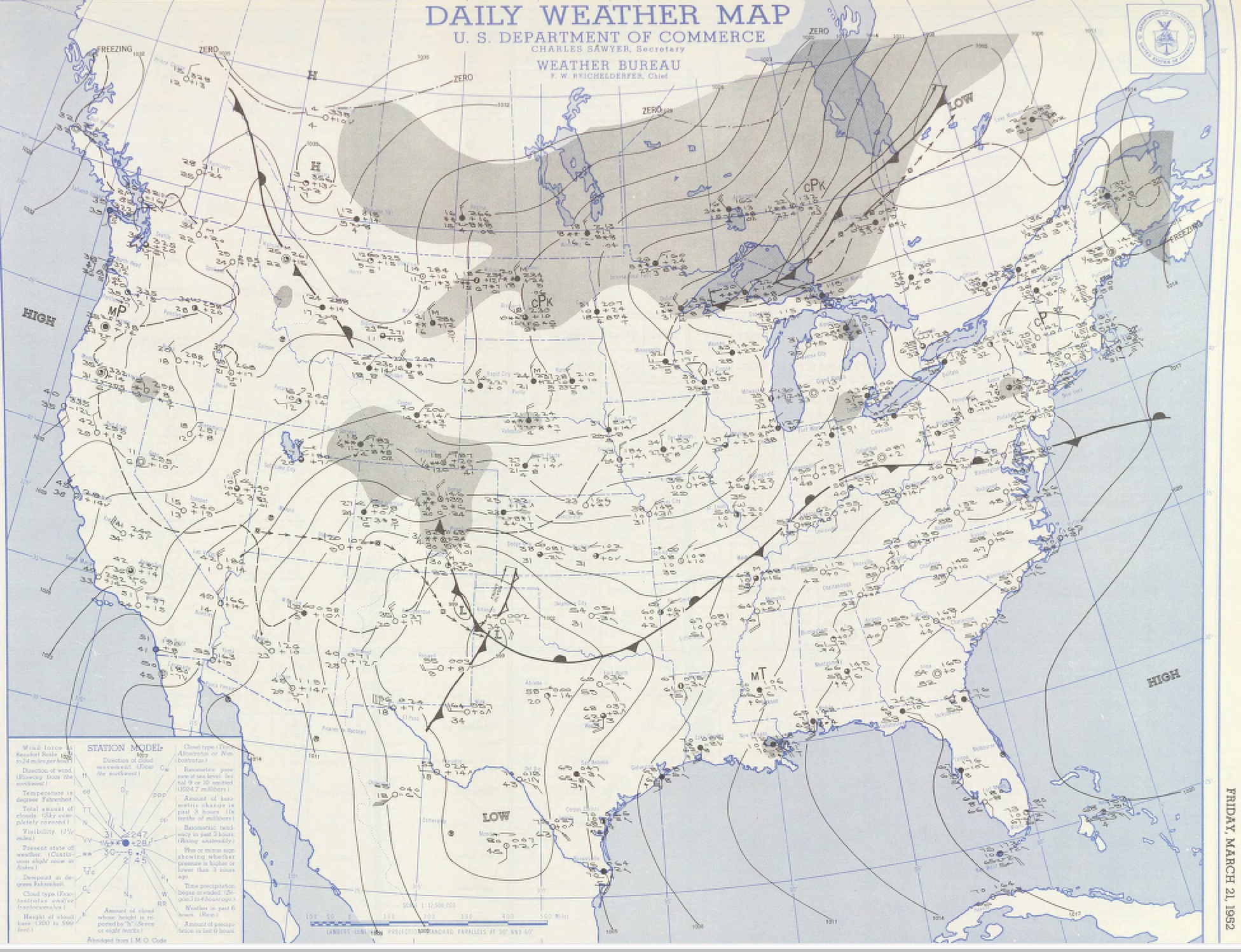 #4. 18.0" March 19-20, 1907
Like 1952, 1906-07 was another great snow year for the city. It started strong and finished strong, with both October 1906 and March 1907 recording more than 20" of snow.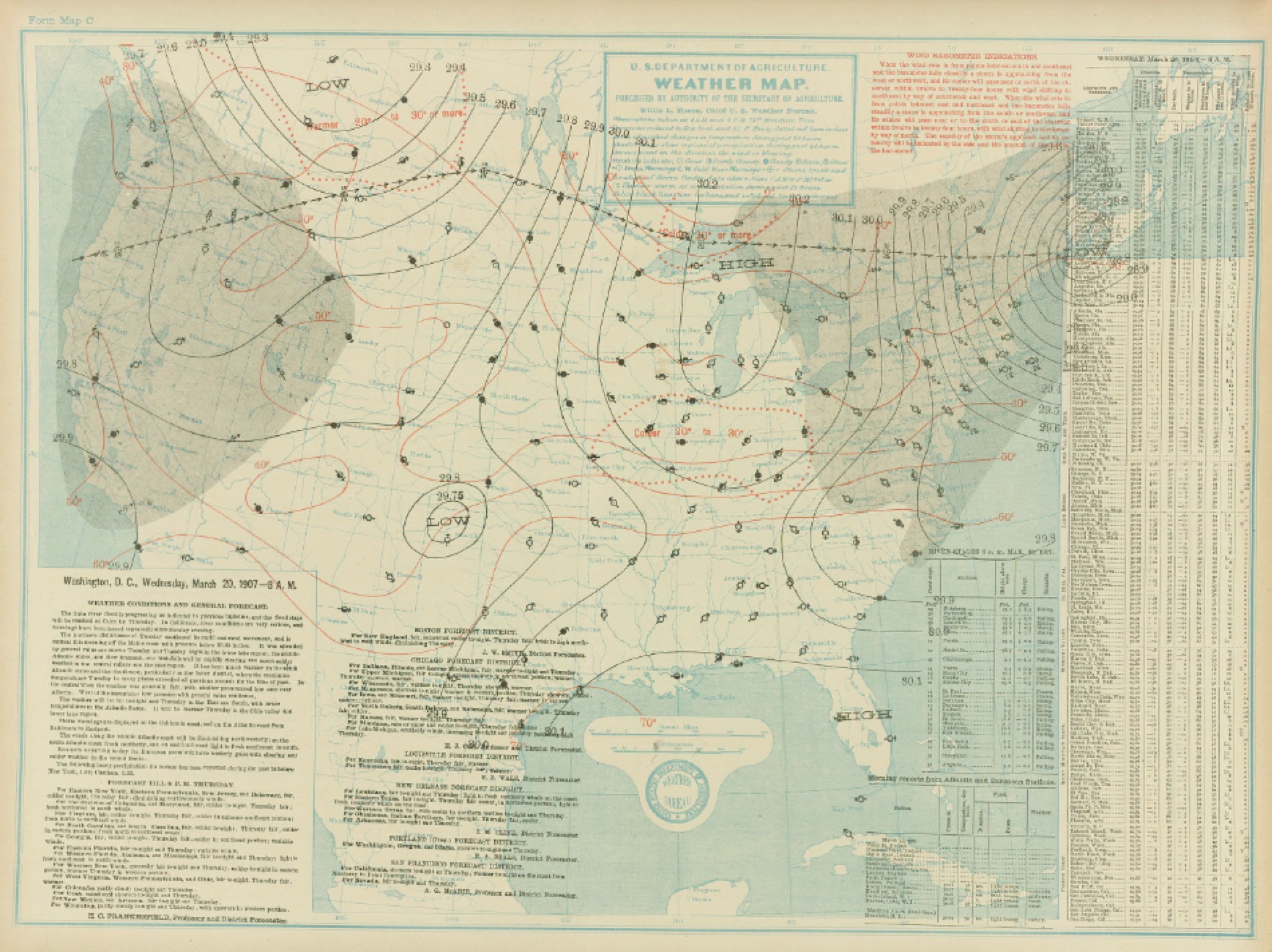 #3. 18.5" March 20-22, 1944
The snow season of 1943-44 was not too dissimilar to this year, in that it saw a remarkably slow start.
The finish, however, was a completely different story. Through February of 1944 Denver had only recorded 30.0" on the season (that's 16.4" behind we we ended February this year), yet the season ended with 90.5" (33" above normal).
The March 20-22 blizzard played a big part in making this happen dropping 18.5" of snow, but the month as a whole saw an impressive 32.5", followed by 19.5" in April, and 8.3" in May. Not to say that this will happen this year, but a great example of why it's not over until it's over (or June) here in Denver!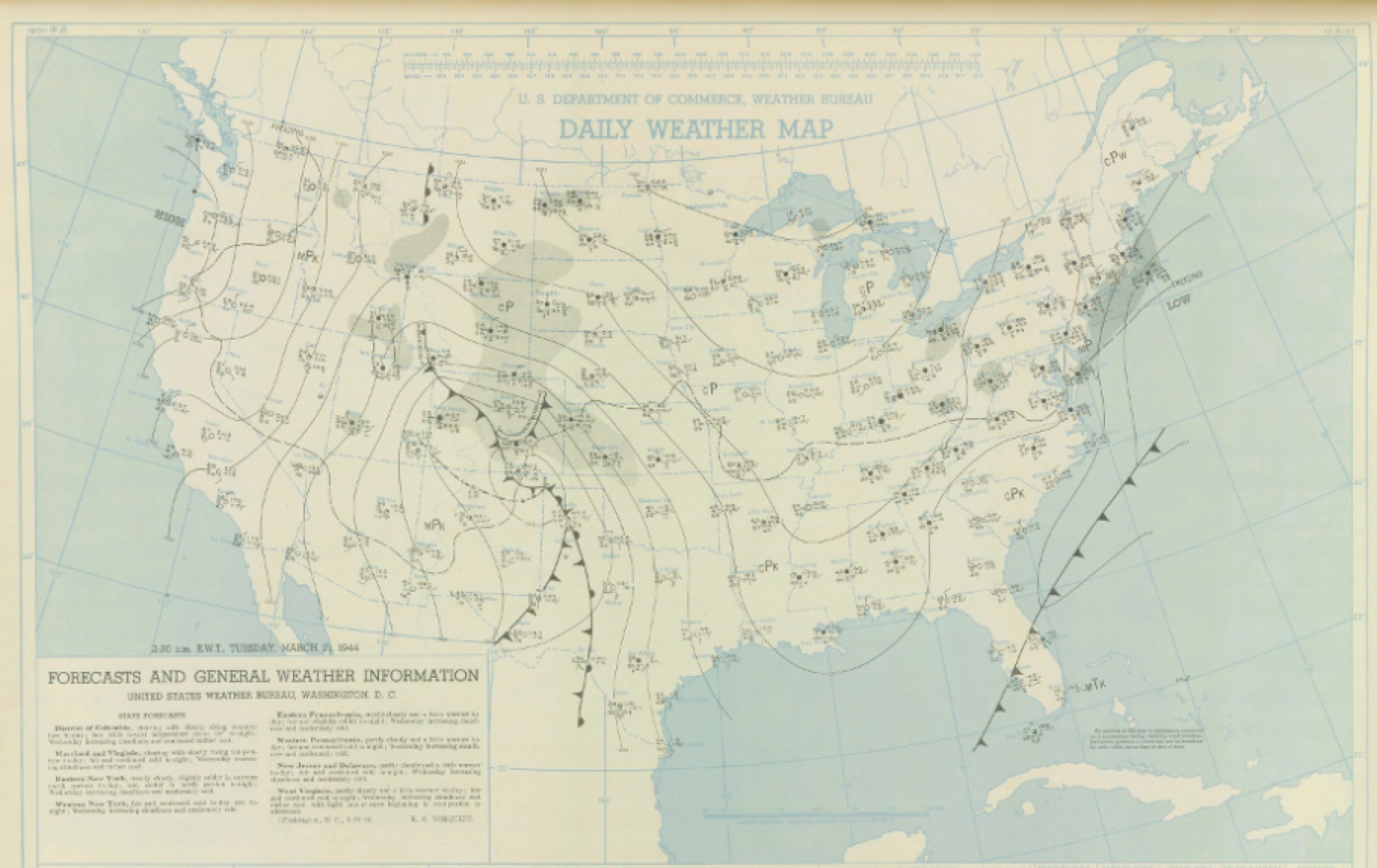 #2. 18.7" March 5-6, 1983
The 1982-83 snowfall season is certainly a memorable one. While the season is generally remembered for the Christmas Blizzard when 23.8" fell on the city, March of 1983 was no cake-walk either.
March 1983 was Denver's 4th snowiest March overall, with 30.5" of snow recorded during the month. The storm on March 5th and 6th brought 18.7" of those 30", covering parts of the city in more than 2 feet of snow.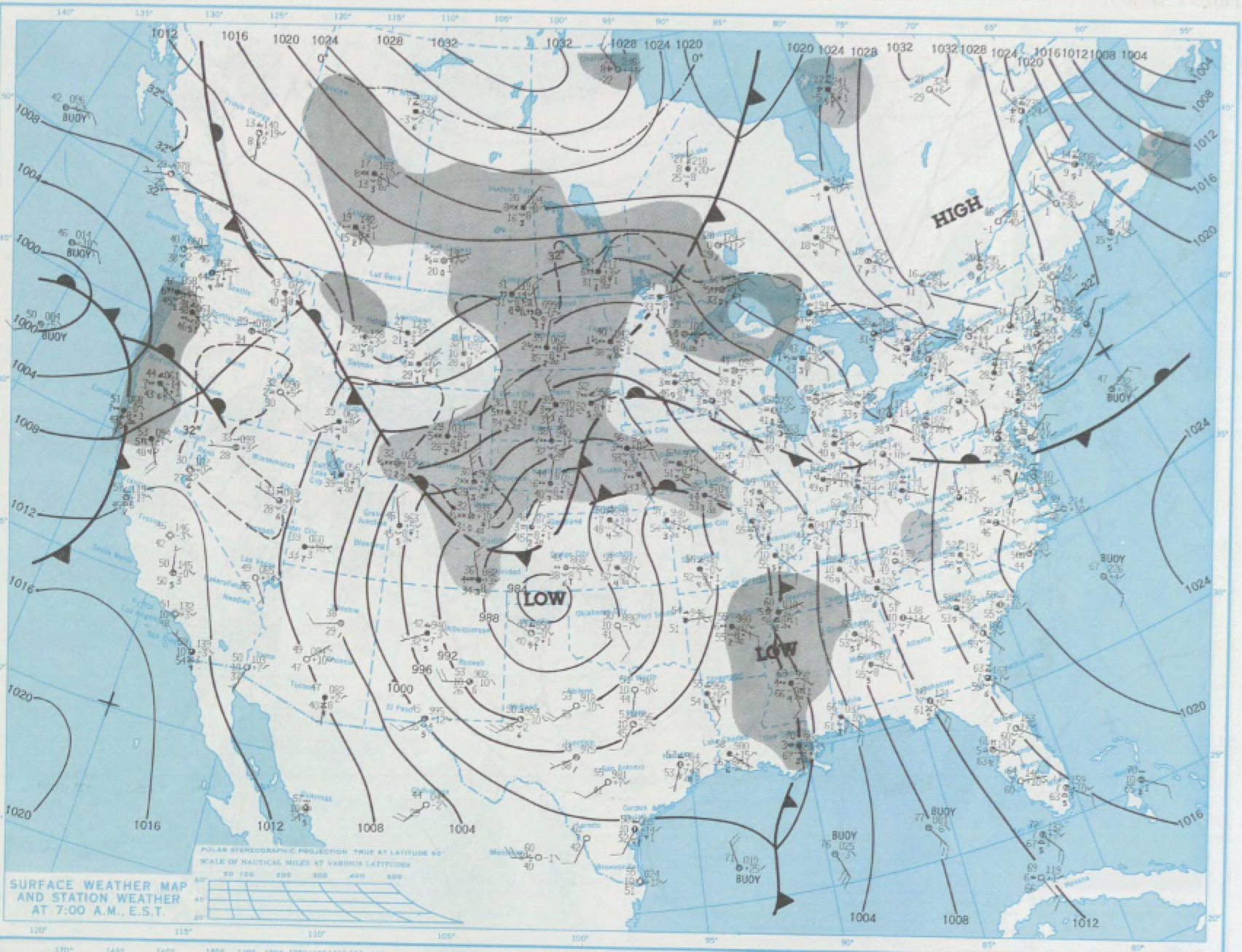 #1. 31.8" March 17-19, 2003
Denver's snowiest March on record came in 2003, when 35.2" of snow fell on the city. This included Denver's #1 March snowstorm on March 17 - 19, 2003, when 31.8" of snow was recorded. This storm is second only to Denver's biggest snowfall on record, 45.7" from Dec 1-5, 1913.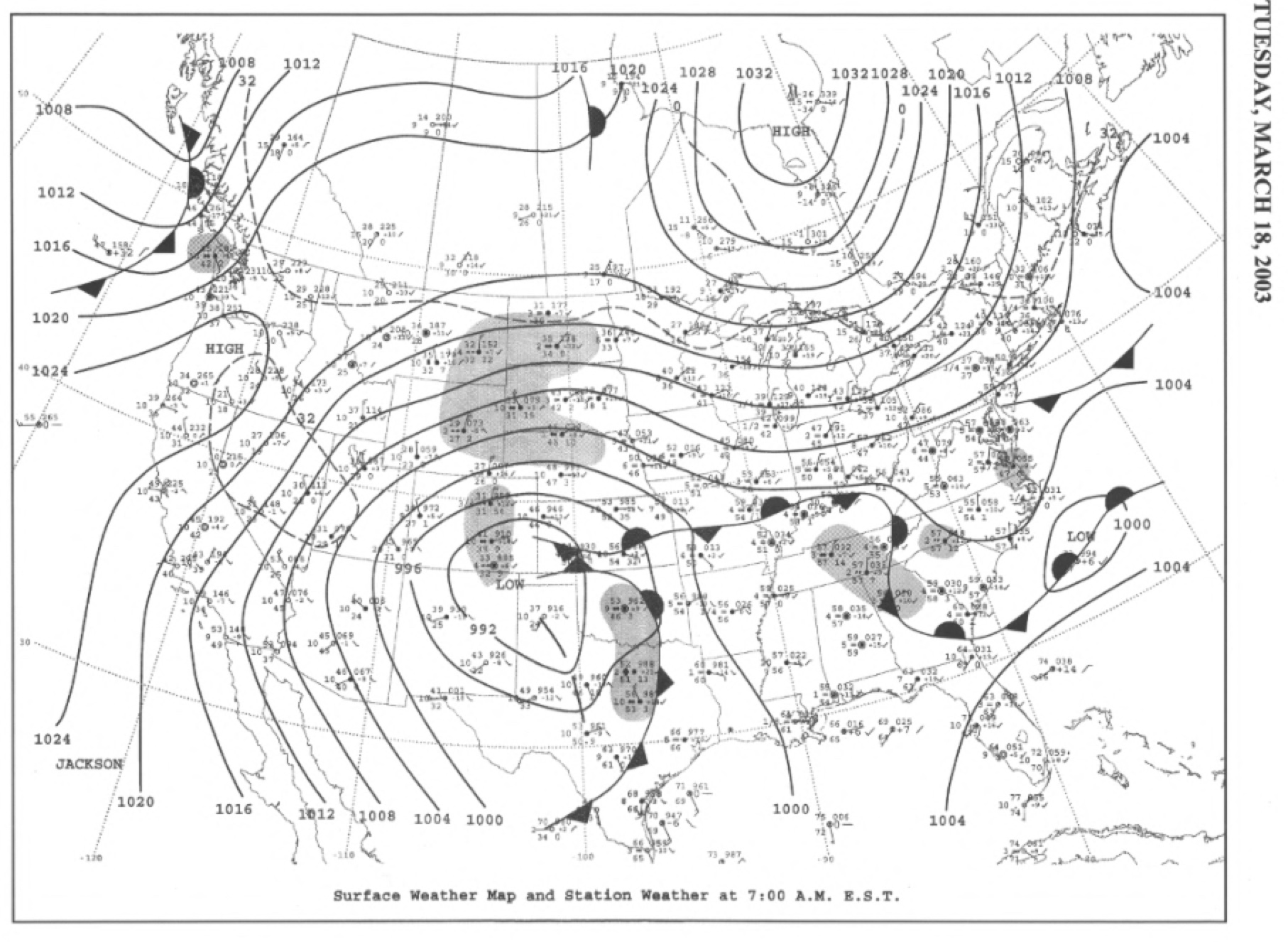 Snowfall totals from across the region were incredible with this storm. Across the Denver metro area totals from 30 to 40" were common, but at higher terrain west of town some locations saw more than 70" over this 3 day stretch!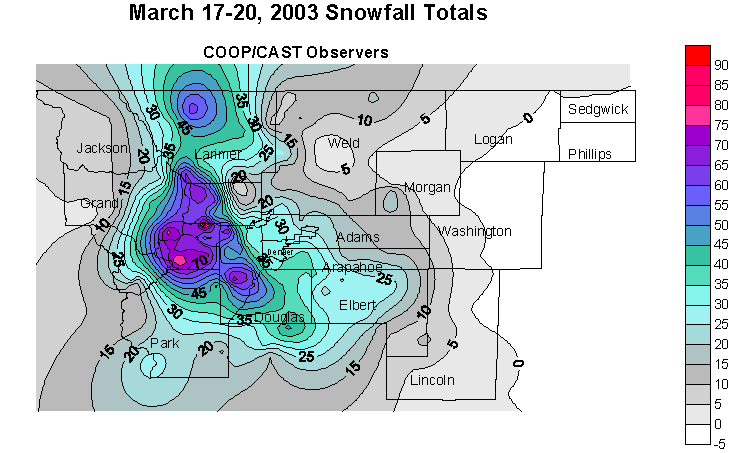 Here's an incredible satellite image of the snow cover taken on March 22, two days after the storm. Two things to point out here... note the sharp cutoff of snow northeast of Denver. Also not the pockets of snow-free ground north of Denver, where localized downsloping winds limited snowfall. This was a warm, wet system, which meant a very fine line between rain and snow. Find the high-res version here.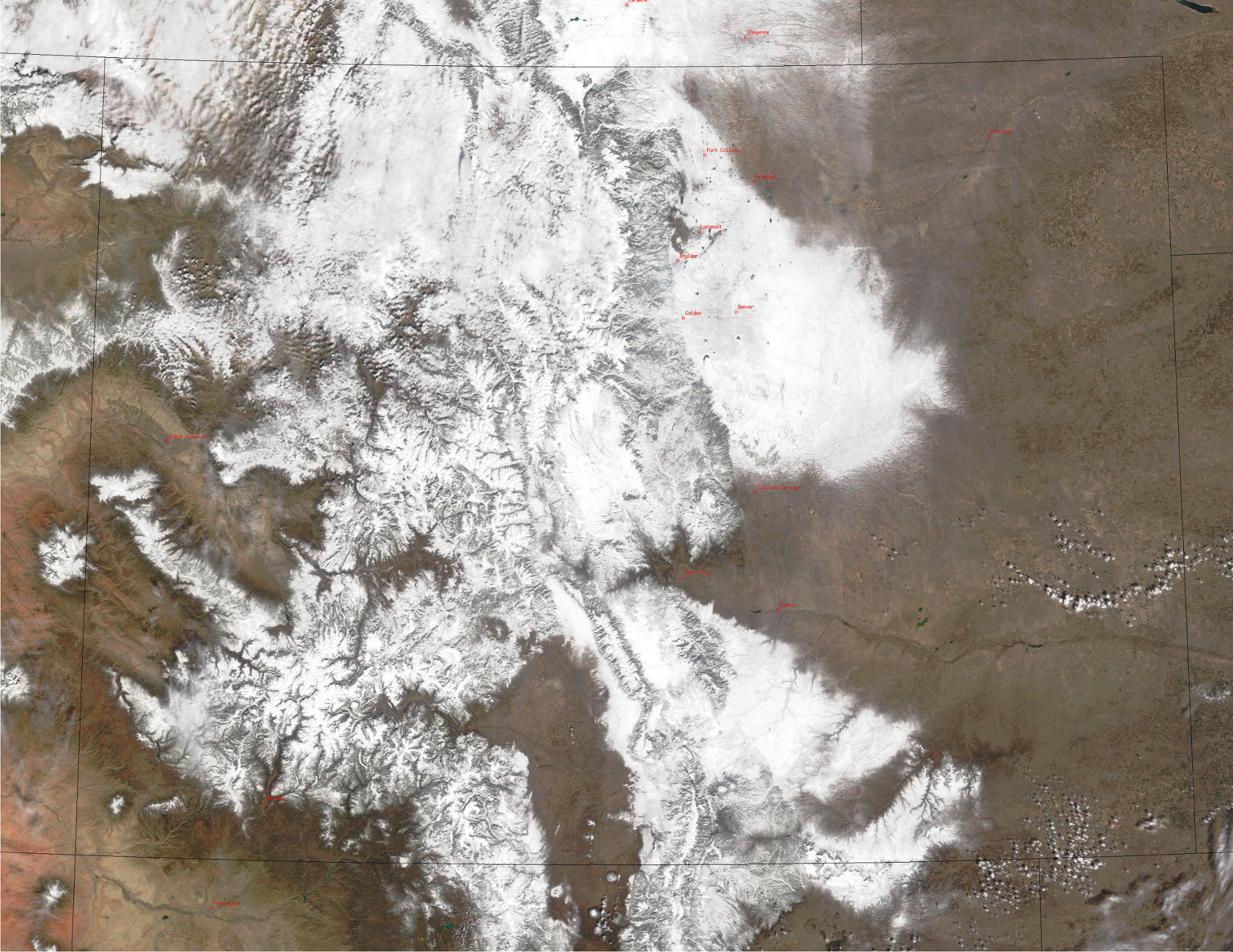 March certainly has made its mark on the list of historic Denver snows, though these great snowy March's are balanced out with those that deliver nothing. Over recent years Denver's seen it all, from 6.0" in 2014, to 23.5" in 2013, and of course the 'torch' March of 2012 when just a Trace of snow was recorded.
Time will tell what will happen this year. Interestingly enough, all but one of the storms in the top five least came during the second half of March.