9:15am Thu April 2 update: minor changes to forecast
We're still on track for big changes for Thursday and Friday across the region. Temperatures remain quite mild ahead of our approaching storm system, but take a look at the colder temperatures to our northwest, heading our way tonight.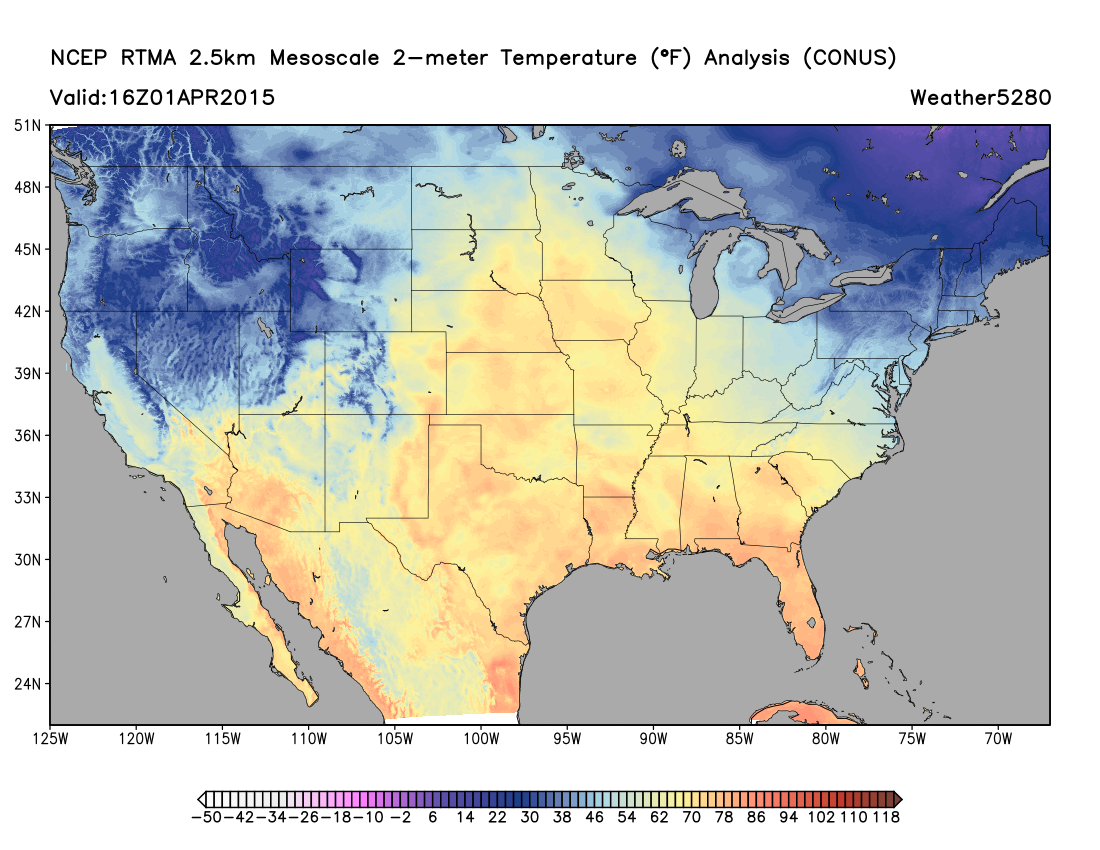 The big question now is how much snow are we likely to see? While the overall trend since our update yesterday has been somewhat drier and warmer, we still think lower elevations see some snow with this system.
For now we are going with 2 to 5" of snow for Denver, with upwards of 6" possible at higher terrain west and southwest of town. We are initially going with a high Bust Index of 8 for Denver and the northern I-25 urban corridor to account for lots of expected melting on contact, and issues with where the rain/snow line sets up throughout the day. While 2 - 5" is certainly possible (if not likely) for Denver, how much of that sticks around long enough to measure it may be an entirely different story.
Here is our snowfall forecast for northeast Colorado from Thursday morning through Friday morning. The greatest potential for a significant April snow will be in and along the Front Range mountains.
Wildcard Season
There are a handful of "ifs" and "buts" with the forecast above. Here are a few things we will be watching for over the next 6 to 12 hours...
Model trends. Does the trend in lower QPF amounts continue with models runs today and tonight? And if so, what adjustments need to be made to our going forecast?
Northern Bias. Latest model runs continue to suggest this system will have a northern bias, meaning much less rain and snow as you get south of the Palmer Divide. Today's 18z runs suggest even portions of the southern Denver metro area will be on the lighter end of the rain/snow. Should this be the case, expect heaviest totals to end up from Denver north/west.
Timing. As we discussed quite a bit yesterday, timing will be key for snowfall in Denver. Should the heaviest snow come after 5pm tomorrow as indicated by some models, the likelihood of a few inches of snow in the city will go up. Should the heaviest snowfall during the middle of the day, the likelihood goes down.
Temperatures. While we think it'll be cold enough for all snow (at some point) in Denver, of course the difference of a few degrees will mean the difference in a snowfall forecast bust or not!
Banded snowfall. One thing that can overcome high sun angle, warm surface temperatures, and borderline air temps is heavy banded snowfall. With some models indicating this to be the case, this certainly leaves the door open for locally higher snowfall totals across the Plains. Take a look at the 12z 4k NAM precip forecast, and the streaks of heavier precip extending northeast: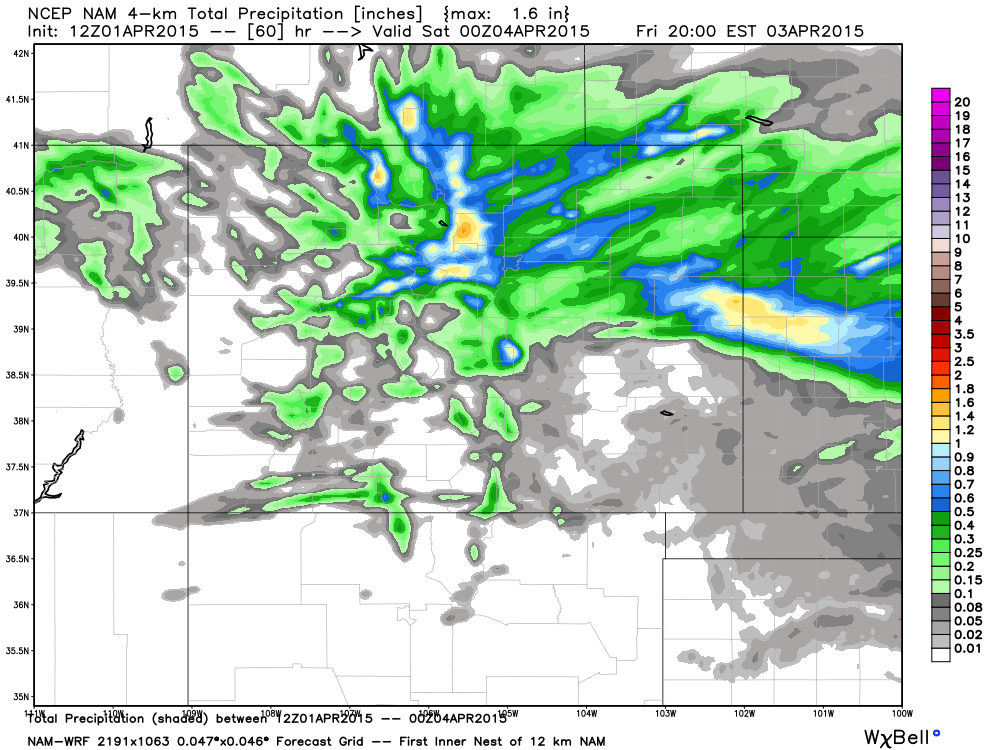 In any event, many across eastern/northeast Colorado are likely to see some beneficial moisture with this storm system. Even with coverage of greatest precipitation totals down over the last 24 hours, all models (EURO/GFS/GEM/NAM/SREF... etc) show pockets of 0.9 - 1.4" of liquid by Friday morning. Not everywhere mind you, but for some. After a very dry March this should be welcome news, especially across the eastern Plains and Front Range mountains.
Temperatures will also be dramatically colder for Thursday and Friday, with highs both days in the 40s across the Plains. Denver will likely reach its high early Thursday, cooling into the late afternoon and evening. Today's 12z GFS doesn't have the coldest air arriving until Thursday evening, though speed is often underdone by the models. Expect a sharp gradient from cold north/northwest to warm south/southeast as the cold air pushes in.
More updates to come as needed, be sure to subscribe for all the latest. We will also pass along any urgent updates to the Live Blog if needed, including any potential changes to the snowfall forecast map. Please note that Live Blog updates do not get emailed out.