This week's storm system a minor one for Colorado, strong east
March was the 6th warmest and 20th driest since 1895 for Colorado. It will take a significant shift to disrupt the continued warmer and drier than average pattern.
For those searching, the storm for this week will not provide that shift. Overall, a low impact event is expected.
For Wednesday, temperatures will remain near to slightly above average for the state – that's 60s for the Front Range and Denver metro area. Cloud cover will increase throughout the day, but shouldn't become complete overcast. The chance for rain remains low through midnight, not even 20% for the Front Range.
The better chance for moisture will be over the northwestern quarter of the state. A couple of showers/thundershowers are possible in and surrounding Larimer and Weld Counties. This is the short range HRRR model showing the accumulated precipitation through Wednesday evening. Not too impressive.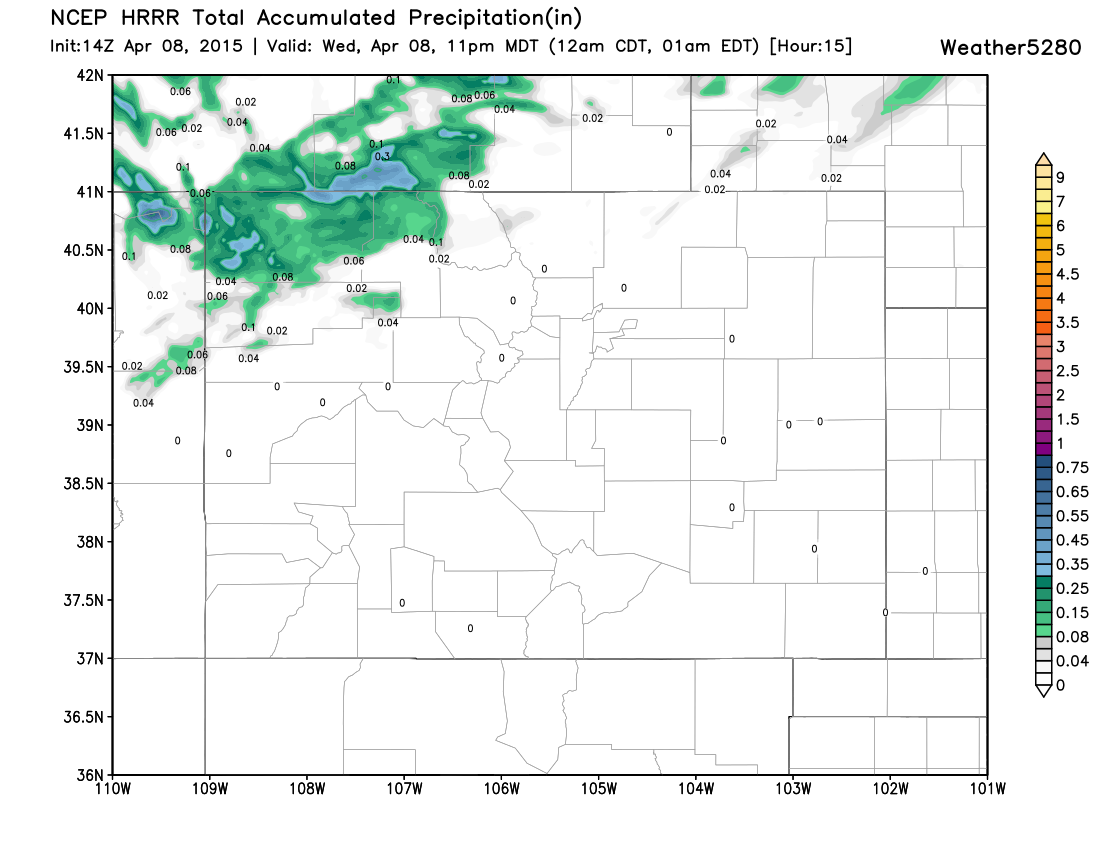 The chance for a shower continues overnight through Thursday morning, but remains low. The main focus of the system to move through will be racing out of the area.
Notice this surface map produced from the GFS model. Tonight, the surface low is over Colorado's eastern plains. However, Thursday the surface weather system will be well to our east.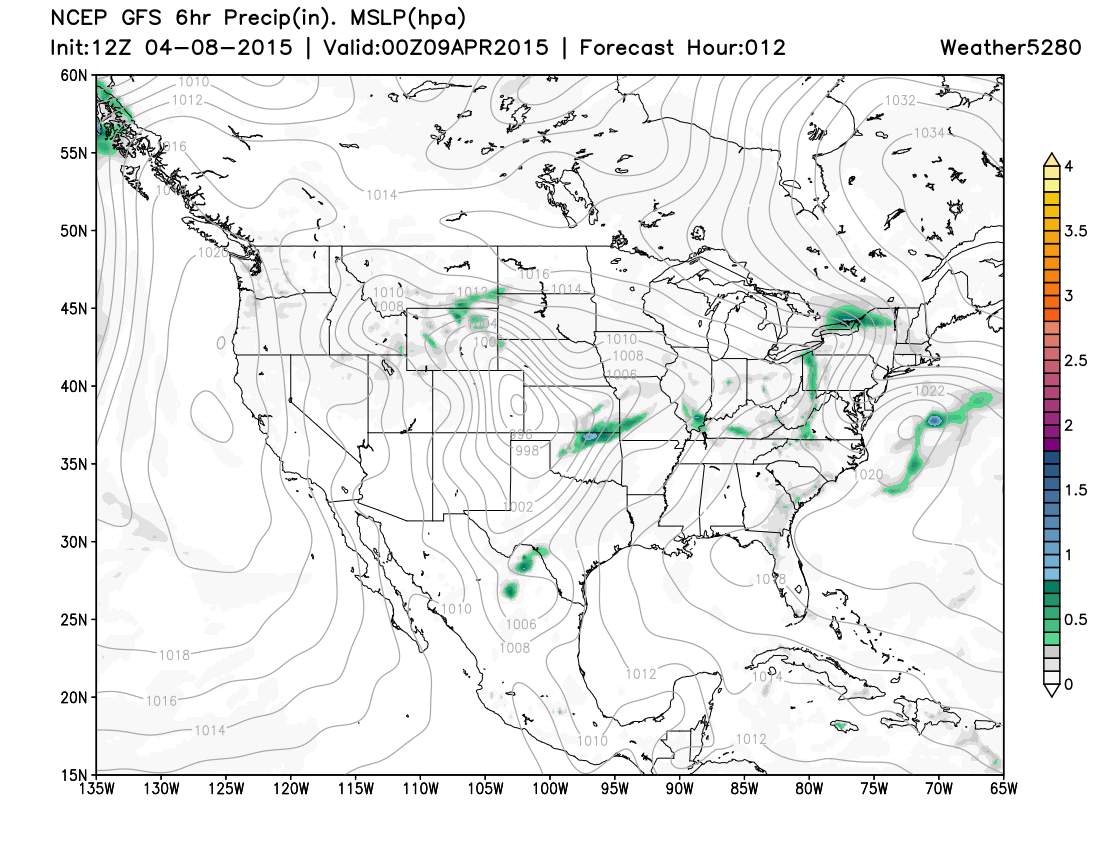 By morning, the surface low is centered over northeastern Kansas, southeastern Nebraska, northwestern Missouri, and southwestern Iowa. That position is a significant distance from Denver and brings a quick end to our chance for precipitation.
The impacts it will bring are colder temperatures and a cloudier sky, along with stronger wind. Thursday's highs will be below average, that's lower 50s for Denver, and the winds gusting to more than 20mph. Factor in a bit of cloudiness and it will be a cool day. However, the system clears and we are back to 60s by Friday and near 70 this weekend.
Nationally, the system moving from Colorado to the central plains later today through Thursday will bring active weather to our east. There is a chance for severe storms, including tornadoes, today and tomorrow. Here are the severe weather outlooks.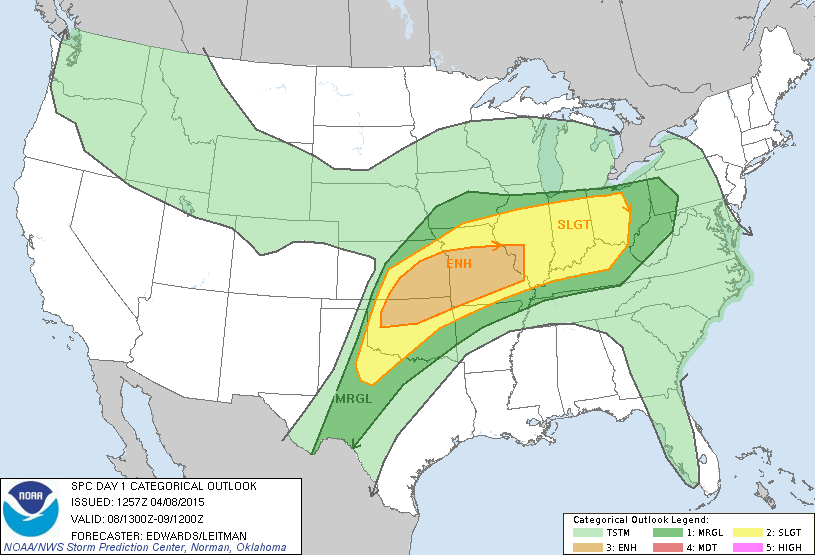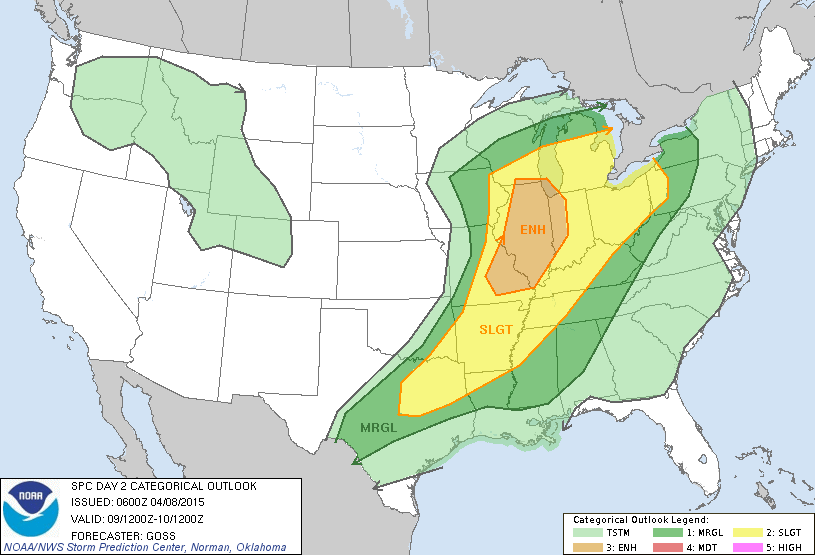 The next system we will be updating you on will be for early next week. While this system certainly didn't pan out for us the way we might have hoped, California finally saw some good rain and snow over the last three days.