Fri 7:00am: Snowfall Totals List
Overall our system is well on track, as rain and snow have continued off and on since early this morning across much of Colorado. As we head into Thursday evening here's a quick update on how we see thing progressing, as this system is far from over.
First a couple of notes on temperatures in the Denver area. As suspected, the models (particularly the American models) struggled with evaporative cooling, and have run from 3 - 6° too warm for much of the metro all day. With that, we've seen snow down to about 5,100/5,200 feet for most of the day. This means most folks in the Denver area have, and will see some accumulating snow with this system.
That being said, we're still fighting an uphill battle for big snowfall totals in the city. Warm ground temperatures, occasional mixing, etc... are all working to keep totals down. Thus we continue to expect the greatest snow totals to be above 6,000 feet, but certainly several inches will be possible tonight below 6,000 feet, should temperatures cooperate.
Heavy snow returns tonight
For those on the west side of I-25 and into the higher terrain south and west of Denver the heavy snow is certainly far from over. Expect snow to increase this evening and continue into Friday, with still FEET forecast for the Front Range mountains.
Locations we're watching carefully closer to the city would be areas like Boulder, Golden, southwest Highlands Ranch and southeast Aurora where some models continue to indicate >6" of snow will be possible there tonight.
To understand what we're dealing with, take a look at the 12z Canadian (the EURO looks very similar). Find Denver county and notice totals >9" on the west side, down to 2" at DIA. Where exactly this VERY sharp gradient sets up over the next 12 hours will be key. We continue to think it'll be slightly further west than what's shown here, but certainly leaves the door open for good snowfall totals (>5") anywhere along and west of I-25.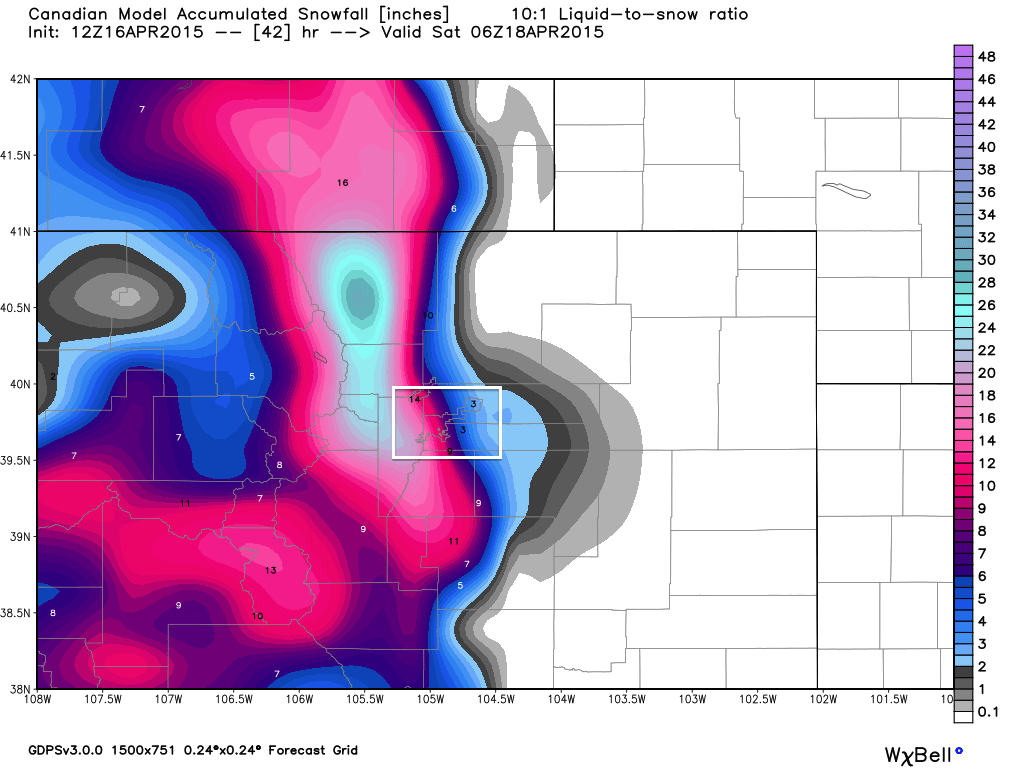 Another model we look at is the HRRR, which keeps the city proper much more in the rain/snow mix over the next 15 hours, keeping any significant snowfall south (over the Palmer Divide) and west into the Foothills.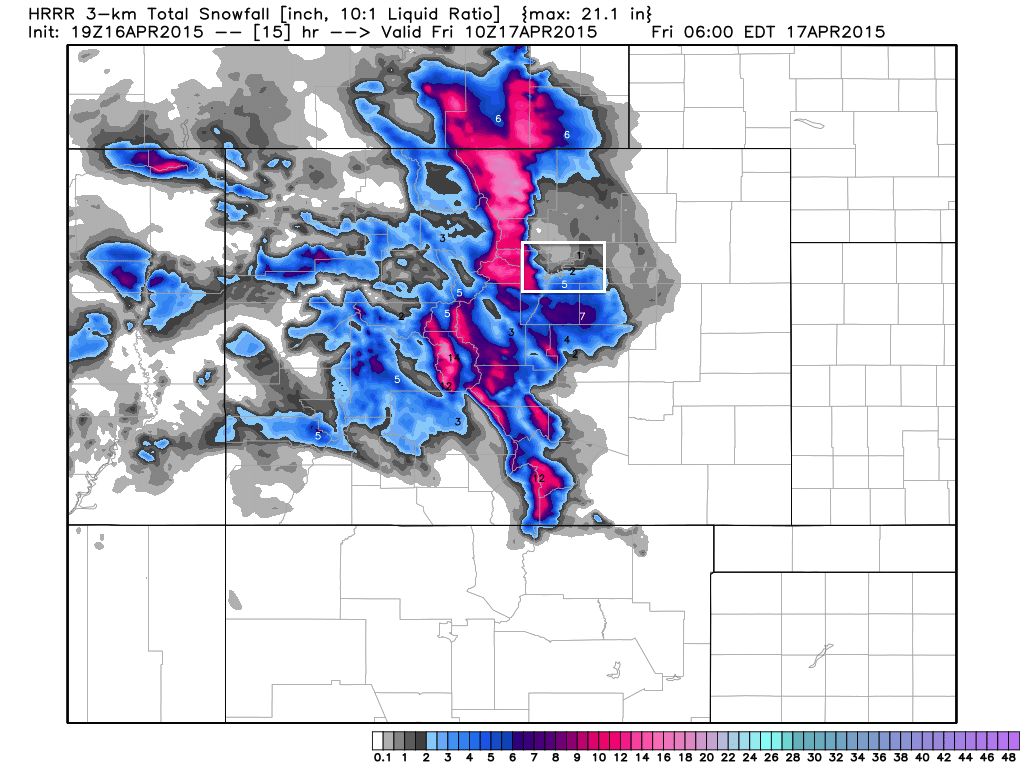 With increased confidence in snow over the Palmer Divide, the National Weather Service has issued a Winter Weather Advisory from 6pm Thursday through 6pm Friday, with 4 - 8" in their forecast, and locally higher amounts. This includes the city of Castle Rock, where 3 - 8" may accumulate.
Otherwise we still think it'll break down something like this through Friday...
1 - 3" east Denver
2 - 4" I-25 west and southwest Denver
3 - 8" immediate Foothills, Palmer Divide

8" Foothills

1 - 3 feet Front Range mountains
As for moisture, another widespread 1 - 3" by Saturday across all of northeast Colorado, with good totals south/southeast, though a bit more scarce in coverage.
Kicker is, things get cold and Denver ends up with 6" of snow. We'll see!
No matter how you cut it, a good soaking storm
Here's a look at the latest HRRR precipitation forecast through the next 15 hours, with precip forecast to continue beyond this timeframe. It's picking up on some nice totals across southeast Colorado (hoping this is right!), as well as a core bullseye north of Denver and west of Denver.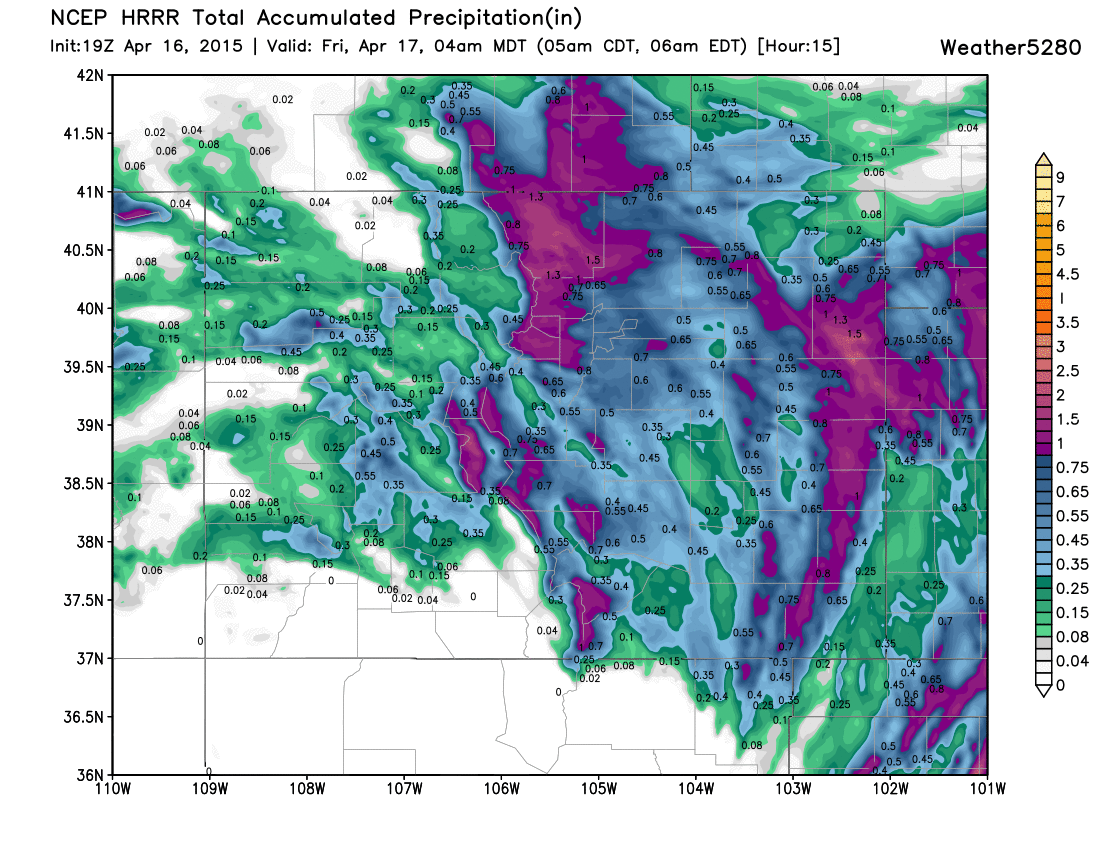 And here's a look at the 18z GFS which takes us all the way through the weekend. It still suggests >4" of LIQUID possible for portions of northern Colorado.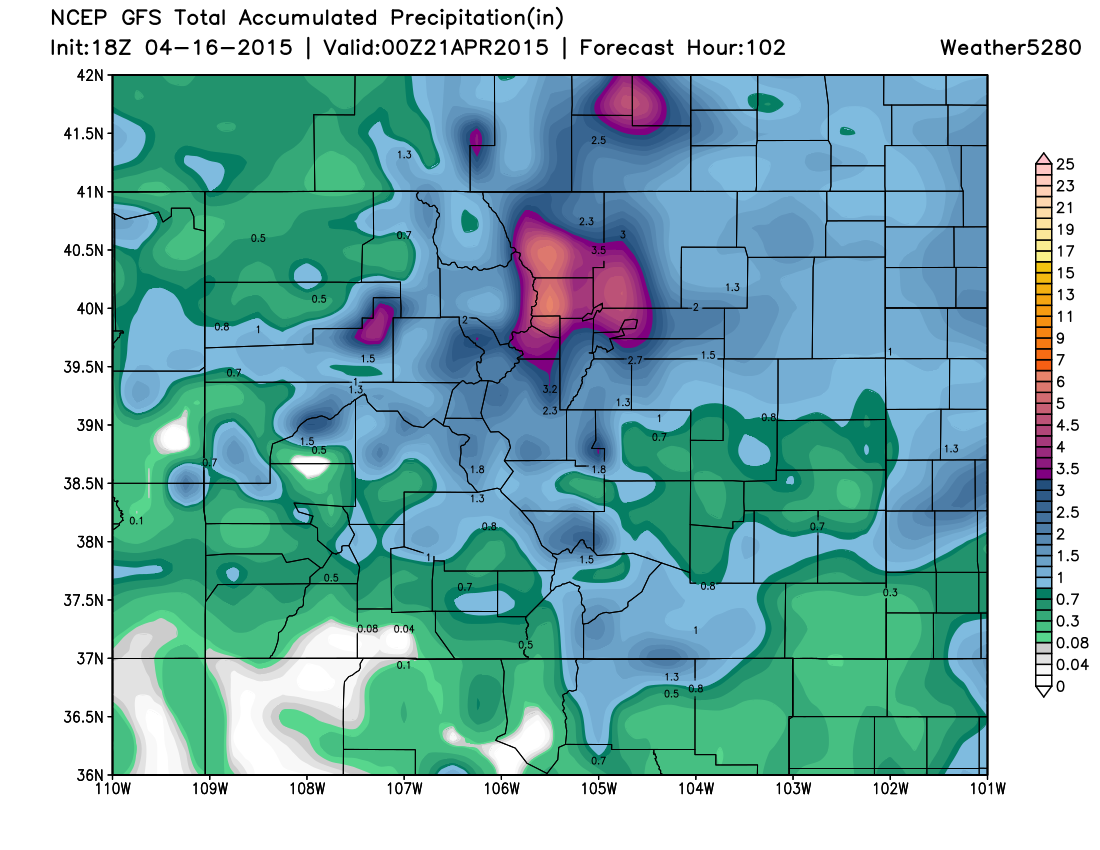 Radar is already starting to show an increase in moisture across southern Colorado, which should continue to fill in and north as we head into Thursday night, continuing through the day Friday. As we mentioned yesterday, some of these storms will become severe, though most of the severe activity has been east and southeast of Colorado today.
Here's a look at the 6:10 radar, with one severe storm north of Springfield, Colorado.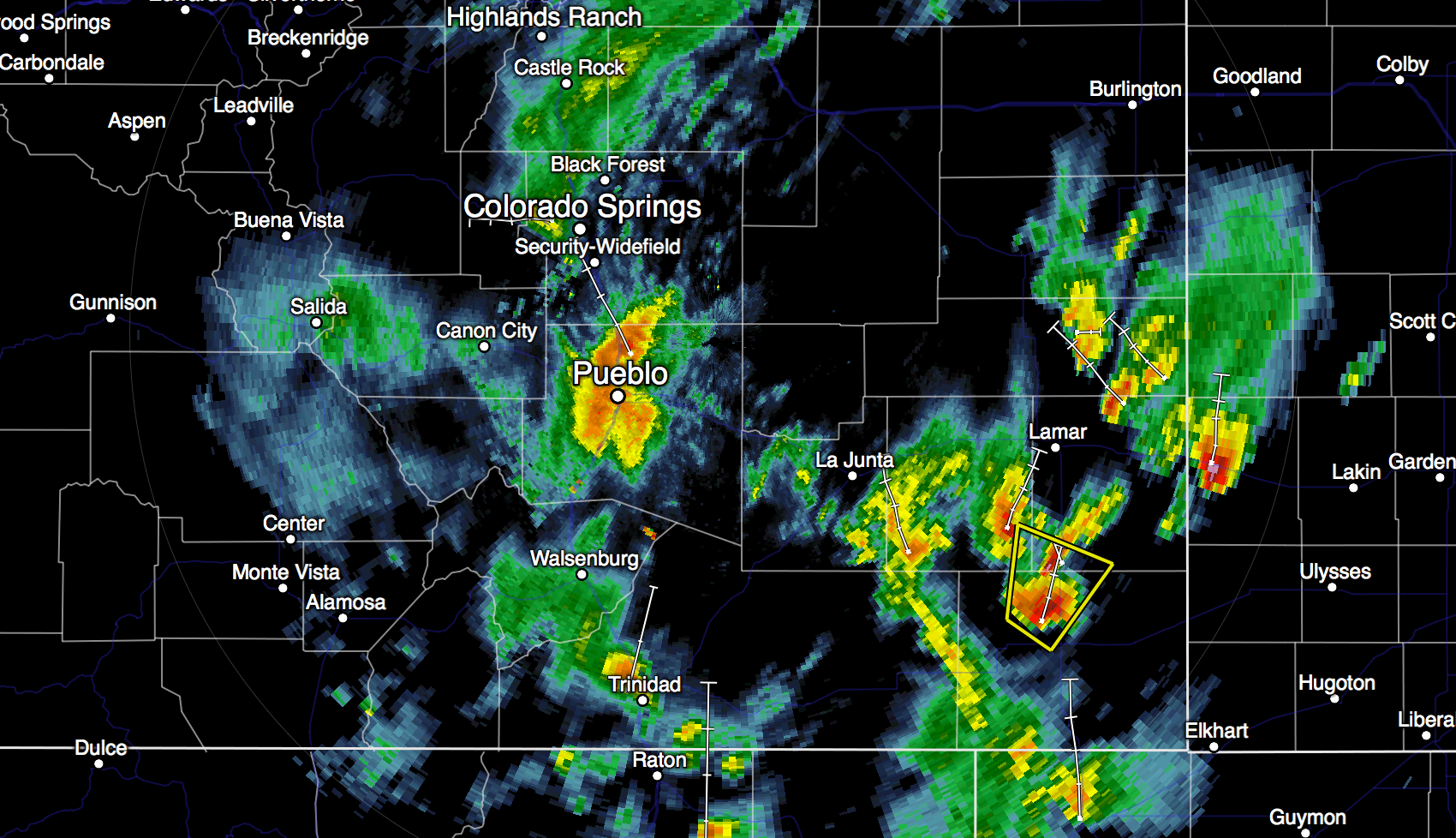 Still uncertainty, unsettled into weekend
So here we are Thursday evening and still dealing with uncertainty. Now this mostly revolves around the rain/snow line, but also we will need to watch the track of the low carefully tonight and Friday. Minor wobbles (as we've discussed all week) will affect precip totals (and types!) over the next 24 hours or so.
While the worst of the rain and snow is expected over the next 24 hours for most of the Front Range, we expect temperature to stay cool, and the weather to stay unsettled as we head into the weekend. Stay tuned!