Spring storm recap
As the big upper level low responsible for our big spring storm finally pushes east, it's time to look back at some of the numbers.
The Weather5280 station in downtown Denver recorded an impressive 2.38" of precipitation with this storm, and a slushy 1.9" of snow.
Meanwhile, Denver International Airport (where official records are kept) recorded 1.22" on April 16th, setting a record for the date, and 1.53" storm total. Month to date DIA has now recorded 1.80" of precipitation, which is 0.95" above normal.
Much of the state saw appreciable moisture with this storm outside of portions of southern Colorado. As forecast, the northern Front Range mountains were the biggest winners, with anywhere from 1 to 5" of liquid recorded over the last five days (Denver County in white square):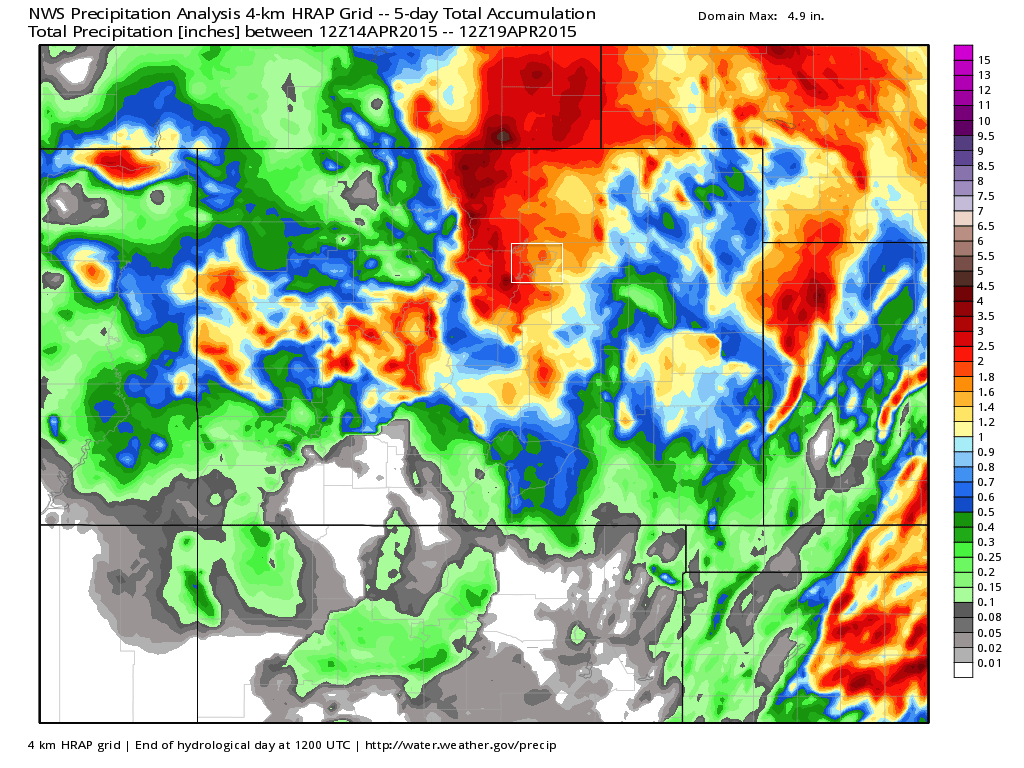 For snow this system was equally impressive. While we were a bit low for a few totals south Denver proper overall we're pretty happy with what was a difficult forecast. Below is a map of observed snowfall totals ending yesterday, note the very sharp gradient from low to high elevation, with a few inches in Denver and upwards of 2 feet for the Front Range mountains. The greatest snowfall total came out northern Colorado near Four Corners where 52" of snow was recorded by a spotter.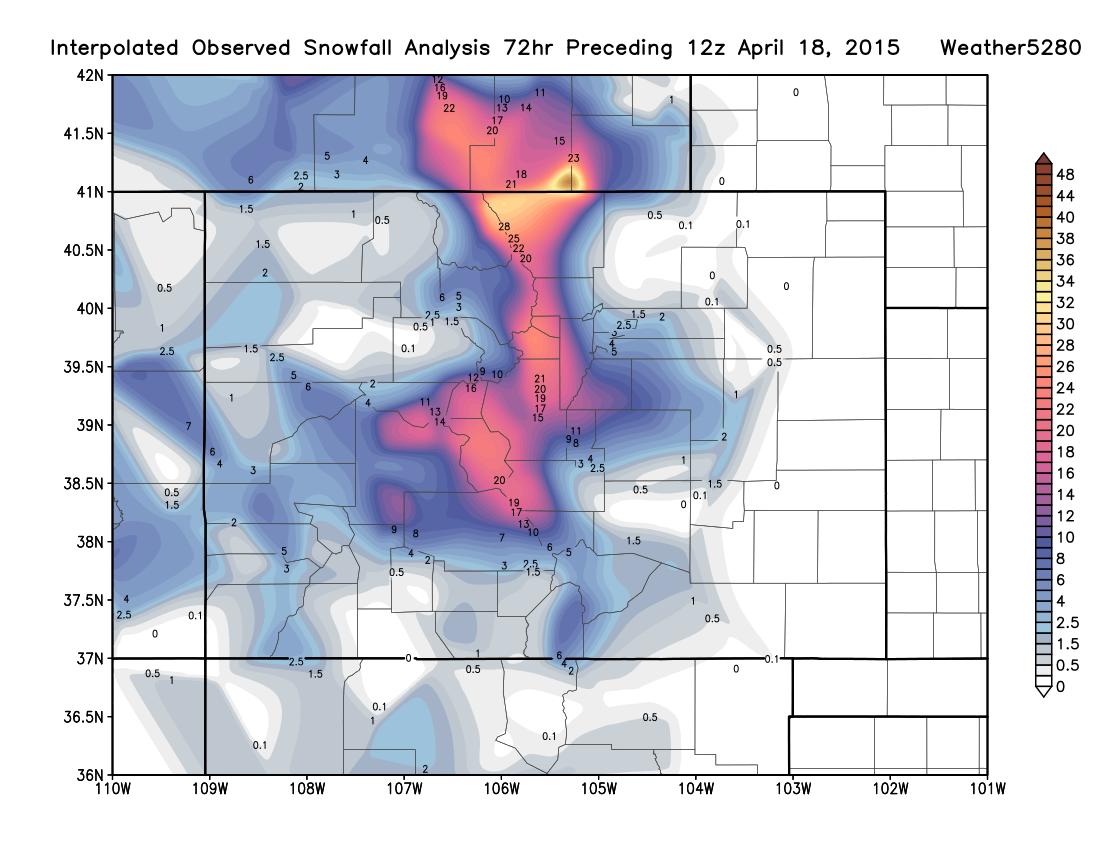 Had this storm been just a touch colder it would have meant a significant snowstorm of Denver, and frankly would have been spot on for the analogs we've been using.
Lastly, check out the impressive jump in snowpack for the South Platte River Basin due to this storm. After really dropping off over the last few weeks, this sudden spike (circled) puts the basin back to 93% of average.
After such a dry March, however, it's not all good news. Latest SNOTEL numbers continue to paint a pretty grim picture statewide, so we'll continue to look for precipitation in any form we can get it over the weeks and months ahead.
Severe storms
In what happened to be Severe Weather Awareness Week for Colorado, our storm system also produced quite a few severe storms over the last three days as well. In all, there were 5 reported tornadoes (landspouts) across the eastern Plains on Friday and Saturday, with several storms producing accumulating hail as well.
The week ahead
The week ahead actually looks to be a fairly typical April week. The biggest question comes toward the end of the week when models at times try to bring another trough through the region. Until then, expect temperatures to remain near normal, with scattered rain and snow showers remaining in the forecast for the first half of the week.
Still a lot of differences in how the models want to handle this next weather maker, with the EURO looking more or less unimpressive for Denver, while the GFS brings another round of pretty wet weather to the metro area for Thursday into Friday. Given the uncertainty will not put to much weight on any one scenario, but generally keep the forecast cool and unsettled to end the week.
At a very high level, the GFS keeps the west pretty wet over the next 10 days which is certainly encouraging (even California!). While the details will need to be worked out, it's hard not to like the look of this.