As we discussed earlier this week, what looks to be another good soaking storm is heading for Colorado, and will bring cooler temperatures and good chance for rain and snow to much of the state Sunday into Monday.
In general, expect another 0.5" to 2" of precipitation across much of eastern Colorado, with a bullseye area of 2 - 5" of precipitation. At the moment the this 'bullseye' appears to line up along and south of Highway 50, but other areas of heavier precipitation are possible along the northern Front Range and across northeast Colorado as well.
One area of greatest uncertainty is the Denver metro area, with a mixed bag of solutions from models – some trying to dry-slot the city, others producing >1" QPF. At any rate, expect some rain in Denver, with much cooler temperatures Sunday into Monday.
Here's the 12z GFS total precipitation through early Tuesday morning. Note heavier totals across extreme northeast Colorado, good totals for the Front Range mountains, and widespread heavy totals for southeast Colorado. Currently the GFS is the most favorable model for southeast Colorado – a solution we are certainly rooting for.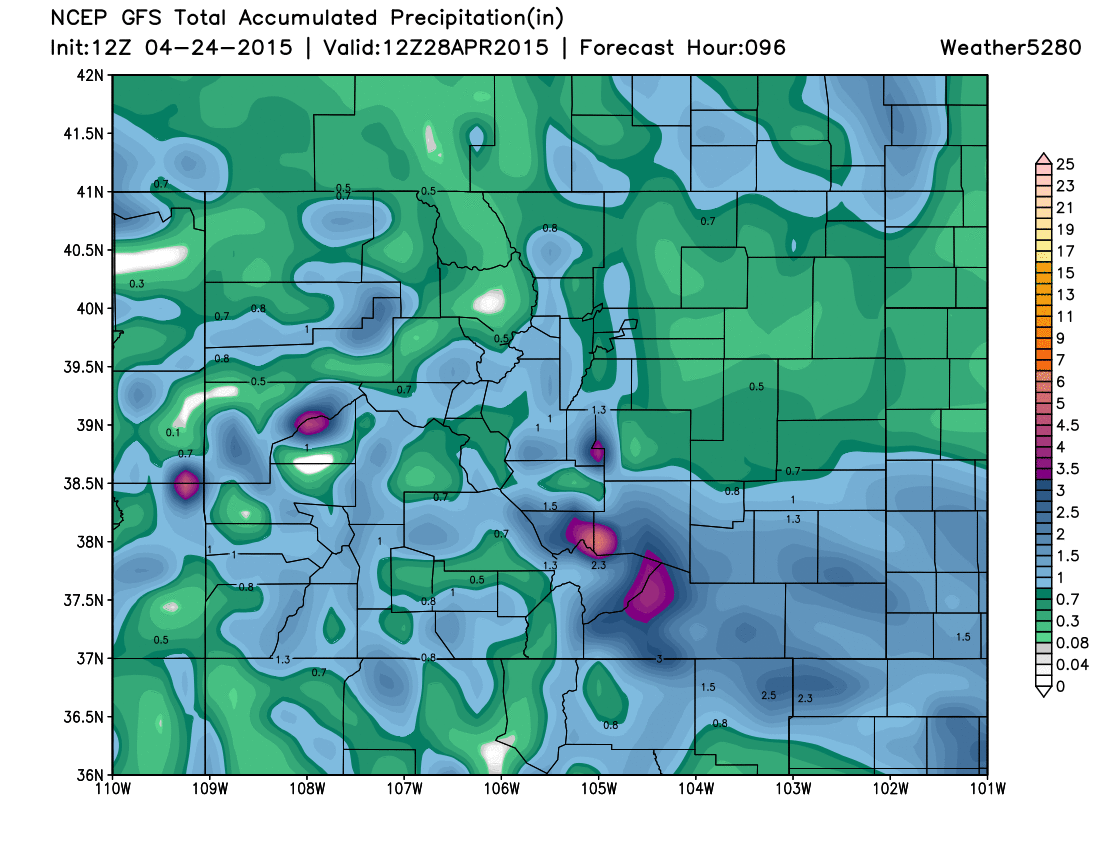 We see a similar look from the 12z NAM, though it pulls some of the heaviest precip south of Colorado, and also by and large dry-slots Denver: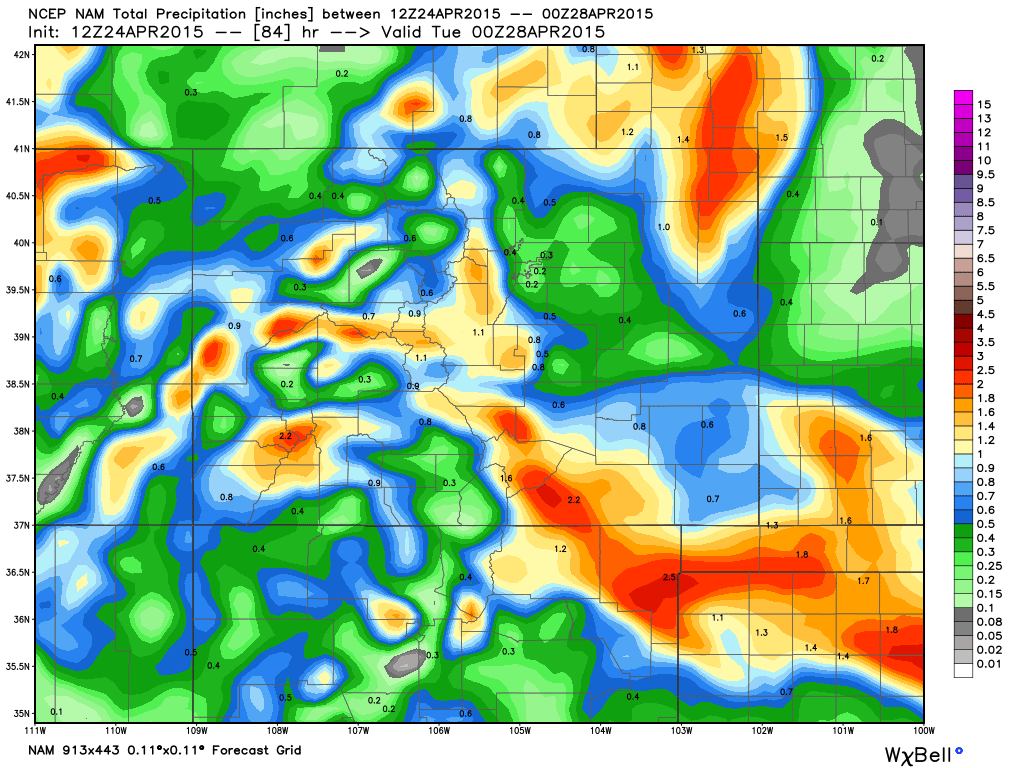 And finally, here's a look at the Canadian total precipitation through the same period: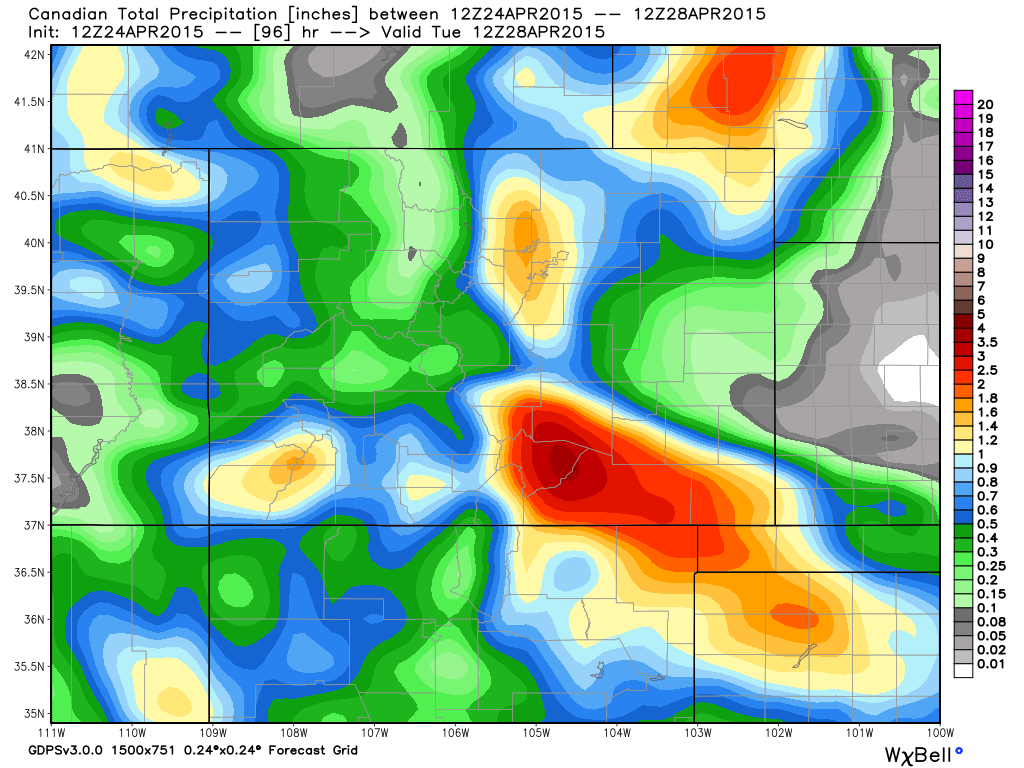 As you can see, there are subtle differences between the three, but all generally agree on 3 bullseyes: northeast corner of the state (largely coming Saturday night with convective activity), Denver metro (west), and southern Colorado. It's clear there will be a dry-slot somewhere on the Plains, so watching where this sets up will be key. For the time being it looks like portions of Pueblo and Las Animas counties will be the winners here.
Temperatures and snow
Temperatures should stay too warm for snow in Denver, with highs expected to be near 50° on Sunday, and low to mid 50s Monday. Expect snow, especially accumulating snow, to be confined to higher elevations to the west, with snow levels Sunday likely starting >8,000 feet. By Sunday night we could see snow mixing in at lower elevations, especially across the Palmer Ridge where some accumulation will be possible.
I think the GFS has a pretty good idea regarding snowfall, keeping the heaviest totals across the southern Front Range mountains.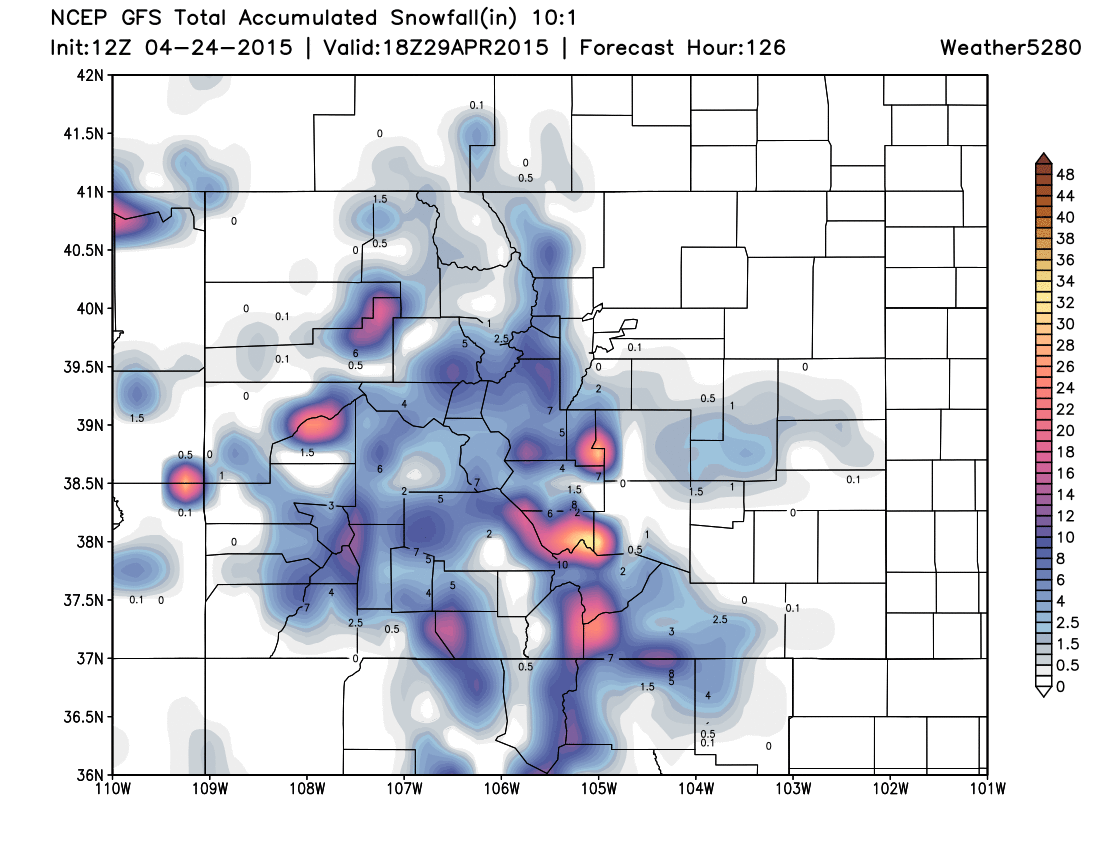 That's not to rule out some decent snowfall totals for the northern Front Range mountains (see CMC below), but biggest impacts, at this time, appear south.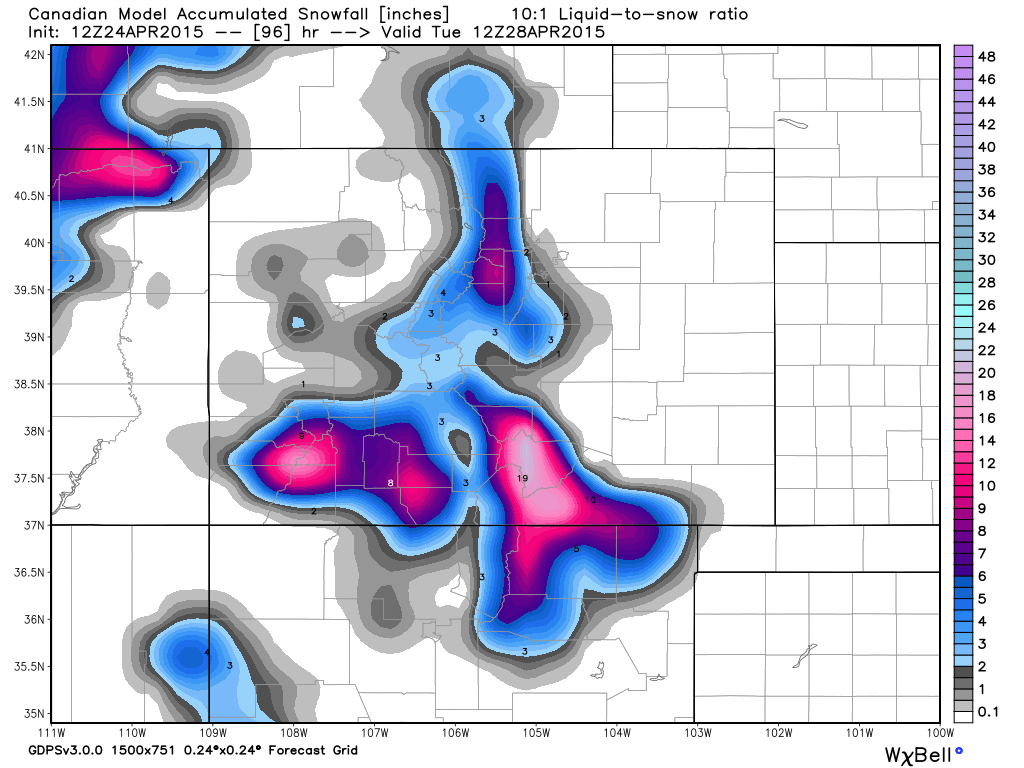 In short
We are tracking another big weather maker due in for the second half of the weekend which will bring widespread rain and snow to Colorado into Monday. Denver's best chance for rain will be Sunday afternoon into Sunday night, with greatest snow chances remaining at elevations >7,000 feet.
We are watching southern/southeast Colorado for the precip 'bullseye' this go around, but need to watch the eventual track of this system closely. A more southern track could pull some of the heavier totals south of Colorado, and decrease totals for the Denver area as well.
Saturday will be another warm day with highs in the 60s for Denver before our chance for showers increases into Saturday night. Temperatures will be 15 to 20 degrees colder Sunday.
Still some time to track this system as it comes on shore, we'll offer updates as needed as we head into the weekend.