System update
Fair to say our update Friday was aptly titled "soggy end to weekend" as rain and drizzle have made their presence felt all day across the greater Denver area.
Denver's high downtown reached 50° at 12:00am this morning, but we've been in the mid 40s most of the day. As of 7:15pm Weather5280's station had recorded a good 0.77" of precipitation, with pockets of moderate rainfall continuing to push through the region.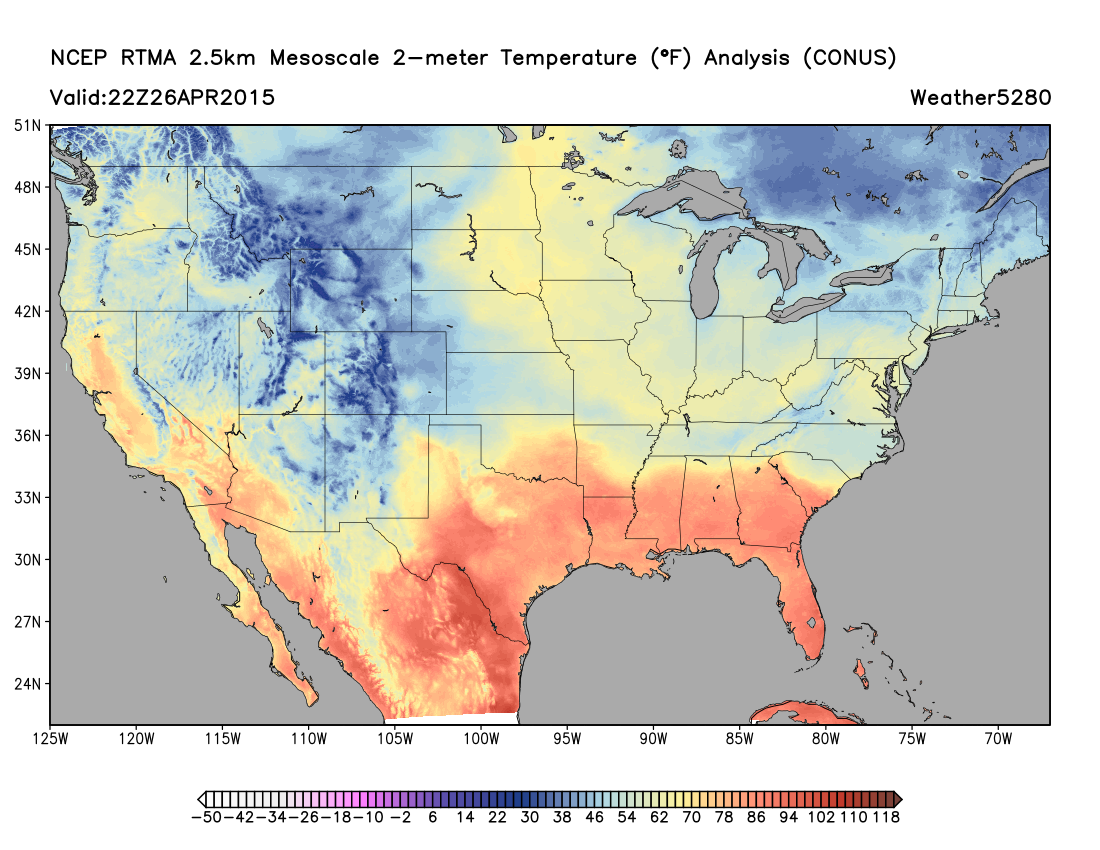 At higher elevations west of town a Winter Storm Warning remains in effect until 12pm Monday, with 6 - 16" (storm total) expected, with greatest accumulation potential expected through Sunday evening.
For the northeast Plains the heaviest precipitation is likely over with this system, but not before seeing some impressive rainfall totals with convective storms Saturday night. Some additional rainfall will be possible through Monday, but chances are lower now. The HRRR is most aggressive here, bringing another 0.5" to spots across the Plains through tomorrow morning. Here's a look at the 24 hour totals ending 6am this morning, pockets of >2" precipitation extending from just east of Denver northeast into Nebraska.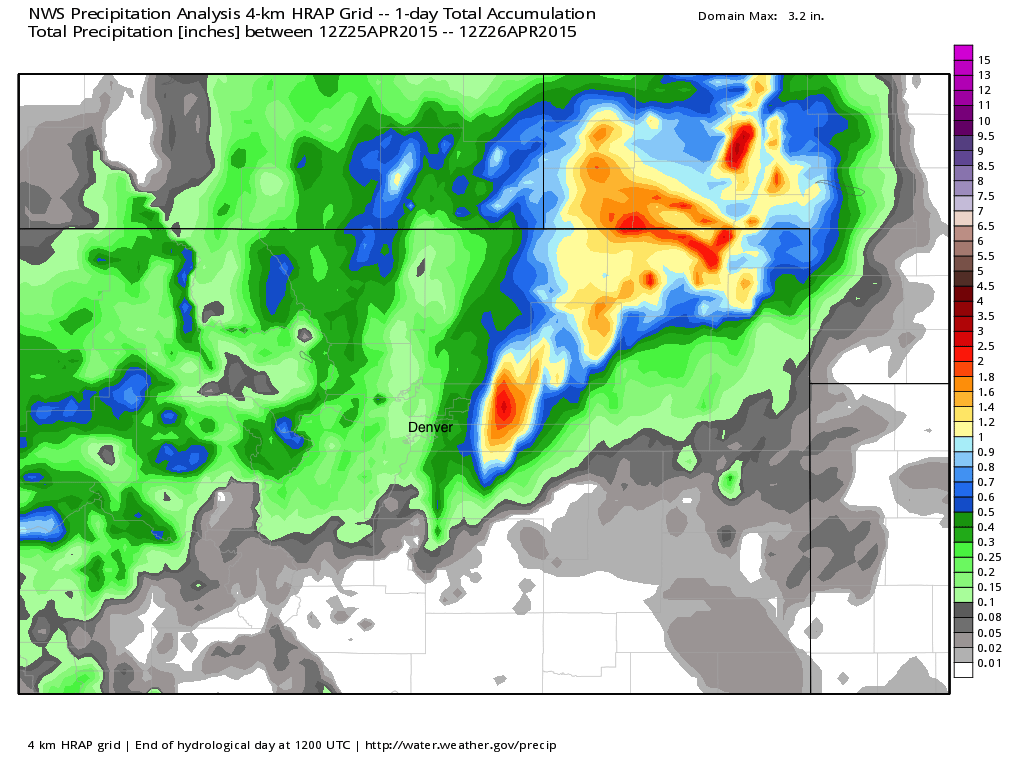 For the urban corridor our rain chances continue into Monday with generally light rain expected, though pockets of heavier precipitation will continue to push through the area overnight Sunday into Monday. Snowfall will again likely be confined to areas greater than about 6,500 tonight, which could mean some locations across the Palmer Divide see some slushy accumulation, but little if any snow is expected to mix in at lower elevations. Denver's snowfall gamblers chart? Not a good one if you're betting on snow.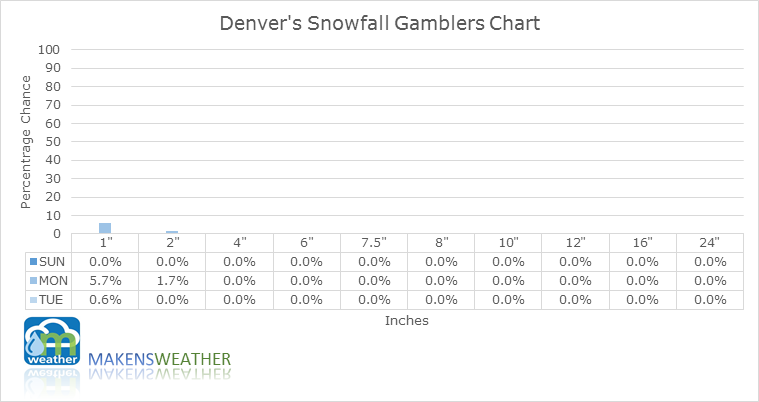 Across southern Colorado the story has been a complex one, trying to determine just how far north the precipitation shield will make it across the southeast Plains. After looking very promising heading into the weekend, models again dropped that shield south of Colorado. Some models continue to show some hope of precipitation working into southeast Colorado overnight, but unfortunately much of the area will get robbed once more.
Note in the 5pm radar update some precipitation trying to push north into southeast Colorado, the question is how much will be able to make it and how far north...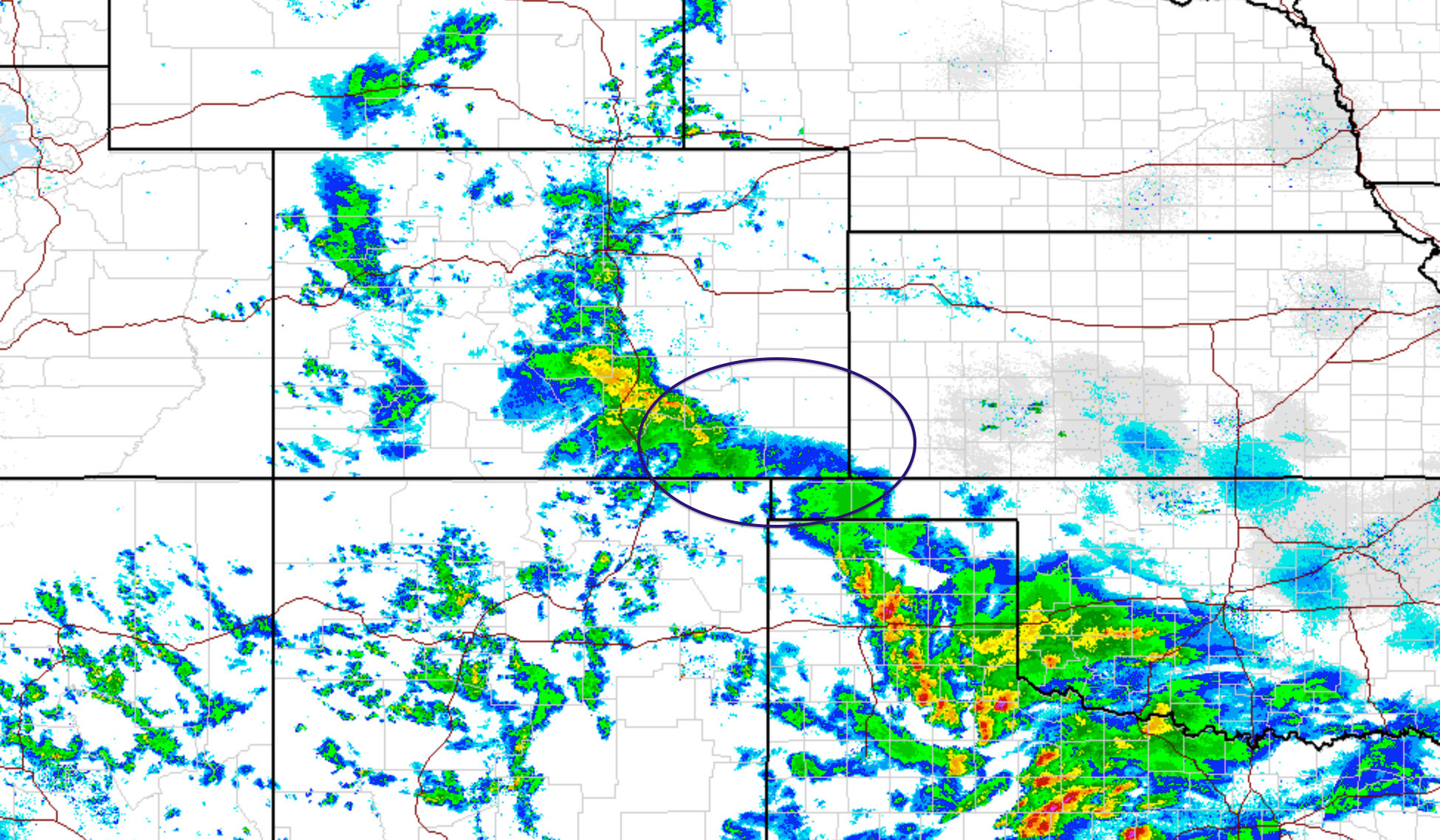 Closer to the foothills it's been a different story across southern Colorado where heavy snow and rain will continue at times into Monday. A look at the radar as of 4:45pm shows the area we outlined days ago as the likely winner receiving heavy precipitation, with lighter echos across the southeast Plains: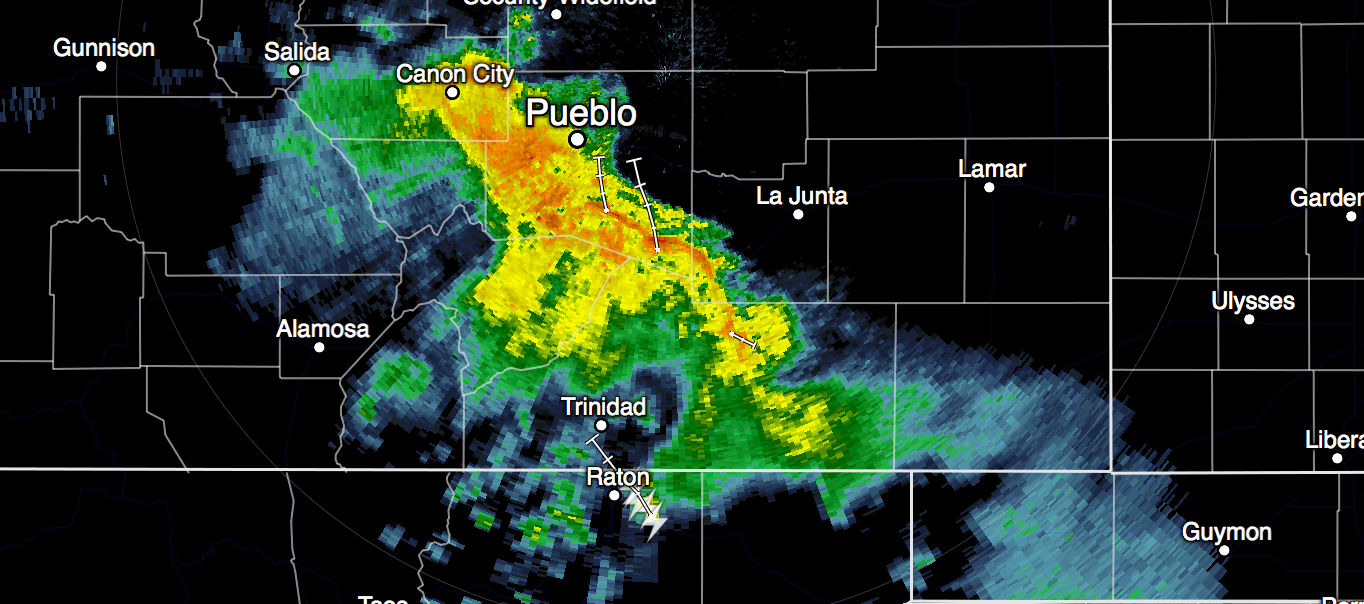 This evening some drier air has worked into the southeast Plains, but the latest HRRR model continues to try and bring some precip to the region through 9am tomorrow morning, so we'll see...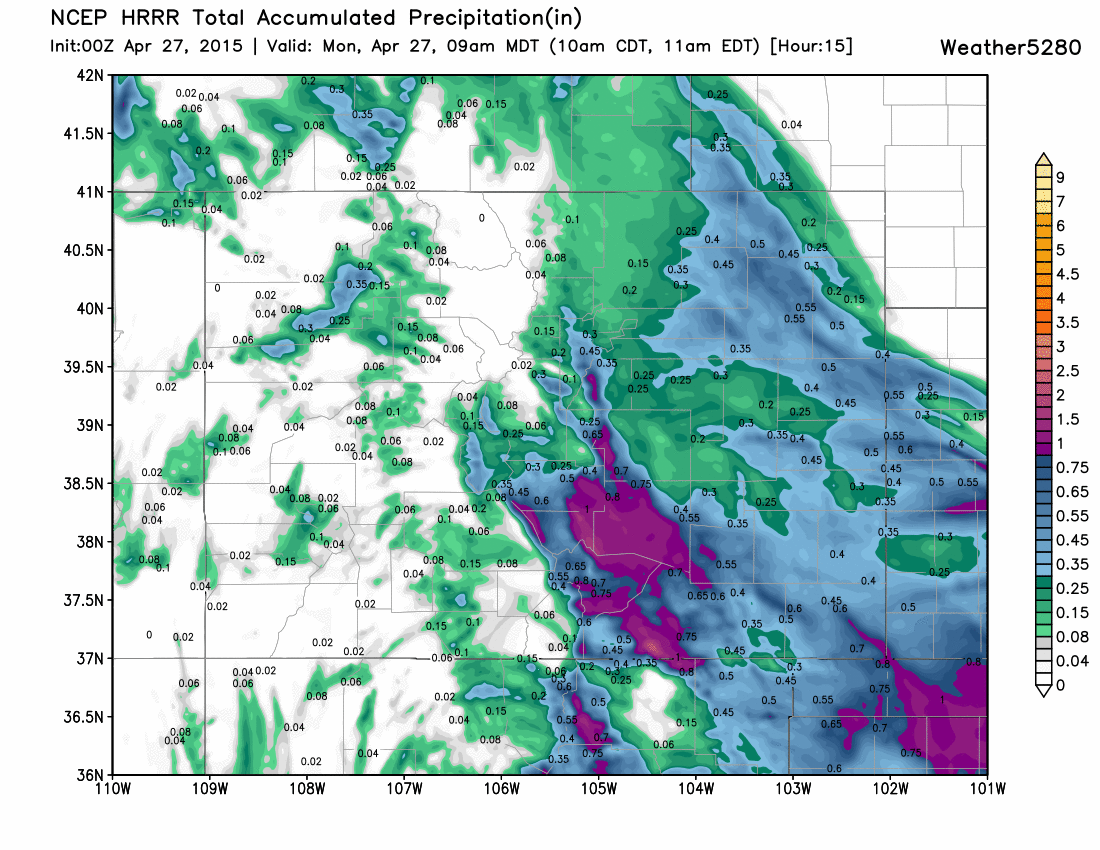 Week ahead
Our system sticks with us into Monday as another good round of widespread precipitation for the state will decrease in coverage into Monday evening. By Tuesday drier weather returns to the state outside of some lingering rain and snow showers at higher elevations. We also will begin a good warm up as we head into the middle of the week, with highs returning to the 70s (possibly mid 70s) for Wednesday and Thursday.
The threat at this time for afternoon storms for the Denver area looks low Tuesday through Thursday, but we should see a better chance for storms return by the weekend even as temperatures are forecast to remain warm.
We'll have a full roundup on this system after it exits the state and address our storm chances later in the week as need as well. Overall the pattern continues to look interesting enough in the long-term, with all medium range models suggesting we keep this wet and active pattern going for awhile longer.