We've had another very active day of weather across the region with severe storms remaining in the forecast into the weekend across eastern Colorado and on into Kansas, Oklahoma, and Texas. With Matt Makens updating you earlier today on the severe weather threats, here's a quick update on the weekend system we've been tracking all week as it relates to rain and snow.
There are no huge shifts from what was discussed last night, but we're starting to get a better idea of timing and where the greatest threat for heavy rain and snow might be.
Snow for the northern and central mountains is looking like a sure-bet, and with that the National Weather Service has issued a Winter Storm Watch which goes into effect Saturday afternoon and continues through Saturday night. Heavy snow at elevations >8,500 feet for the northern and central mountains will add up to 10 to 20" by Sunday morning. If your plans take you into the mountains Saturday afternoon, please plan for winter driving conditions.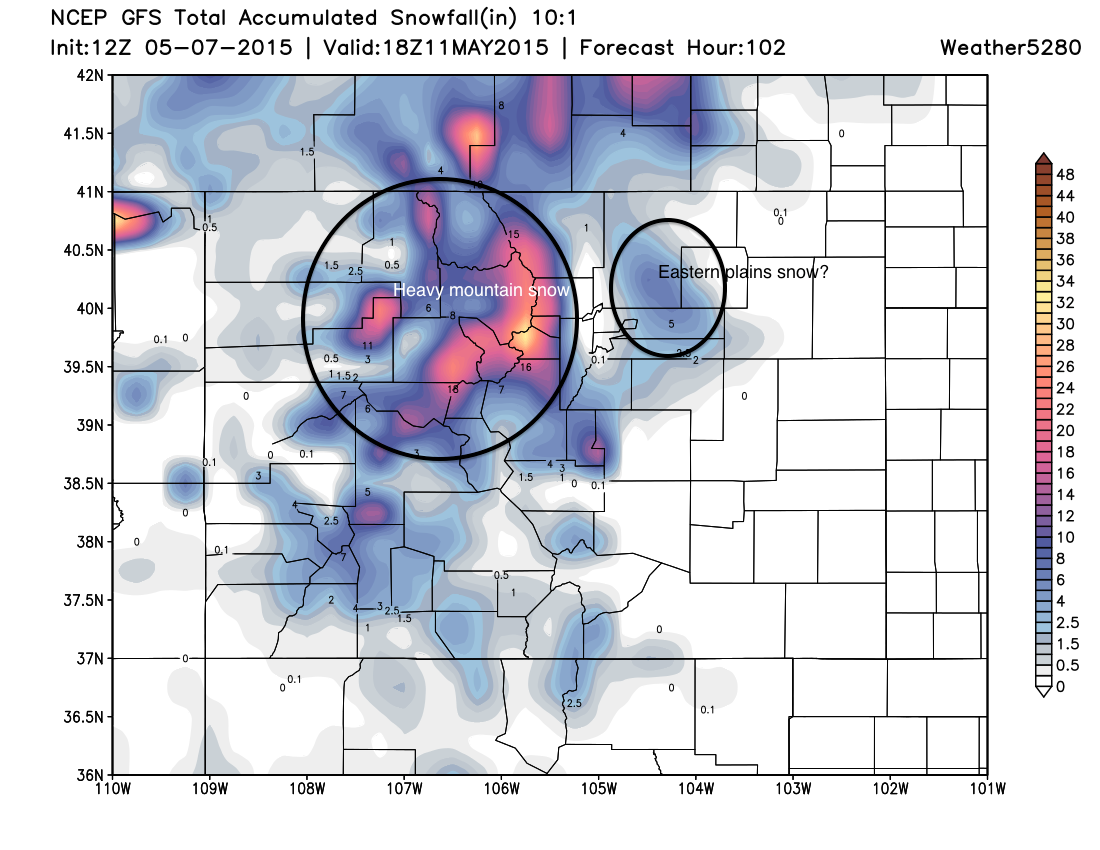 At lower elevations there are still some big questions – mostly regarding the potential for snowfall. Models have come into better agreement (and quite frankly more reasonable agreement) since yesterday, lowering snowfall totals for Denver proper. We've also seen some move toward slightly warmer temperatures, but not dramatically so. Sunday and Sunday night still look very cold for what is almost mid-May.
A couple of trends we continue to see is downsloping along the immediate Front Range by the time temperatures support snow at lower elevations (this would be all but a snowfall killer for Denver), and a bullseye of heaviest QPF/snow somewhere northeast of Denver.
Downsloping is showing up in nearly all the models now, including those like the CMC and EURO, which where not picking up on this as recently as yesterday. Remember what we said about the positioning of the Low possibly limiting moisture/snow late Saturday into Sunday. Here's a look at the 18z NAM and 12z Canadian models for snow; ignoring the numbers, note the significantly less snowfall depicted along the northern urban corridor and Foothills compared to locations west and east.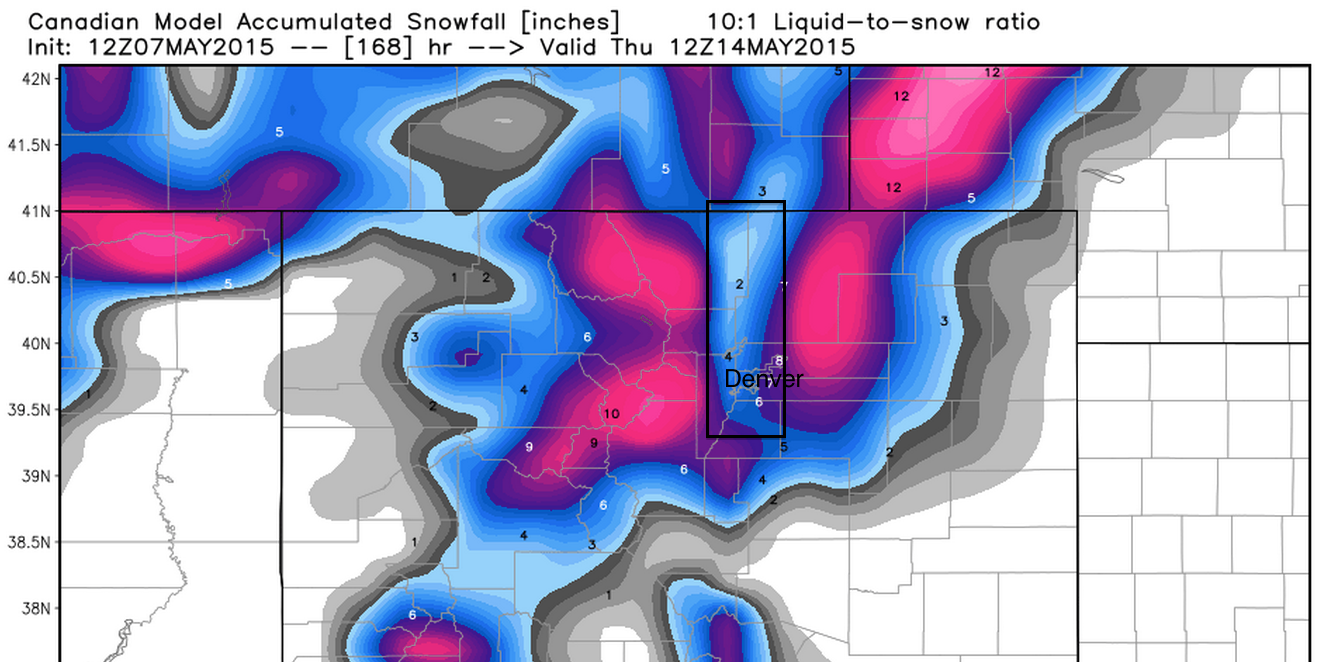 While we won't rule out things changing, and at least SOME snow for Denver, our focus for now will be across the northeast Plains and Palmer Divide south of Denver for greatest snowfall potential Saturday evening into Sunday morning. For the moment, Denver's snowfall potential looks like a few slushy inches at most.
Precipitation
We're still expecting more significant precipitation across the state through the weekend, particularly across northern Colorado. The weekend storm is still forecast to bring a widespread 1 - 3" of liquid to much of northeast Colorado, with convective storms Friday likely adding to these totals in some areas. With so much moisture over the last week, rising rivers and localized flooding will certainly be a concern as we head into the weekend.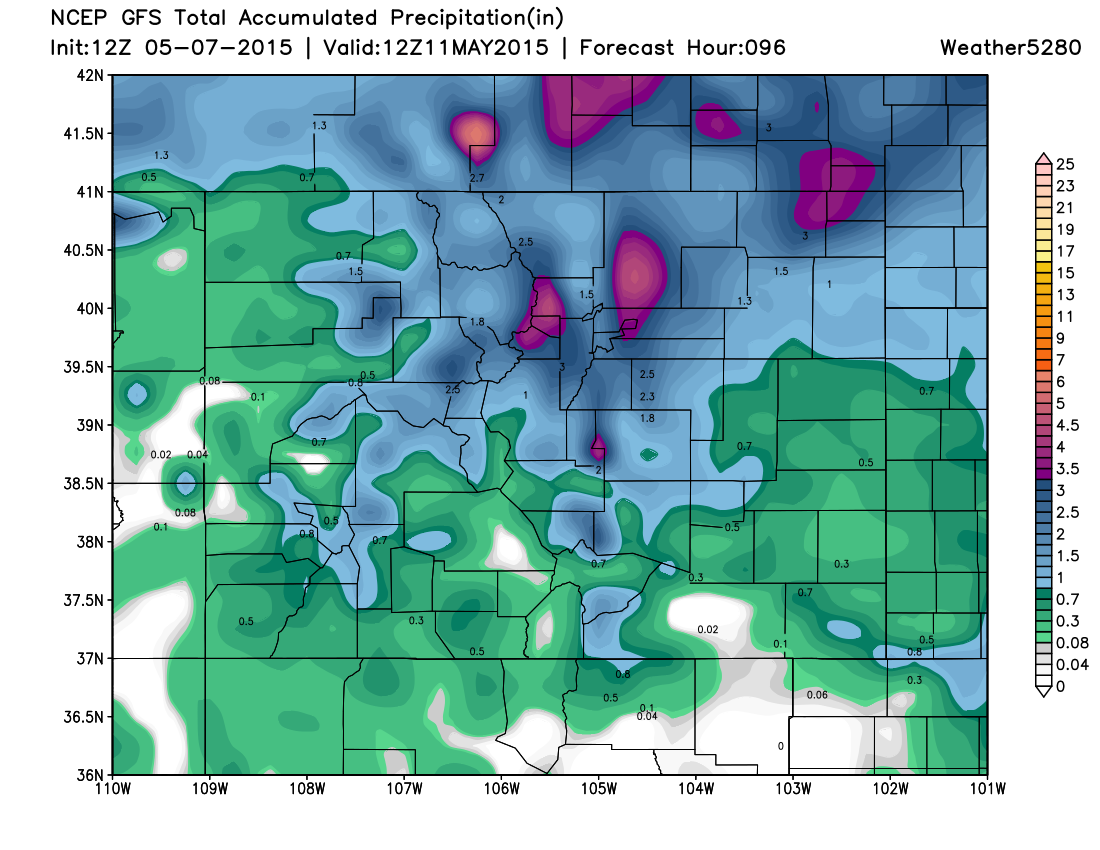 Temperatures
Snow or not, temperatures will be quite chilly Sunday with highs forecast to run some 15 to 30° below normal for the date. There are also still some concerns with overnight lows Sunday night into Monday at lower elevations, with models a bit warmer today – but still indicating below freezing temperatures by Monday morning. This is certainly something you'll want to watch as we get closer if you've got sensitive plants that may need protecting.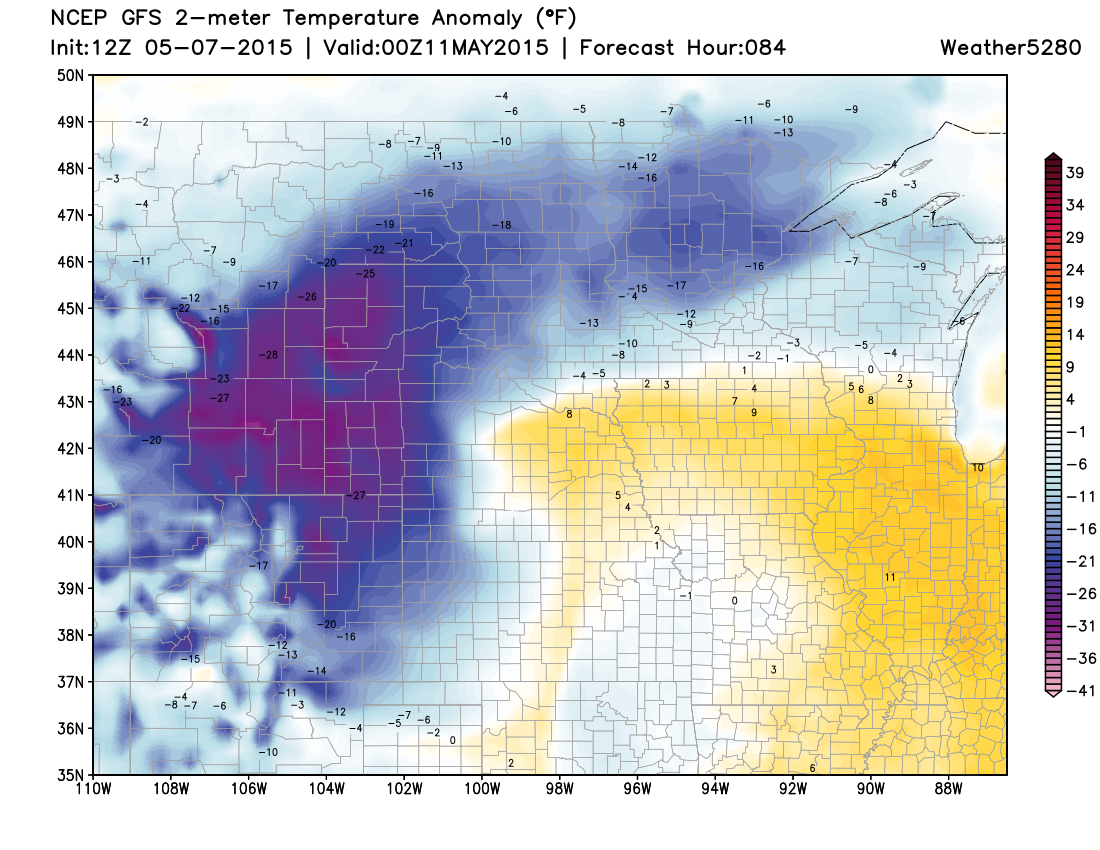 Bottom line...
Our very active weather pattern continues with many different aspects to consider, from heavy rain and flooding to heavy snow and possible blizzard conditions, and of course the enhanced severe weather threat for the middle of the country Friday and Saturday. While the potential is still there for a significant May snowfall in Denver, current thinking is this threat is lower for the city proper given temperatures and downsloping concerns.
For snow, this looks like a good Spring storm for the mountains, highly questionable for the Foothills and urban corridor, and possibly a band of significant snowfall across the northeast Plains and Palmer Divide by Sunday night.
Timing-wise it looks like strong storms start to develop across the Plains Saturday afternoon, with the precipitation becoming more widespread by evening. The best shot at snow for lower elevations will be from Saturday evening through early Sunday morning, before possibly changing back to rain Sunday and slowly drying out.
Much more to come.. Stay tuned!