I was ready to hit publish on one post with the aim of beginning work on another. I quickly realized that perhaps the two were connected, so here is the joint post.
The first blog was to add some historical perspective on a recent article published by The Denver Post regarding El Niño.
The second was a bit of a reactionary agreement piece to this article in Forbes by Dr. Marshall Shepherd regarding public opinion of weather forecasters.
Dr. Shepherd, whom I hold with great regard, summarizes his thoughts on public opinion through the old saying "you do the only job that can be right 50% of the time and still get paid." That saying is not only old, but terribly misplaced. He does a good job of explaining this in his article.
We, as a weather community, must work harder to establish credibility from weather enthusiasts, weather apps, TV weather anchors, and meteorologists/atmospheric scientists. The credible and the ignorant are too commonly grouped together by the public. "Those guys said it was going to rain today" ...well, who said that? Did you hear that from a radio dj, a TV personality, a TV meteorologist, a private meteorologist, etc.?
In the world of TV weather, some stations embrace the CBM (Certified Broadcast Meteorologist designation from the American Meteorological Society), yet most do not. The public has not yet demanded to know a person's credentials. The same goes for any author of newspaper articles, radio announcers, etc. It is implied that someone in an "authoritative" position is credible. We all know that isn't true of any job/career/industry, not just in the weather-world.
Regarding weather forecasters, Shepherd writes:
For me, the main culprits of the "opinion" that meteorologists get it wrong are public misunderstanding of probability and statistics, long held myths (see my listing of 10 common myths in Forbes), and new technology.
I agree.
But I disagree to the extent that, all too often, "we" don't give a numerical chance, i.e. 20%. We simply say "there's a chance," and that leaves the public to make their own determination of the likelihood.
People certainly understand the odds of winning money in a lottery, in Vegas, or in a friendly office fantasy sports league. That's why I make the "Gamblers Chart" for our snow storms. It shows the odds of each amount of snowfall per location. Rather than giving a set amount, let the public know that it's actually a probability based forecast. If presented, let's do a good job of helping the audience understand percentages.
This transparency allows the public to grow in understanding. The weather community should set out to stop saying, "there's a chance." Let's make a concerted effort to be transparent, let the data do the talking, if you will. This will set into motion the establishment of credibility. Perhaps over time, the public will begin to demand such accountability.
This brings me back to my original piece about The Denver Post. The article posted Sunday is a great piece of work. It grabs the reader's attention, cites credible sources, and draws some, albeit vague, conclusions.
I think this is a suitable example of an article that simply concludes, "there's a chance for big snow storms in El Niño." True, but how true? Is the public perception now that we will have epic snow? Perhaps that's the takeaway and perhaps it isn't. That's for the reader to decide. The weather community needs to help make the readers/viewers decision easier, by giving them some data.
Let's go through this article and see how it plays with history, data, and projections:
Post:
"Forecasters say a mighty El Niño warming eastern Pacific Ocean waters has the potential to bring nasty snowstorms to Colorado this winter, especially in the southwest part of the state."
Misleading/False. The key word here is "POTENTIAL." First, we have potential for big snowstorms in any year, regardless of El Niño, La Niña, or Neutral patterns.
Looking at the southwestern mountains, the top 8 El Niño winters (which the upcoming is likely to be in) hardly show a preference for high snowpack numbers and a correlation to El Niño. The average snowpack doesn't increase to above average until April, which is spring... not winter. There were some good El Niño years in there for snow, but certainly not all of them. Meaning El Niño isn't a direct corollary.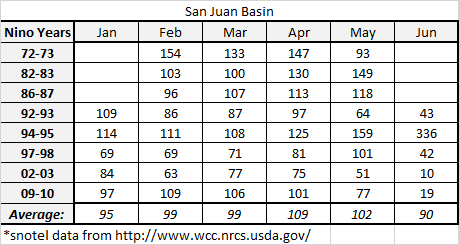 For Denver, 11 of our biggest snows were in Neutral years, 9 in Nino years, and 4 in Niña Years. Boulder has a higher correlation to larger singular snow storms in El Niño Years.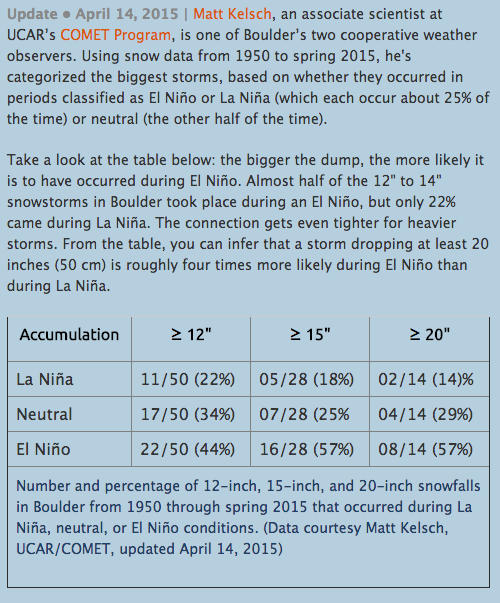 Post:
"While skiers and snowboarders are holding their breath in hopes of deep snow, the National Weather Service in Boulder cautions that nothing is certain."
TRUE. As we've already shown you here at Weather5280, there is no direct correlation to El Niño and wetter winters; actually the opposite is true. I state why it isn't true below.
Post:
"It's possible right now," Bernie Meier, a Weather Service meteorologist, said of El Niño potential. "The waters are fairly warm for this time of year; that's why we're expecting it to be a strong one. We definitely can't rule out it being a record one."
TRUE. So far this is a very strong El Niño. I'll use MEI as a graphical example, but the SOI will show a similar trend. This is one of the stronger El Niños that we have been able to record.


Post:
Forecasters have nicknamed the current El Niño "Bruce Lee" and say it is already the second-strongest on record for this time of year. The Weather Service says it could be the biggest they've seen in 50 years.
MISLEADING/TRUE. An off-hand comment by a forecaster in an ENSO discussion by the NCDC made us all look foolish for nicknaming this El Niño. Summer 2015 is the second strongest El Niño since 1950. The #1 spot is the summer of 1997. Most of my colleagues have grimaced at the notion we've "named" this Niño.
Post:
The World Meteorological Organization says it appears Bruce Lee will strengthen before the year ends. And according to the Weather Service's climate prediction center, temperature and precipitation impacts could last into 2016.
There is a greater than 90 percent chance that El Niño will continue through Northern Hemisphere winter 2015-16," the prediction center said in an El Niño advisory. "And around an 85 percent chance it will last into early spring 2016."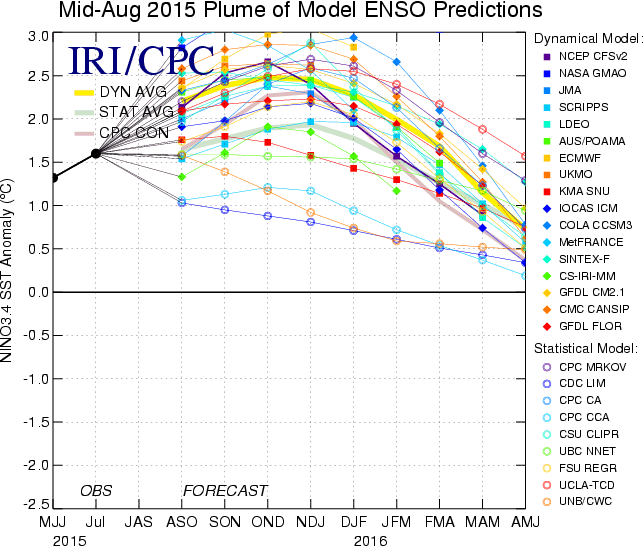 TRUE for winter, Spring is uncertain. Based on current modeling and statistics, this El Niño is likely to continue, and strengthen, into the fall and early winter. Thereafter, models show a strong cooling trend back to a neutral phase by March, April, and May. It remains to be seen whether or not that trend will verify, but there is a high confidence in that forecast as it matches the current trend, and reliable models continue to show that projection.
Post:
El Niños, which brew in the waters off the Central and South American coasts, typically bring excess precipitation to California and leave Montana and Idaho abnormally dry. In Colorado, forecasters say, the weather phenomenon often means monster snow events.
"The biggest correlation we see is many of our bigger storms and stronger storms have occurred in El Niño years," Meier said. "As far as above-normal precipitation and below-normal precipitation (in Colorado), we haven't seen any correlation."
TRUE. I do agree, mostly, with Meier's statement that there is some correlation toward bigger storms in Niño versus Niña years. It depends on location in the state for the statement to be totally true. The biggest Denver snows have come in Neutral years... 11 of them, versus 9 big snows in Niño years. Meanwhile, Boulder is much more likely to have larger snows in El Niño years, versus any other. This is due to it's location; a favored spot for up-slope snows.
To reiterate Meier's second statement: there certainly is no correlation toward wetter winters, in fact the opposite is true. Since 1950, 47% of Colorado's winters were wetter than average. In most cases, except the southeast and northeastern plains, the stronger El Niño gets the drier the winter is. Like for the Front Range, Division 4, we are 32% likely for a wet El Niño winter in general, only 10% likely if the El Niño is in the top 10, and we don't have a wet winter if the Niño is in the top 5... of which this one likely is.

Post:
Joel Gratz, founding meteorologist of OpenSnow.com, says while El Niño offers no forecast guarantees, "it tips the odds" toward there being more snow.
In previous years of strong El Niño, Gratz said he has seen trends of big storms.
"Each of those seasons started out pretty strong and each of those (ski and snowboard) seasons ended pretty strong," he said. "The in between, the meat of the season, was below average."
TRUE. Joel is a phenomenal snow forecaster and does a great job over at OpenSnow. I don't worry about forecasting the resorts when he is on deck. As far as his statement on seasonal totals in general, it truly boils down to actual ski resort locations. Since I don't have the data per resort, I'll be using the SNOTEL data per mountain basin. The basin data shows there is no clear snowy preference with strong Niños until late in the season. The Rio Grande basin is probably the better location to ski/ride in February through April, and maybe some resorts can stay open in the Gunnison Basin through June. Yet, notice how so many of those months are below normal: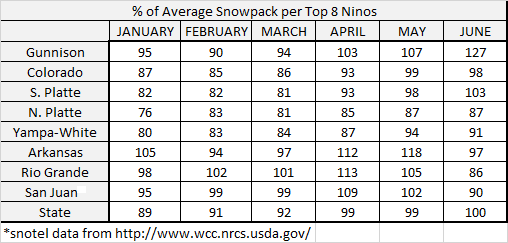 Gratz is correct in that we could see trends toward bigger storms as discussed previously. I think his statement that "it tips the odds" is a great summation.
So, does El Niño bring bigger seasons? Not typically during the stronger El Niño events. Does it bring bigger individual snows? Yes, it certainly can, often depending on your location -- Boulder more so than Denver. Does it mean the winter will be bad? No, winter is December through February and that is usually a dry period of time in strong El Niños. We are much more likely to have bigger singular snow storms in the fall and spring. Especially spring, if El Niño can hold on that long.
I should add, there is a "sweet spot" with the strength of El Niños and the amount of snow/rain we may receive. With a stronger the El Niño, the storm track can end up too far south. If we can get a weaker El Niño to develop, we may have some good snows for some additional areas of the state.
Knowing a bit more of the data, in this case, should help the reader understand the actual chances. A few data references can help clear up the muddied water. The water, of course, isn't crystal clear yet either; weather will always have some unpredictability.
Dr. Shepherd is right, there are some bad opinions out there in the community. I think the very long and bumpy road to overcome them will establish itself through data. Those that choose to use the data, and technology, will come away as credible leaders. This comes down to the weather community choosing the leaders. We need to begin by differentiating the weather voices from the weather scientists. Some may argue people aren't ready to "get lost in numbers". I think they are.