Another week down and another closer to November. For snow/cold lovers, this has been a disappointing weather pattern with near-record heat and an ongoing drought.
Saturday's high was 85, within 4-degrees of its record, and Sunday hit 87 beating the record of 85 last set back in 1996. Denver's fall precipitation is now more than an inch less than average.
I'll add: Colorado Springs hit 87 and 94 in Pueblo both set all-time warmest temperatures recorded in October for those locations.
The pattern you've noted this weekend changes, little, this week with two systems to move through. Those systems are quite unimpressive.
The first of two systems arrived Sunday. You probably noticed the wind that increased, and perhaps you saw some of the clouds blowing through too. That was a weak weather system passing through.
This trough is much stronger to our north where rain and snow had fallen throughout Montana. The impact relatively minor by comparison here on the south side of the trough; rain and snow are not expected here.
You will feel a change Monday, although it remains minor. Temperatures will be in the middle 70s which are still 5 to 10 degrees warmer than average. The clouds will have passed by and the wind will be weaker.
By Tuesday and Wednesday, it'll be as if nothing happened – expect sunshine and near 80-degrees.
The second system will be similar to the first. Arriving Thursday, this next trough appears weak at this time and will bring increased wind, clouds, and a drop in temperatures. Although, another minor drop in temperatures, the upper 60s to mostly 70s expected.
The outlook for moisture with this later week system looks bleak also. Perhaps something may fall in the mountains, but Denver looks to stay mostly dry.
Despite the "wet reputation" of El Nino, this pattern shouldn't surprise us. El Nino can help enhance the southern jet stream and improve our storm chances across the Western U.S. if other factors don't create a block. There's a substantial block this season in the form of a very warm Eastern Pacific Ocean; well, the whole Pacific actually.
Look at the sea surface temperature comparison between Septembers of 1997, a notably wet period, and September 2015, a notably dry period. 2015 is substantially warmer in most of the oceans. The dramatic warmth of the water from Alaska to California is substantially higher in 2015.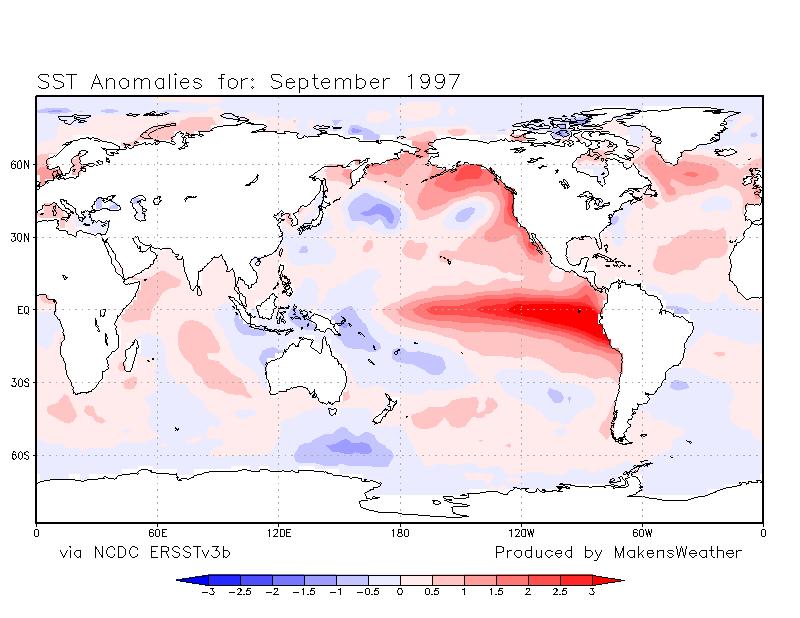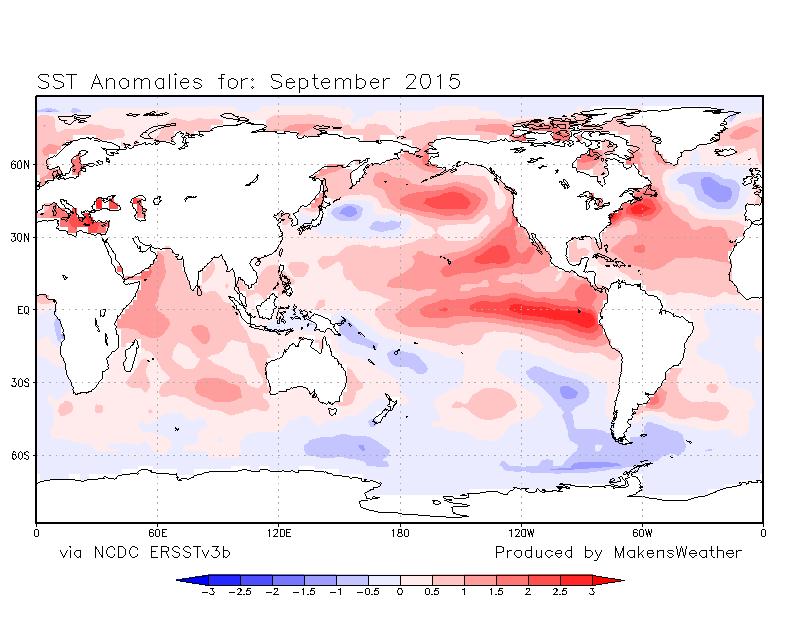 That warm water has created a blocking pattern preventing the southern jet stream from bringing systems to the Western U.S. and Colorado. We had a similar blocking pattern last year in October. If you recall, October was a "boring" weather month, then we had a tree-crippling cold outbreak in November. If we are to break this stagnant current pattern and see a potential repeat of 2014, we need to see indications of such changes first in the ocean temperatures.
I see no change in the ocean pattern at this time. Note the sea surface temperatures between October 10th and one month prior; the blocking pattern persists.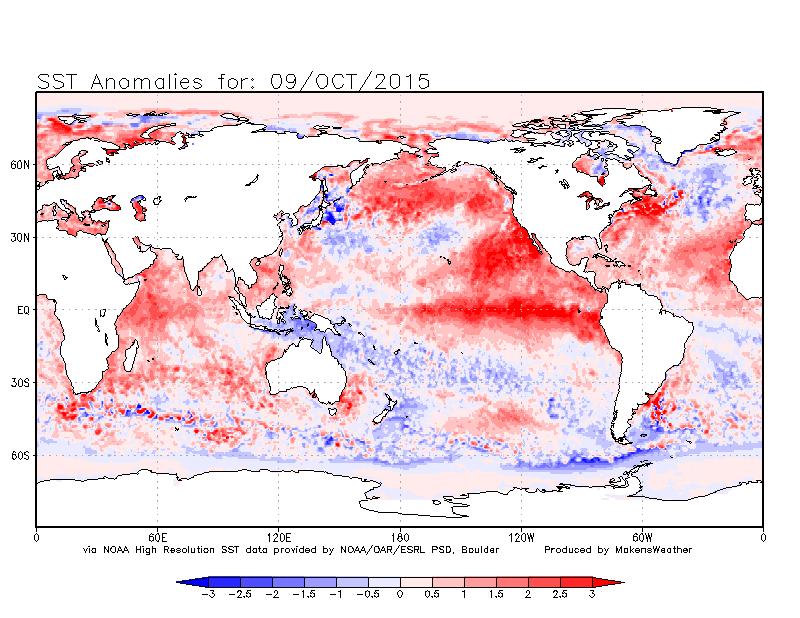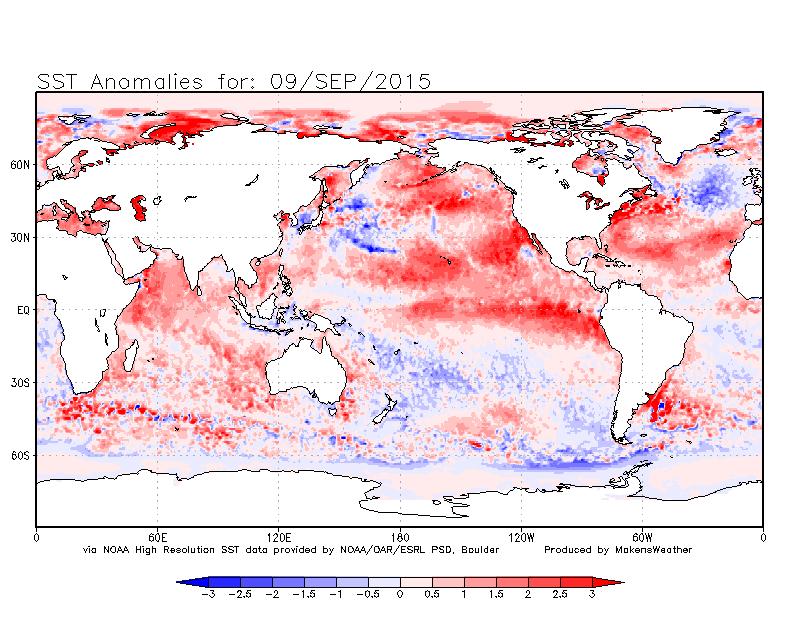 Models, the European for one, indicate a potential pattern shift in very late October and early November. I should point out, models have called for substantial weather changes in their long-term projections for a couple of months and we have yet to have one pan out with the strength as first projected. So, we'll watch this cautiously for now.
When projections do verify, it will first appear in cooling ocean temperatures in the Gulf of Alaska or along the Western U.S. coast. As of now, we do not have that cooling. If that forecast for a late October cool-snap pans out, we will start to see the ocean temperatures cool by next weekend. We'll keep you posted.