As we enter the last week of October, there is still the question of whether or not we will see our first snowfall before the end of the month. While it certainly wasn't cold enough for snow in Denver last week, we received some much needed moisture for the Front Range. A whopping 0.79" of rain fell at DIA last Wednesday which shattered the old record of 0.63" set back in 1906. Although not record-breaking, we also saw 0.70" of rain on Thursday. So far in October, we have received 1.76" of precipitation, which is well above the average 1.04" of precipitation for the entire month of October. We will have a chance at seeing more rain or snow before the end of the month across Colorado.
A weak shortwave trough will move over Colorado from the northwest on Tuesday, however precipitation chances look relatively low for Denver as the wave doesn't look particularly deep. Ways to diagnose and forecast lift in the atmosphere will be discussed in a future post.
Our system that we will have to watch for later in the week is currently off the coast of Alaska in the north-eastern Pacific.
It is no surprise that this storm is collocated with an area of anomalously cool waters. Matt Makens does a great job of discussing this feature in a previous post.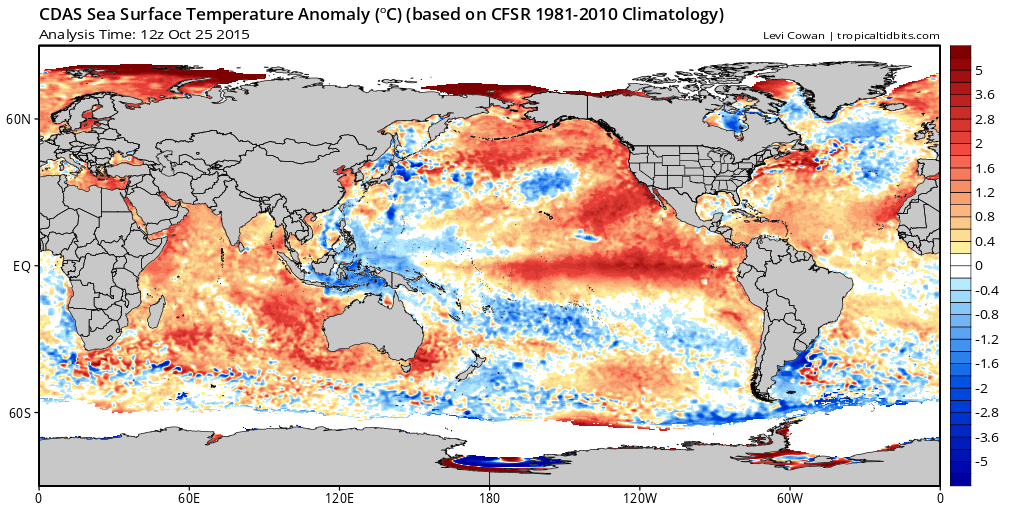 As we move closer to Halloween and into the weekend, this deep upper-level trough is expected to dig over California, close off, and then lift off to the north and east. If this closed low remains further to our south over portions of New Mexico, our rain/snow chances here in Denver will drop dramatically. However, if this system does manage to track further north, our precipitation chances would increase as a result.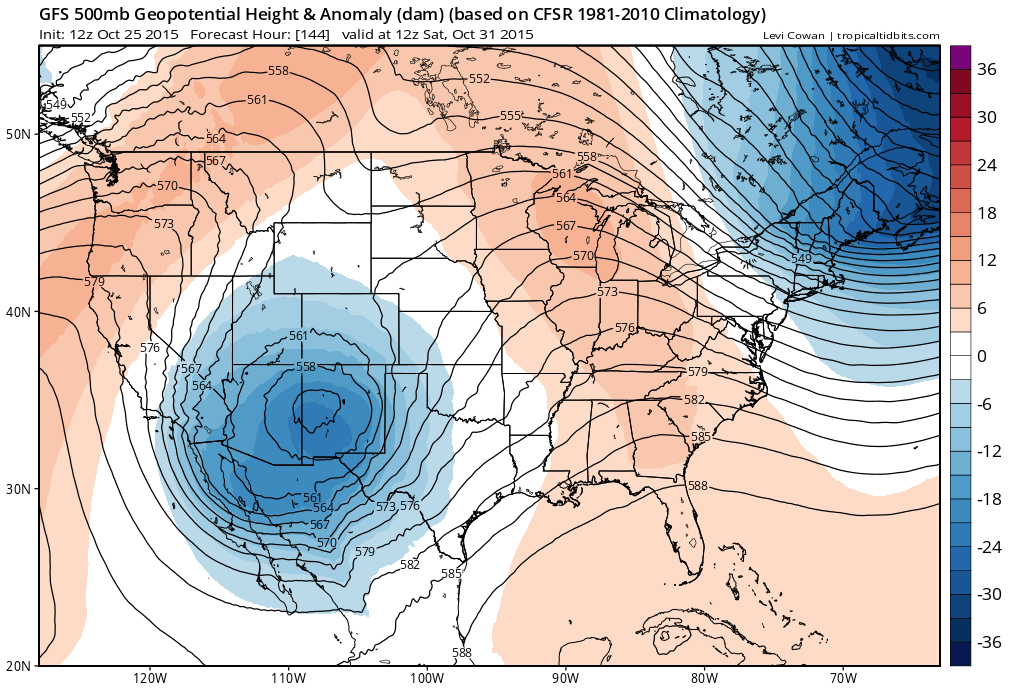 Lower thickness values correspond to a lower mean layer temperature. Although the entire layer temperature must be considered, areas shaded in blue generally denote colder temperatures at the surface while the red shading denotes higher than normal geopotential heights and warmer temperatures at the surface.
As you can see in the image above, this late-week system will be another strong one – much like last week – and will have a bit more cold air to work with as well. That said, for those eagerly awaiting Denver's first snowfall, the eventual track may end up being the biggest issue with this system. Over the last several days both the Canadian and European have been a bit more gung-ho about rain and snow potential even as far north as Denver, while the GFS consistently dropped the low too far south, then opened it up as it pushed northeast. Today's runs of the Canadian and European models look much closer to the GFS, with the Euro deterministic run at 12z producing no snow for Denver, and its ensembles producing not-much-at-all.
Still a ways off, but the trend today was less in favor of a Halloween snow. While snow chances at the moment look low for the Denver area, this may be the best chance we've seen this season to seeing snow in the city, so something certainly to watch over the coming days. Should the system start to look like it'll stay a bit more tightly wrapped and further north, this one would have the potential to bring the city's first snow. Otherwise, plan on cool and unsettled for Halloween weekend, and let the first snow waiting game continue.
In the meantime, look for beautiful fall weather over the coming days as last week's system is now long gone and daytime temperatures have warmed into the upper 60s across the metro. Highs through the first half of the week will stay mild in Denver, with overnight lows in the 30s and 40s, with more frosty mornings possible by midweek.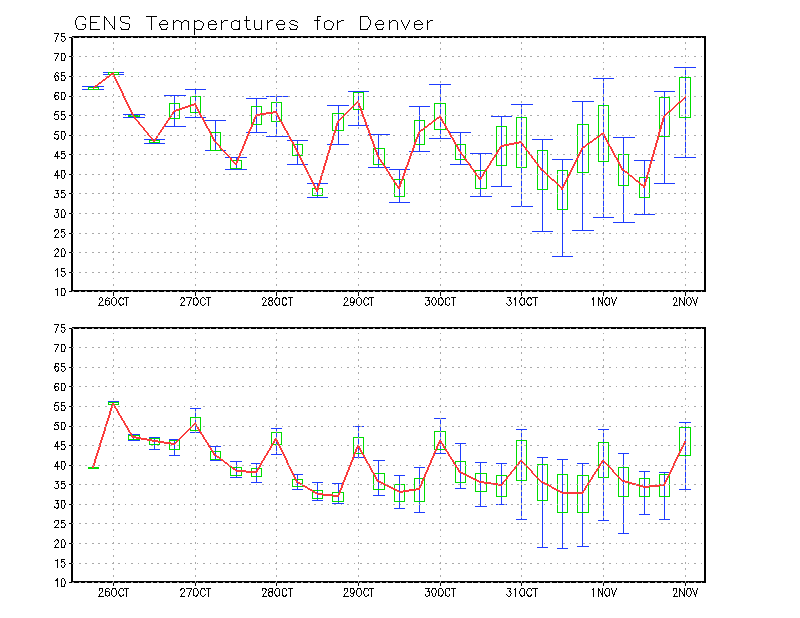 That same system that brought beneficial moisture to us here in Colorado also brought copious amounts of rain to portions of Texas. After hurricane Patricia slammed into the Mexican Rivera on Friday, the storm weakened drastically as it moved over the Sierra Madre mountain range and continued northeast into Southern Texas. Combined, both systems brought as much as 10-20" of rain to parts of Central and Eastern Texas, with the highest amounts falling just to the south and east of Dallas. This does not include additional rainfall occurring over southeast Texas today. Lastly, note the good moisture across much of Colorado over the last five days. It's about time!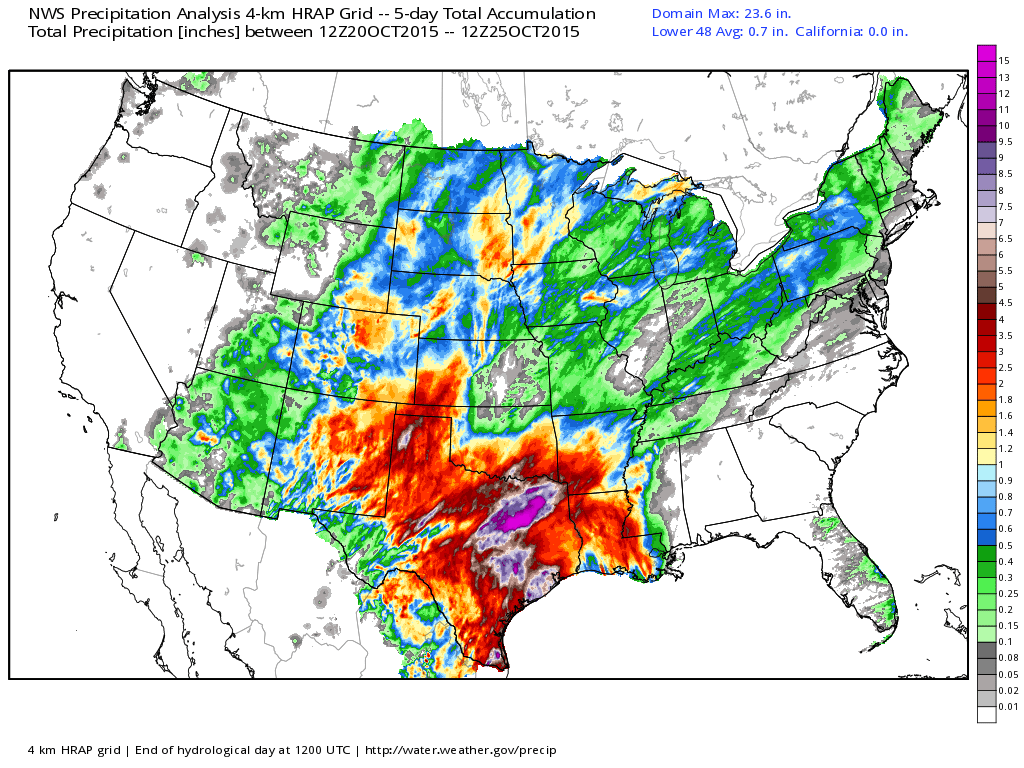 With that first snow right around the corner (or a corner anyway) now is a good time to subscribe to Weather5280 if you haven't already!