We've offered several updates on the big picture look at the active weather pattern across the western U.S. over the next week to 10 days+, so today we'll take a closer look at the big changes on the way for Colorado to end the week.
It's been a warm (very warm) and windy week along the Front Range. When the Chinook wind kicks in, there's no stopping some pretty dramatically warm temperatures from occurring along the Front Range. We could see some of the greatest departures from normal tonight as winds are forecast to again increase and keep overnight lows near 40 degrees in the city. A High Wind Warning goes into effect Wednesday evening and extends through early Thursday for the Front Range. With the average low for the date in Denver being 17°, that would put overnight lows >20 warmer than normal. Temperatures across the U.S. continue to run warm this week, with daytime highs today nearing 35° above normal for the northern Plains:
Thursday will be the last truly warm day around here before changes begin to arrive Friday, and stick with us likely through the extended period.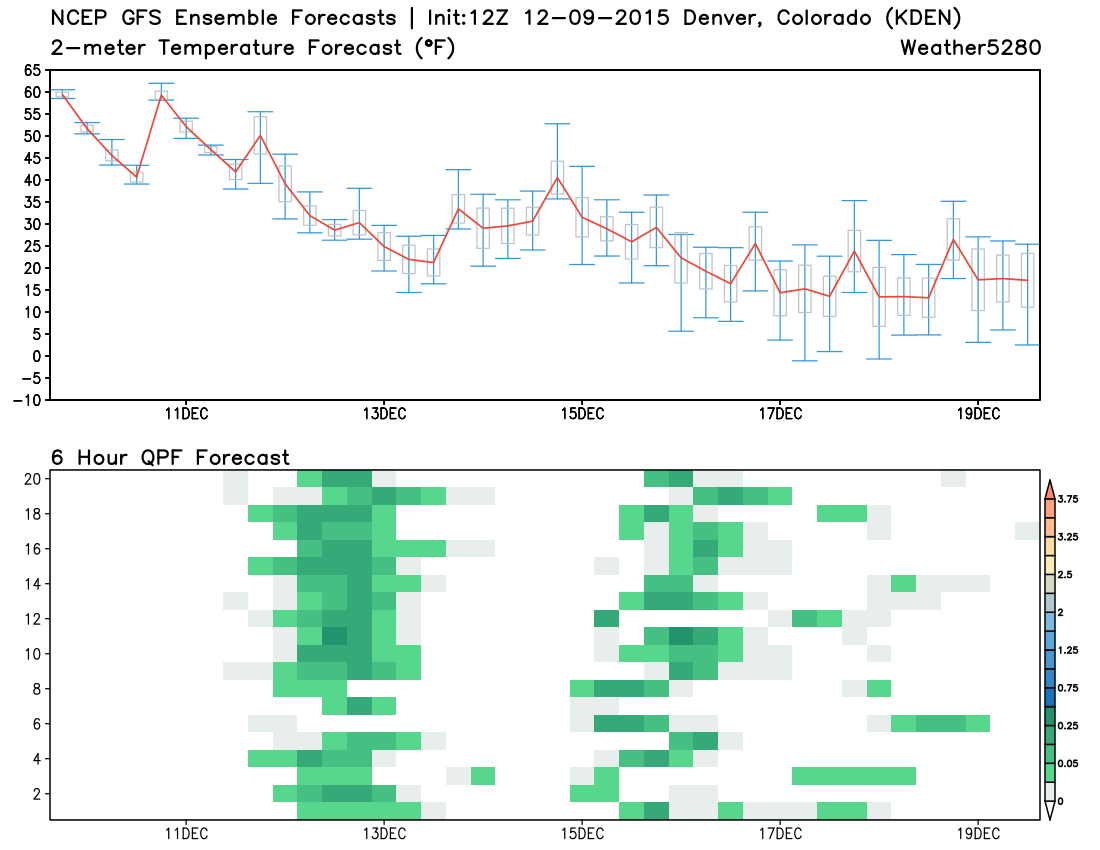 The top chart above shows forecast temperatures over the next 10 days from the GEFS. The red line indicates the ensemble mean temperature forecast. Notice that after another very warm day Thursday (highs likely >60), we see a pretty steady drop off as we head into the weekend, with seasonal, to colder than normal temperatures forecast through next week.
The bottom chart indicates 6 hourly precipitation forecasts by each of the 20 ensemble members (y-axis). Good agreement that we'll stay dry over the next 24 to 36 hours, but then we see all over the member start to introduce at least light QPF by Friday and Saturday. Consensus is then lesser from the 15th - 20th, as each member handles the next upper level disturbance for next week just a bit (sometimes a lot) differently. The general takeaway, however, is that our pattern turns colder and unsettled.
Chance of snow to start the weekend
We'll be tracking a number of systems moving into the west over the next week+, the first of which arrives in Colorado Friday. This system will bring a good chance of snowfall to the high country, with some snow possible for the Plains too. We should see a break Sunday and Monday, with our next system possibly beginning to impact the region by Monday night.
As for snowfall... Good agreement between models today that we'll see at least some accumulating snowfall across northeast Colorado anywhere from Friday afternoon through Saturday. Favored locations, where upslope will be deepest and likely most persistent, will be across the Palmer Ridge and the Front Range foothills.
While not exactly a classic setup for us for heavy snowfall, this system will have good energy with it, and Friday's cold front will be a strong one – especially given where we have been. Snow totals look generally light across the Plains, but the potential for a few snow-favored locales to Denver's west, south, and southeast to see several inches from Friday through Saturday seems like a good probability.
For Denver and the northern urban corridor snow totals remain much more in question as models are struggling with how favorable winds will be for this locations. At this time the GFS looks best for snow along the I-25 corridor, with the GEM backing off considerably today, and the ECM coming in somewhere in between. The NAM has been far less bullish with snow, though tonight's 00z run does look a bit better. Other hi-res models are just coming in range, and not surprisingly are showing a variety of solutions.
We'll look for better consensus here in tonight's runs, and zero in on a snowfall forecast tomorrow. Initially, I'd be tempted to lean closer to the GFS than the EURO/GEM given how poorly both those models have performed this fall. The GFS, however, may be a bit overdone. To be more excited about higher snowfall totals we'd like to see the upper levels trend a bit more organized and close off a bit more, without that, this looks like a generally light snowfall event across eastern Colorado, but certainly a big change from they weather we've been experiencing nonetheless.
Favorable pattern, but big snows are not a lock
The pattern continues to evolve more or less as expected. As Brian Bledsoe discussed in this week's SOTA, the pattern is turning more favorable for cold and snowy across Colorado, but whether that translates into a big eastern Colorado snow or not remains to be seen. At this time, it looks like this system due in Friday isn't likely "the one", but may help to lay the groundwork for a period of more wintry weather.
The timing of this particular system couldn't be more perfect... from the State of the Atmosphere on November 30:
The first 10 days of the month in general look much quieter than we have been in awhile for the state. Beyond that I think there's still more of a question mark. Last week I picked Dec 10 - 13 as the next timeframe to watch for something, but even that may be a stretch at this point. You'll be hard-pressed to find any indication of something too stormy and cold before then, with good agreement between the models and little teleconnection support to say otherwise.
If we can get a few inches of snow on the ground this weekend, and follow that up with a few more next week I think many snow-lovers will be happy. For those of you that aren't lovers of snow, I hope you've enjoyed the start to this month, it doesn't get much nicer than this in December! Get out tomorrow and enjoy the mild weather, even if we can't land a big snow, the pattern will shift to be chilly and unsettled for some time.