Some changes to the going forecast today as there have been some shifts in the track of our system set to impact eastern Colorado Friday night and Saturday. We'll go ahead and increase snowfall forecast totals for a few locations, and decrease for others. Latest trends are taking this system further south and tracking it slower than in recent days, which if true, will have big implications especially further north along the Front Range.
Take a look at the 12z ensemble forecast at 500mb for early Sunday (top) and the European model for the same time (bottom). Both have the low closing off and more or less in the same place east/west, but the EURO is much further south into west Texas than the GFS over the southeast Colorado border/Oklahoma panhandle.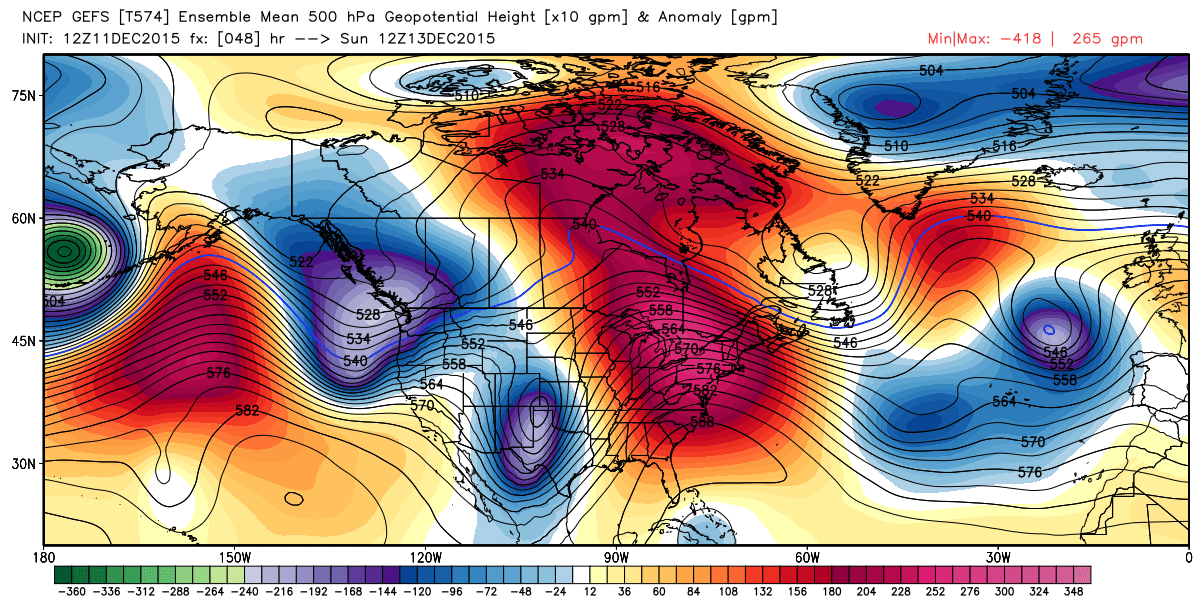 This is also reflected in their operational runs – the EURO is VERY light on snow for all of northeast Colorado, while the GFS is better but not as great as in recent days for the area. Latest observations would suggest a more southern track may be more probable, but just how far south and how much this eats into snowfall totals around here remains somewhat of a question.
With that, modeling today is showing downsloping issues immediately adjacent to the foothills across the I-25 urban corridor, while increasing snowfall across the eastern Plains. This is true even for the more northern solutions such as the 12z GFS.
Take a look at the 12z GFS, note the lower snowfall totals along and west of I-25. You'll note we bring the 1 - 4" pretty far west now north of Denver to account for this possibility.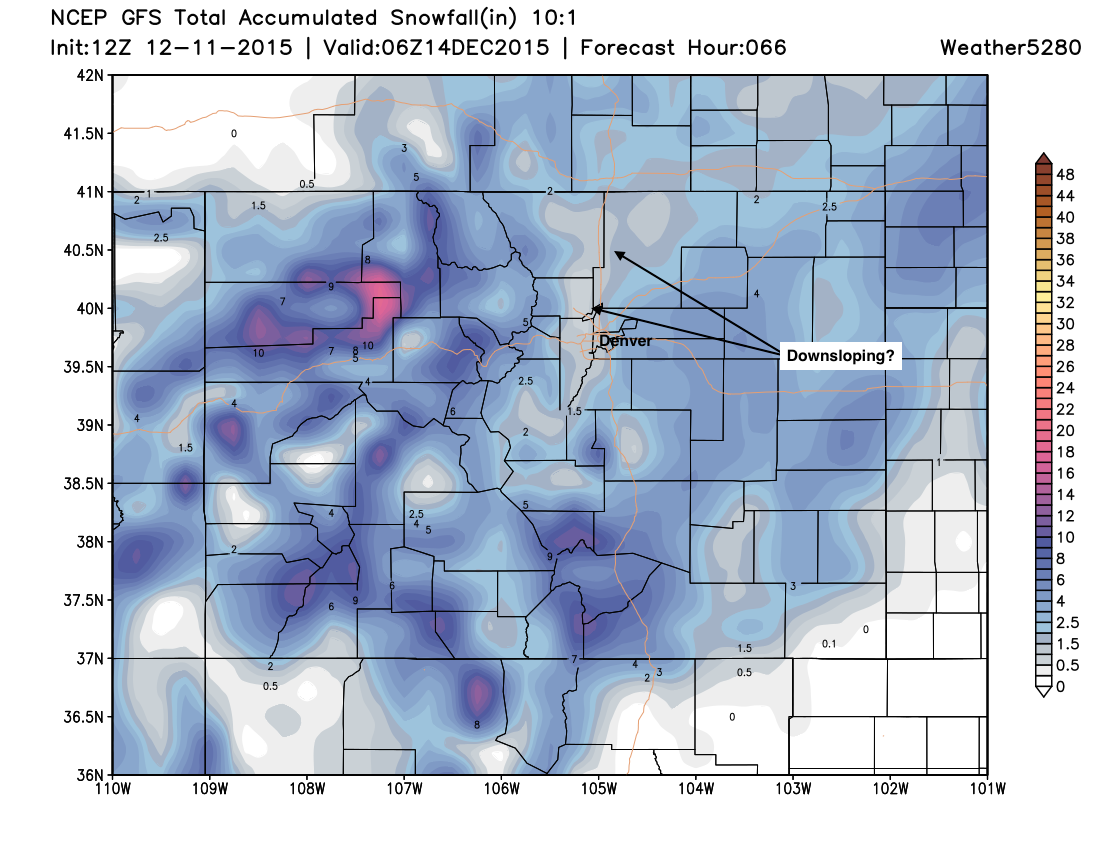 Now take a look at the 18z GFS, it pulls the heaviest snowfall even further south and east, more in line with the European solution, a trend we've seen all day: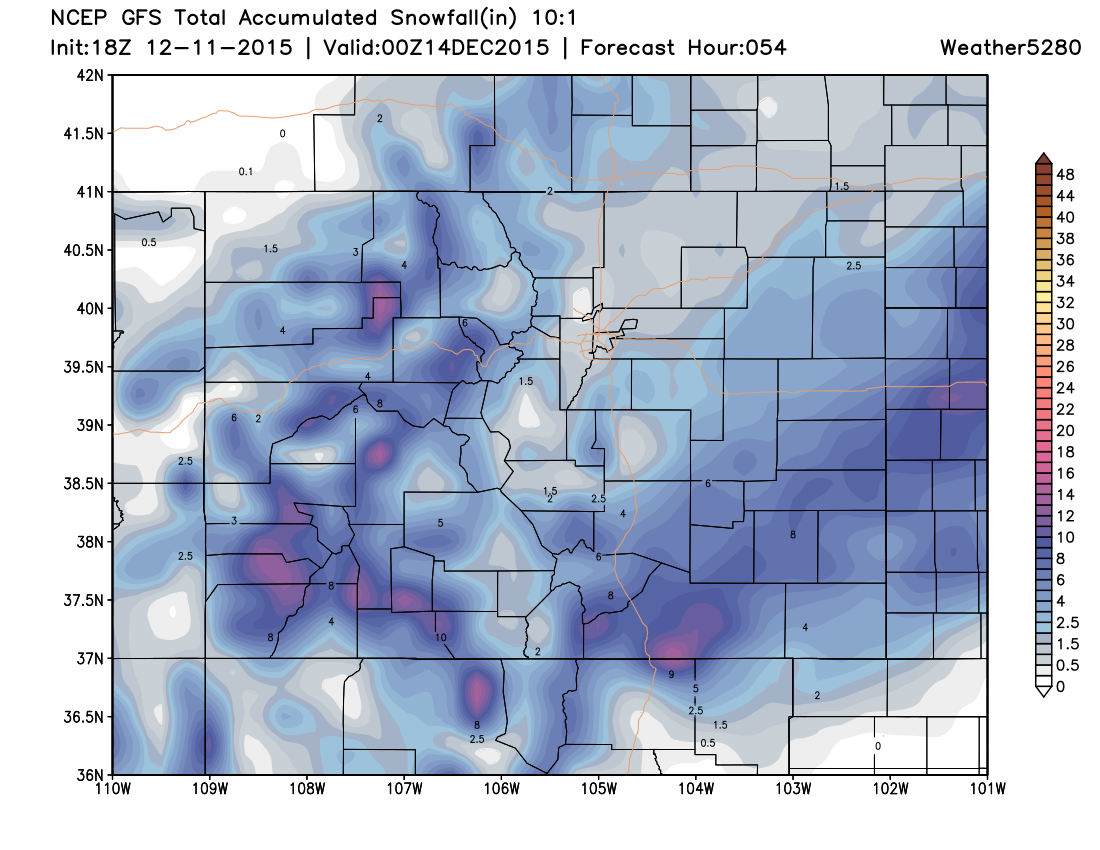 Needless to say, models are struggling, and may be struggling more than we think if they are playing catchup to a more southern solution ala the EURO. Several hi-res models continue to suggest 4" is very possible for Denver, but even here was conflicting results. The latest SREF has a mean of 4" for Denver, but a huge spread (some member down near 0"...):

To account for these concerns, and the apparent shift southward of the main upper level feature, we'll decrease snowfall totals a bit north of town, and increase south, east, and southeast of town. We'll leave 1 - 4" for Denver at this time, and adjust if needed going forward. Here's a look at our latest snowfall forecast – a pretty high BI for the metro areas:

If the EURO is right, this will be too heavy handed of a forecast for the Denver area and northern urban corridor, if the low tracks a bit further north, it could be this is a good forecast.
As for timing...
We're already running much cooler than this time yesterday across the region, and that trend will continue into Friday night. Expect rain and snow to develop during the day today across the northern mountains, with some rain and snow showers moving over the lower elevations late tonight. Snow won't become widespread on the Plains until later Saturday, as this system has slowed over the last 12 hours or so. If this thing is going to deliver for Colorado Springs or Denver, it'll likely come later in the day Saturday, which gives us time to see how things trend overnight tonight and adjust if needed.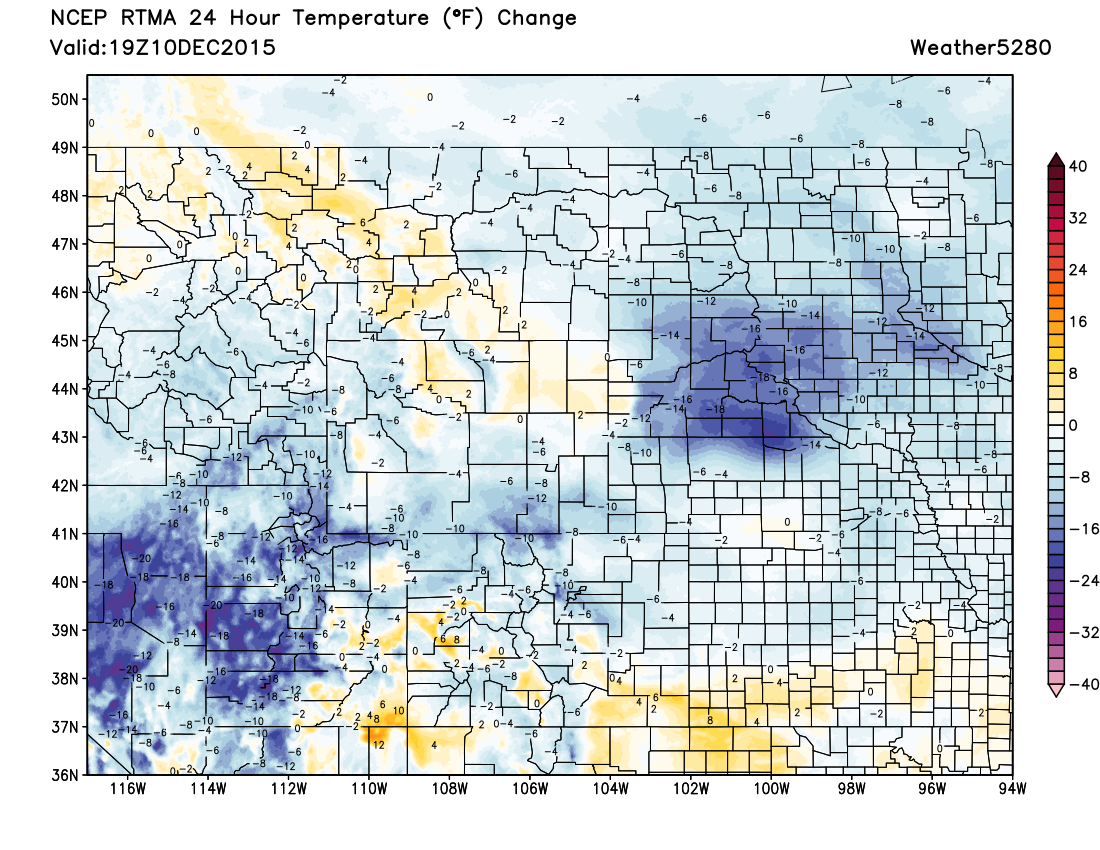 Maybe not a complete bust yet, but something certainly smells a bit funny... especially if trends continue to pull things south/east. Given the uncertainty, we'll continue with a high Bust Index, and hope the forecast doesn't completely fall apart in the next 12 hours. This may be our final snowfall forecast, and if so we'll see how it pans out. If trends continue at tonight's 00z run, we may need to try to get a brief update out at least for the snowfall forecast map to adjust numbers further late tonight or tomorrow morning.
In any event, plan on much more wintry weather than we've seen of late over the next 24 hours or so. Enjoy, and keep us posted with your latest weather reports! And who knows, maybe if this one does dive too far south in the end, that's a good sign for next week's system that's hedging too far north.