Our system we've been discussing all week remains on track, with light to moderate snow showers off and on today becoming more widespread tonight into Friday. The National Weather Service has issued a Winter Weather Advisory for Denver which continues through 2pm Friday.
Light snow has been falling all morning across portions of the metro area, mostly along and east of I-25. Through midday some light accumulation has already been reported across portions of southeast Aurora, with light snow continuing to fall. We expect snow to continue off and on through midday, with another round of snow developing later in the evening Thursday and on into Friday. Here's how the radar looked mid morning: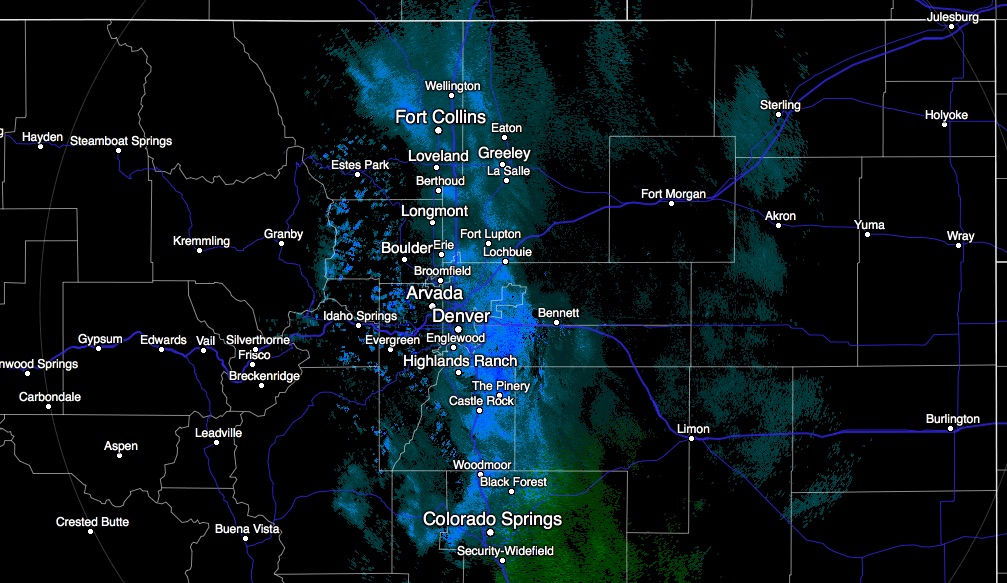 We won't be changing our forecast too dramatically today, but will increase totals in a few locations – namely the Front Range foothills. Please plan for winter driving conditions across the state over the next 24 hours or so.

For Denver we still like 3 - 6", with a few inches possible Thursday evening, and a few more inches possible Friday morning. While higher totals are possible, we feel 3 - 6" remains the most probable totals for the city. Friday morning's commute is likely to be the slowest around the region, barring an early onset of snow this evening. Please keep in mind, that even if snowfall totals come in lower than forecast, given the time of year we are in and cold temperatures, roads will become snow covered and icy. Please drive safely.
Lastly, we have lowered the Bust Index from a 6 to a 5 for the Denver area, but a fair amount of uncertainty remains with this forecast. For the foothills, we've increased potential for higher totals, but also increased the BI. Some indication some foothill locations do very well with snow, but maybe not so broad-brushed as the forecast indicates. Should totals come in lower than forecast, we do think that enough snow will fall to impact travel, so please use caution anyway.
Overall looks like a nice round of snow for the region, the tricky bit remains in pinpointing where exactly the heaviest snowfall sets up over the next 12 to 24 hours or so. We'll keep an eye on things and pass along updates as needed. Enjoy the snow, stay safe, and share your reports with us, please!
---
Not a subscriber? Subscribe to Weather5280 and have updates delivered to your inbox.