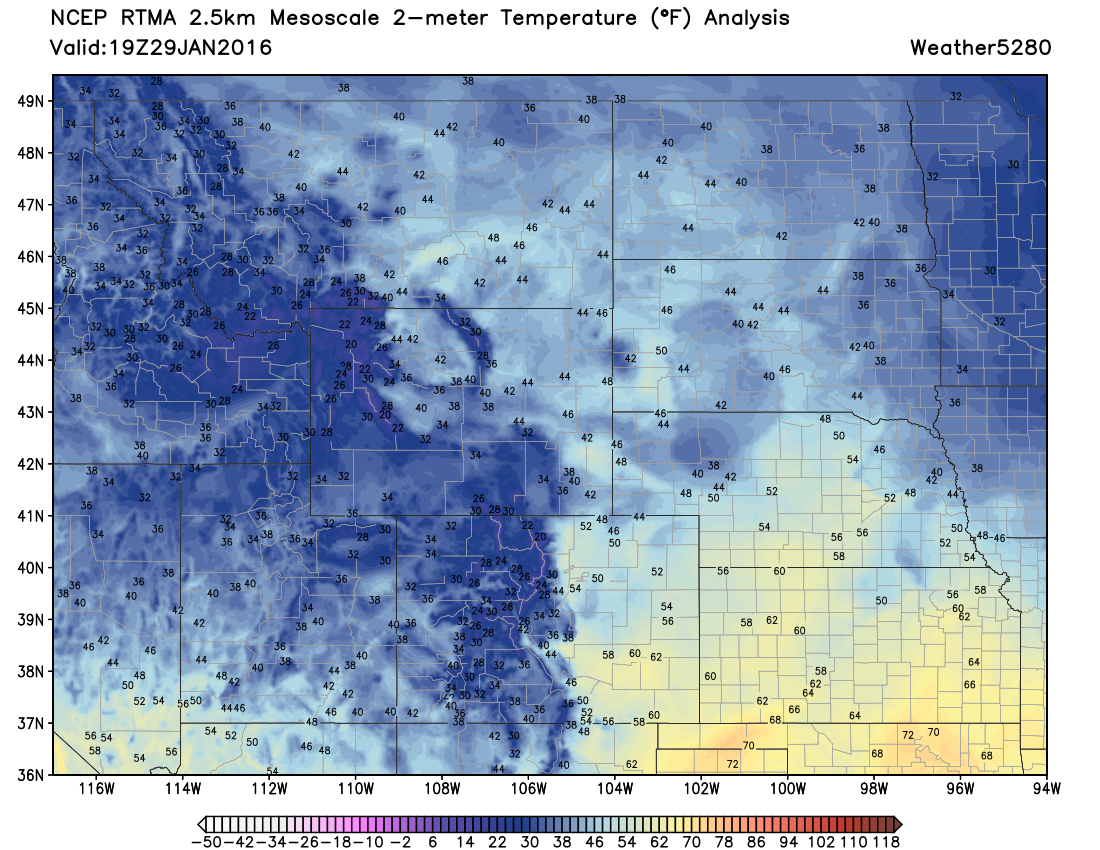 Yesterday we offered a rather extensive update, so today I'll try to be a bit shorter. The potential for a strong winter storm across Colorado continues to look pretty high.
For this post, we will break down the next several days into two timeframes: Saturday/Sunday, and Monday/Tuesday. The main event we've been tracking all week is forecast to move in Sunday night through Tuesday, but we need to keep an eye on Saturday evening through Sunday as well -- at least based on some models.
Saturday and Sunday
Saturday will again be very warm days across eastern Colorado, before changes start making themselves present by Saturday evening and on into Sunday.
The big question for this time period is if we see snowfall develop along the Front Range and eastern Plains associated with our initial cold front and overrunning as the EURO suggests, or do we remain (mostly) dry until Monday/Tuesday.
As we discussed yesterday, most models are pretty modest with how much moisture they bring through Saturday night and Sunday outside of the EURO. We hoped subsequent runs would help clear this up, but the EURO is still pretty insistent on moderate snowfall associated with this lead front and overrunning, while others are not. For now will lean closer to a mix between the NAM/GFS for Saturday evening - Sunday evening, with some snow possible across lower elevations, but accumulation not as widespread as the EURO would suggest.
You'll want to pay close attention to the forecast here, as hopefully guidance later this evening sheds more light on this. For now plan on temperatures falling Saturday night into Sunday, and at least spotty rain/snow showers during this period as well.
Sunday night - Tuesday
The main energy associated with our system is still well out over the Pacific. Over the next 24 hours or so it'll move inland, and deepen a big trough over the Great Basin. In the animation below, note how the green "blob" originates along the west coast, then gets deeper and brighter as it swings east. The system really waits to intensify most until its over southeast Colorado or the Oklahoma panhandle Monday evening:
As this low intensifies and moves east we expect snowfall to become heavy at times across eastern Colorado Monday and on into Tuesday. Eventual track will determine where the heaviest snowfall ends up, but for now it looks like everyone from the Denver metro area, south and southeast stand a chance at a pretty good snowfall.
The Models
Today's 12z (morning model-run) Canadian continued to be south (as it was yesterday) but its QPF finally matched up better with this solution than it has been. Given this scenario, those north of the Palmer Divide would see less snowfall than across southeast Colorado.
The European model continues to suggest big time totals for Denver, but continues to bring much of these totals with overrunning Sunday. If that does not materialize, and then totals would be lower than currently forecast by that model. For Monday and Tuesday its low is a bit further north than it was yesterday, which adds increased confidence for snowfall from Denver east. Also, its 12z (morning model-run) ensemble mean forecast is up to 10" now (at 10:1 ratios) for DIA, which is a promising sign for snowfall in Denver, and about 25% higher than the 8" it was indicating for the previous two model runs.
The NAM is almost in range, and looks like a mix between the GFS and EURO. Its 18z(midday) run keeps us pretty dry through Sunday night (it had several inches across the Plains Saturday night in its previous run), but really develops snow across southern Colorado during the day Monday, with moisture slowly moving north into Denver by Monday evening.
The GFS remains a bit further north than the other two, and also mainly dry through Sunday night. This model's solution may be the best look for the Denver area for snowfall despite it cutting QPF at today's morning model-run. It's been extremely consistent with this storm, so we are weighting it higher than we may normally, at this time.
Impacts
Placement of the low continues to be "almost perfect" for a big snow in Denver, though the southern bias continues to trouble me. I'd like to see the EURO and Canadian models come a bit further north to feel more confident about the northern edge. So, while our confidence is a bit lower for Denver and north, there is greater confidence for areas south and southeast seeing heavy snowfall with this system.
Impacts will be heavy snow and wind across much of eastern Colorado Monday and on into Tuesday. As currently forecast, the worst conditions may exist over southeast Colorado – especially Monday night – but all travel plans across the Plains Monday and Monday night should be carefully considered.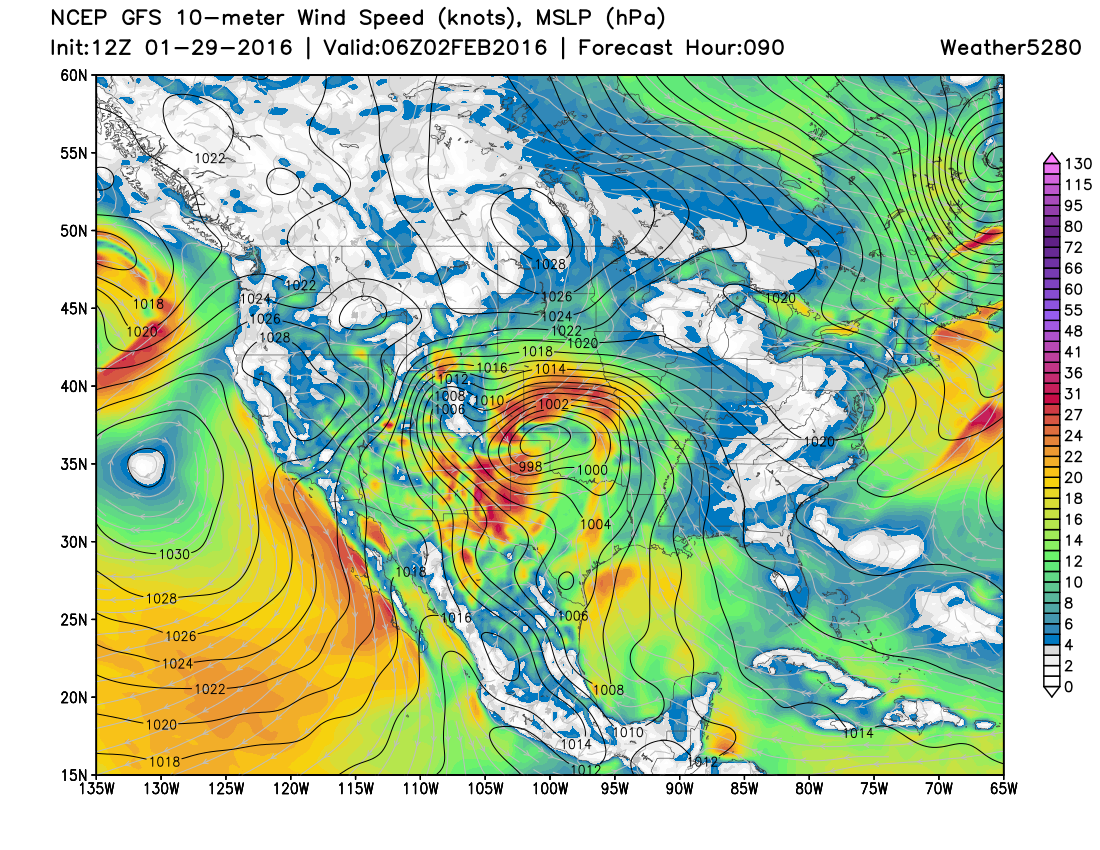 Snowfall totals
Given uncertainties that remain, it's still a bit too early to get too specific on totals. The biggest questions remain around what happens Saturday/Sunday, as this will help shape how things will look Monday/Tuesday. The good news is, that even if we stay mostly dry Sat/Sun, we should still get cold air in place well ahead of the main system Monday, reducing concern for melting and mixing.
For now, we'll mention the potential for >6" of snow in Denver (some guidance suggests much more is possible), with upwards of a foot likely south and east. With Denver remaining on the northern edge of most of the guidance, we'll see how evening model-runs look tonight before getting too specific.
Takeaways
Potential remains for a significant eastern Plains winter storm.
Another nice day Saturday before changes begin to arrive.
Some rain and snow may develop across eastern Colorado Saturday night – we need to watch this carefully! For now hedging toward a drier solution, but the EURO model has us concerned for greater snowfall potential... (looking at you Colorado Springs).
Main event arrives late Sunday night into Tuesday, with the potential for significant snowfall all across eastern Colorado including the Denver metro area. Greater confidence in higher totals exists south and southeast of Denver for lower elevations.
Two biggest questions remaining: What happens Saturday night/Sunday, do we see accumulating snowfall? And where exactly does the low track on Monday.
Greatest bust potential may be across northeast Colorado if low stay too far south.
Any way you cut it it looks like a really great storm for the mountains (yay pow!)
We'll be here all weekend tracking the latest... so please subscribe for updates, and stay tuned!