The melting process has begun; the sunshine has a lot of work to do, though. In case you missed it, check out the snowfall totals from the last storm.
For Denver, the storm left us with 11.3" officially at Denver International Airport. This pushed us above the running average for the season by a few inches. February 2016 will be snowier than average as it only took this one storm to best the 7.7" long-term average for the month.
At this point, I do not see much additional snow for Denver through mid-month. Chances for snow, yes, but at the moment not a big system through the 15th at least. Remember February last year? It was Denver's snowiest on record.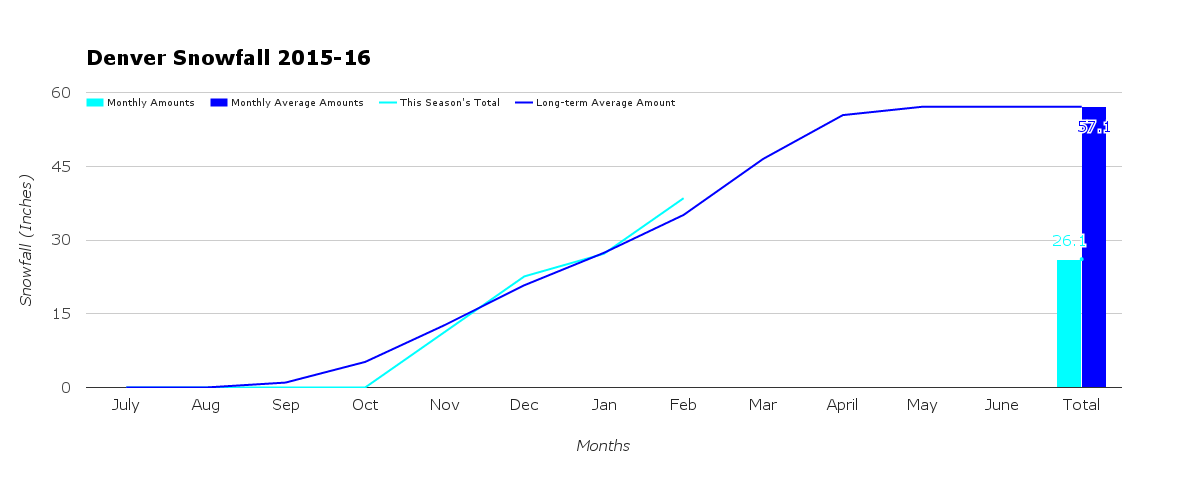 In support of that, the pattern that brought us the storm is gone. Now we are looking at a warming and drying period. The ocean-oscillation patterns are saying we don't have another big storm on the way for a some time.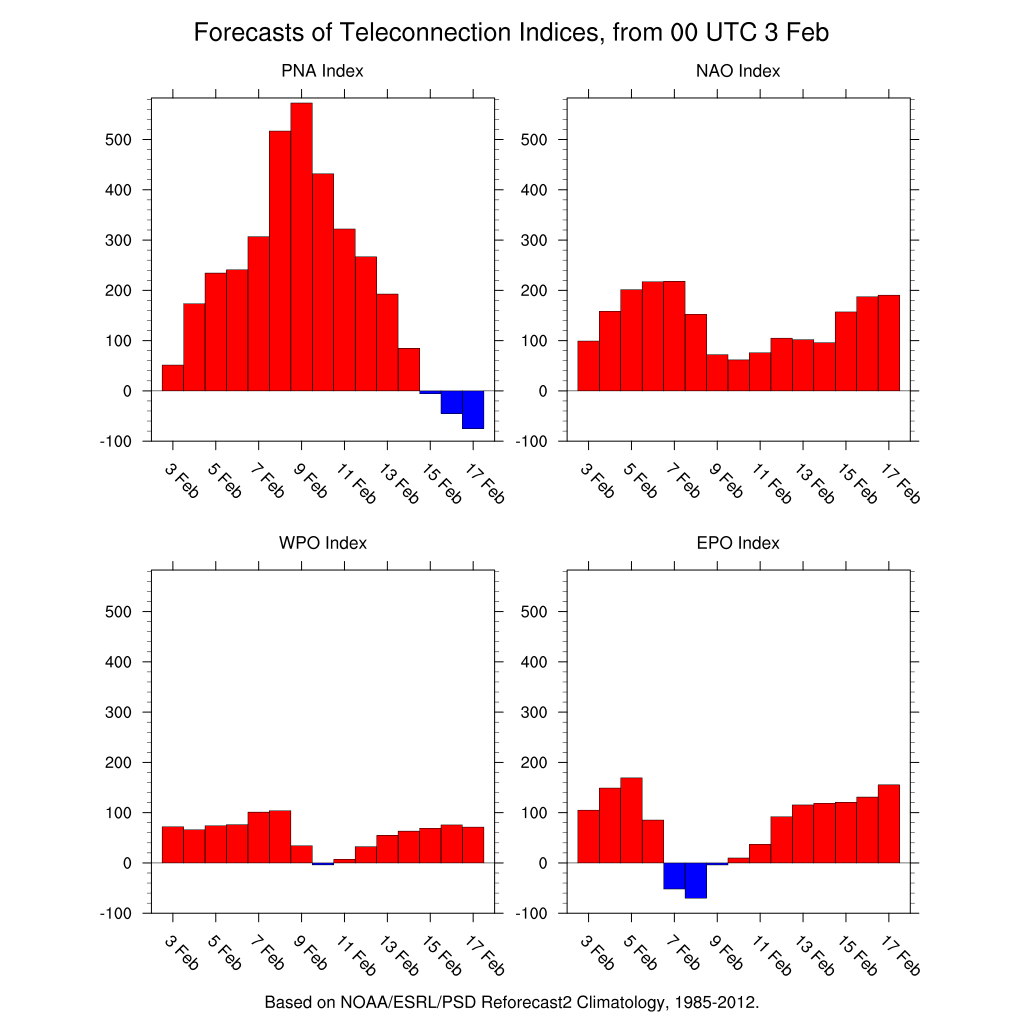 Looking ahead
I see a couple of "little waves" that will bring continued snowfall chances for the mountains, particularly northern mountains, and a chance for snow in the metro area Thursday into Friday and Saturday into Sunday. The chances aren't all that great, however. I suppose some snow chances could continue into early next week, but still not a chance for major snow as I'll only be tracking little ripples in the overall drier atmosphere.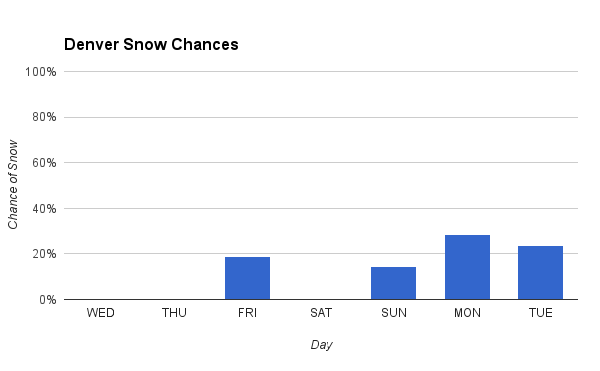 The amount of potential snowfall throughout the period is not much. There's a 5 to 10% chance the metro area could have an inch or two.
For one example, here's the GFS's projection of snowfall through the end of the week.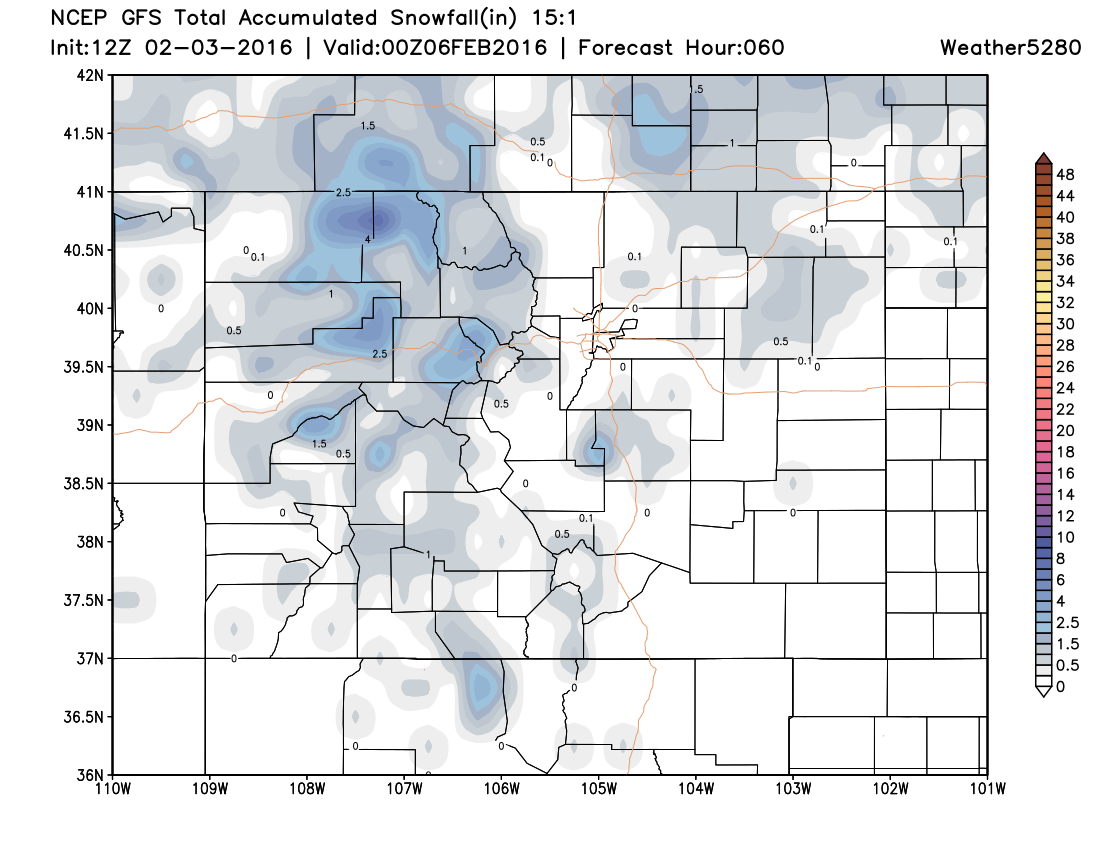 Temperatures
Temperatures will be warming, although, be patient with the warm-up. With so much snow on the ground, most of the sunshine's energy will be spent on melting rather than warming. 30s are most likely through the end of the week, then with less snowpack we may have some 40s by the weekend. NOTE, those in the Northern Front Range down in the Platte Valley (Greeley) will have much colder temperatures by comparison with the cold air entrenched on you.
Super Bowl 50
For those curious, the Super Bowl weather looks great. Sunshine over the Bay Area throughout the day and that clear sky will remain during the game. Temperatures there in the 60s for highs Sunday, cooling to about 55 by the end of the game. Meanwhile, we may be enjoying the Denver SB50 parties inside. Our temperatures look to be likely in the 30s (maybe near 40) with a slight chance for snow.
Enjoy the recent snow, and the sunshine!