Warm Wednesday on Tap as Spring-Like Week Continues
Afternoon highs today climbed to near 60 degrees across the metro area today and will warm even further for Wednesday. Latest MOS guidance suggests highs topping out in the low to mid 60s to Denver, with a few locations likely to flirt with the 70 degree mark by Wednesday afternoon.
The record high for February 10th is 71°, set back in 1990. We may not quite make it to the record, but it'll be close in a few locations, and will almost certainly be one of the warmest days of the year – the warmest thus far coming on January 30th, when the high reached 65° F.
Here is the current high temperature forecast from the National Weather Service for Wednesday across Colorado: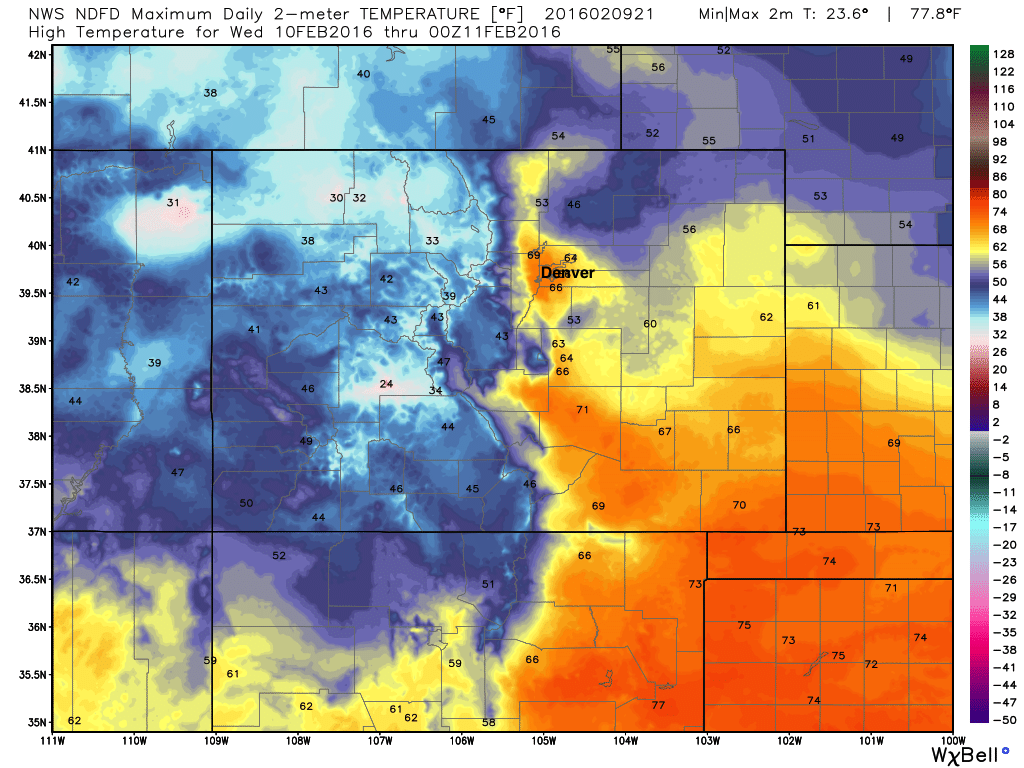 Warmth is the story all across the west as we discussed over the weekend would be the case. Take a look at the forecast temperature anomalies for tomorrow afternoon from the American GEFS ensemble control, very much the opposite look we've seen for much of the winter (reds indicate temperatures well above normal for the date):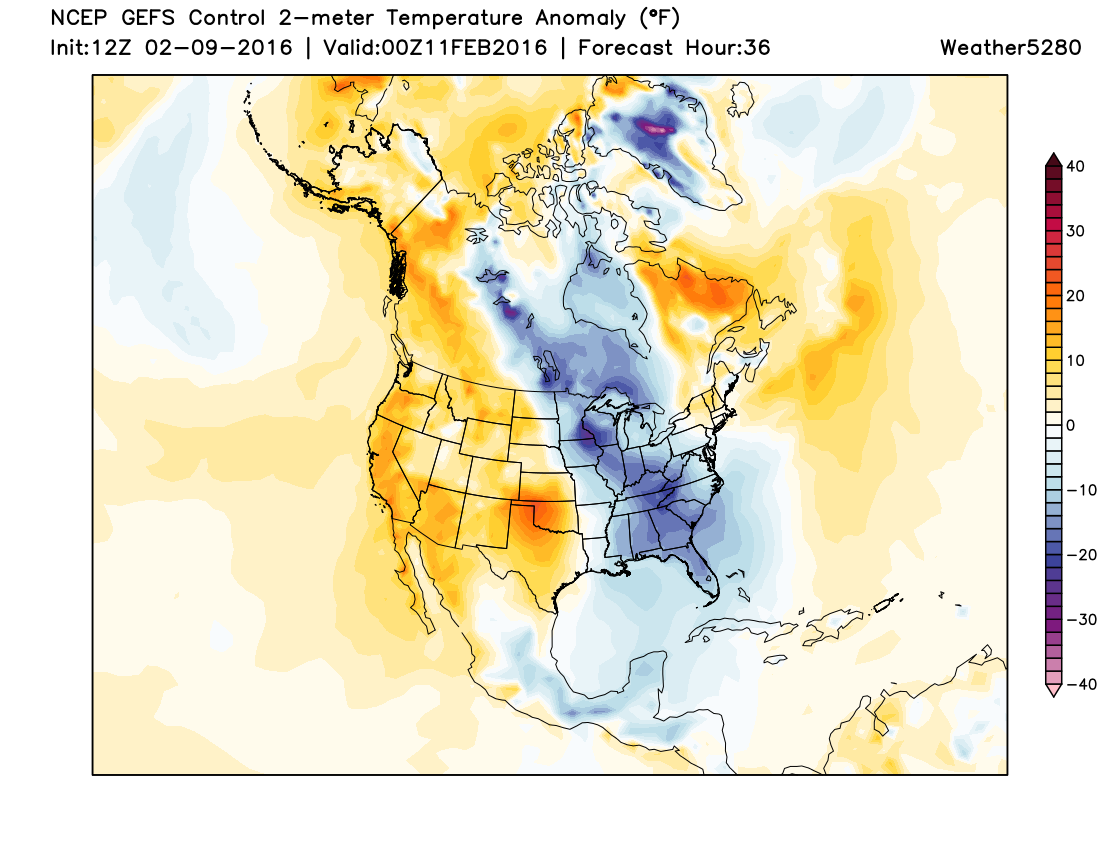 The cold will remain locked up in the east through the remainder of the week as high pressure dominates in the west. What snow does fall across the United States through Friday will be confined to the eastern states, with nary a flake to be seen across the west. Here's the NAM snowfall forecast through Friday for the United States: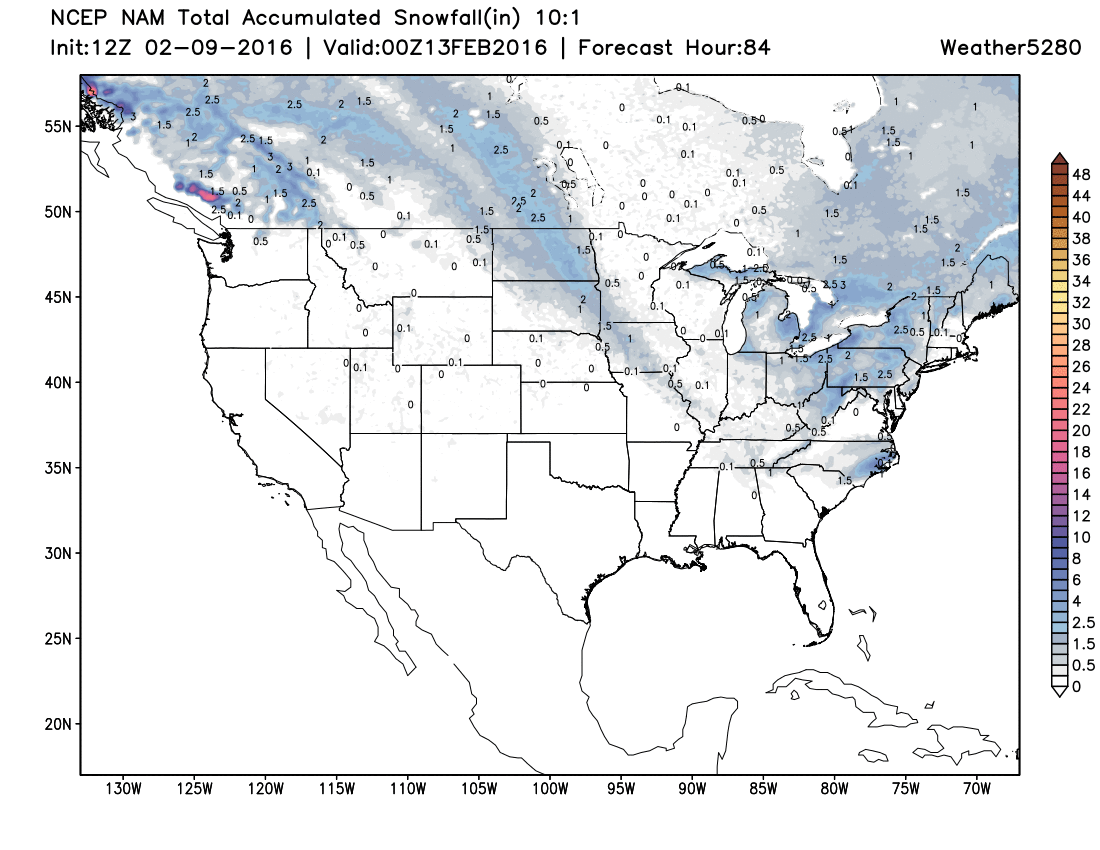 So, winter cancel? Likely not, but no doubt we're in the midst of one of the biggest relaxes so far this season. As for when our weather will turn a bit more seasonal... it may take some time. We continue to think that the latter half of February may have some tricks up its sleeve, as well as the month of March. For now we wait, and at least keep one eye on the 18th - 21st timeframe, when models are trying to go negative once more with the PNA, or at least get close.