Despite how things feel across the Front Range today, a large-scale pattern shift has been underway across the United States all weekend. This will lead to a period of very wet weather across much of the western U.S., but what this eventually means for Colorado remains very much in question.
Below is the WPC precipitation forecast through Friday for the United States. Note the heavy precipitation headed for much of California and the Pacific Northwest, as well as a very heavy rainfall event for the south-central states. For Colorado, we see some moisture return to the mountains and a bit across northeast Colorado, but mostly dry conditions prevailing for the southeast corner of the state: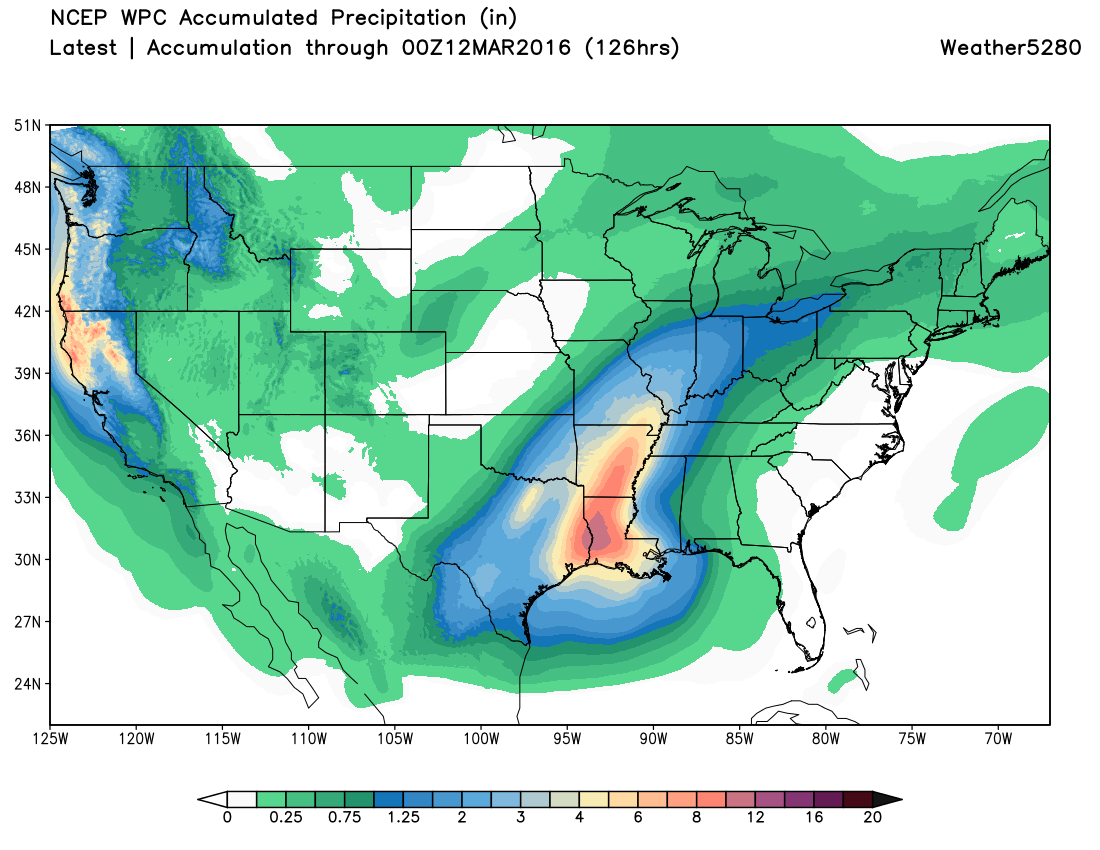 This is the result of a very strong Low cutting off over southern California, then dropping south into Mexico, before eventually tracking northeast into the south-central United States. This track is an unfavorable one for a good eastern Colorado storm.
For Colorado...
For the week ahead our best chance for precipitation in Colorado comes tonight through Tuesday, with maybe some precipitation working into southeast Colorado by midweek, if the GFS is correct.
A Winter Weather Advisory is up for the western mountains, and goes into effect Sunday evening through Monday evening. The potential for 5 - 10" will exist in these areas, with likely some rain mixing in at lower valley elevations.
Across northeast Colorado changes also arrive tonight, with a chance for rain and snow Monday and Monday night. A surface low develops across northeast Colorado Monday and will help enhance rain and snow showers along the Front Range and northeast across the Plains into Monday night.
For the time being, it looks like any precipitation that does fall in the Denver area will likely come in the form of rain Monday afternoon, with maybe some snow mixing in if we can keep precipitation going late enough Monday evening.
The GFS QPF forecast reflects this chance for rain and snow over the next 48 hours or so. The best chance for precipitation across northeast Colorado may end up across the Palmer Divide south of Denver extending northeast of the city, but we'll keep about a 50 to 60% of at least some shower activity in the forecast for Denver Monday afternoon. A few showers that develop may be convective in nature, so wouldn't rule out a bit of thunder across the Plains Monday, with more isolated areas seeing the potential for 0.5 - 0.75" of precipitation Monday.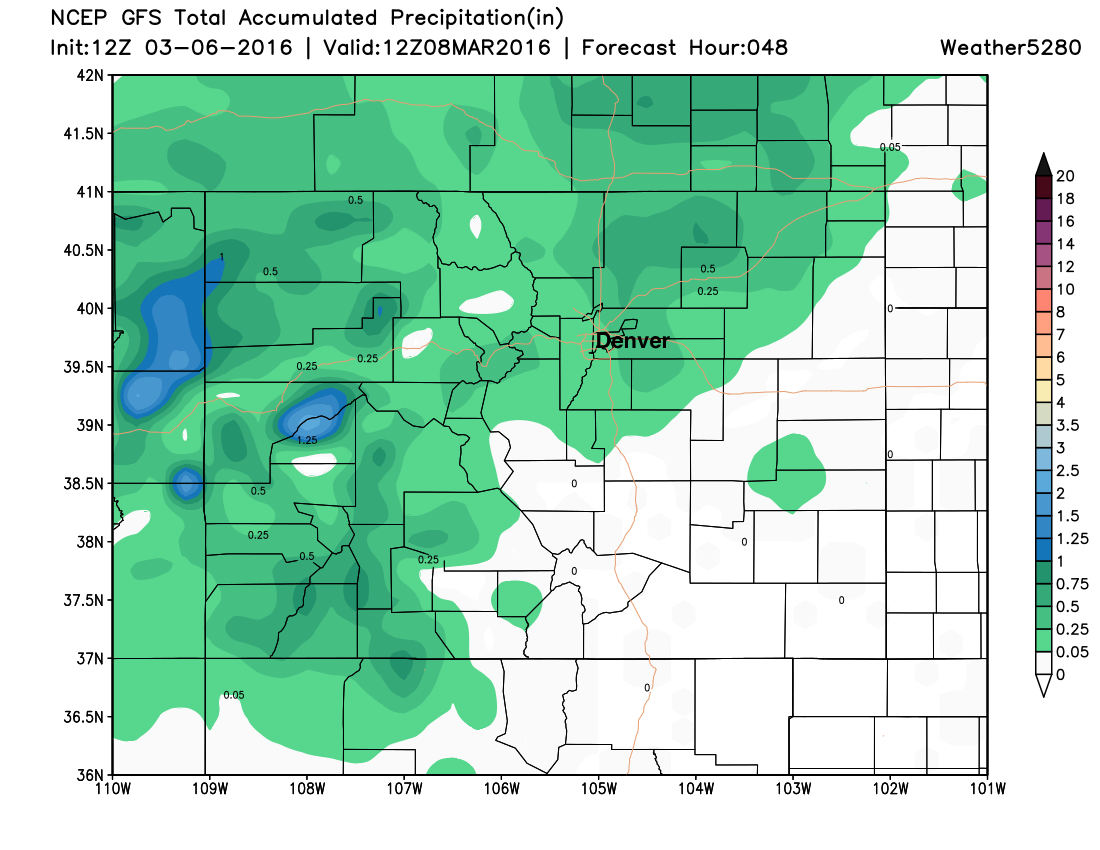 The GFS snowfall forecast also looks pretty reasonable. Some nice totals at higher elevations across western Colorado, but limited snowfall across eastern Colorado. If we can cool things sufficiently, a sloppy inch or two across higher elevations to Denver's west and south will certainly be possible.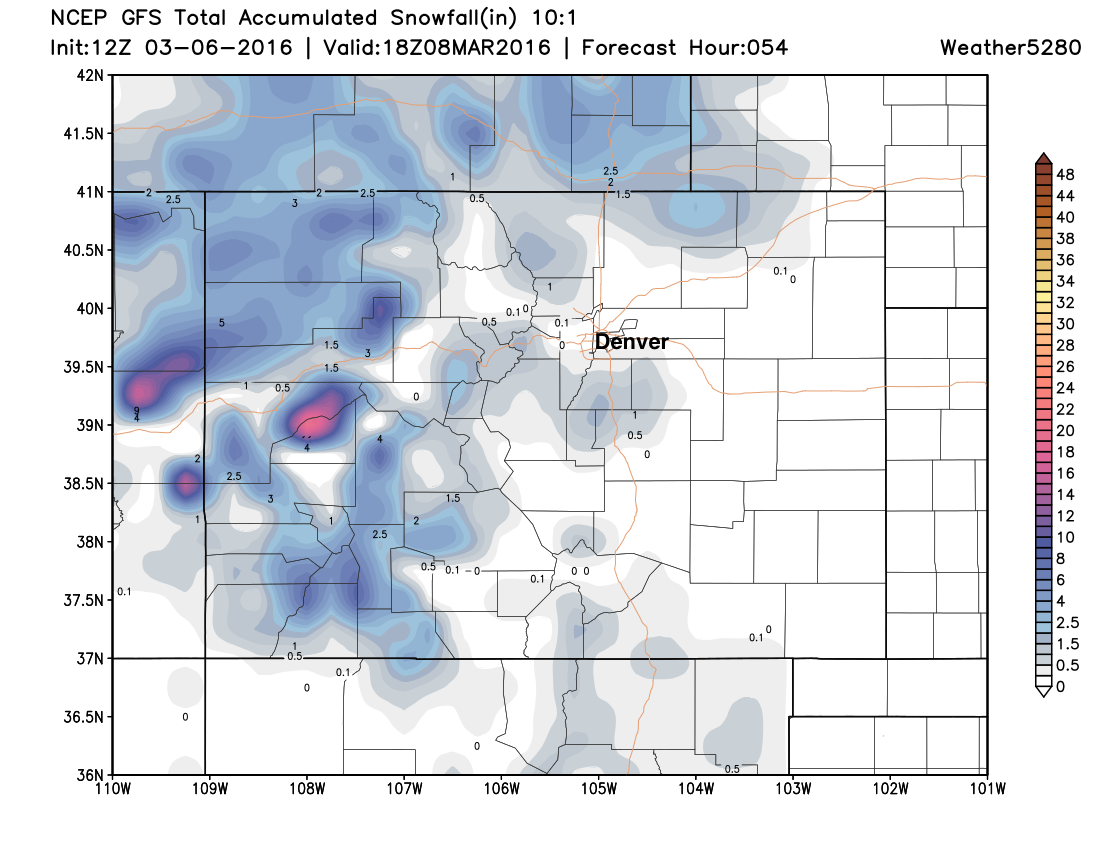 So, not the huge mountain snow that we need, but any snow is welcome after a month of very dry conditions in the high country.
Temperatures
While temperatures will be much colder Monday than highs we've seen this weekend... the forecast, by and large, is not a cold one by any means, really for anywhere in the United States. In Denver highs will top out near 50 degrees Monday, but will warm to (well?) above normal once more as we dry things out later in the week.
In fact, there's no significant cold signal showing up anywhere for the next week or so – with a few below normal readings along the west coast and southwest as systems work through, but no arctic air to speak of anywhere across the CONUS.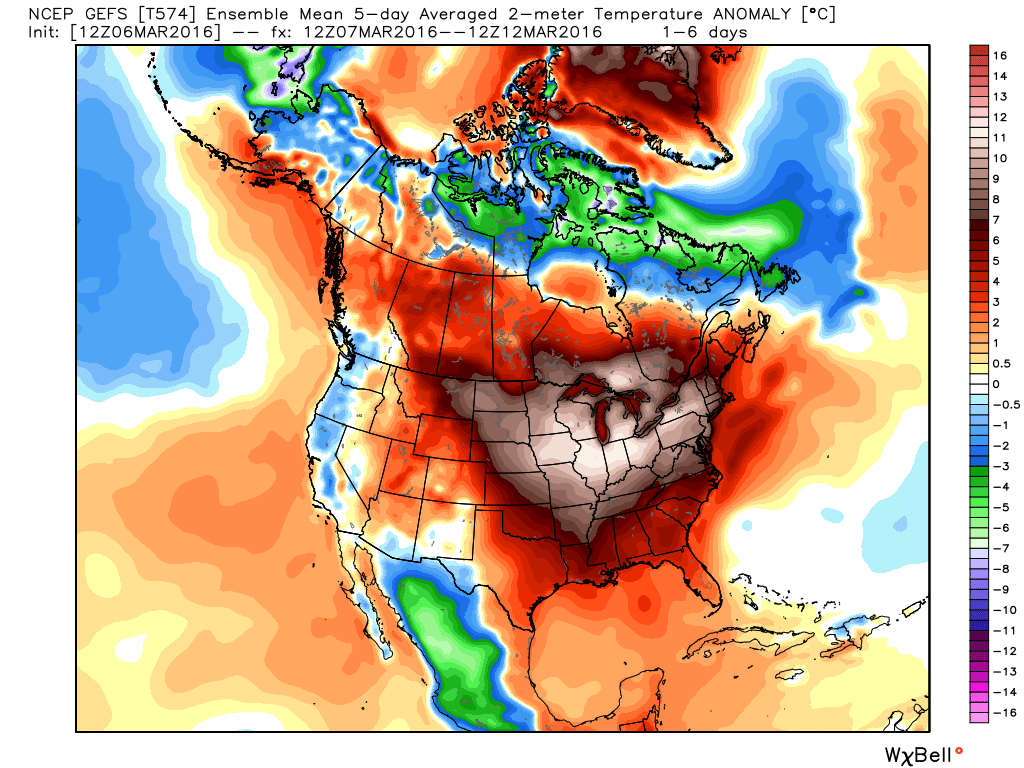 So, how about that pattern change?
While there's been decent confidence in this shift for some time now, you'll recall our two cautions when it came to this shift having any meaningful impact on eastern Colorado. The first, of course, is eventual track of each of these systems that move into the west. The parade of storms coming onshore in the west means little if they end up too far north, too far south, or too progressive as they move east. The second – temperatures. Of the first several systems that will traverse the state over the next 10 days, this continues to look like a big concern for snow-lovers at lower elevations.
While we've got a lot of folks pointing out that modeling isn't producing much for snow in the near-term, I'll say this... we've got the storm train rolling in full force in the west, but whether we can capitalize on one (or more) of them or not remains the big gamble. At the same time, given how modeling has been struggling of late, it may very well be the case that if a storm for us does come along... they may catch it late.
At face value it feels bad right now... and for snow-lovers we're running out of time for a significant snow at lower elevations. That said, we aren't giving up yet – here are a few reasons why:
The western ridge has taken a huge hit. It looks to pop up again from time to time as we head through March, but will struggle to hit and hold as it has in recent weeks.
The 10 day snowfall forecast looks great across the west, even the Colorado mountains will try and get in the action...
Troughing in the west... which means nothing if we can't get anything to line up for eastern Colorado, but keeps the opportunity there for the foreseeable future at least.
Much colder air by mid-March? Could be, the GEFS has been hinting at this for some time (today's Canadian too!)... and other signals are pointing to some pretty cold air working into the pattern beyond day 8 or so...
So the waiting game continues... Will we come out of this March/April period wetter than normal? We certainly hope so given our forecast and where we may be headed for the summer, but it's certainly not a given. We've got the pieces in place, but this means little if we can't close the deal.