No real change to the going forecast this afternoon as our system is progressing more or less as expected. After highs earlier this morning in the low to mid 40s around town, we've now dropped temperatures into the low to mid 30s, with scattered snow showers and flurries being reported across the metro area, and heavier bands of snow falling north in Fort Collins, Loveland and Greeley. Rain shouldn't be much of an issue with this system, as cold air is already making its presence felt.
We continue to think areas north and west of Denver will stand the best chance at greatest snowfall totals; with again some greater bust high potential for snow-favored locales south of Denver extending through Elbert County. Fort Collins and Boulder are two cities we have in the 4 - 8"+ forecast range, and have already seen some moderate snowfall at times. Areas just east of there along the I-25 urban corridor will see 3 - 6" of snow, with widespread totals of 2 - 5" extending into the eastern Plains of Colorado. Here is our snowfall forecast issued last night, of which we won't make any last minute adjustments to:
For Denver proper the forecast remains a bit tricky, due in large part to warm surface temperatures after weeks of mild weather. Given that uncertainty, we'll stick with 1 - 4" in the city, but certainly given the cold temperatures today, totals in excess of 4" can't be ruled out for someone. Latest SREF and EURO guidance would suggest greater totals will be possible in Denver proper, so this is something we'll need to watch for as the storm progresses. Those at higher elevations closer to and in the foothills will see the greatest chance of higher snowfall totals. The National Weather Service has issued a Winter Weather Advisory for Denver, which calls for 3 - 6" in the city. It goes into effect at 6pm tonight, and continues all day Friday.
If you live farther south (Monument / Colorado Springs), you will see snow too. Colorado Springs will likely end up in the 1-4" range from this storm, with higher totals just to the north of the city.
While this won't be a huge storm, it will likely be enough to slow travel. The Friday morning commute will be dicey for many areas, as well as Thursday evening – especially for cities north of Denver. Outside of the mountains, locations along the Palmer Divide and northward will have the worst road conditions. This is especially true for secondary roads, and roads that are removed from the warmth of the city. With temperatures dropping fast Friday night, many roads will likely remain quite slick. However, if you take it slow and allow extra time, you should be okay.
For timing... expect snowfall to continue to fill in from north to south this afternoon, with snow becoming likely in Denver Thursday evening and continuing overnight into Friday. Snow will remain in the forecast off and on through the day Friday, before gradually tapering off from north to south across eastern Colorado through Friday evening.
Behind the snow will be some unseasonably cold temperatures Friday night and Saturday morning, with lows likely to dip into the teens and single digits early Saturday, before warming to near 40 by Saturday afternoon. Here's a look at the latest GFS forecast for 2-meter temperatures early Saturday – cold!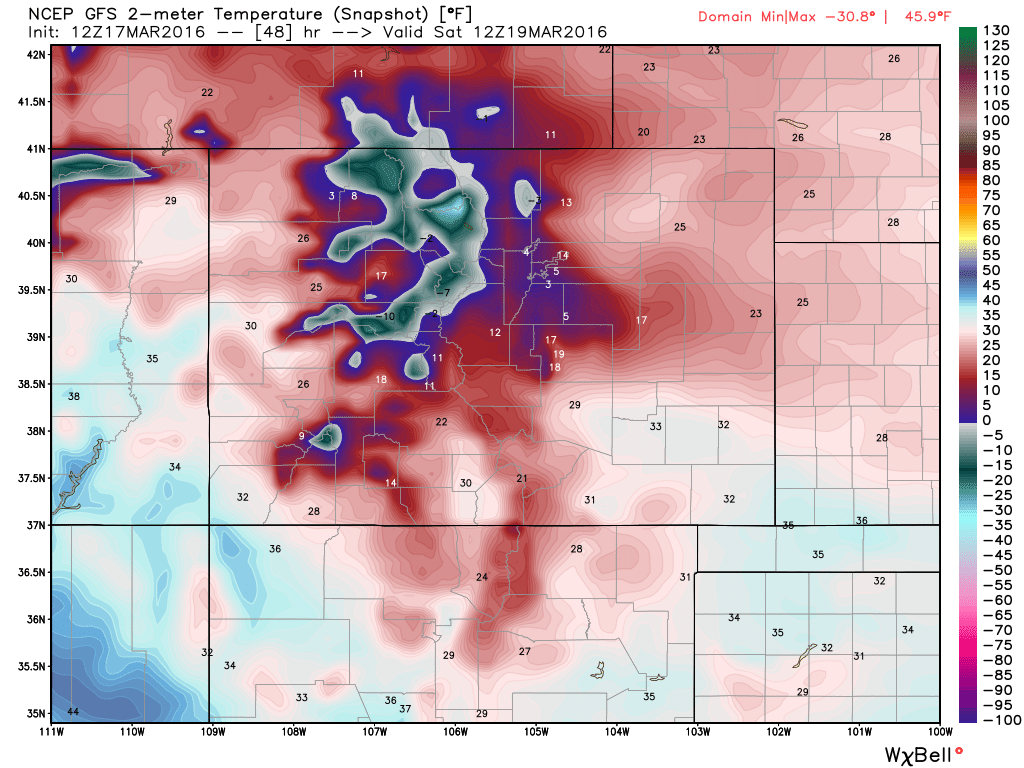 We'll warm things up by Sunday across the region which quite a bit of snowmelt happening quickly as this storm exits to our east and warm air as able to filter back in. Latest guidance would suggest this won't be our last taste of winter for the month, so definitely keep an eye on the forecast!
We love getting your reports and images, so please share in the comments below! Also be sure to find us on Twitter (@weather5280), and Facebook!