We won't be making any adjustments to our snowfall forecast from last night at this time. Only change will make is taking the BI up a notch on the southwest side, and lowering it a notch across the plains. For Denver and north we'll lower the BI, as 1 - 2" (low range forecasts) should be manageable. After highs today again climbing into the mid and upper 60s across eastern Colorado – rain, snow, wind, and chilly temperatures are back in the forecast beginning tonight and extending through Wednesday.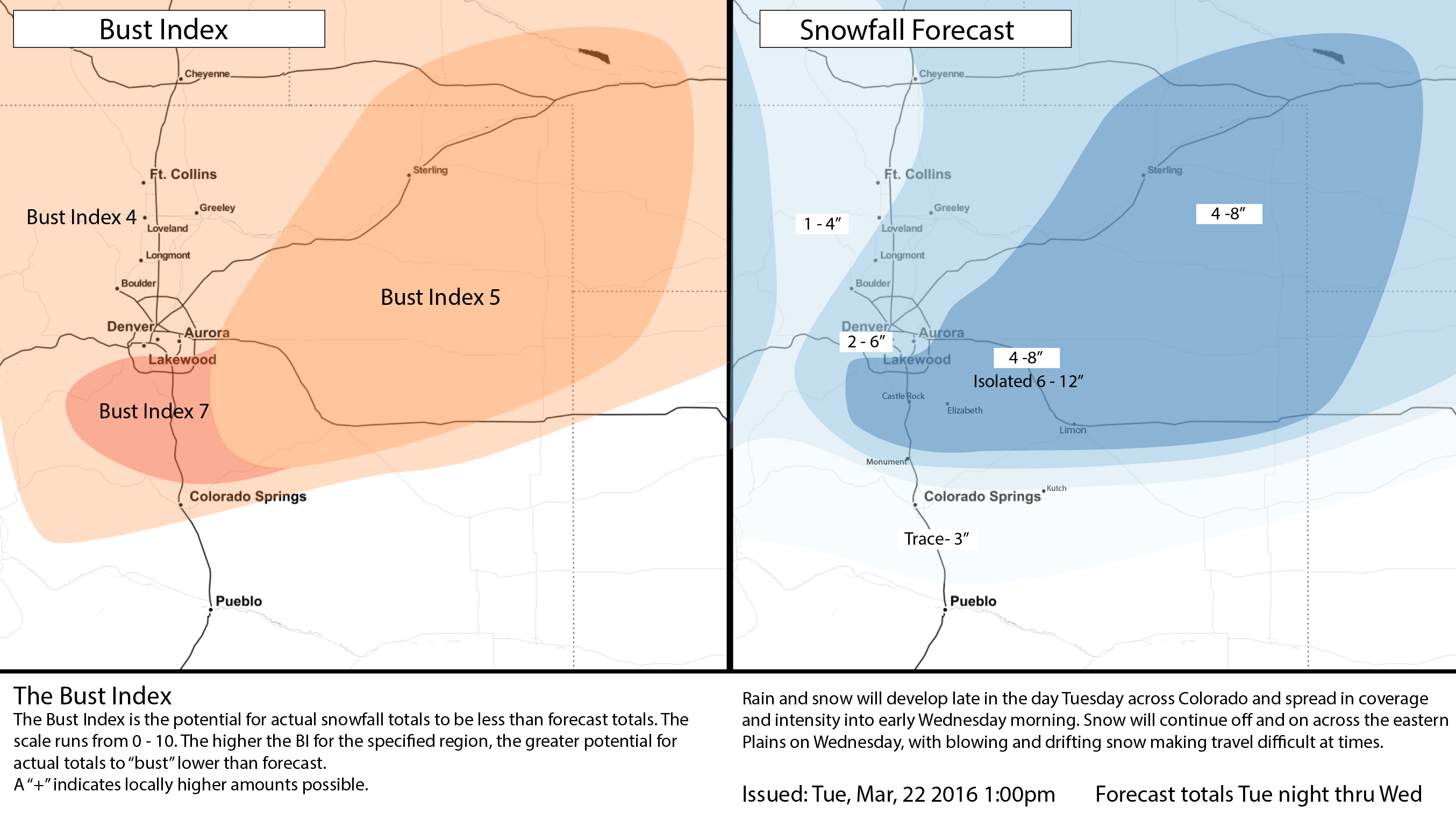 Inconsistencies remain in modeling today, mainly in handling how fast the system scoots east, and how much downsloping will limit snowfall in and along the Front Range.
While the differences are subtle, the impacts are big. The latest ECMWF deterministic model puts 4 - 8" (last night was 10 - 14", though 4 - 8" better matches its ensemble) of snow in Denver, while the latest GFS operational puts down about 1 - 3" in the city. While we're going to continue to weight the ECM a bit higher given how well it did last week and how consistent it's been with this system for several days now. There's no denying, however, the concern that downsloping kicks in and kills snowfall along the northern urban corridor before it gets a chance to pile up.
While the western extent of heaviest QPF remains in question, there's good agreement that the area of best convergence will be east of Denver – somewhere – and with that there will be a swath of very heavy snowfall somewhere in our 4 - 8" range, pushing at least isolated higher totals in wherever that ends up being.
While numbers may be a bit high, especially given daytime snowfall / warm surface temperatures, the overall look of the NAM may not be too bad. Both the 12km NAM (left) and 4km NAM (right) show very clearly where downsloping will likely limit snowfall along the northern front range (north of Denver), and the heavier snowfall across southeast Denver extending northeast out onto the Plains.
The 12z Canadian shifted a bit north, and with that it puts the heaviest snowfall along and north of I-76, with lighter snowfall along the Palmer Divide. Sounding forecasts for early Wednesday suggest the Canadian may a bit too far north with heaviest QPF in its 12z run.
The 12z GFS screams downsloping, and is much further east than most of the other models with the western extent of the precipitation. If the GFS wins out, this will be more or less a non-event for Denver and the northern urban corridor. However, you can see that if this QPF field shifts just a bit further west... Denver, especially east of I-25, will see some good moisture from this storm. Below is the 12z GFS snowfall map (left) and precipitation forecast (right). Note the very prominent downslope signature limiting snowfall/precipitation right along the foothills:

So, taking all these factors into consideration... we'll stick with our forecast, and see how things pan out. 2 - 6" still looks most reasonable for Denver proper, with the potential to be higher or lower depending on how far west the heavier snowfall is able to get. Out east there will be big variations in totals, as banded snowfall and strong winds will lead to uneven totals where we have our 4 - 8" (isolated 6 - 12") forecast.
Farther south, there will be a very tight snowfall gradient once you get south of Monument Hill. Minimal accumulation expected for Colorado Springs, where wind will likely be the biggest problem. While areas to the north-northeast of the city will likely see several inches of wind-blown wet snow.
TL;DR
A winter storm will begin impacting the region later today, with rain and snow developing across the Plains late Tuesday night and into Wednesday morning.
Temperatures may take some time to cool, so precipitation may begin as rain for some, while higher elevations will be all snow from the onset.
Temperatures Wednesday will be some 20 to 30 degrees colder than they are today across northeast Colorado
Small differences in speed/track will mean big differences in storm impacts. A GFS solution would put Denver's snowfall at the low-end of forecast (if that!), while a EURO solution would put Denver snowfall at the high-end of our 2 - 6" forecast.
Those living along and east of I-25 stand the greatest chance to see greatest snowfall totals with this storm.
WIND will be a big issue, especially out across the eastern Plains. Should your travel plans take you east along I-70 or I-76, please plan for hazardous travel conditions, check with CDOT for road conditions, and or delay your trip a day.
*Ranchers that live in the high impact area need to make sure sensitive livestock has adequate shelter...especially any new born calves.
Our system moves out Wednesday night.
Whew! As always, keep us up to date with your storm reports in the comments below. A tricky, typical spring, forecast on tap for the next 24 hours or so – so hold on! We're still tracking another chance of snow right on the heels of this storm (Friday), so stay tuned!