When we said we were leaning closer to the ECMWF over the other global models, we should have leaned a little harder. Interestingly enough, the ECM model nailed this system all runs but one – yesterday's morning run. Its deterministic consistently showed >8" for much of Denver, with pockets of 12"+ across northeast Colorado. Yesterday it came more in line with our forecast, which was certainly a confidence boost, but by last night both its ensemble mean and deterministic snowfall output had doubled, producing roughly 12" of snow at DIA. It was the most bullish model leading up to this event, and even it fell well short(!) with forecast QPF vs what actually fell.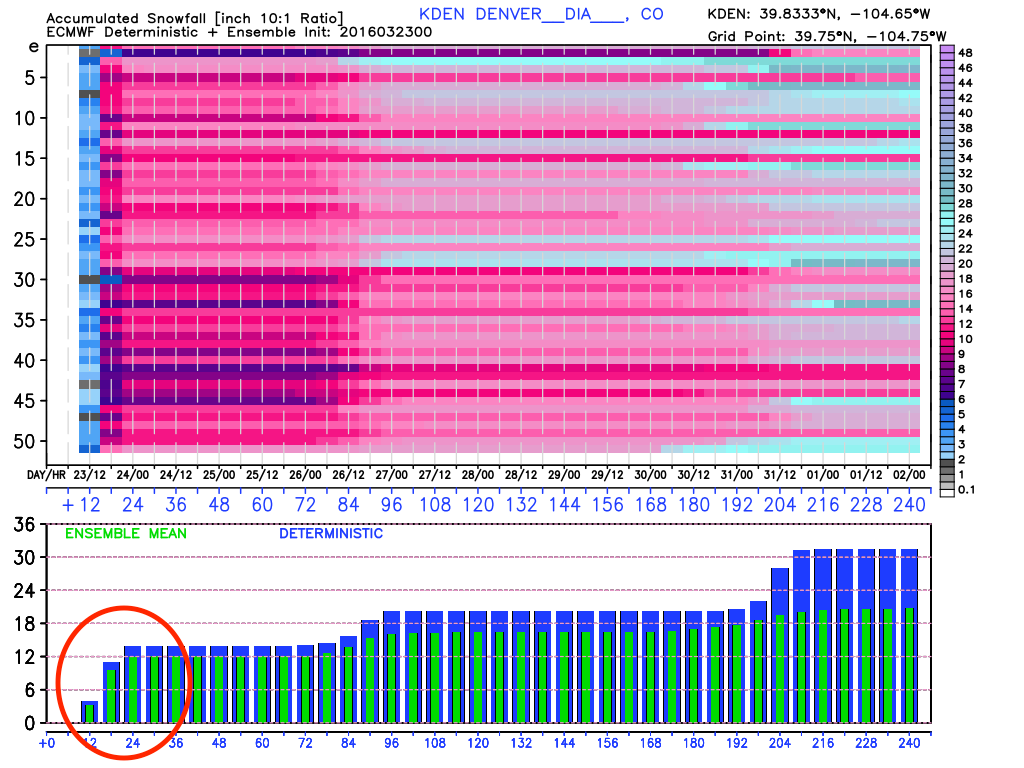 And so was the theme last night. As we reiterated time and again over the last week – a slight shift in storm track/speed/intensity or all of the above would have dramatic impacts on our storm. As the evening wore on, it became clear that the westward extent of the heaviest snowfall would indeed end up much further west than originally anticipated.
In some respects, the forecast worked out, but we ended up low on snowfall totals in many (or most) locations, especially north and northwest of Denver. Timing, impacts, WIND, and a dramatic change from 70 degrees to HEAVY snow? Check. Bottomline, this is a classic example of what a March storm can do here in Colorado. They are always very dynamic, have tricks up their sleeve, and can deliver some serious snow and wind. In recent years, these types of storms have been hard to come by, but this has certainly been a good one for many.
Take a look at the 24 hour temperature change from Tuesday afternoon to early this afternoon. You can even see the low east of Colorado: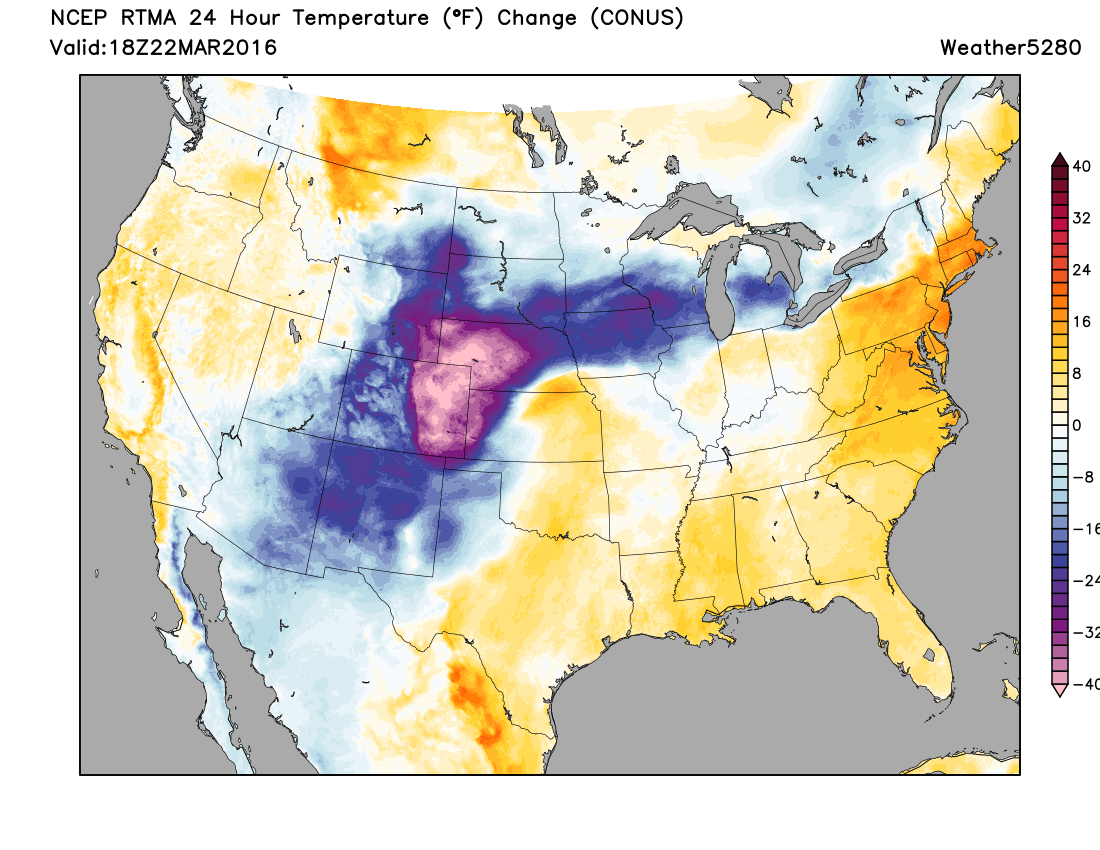 That's 30 to 40 degrees COLDER across eastern Colorado than the day prior: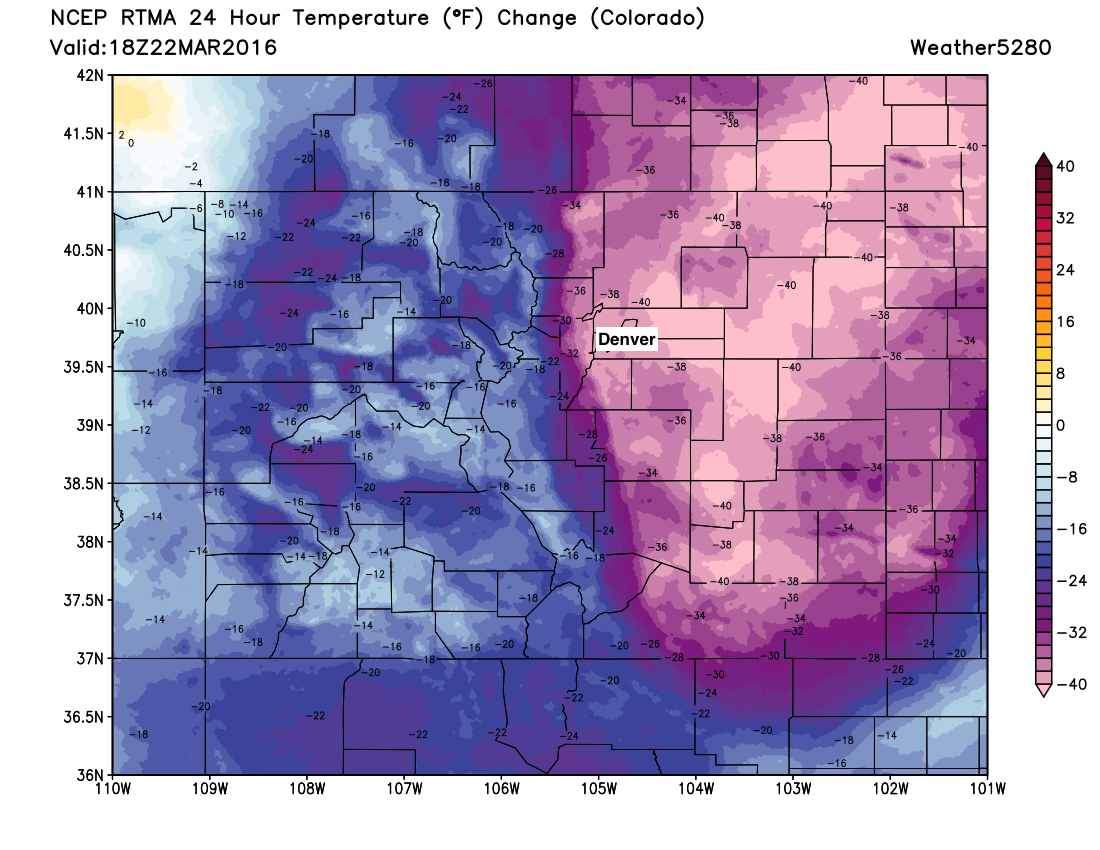 The change has certainly been dramatic. Unfortunate that the shift happened over night, but here's a great timelapse showing the shift in weather from yesterday to today from the Broncos, pretty cool:
There are a couple of interesting aspects of this storm that can be seen on the 12Z Denver sounding.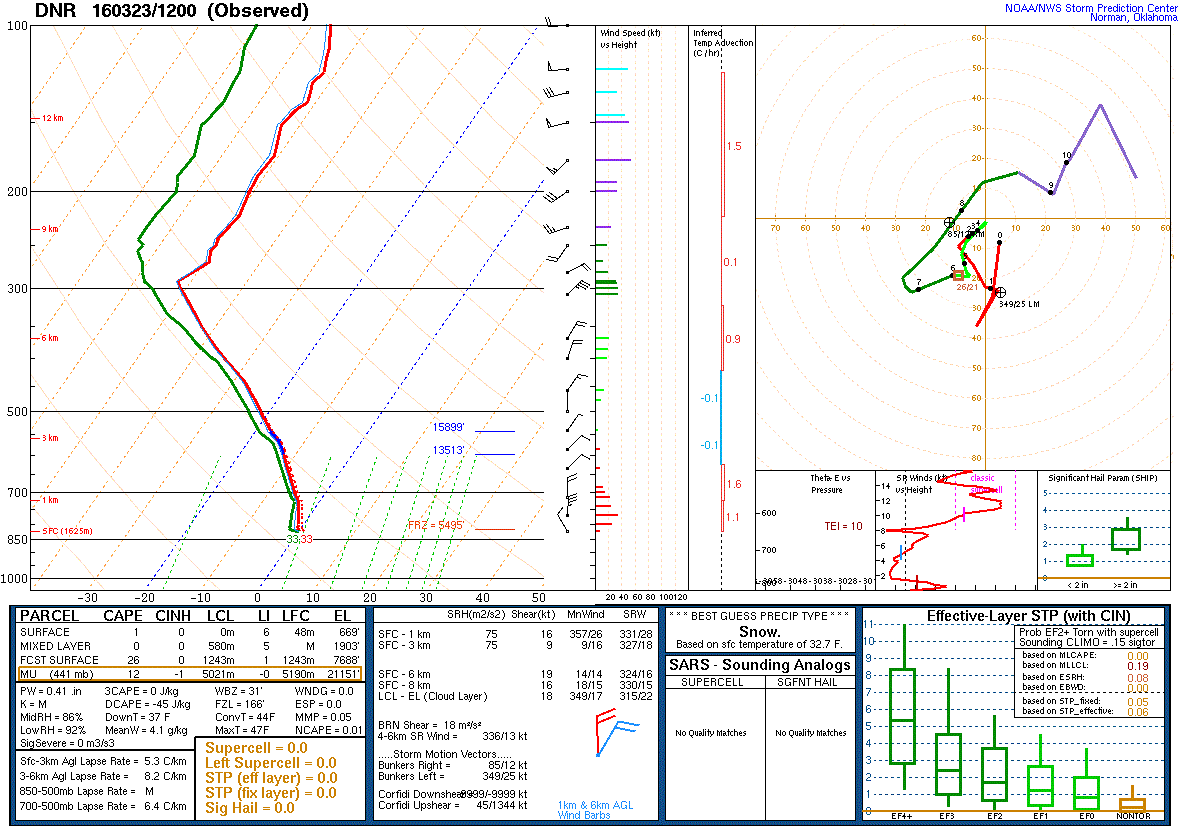 First, we can see that upslope extends upwards to around 300 mb.
Additionally, there is a 35 knot (~40 mph) barrier jet around 800 mb (just off the surface of the ground). A barrier jet forms when air flow is directed toward our mountains from the plains and the mountains act to stop that airflow. As a result of the mountain-blocking the air cannot simply "stack-up" so it has to take a detour. That detour causes the air to move along the mountains rather than against; this results in a northerly wind. This low-level feature can accelerate and become quite strong. Barrier jets can increase the amount of cold air that moves in and can also act as a lifting mechanism causing higher snowfall rates/totals. The barrier jet that set up today is partially responsible for the 1-2" snowfall rates that occurred over much of the Urban Corridor. Below is a radar loop showing heavy snow over Metro Denver earlier today.
There is also a very deep column of moisture extending throughout nearly the entire troposphere. This resulted in a precipitable water value of 0.41", which is very impressive in terms of winter weather. Due to there being a lot of moisture in the atmosphere and temperatures hovering around the freezing mark, the snow that is falling today is of the heavy, wet variety.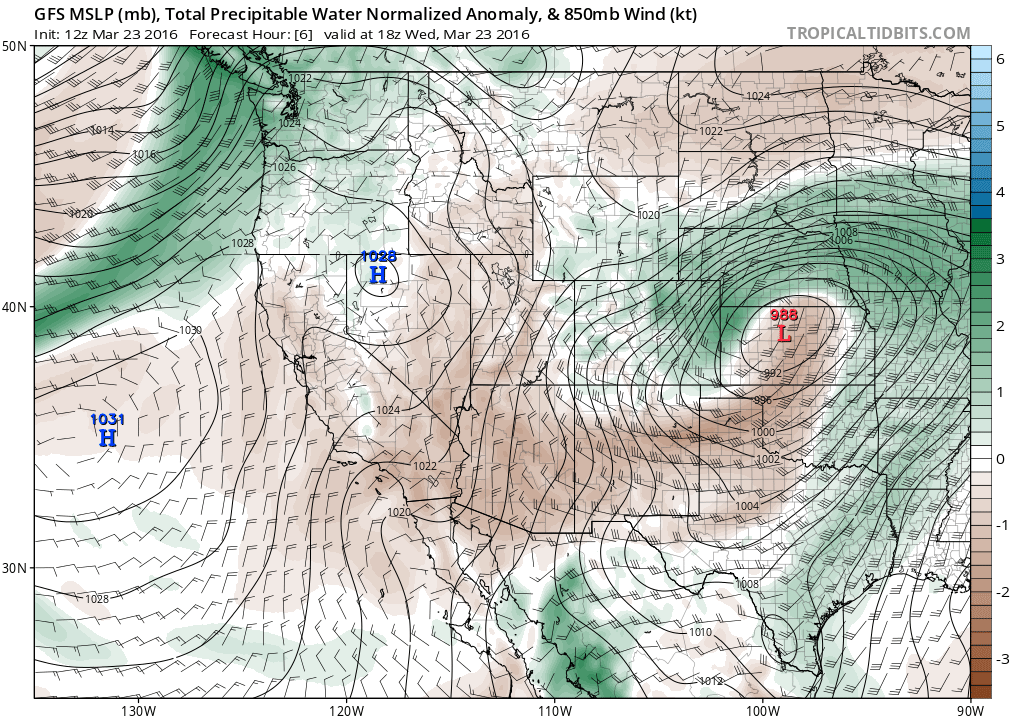 Impressive snowfall totals
Here's a map of latest snowfall totals, we'll continue to update as more come in this evening. Click and zoom map to explore.
| Location | Total |
| --- | --- |
| 3mi SE Pinecliffe | 30.1" |
| Jamestown | 27.0" |
| 4mi E Boulder | 24.8" |
| Federal Heights | 21.0" |
| WNW Aurora | 20.2" |
| Broomfield | 20.7" |
| Thornton | 20.0" |
| Evergreen | 20.5" |
| SSE Denver | 18.0" |
| Castle Rock | 17.0" |
| 2mi SE Boulder | 15.7" |
Next Storm:
And we aren't done. Another storm will impact us later Friday night and Saturday. While this storm won't have the teeth this storm has had, it will produce more snow.
GFS Model 12am Saturday: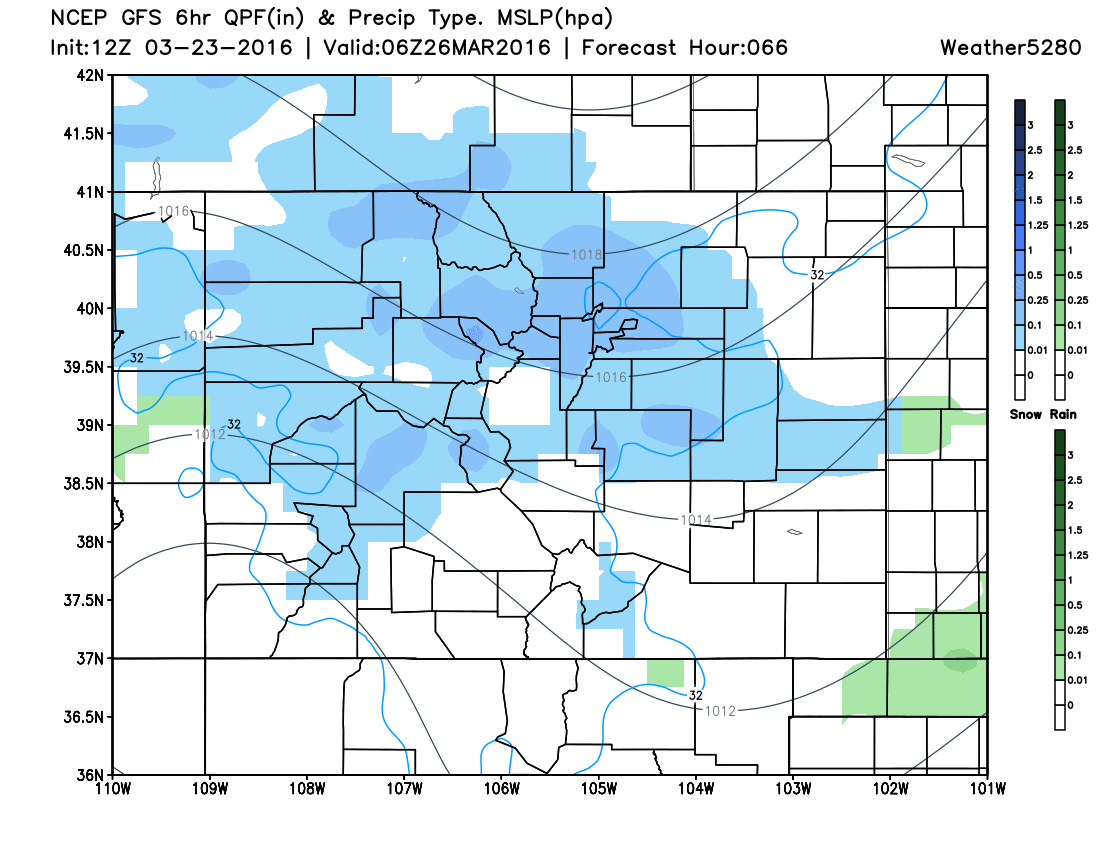 The GFS brings snow in late Friday night and gradually gets it out of here late Saturday. This storm will produce more accumulating snow, but likely not nearly as much as the present blizzard. That being said, it will still impact travel on Saturday. More importantly, it will likely provide moisture to some areas that got skipped by this storm...I.E. Southern / Southeast Colorado. We'll have more details on this storm as we head into tomorrow.
No sugar coating this one, a rough forecast for totals from all outlets. We hope you all enjoyed this incredible March storm (we were long overdue!) and that you were able to stay warm and safe during the duration of the event.