The state of the atmosphere is hot and dry. Yesterday we posted some stats on 100 degree temperatures in Denver, shortly before DIA would go on to hit a high of 102° Sunday afternoon, setting a record for the date. Yesterday was the first time in two years the city officially logged a 100° reading, so a hot day indeed.
Related: Cold Springs Fire destroys 3 homes, 0% contained
With the heat, we've also seen gusty winds and dry air help drive up the fire danger across the state, especially along the Front Range. A Red Flag Warning remains in effect for all of the Front Range mountains from Wyoming south to New Mexico through this evening, as fire conditions are forecast to be bad once more today. Here's the latest outlook from the Storm Prediction Center, highlighting critical fire danger for the mountains east of the Divide today.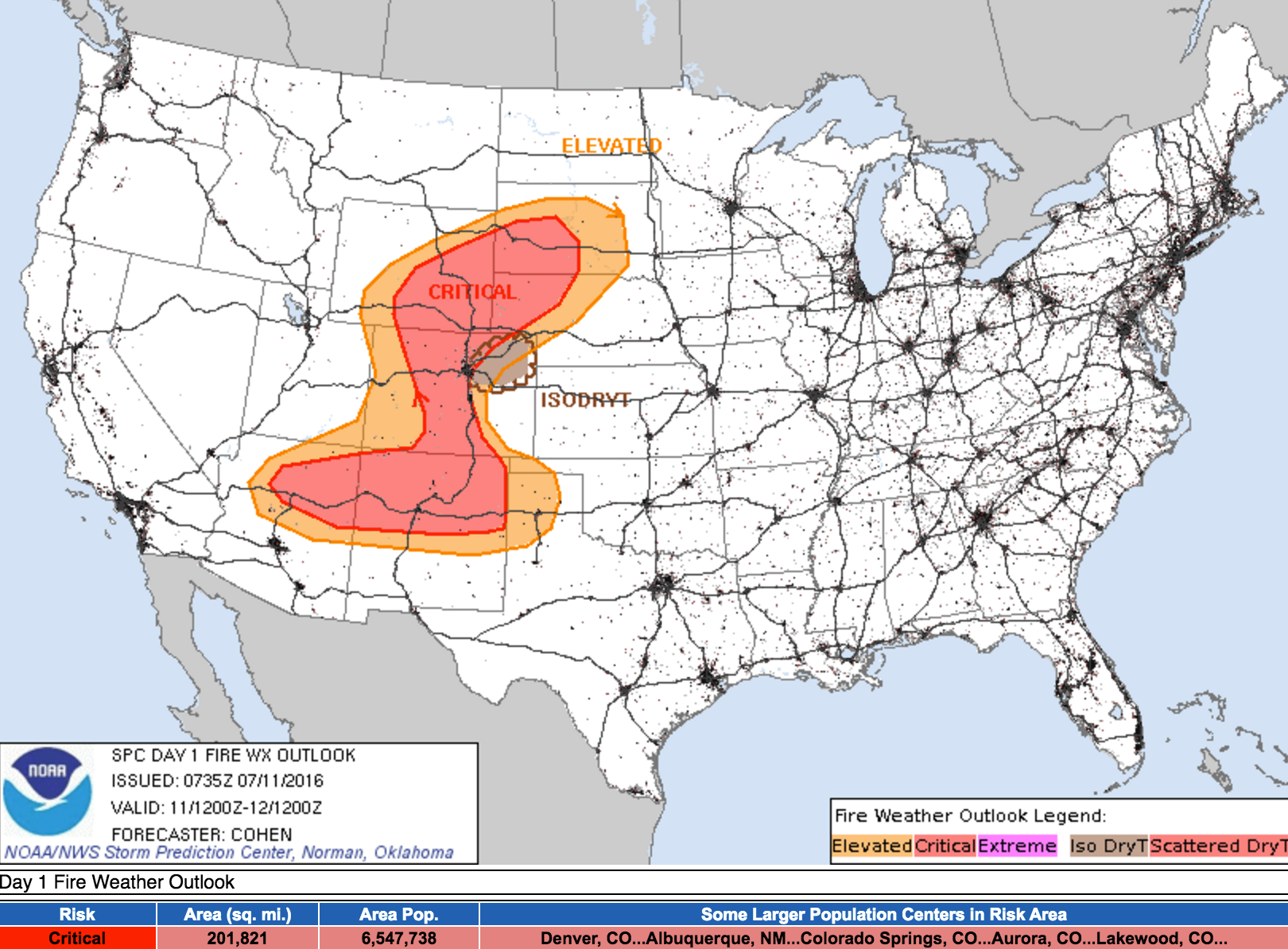 Winds through this afternoon will be out of the west from 10 to 25mph with gusts upwards of 40mph at times. The relative humidity will be LOW across the state, with values from 5 - 15% in the "Critical" zone mapped above. Below is a look at the NAM forecast for winds (left) and RH (right) today, not good for area fires.

Unfortunately, there's not a lot of relief on the horizon for either the Cold Springs fire or the Hayden Pass fire. Today will at least feature lower temperatures than we saw Sunday, but as far as precipitation goes... the forecast is bleak. In fact, latest forecast models are showing virtually no measurable precipitation for the most of the high country through Sunday, with just isolated storm chances for the Front Range mountains: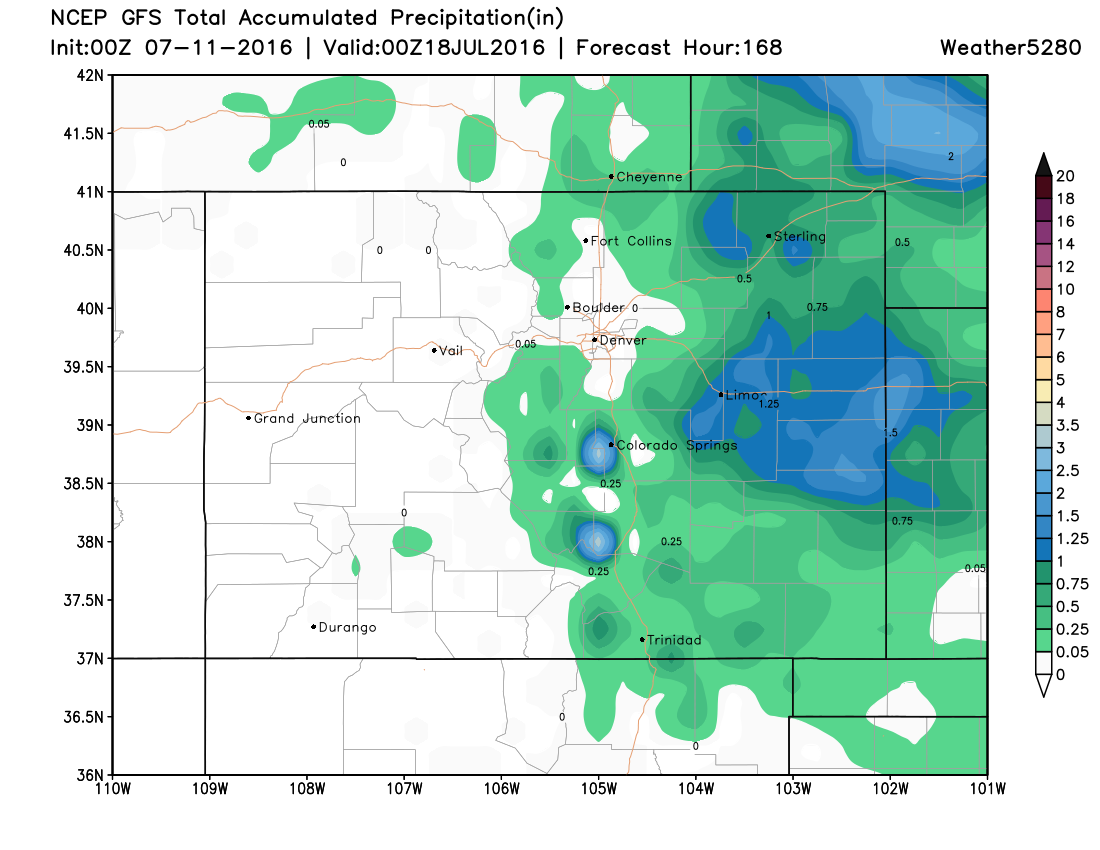 Across the plains we'll see a bit better shot for some moisture on Thursday, and possibly Friday. A cold front will Thursday will help usher in the greater chance for storms, and also knock temperatures back a few degrees as well. For now, the GFS is most bullish with precipitation across the plains (see map above), but other models are suggesting decent storm chances as well, especially along and east of I-25. Clearly not great news for the mountains where the fire danger continues to rise, but we'll always take moisture anywhere we can get it across the state.
As for temperatures... we won't see highs anywhere near yesterday's extreme heat at least for a few days, as temperatures return to more near-normal levels for much of the week. That said, it won't be cool either, with daytime highs from the upper 80s to low to mid 90s in Denver through Saturday. By Sunday and on into early next week ridging builds back in, and temperatures may once more creep on that century mark...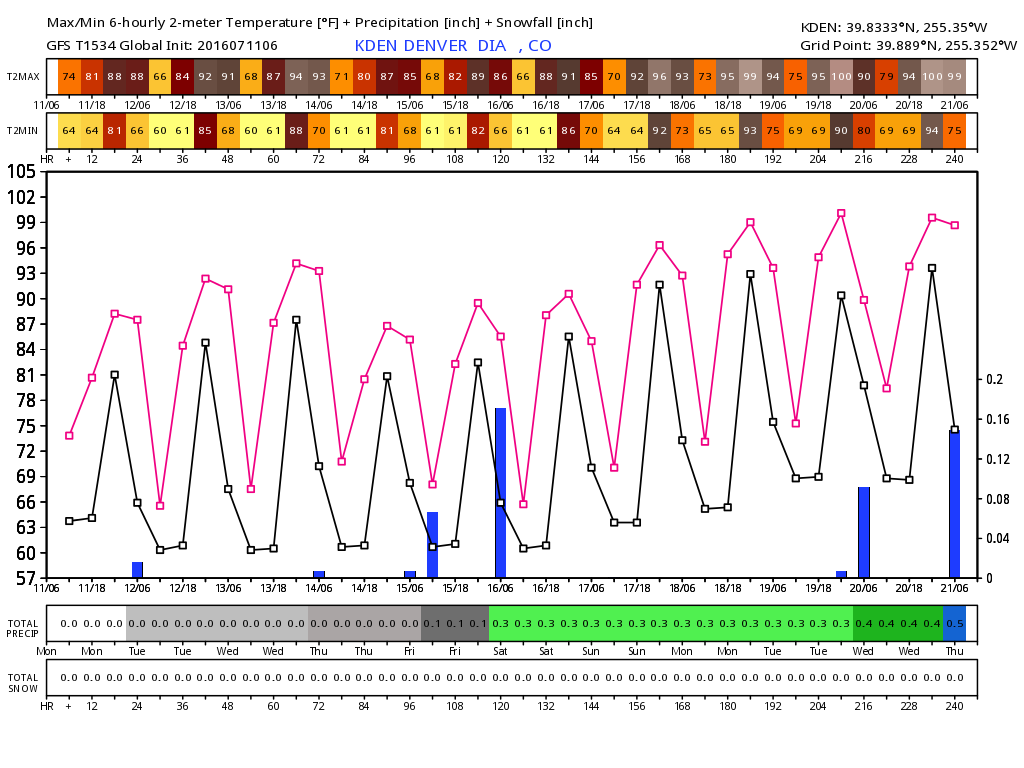 Stay cool out there this week, and please... no burning!