After a brief warm up today, we're already tracking the arrival of our next chance of snow across Colorado. For those of you living in the greater Denver area, this system isn't looking like a huge deal for you. Greatest snowfall chances look to be in the Front Range foothills, south of town along the Palmer Divide, extending east across the Plains along the I-70 corridor.
This will be a quick moving storm, and in many respects not nearly as strong as the one we saw race through here this past week. You can see this in the forecast image below from the GFS (American model). The blue dip over Colorado is our storm Monday night into Tuesday (left to right). Notice how quickly the blues fade by Tuesday afternoon, and compared to other anomalies on the map, we don't see any deeper purple and greens over the state. This indicates a progressive, quick-moving system that will bring another shot of cold air to the Front Range, but not likely a whole lot of snow for us.

The mountains will fair a bit better. In fact, Winter Weather Advisories and Winter Storm Warnings are for most of the high country, with anywhere from 5 -10" expected for the northern Front Range to 8 - 20" across the San Juans.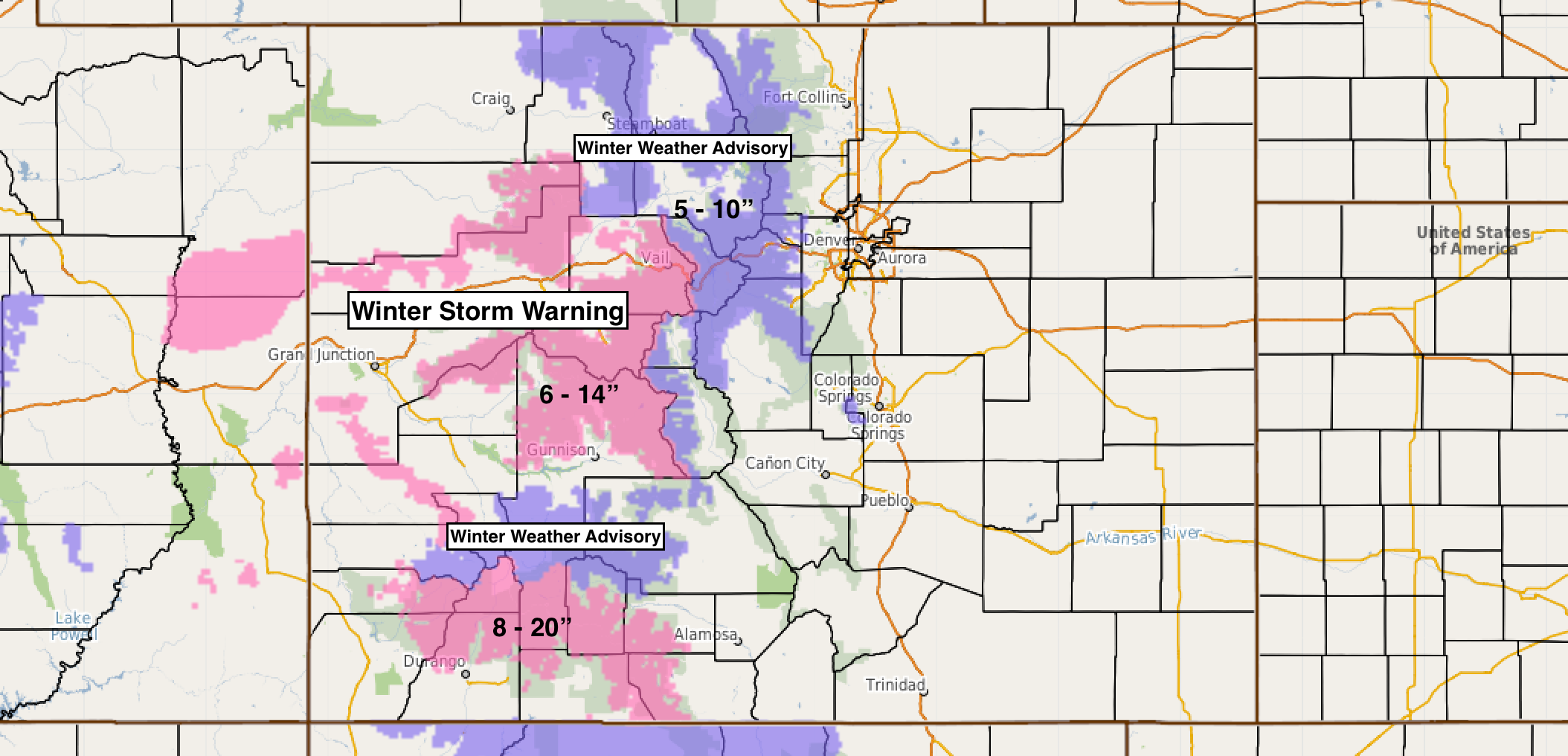 This of course is great news after an incredibly slow start to the season for the high country. While the system earlier this week favored more northern locales, it's great to see southwest Colorado targeted for this next system getting set to roll through.
Highs will climb in to the 60s today across much of the I-25 urban corridor. Monday again may be on the warm side depending on the speed of the front, but as soon as it moves through, plan on a streak of chillier days ahead for the area. The latest MOS guidance has high in the 50s for Denver on Monday, but then 40s for highs through Friday. Tuesday should be the coldest day of the week with highs near 43° for the city, with scattered snow showers, especially before noon. Beyond Tuesday, the city dries out, but several short waves will push through during the remainder of the week, which could bring additional snow chances to the high country.
As for snow, again, we're not counting on much at this time, though we'll need to keep an eye on things of course. Below is a look at the latest GFS forecast. Today it's backed off even more for snowfall potential along the I-25 corridor, with just a trace to 1" across Denver's western suburbs, and areas between Denver and Colorado Springs.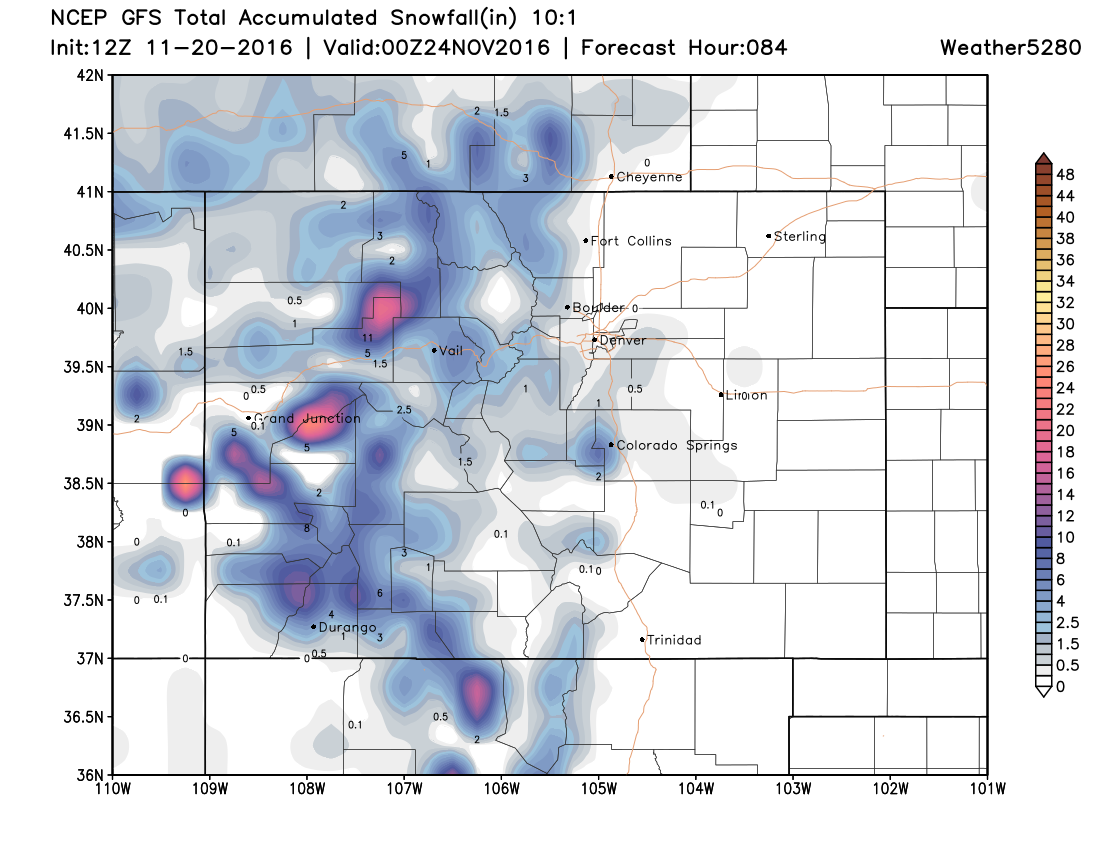 If we compare that to the 12z 12km NAM model, we see pretty good consistency here. Again, great snows for the southwest mountains, with just a trace to 2" across the greater Denver area. Those living along the western Palmer Divide and foothills immediately west of Denver could see more like 1 - 3" of snow Monday afternoon through Tuesday, with little to no snow north of the metro area.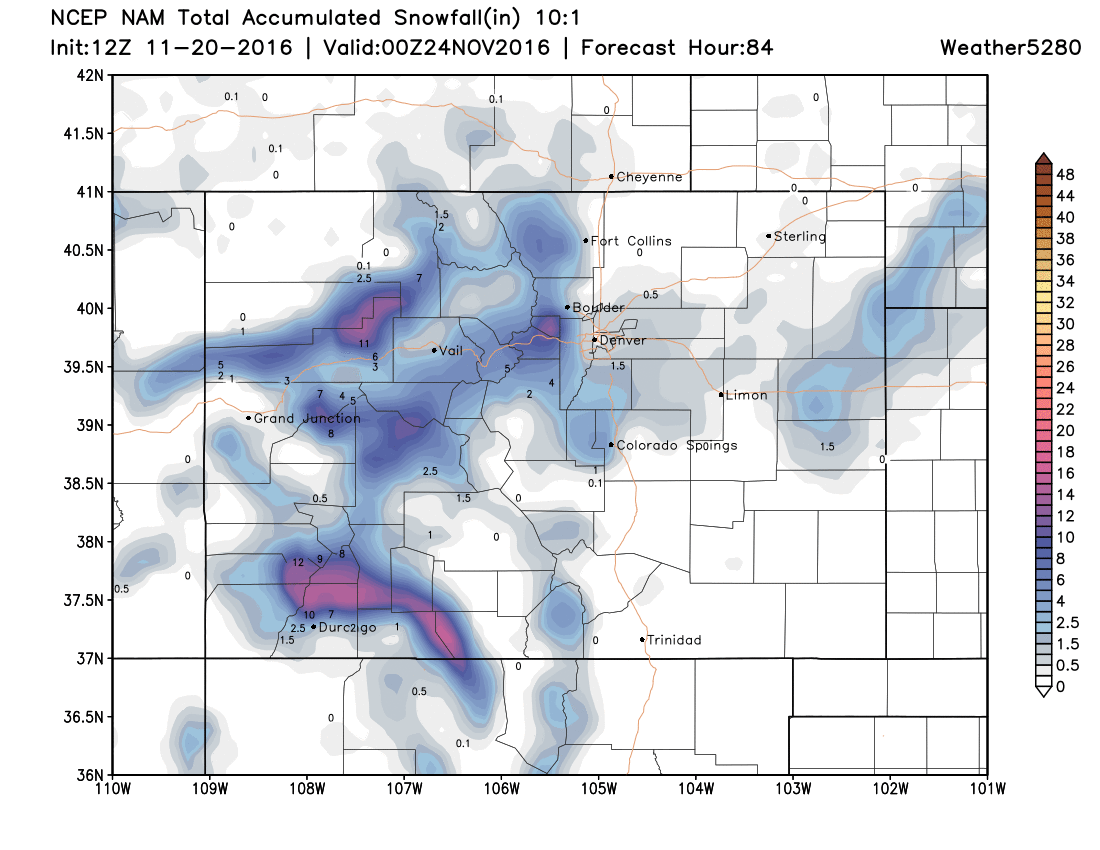 A few regional forecast totals for Monday afternoon through Tuesday:
Denver: Trace - 1"
Boulder: Trace - 2"
Parker: Trace - 3"
Castle Rock: Trace - 3"
Monument: 1 - 3"
Colorado Springs: Trace - 1"
Fort Collins: 0" - Trace
So, while still no big blockbuster storm for the area, we've at least temporarily transitioned to a more seasonal pattern after weeks and weeks and weeks of dry weather and above average temperatures. The week ahead will feel much more November-like, with chilly days, and a least a chance for a bit more snow to kick things off.
We discussed this mid-month transition with our Insider subscribers several weeks ago, and it's certainly nice to see it come to fruition. The question now of course is, will we be able to capitalize on some meaningful moisture before we flip again? The answer is maybe – we're tracking a least one more system that could have more legs with it for the last few days of November.