As we discussed last night, a wintry change is on the way this week as arctic air spills south, and a chance for snow moves in for Tuesday and Tuesday night across northeast Colorado.
Still some uncertainty today with regard to how much snow we see from this system. The NAM and GFS models are both producing quite a bit of snow around here, while the EURO and Canadian are much drier. The latest off run of the GFS (18z) looks like it's come down a bit too from previous runs, which we'd expect to see tonight as well.
We are leaning toward the drier solutions, for the reasons we've been mentioning for some time now. Systems out of the northwest like this are more often than not moisture-starved, and models have a difficult time in forecasting QPF (precipitation) accurately. We often see models ramp up QPF leading up to the event, only to see them crash in the 11th hour. So, while the GFS/NAM need to be watched, consistency from the EURO and history, would suggest they are overdone at this point – despite some outlets running with them for official snowfall forecasts at this time.
Setup
The 12Z GFS showed the trough dig further south than what yesterday's runs were showing, placing eastern Colorado in the left-exit region of a 125 knot jet. This would certainly give us the possibility of seeing of some jet-induced snow, or areas of heavier snowfall. This is indicated by the brighter colors driving across Colorado in the map below: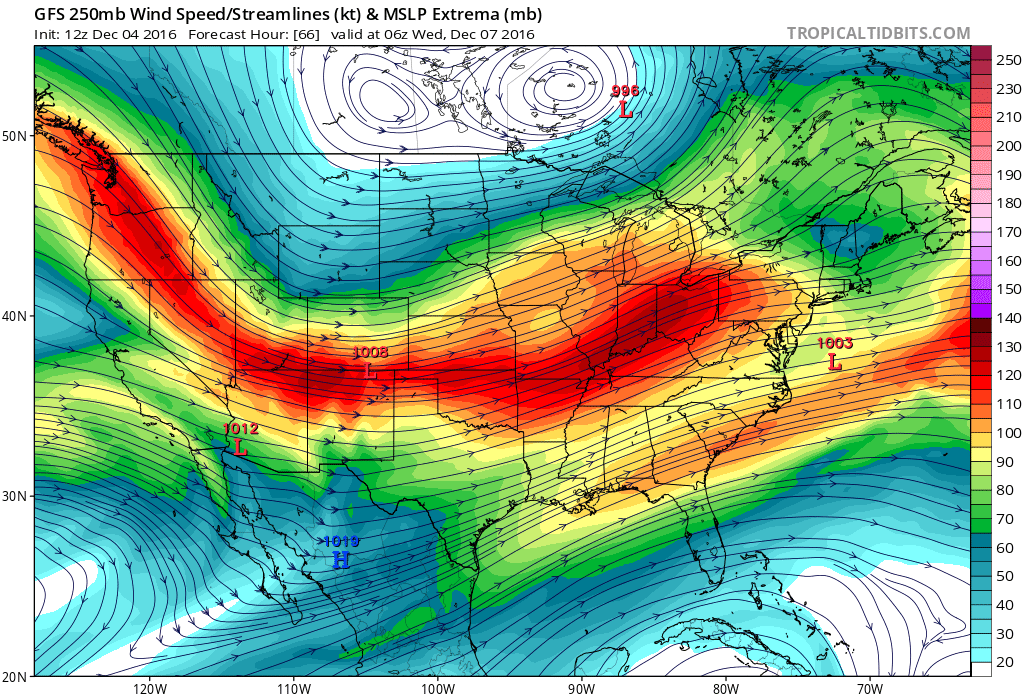 The 12Z GFS also had 700mb winds remaining primarily out of the south or southwest until late Tuesday night and into Wednesday morning. This is not conducive to snow for Denver, as this translates to downsloping off the Palmer Divide.
If the 12Z GFS is to be believed, there is a narrow window of northerly 15-20 knot 700mb winds early Wednesday, which would bring us our best chance of seeing snow in Denver, with higher totals likely over the Palmer Divide. Keep in mind that very chilly air will already be in place over northeastern Colorado.
Here is a sounding from the 12Z GFS. For the weather geeks out there, note how the area in the -10°C to -20°C is saturated (the temperature and the dewpoint profile are very close to each other), which is conducive to dendritic growth. This is the type of fluffy snow that yields high snow-liquid ratios.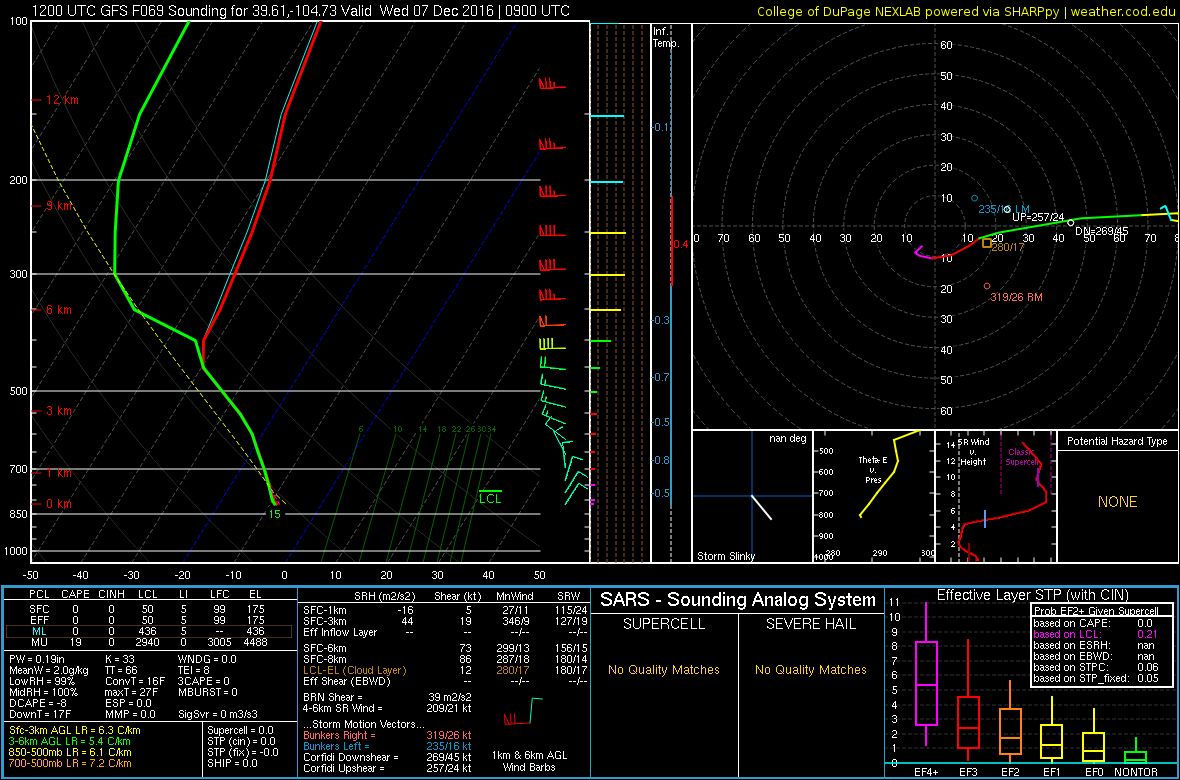 At 18Z, the GFS shifted 700mb winds to more of a northwesterly direction. This would translate to more downsloping for Denver and points west of I-25 (which would result in lower snowfall accumulations), but can actually increase totals further east on the Palmer Divide such as Elizabeth and Kiowa. We saw this reflected in the QPF forecast mentioned above.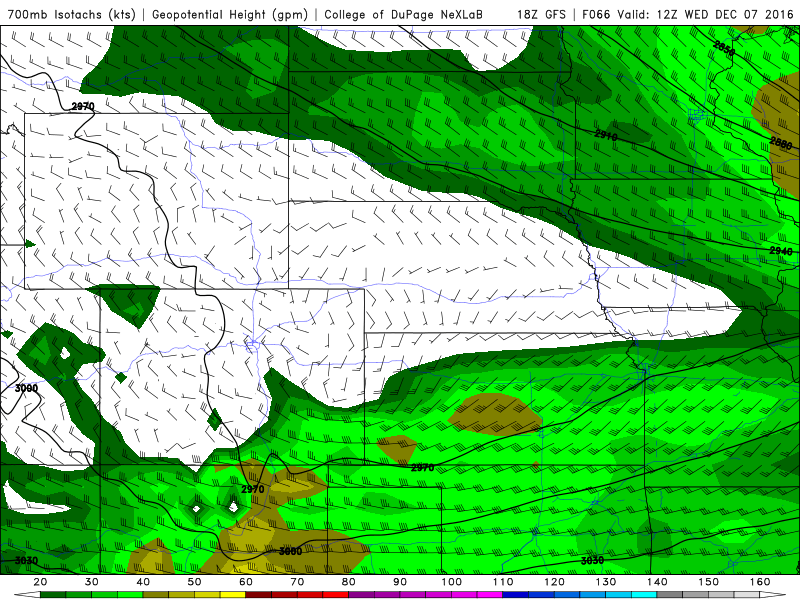 As we would expect from this shift in wind direction from the 12Z GFS to the latest runs, forecast snowfall totals continue to be reduced.
Precipitation
There were basically two camps for QPF totals in this morning's runs. The 0.20 - 0.25" range, and the >0.5" range. This worked out to a rough average of about 0.37", with a very obvious outlier in the NAM:
SREF 09z: 0.22"
GFS 12z: 0.50"
ECMWF 12z: 0.20"
ECMWF Ens Mean 12z: 0.20"
NAM 12k 12z: 0.90"
CMC 12z: 0.20"
Average: 0.37"
When we look at the afternoon runs, we see the GFS came down a bit, with the NAM still pretty wet. The 18z GFS had less of an upslope component vs its 12z run, which accounts for the lower numbers:
GFS 18z 0.30"
NAM 18z 0.80"
Given the consistency in the EURO in recent days, and the fact the 18z dropped quite a bit from previous runs, we will continue to hedge toward the 0.20 - 0.25" QPF range, rather than the higher outliers.
A look at the 18z GFS precipitation forecast shows what's likely a pretty good forecast for the upcoming event. Greatest snowfall totals will be across the north-central mountains (there are already advisories in place there), with lesser totals out across eastern Colorado. This storm isn't going to do much for southern Colorado.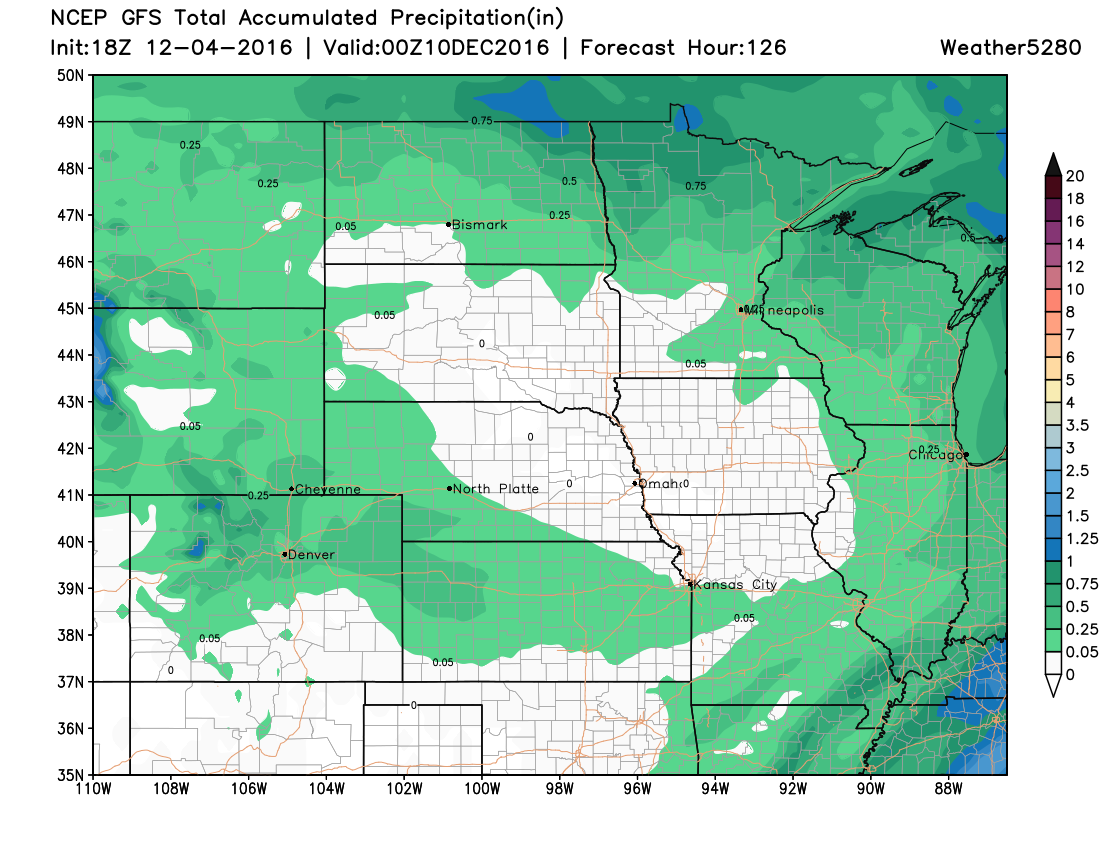 What this means for snow
If we assume we'll see 15:1 snowfall ratios (meaning 15" of snow to 1" of liquid), the above numbers would put us in the 2 - 5" range for snow easily. This will be a fluffy dry snow, so whatever does fall will "stack up" quickly.
INSIDERS: View our experimental snowfall gambler charts for select Front Range cities here.
Those living across northern Colorado (along the Wyoming state line) may do a bit better than this, as well as foothill communities west of I-25. Generally speaking, for the I-25 urban corridor the 2 - 5" range should fit, but we'll give another round of models tonight before putting out a map Monday.
Cold!
Lest we forget, the other big story (beyond the potential for our 'biggest' snow of the season) this week will be the shot of arctic air. The latest GEFS insists we have a shot at subzero readings for lows Wednesday: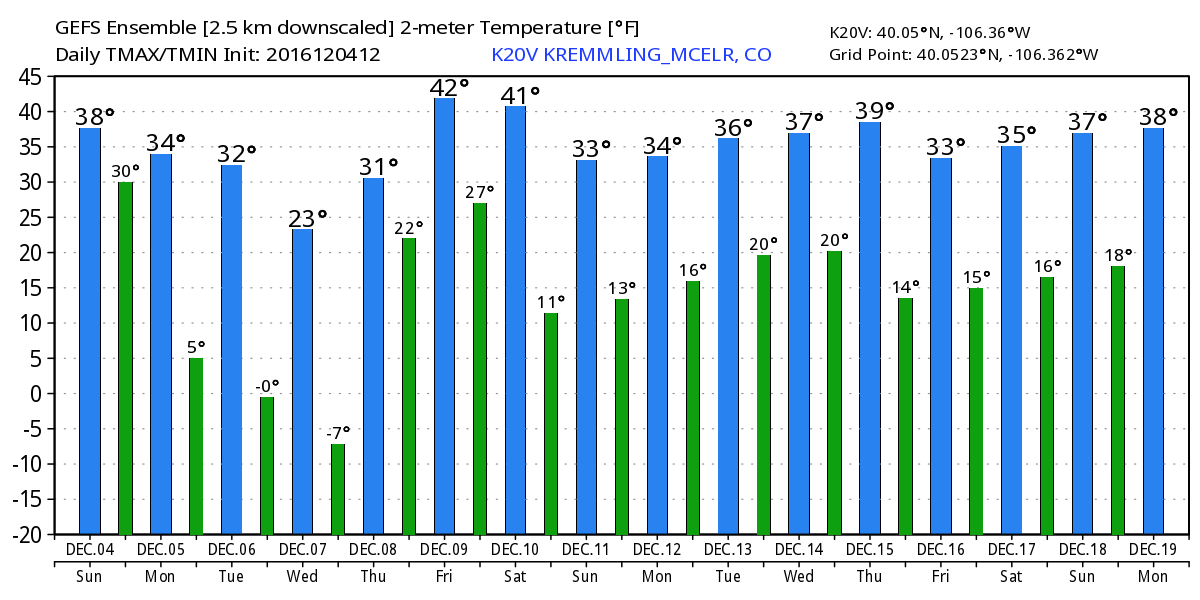 Even if that proves wrong, it'll be cold. Tuesday we should see highs in the 20s and overnight lows in the single digits, with teens likely for highs Wednesday, and overnight lows near zero Wednesday night into Thursday.
TL;DR
Cold! We should manage another decent day on Monday with highs near 50 for Denver, but then the cold arrives Monday night through Thursday.
Denver's best chance of snow looks to be Tuesday afternoon and night, though we'll introduce a chance for snow as early as Monday night, and keep it going through early Wednesday morning, and narrow in on timing tomorrow.
For those commuting, it looks like the evening commute Tuesday and Wednesday morning will be the ones we need to watch closely for potential impacts. Even if the snow isn't deep, we'll likely see some slick roads during this period.
High snowfall ratios mean we could easily see several fluffy inches from this system, even if dry-ish overall. While some models are forecasting upwards of 6" of snow for Denver, we think this is the less likely scenario at this point. We'll see how things look after tonight.
Look for a snowfall forecast Monday.
Cold!