The overnight model runs did very little to change our mind that this system would be moisture-starved and hard pressed to over achieve in the snow department at lower elevations.
The EURO came in even drier than previous runs, producing just 0.8" of snow for Denver at 10:1, suggesting just over 1" is possible with higher snowfall ratios. Meanwhile, this morning's 12z NAM is down to about 2" of snow for the city (recall it had upwards of 8" forecast yesterday), with the GFS currently leading the pack with about 0.27" liquid forecast or ~4 - 5" of snow for the city.
This is a trend we're seeing across the board. Take a look at the SREF model, for example. The red line is the oldest forecast with about 0.25" liquid forecast, while the most recent forecast is about half that at 0.13". Snow lovers, the trend is not your friend right now.

With the GFS doing its thing we won't completely ignore it but also can't ignore recent trends and what the trusty EURO is doing. Our forecast will be some compromise of the above, with a relatively high Bust Index given remaining uncertainty, and how tricky these types of systems are. If the EURO is right, we'll have to work awful hard to reach our low-end forecast in the city.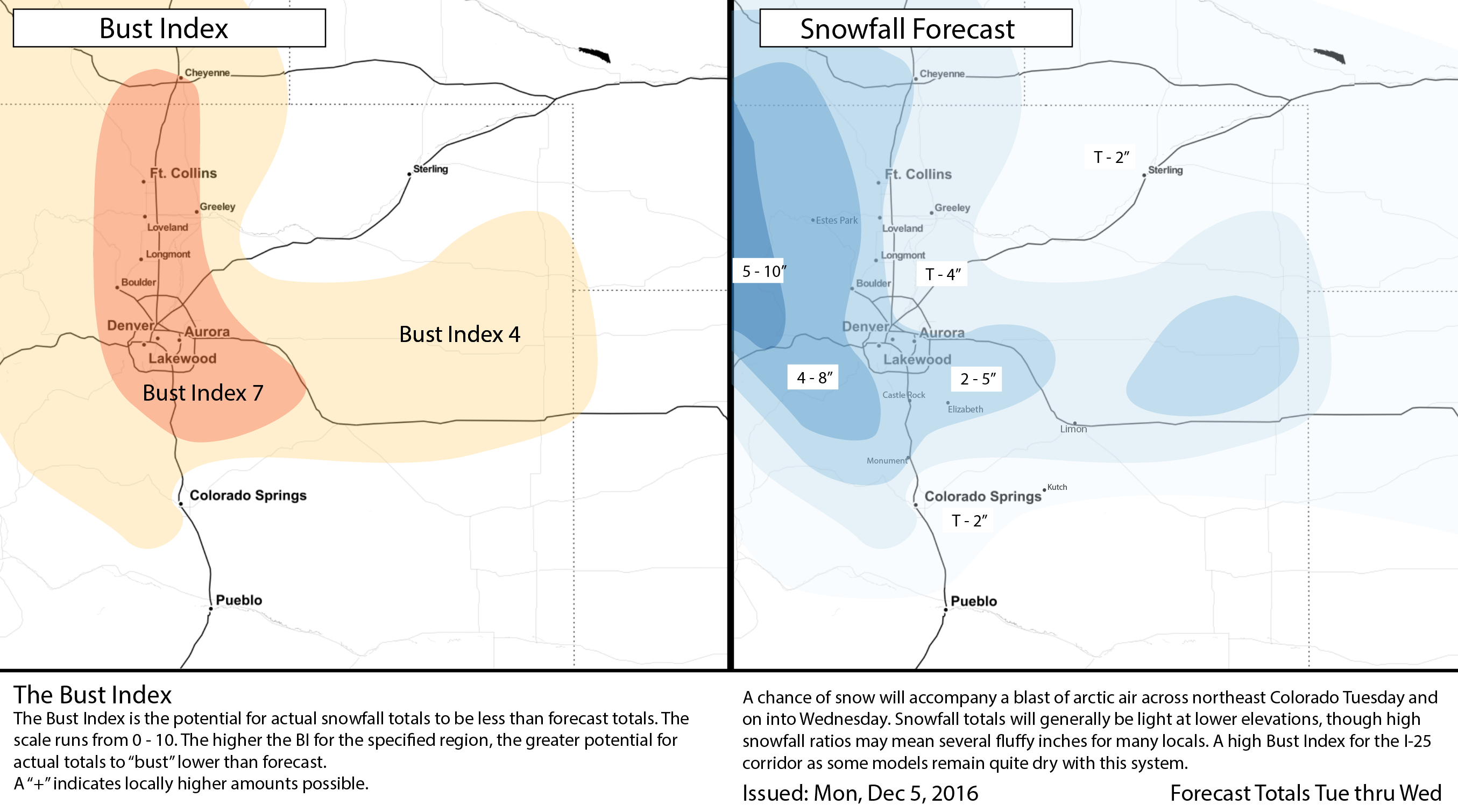 There's still some time for things to change between now and tomorrow, so we'll certainly keep an eye on things and offer and updates/changes to the forecast as needed. For now, little reason to believe we'll see a swing in the other direction, but decent chance models mess around a bit more tonight, we shall see.
Timing and impacts
The chance of snow will increase during the day Tuesday, with the best chances of snow at lower elevations likely coming later in the day and overnight into Wednesday. Latest data suggests another push of cold air could arrive during the day on Wednesday, which could initiate another round of snow showers across the region, and help boost snowfall totals just a touch. This we'll need to watch, and offer updates here as needed. For those living south toward Colorado Springs, your snow chances will lag those living north a bit, with best chances coming later Tuesday night and Wednesday.
Tuesday will be much colder than today, with daytime highs in the 20s and overnight lows dropping into the single digits.
For commuters, it looks like Tuesday PM and Wednesday AM will be the commutes to watch. Even if we don't see a ton of snow from this system it could be that roadways become slick depending on timing of the snowfall. It won't take much with these cold temperatures to make driving a bit treacherous across the region. Will need to keep an eye on Wednesday, and see if any additional snow shower activity is sparked in the evening or not.
Snow chances drop Wednesday night, but the cold will linger. Overnight lows into Thursday may very well drop below zero, with daytime highs Thursday in the low 20s.
Friday we begin to warm-up as we head into the weekend, with highs climbing back into the 40s for the Denver area.