Here we are 24 hours removed from yesterday's SOTA, and the outlook for the remainder of the week remains uncertain.
Models are producing quite a bit of snow for the mountains and immediate plains – but, each in different ways, and thus our trust in the models remains low for the time being.
The EURO has been most consistent, producing about 0.3 - 0.5" QPF along the Front Range from Wednesday through Thursday. The GFS is back on the bullish train as well, but it keeps snow (and in fact enhances snowfall) well into Friday. So, they both get more or less to the same place, but in very difference ways – i.e., they both can't be right, and they both could be wrong.
There's enough ensemble support from all the globals (ECMWF, GEFS, Canadian) for decent moisture with this storm that it's got our attention. In many respects it feels a lot like our December storm that delivered good snowfall to Denver in that:
We'll be counting largely on jet dynamics and banded snowfall to deliver (good bet we see some locations do much better than others again).
We're dealing with another shot of arctic air, and in theory, our best window for snow comes as that front pushes through Wednesday PM into Thursday, with the jetstream howling overhead.
The amount of moisture models are forecasting seems too high, but not out of the question.
If we take a step back and look at the setup, it's hard to get too onboard with some of the numbers models are forecasting, especially that GFS that seems to produce snowfall for far too long with a lack of good upper-level support. With that, and because of good consistency from the EURO, we will hedge toward the European modeling for our going forecast. This means:
The best chance of snow likely Wednesday PM through Thursday – toughest commute looks like Thursday morning at this time.
Snowfall totals less than the current GFS, but several inches possible.
The EURO is likely too widespread with higher totals, more likely we see a few concentrated areas of 5"+, with others seeing much less than that.
But first we have the cold...
We've already felt the initial push of cold air we discussed yesterday, with temperatures near or below freezing now across northeast Colorado. This will be as warm as we'll be until at least Friday or perhaps the weekend, as the next three or four days will be quite chilly.

Latest MOS guidance still suggests those VERY cold temperatures we discussed last week are less likely, but it won't be warm by any means either. Highs Tuesday and Wednesday will be in the 20s, with overnight lows in the single digits, with highs Thursday possibly staying in the teens and overnight lows near or below zero depending if the snow has ended or not.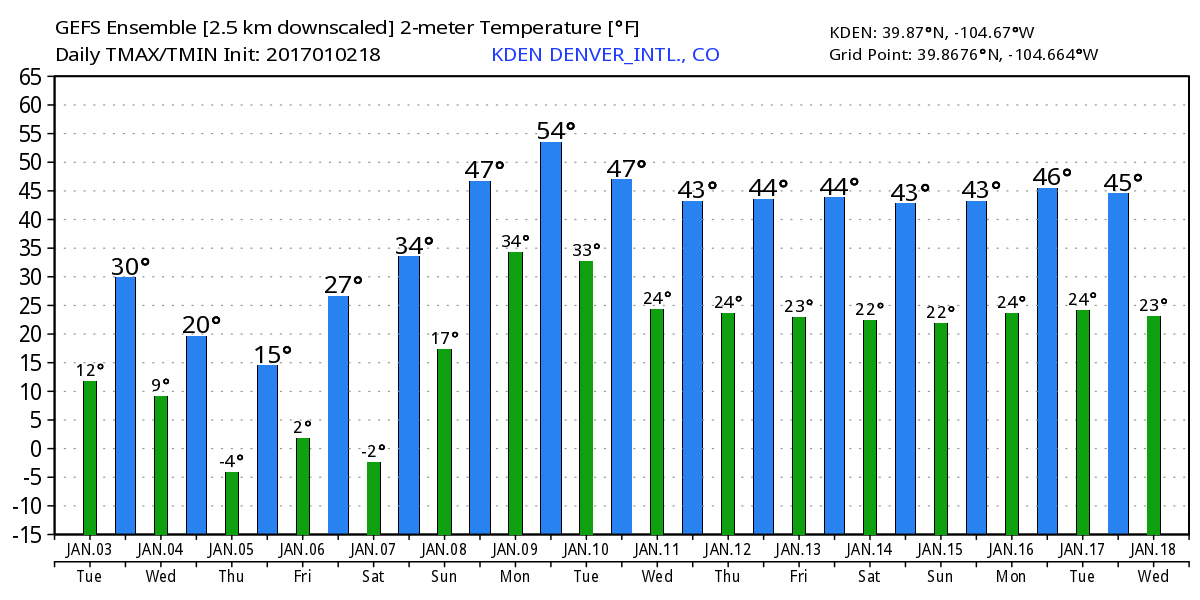 Please be prepared for these cold changes, and plan your week accordingly.
Back to the snow
The best thing this setup has going for it (from a snow-lovers perspective) is decent model support for good snow along the Front Range. However, much of what the models are doing is leaving us scratching our heads a bit.
They're more bullish than our December storm, but lack good upslope at 700mb (at least for Wed/Thu). The GFS and EURO end up with similar QPF, but the GFS keeps brings round one with jet enhanced snow Wed/Thu, and round two along the 700mb front Thu/Fri, while the EURO has them both together. At 500mb, the setup would suggest our window is relatively small for good snow, and that the GFS is not right... The list goes on.
So, can we sneak our 10"+ as the latest GFS suggests? Maybe, but it doesn't seem all that probable.
Related: INSIDER look at snowfall probabilities for Front Range
More likely, we'll see a good round of snow sometime between Wednesday PM and Thursday midday, but then the best chance for snow will sag south of the greater Denver area as we move into Friday. IF the GFS is right, we'll see another round of snow with yet another front from Thursday into Friday, but we'll like to see model support for this from other models before taking it too seriously. In all likelihood, the jet/700mb setup Wednesday night into Thursday produces all the snow we see from this system.
With that chance for snow, we'll see banded snowfall leading to a wide range in totals, with low-end areas seeing less than 3" of snow and high-end areas seeing more than 3" (perhaps quite a bit more for some locales).
Right or wrong, it'll be feeling quite wintry across the state for the remainder of the week as shown in the GFS below. Cold temperatures will be in place, GOOD mountain snow, and snow across the plains too before long! Eventually, the stormy weather moves into the southern plains and east: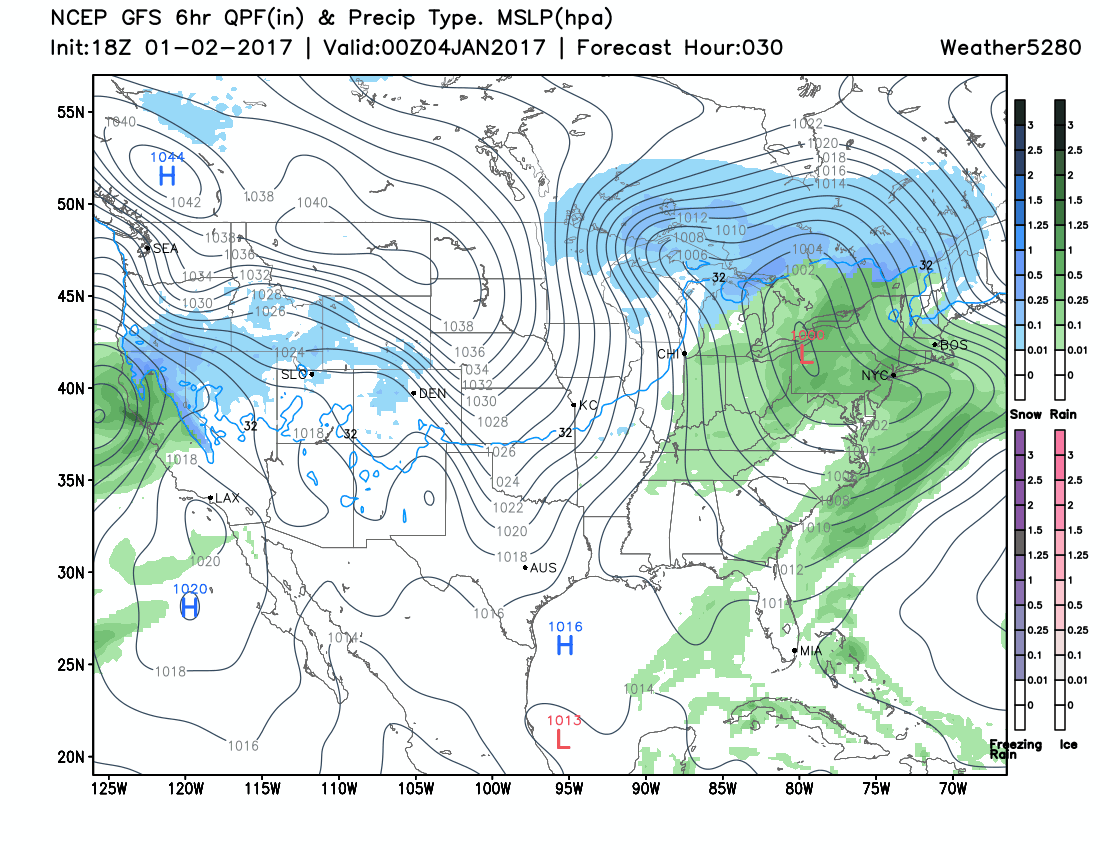 Tonight's runs should hopefully offer some more clarity. We'd like to see better agreement between the GFS and EURO (not just in QPF), before getting too specific.
Questions we need to be answered:
Do we see jet dynamics / 700mb front supply our best shot of snow from Wednesday into Thursday as EURO suggests, then snow chances end? Or, do we see mainly jet-induced snow Wed/Thur, with another round of snow from Thur into Friday as the GFS suggests.
Do Models stick with healthy QPF, or do we see them back off tonight?