As we discussed in Monday's update, this will be quite warm across eastern Colorado, with no day warmer than Friday as potential record-setting highs take aim at much of the eastern half of the state. By Saturday we'll be tracking a chance for rain, and possibly some snow across the Front Range.
The record high in Denver on Friday is 71°F. Latest MOS guidance is suggesting we may best that by a degree or two, with the GFS MOS forecast coming in at 73° on Friday, and the NAM at a toasty 76°(!). The latest GEFS ensemble forecast is 72°, which of course would set the record, and is almost 30° above average for the date.
The anomaly forecast from the GEFS shows the extreme warmth that will be with us through Friday, with temperatures dropping back to near-normal (or slightly below) for Sunday. Overall, the next 16 days are forecast to generally be warmer than average: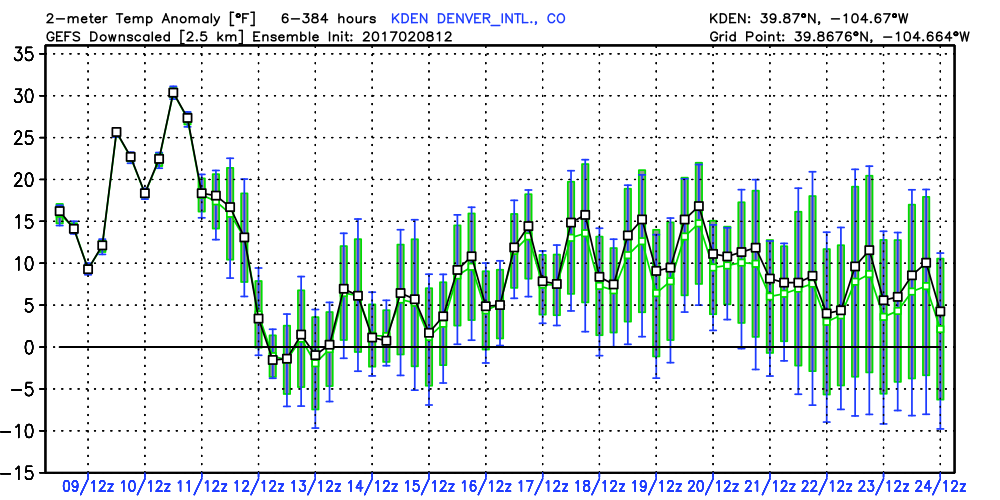 The greatest anomalies across the country will be focused over eastern Colorado as depicted by the GFS below. Winds will shift out of the southwest on Friday, and likely become strong at times ahead of our next trough. This will lead to very warm temperatures, and likely heightened fire danger at lower elevations as well.

Saturday will likely be another warm day in Denver, at least initially. By the afternoon we'll be tracking a cold front set to bring a chance for rain and snow to lower elevations.
For now, this continues to not look like a huge event for the I-25 corridor. The best chance for accumulating snow looks to be west and southwest of Denver, with the Palmer Divide needing to keep an eye on the Saturday/Sunday time frame, as well as a bit better chance for snow south toward Colorado Springs as well. Mean ensemble forecast numbers aren't all too impressive – a couple quick inches for some, others just a Trace at best.
This will cool us off, however, with highs likely in the 40s for Sunday behind the passage of the front. Temperatures will be cooler next week, but likely still above average as ridging reestablishes itself.
Will keep an eye on the weekend, and offer updates as needed... stay tuned!