Fourteen years ago today Denver found itself buried under 31.8" of snow – the city's second biggest snowstorm on record. Today, highs across the metro area are in the upper 70s to low 80s, with snow but a distant memory around here. While the month is Denver's snowiest on average, it sure doesn't feel like it.
The week ahead will begin warm and mild, but may, just may end a bit cooler and (perhaps?) wetter than we've seen in some time. A LOT of details are still up in the air around this one... from IF we see precipitation along the Front Range, and if so how much and what type.
Bottom line: something to keep an eye on over the next few days as we haven't had much of any weather to speak of for some time.
The week ahead
A Red Flag Warning continues across northeast Colorado through 7pm this evening, with temperatures near 80 degrees, and very dry conditions persisting.
We begin the week with another very mild day Monday. And, with the potential for some wind to redevelop, it would not be surprising to see another Red Flag Warning posted for portions of the Plains.
By Tuesday we see a quick moving shortwave drop temperatures just a bit into the 60s for Denver (still above average for this time of year), with at least an isolated chance we see some showers develop by afternoon.
Overall we stay mostly dry and mild until Thursday, when our next bigger system begins to impact the region. Expect a return of some mountain snowfall by early Thursday, then the potential for some rain, snow, and even some severe weather to roll onto the plains by Thursday afternoon.
Late week system
For those of you who are Insiders or Insider Pros, you'll know we've been talking about the return of a more active pattern for quite awhile now. As we mentioned on Friday, we hope that shift begins with this system on Thursday, and carries us into April.
There are still a lot of details to be worked out. In fact, while most modeling does show us moving into this wetter period, not every run is as generous as another, with some big questions on how exactly the storm track evolves.
There's greater confidence that we see some late season snow return to the high country (woo!), as well as a pretty healthy looking pattern across much of the western United States. Across eastern Colorado, we'll need some help not to get 'skipped' thanks to those big mountains to our west.
The good news is, model guidance is looking better today with more agreement in seeing some measurable precipitation along the I-25 urban corridor and northeast plains Thursday into Friday. The latest GFS forecast shows a pretty good precipitation event for much of Colorado to end the week, with it forecasting more than a half inch of liquid for the greater Denver area: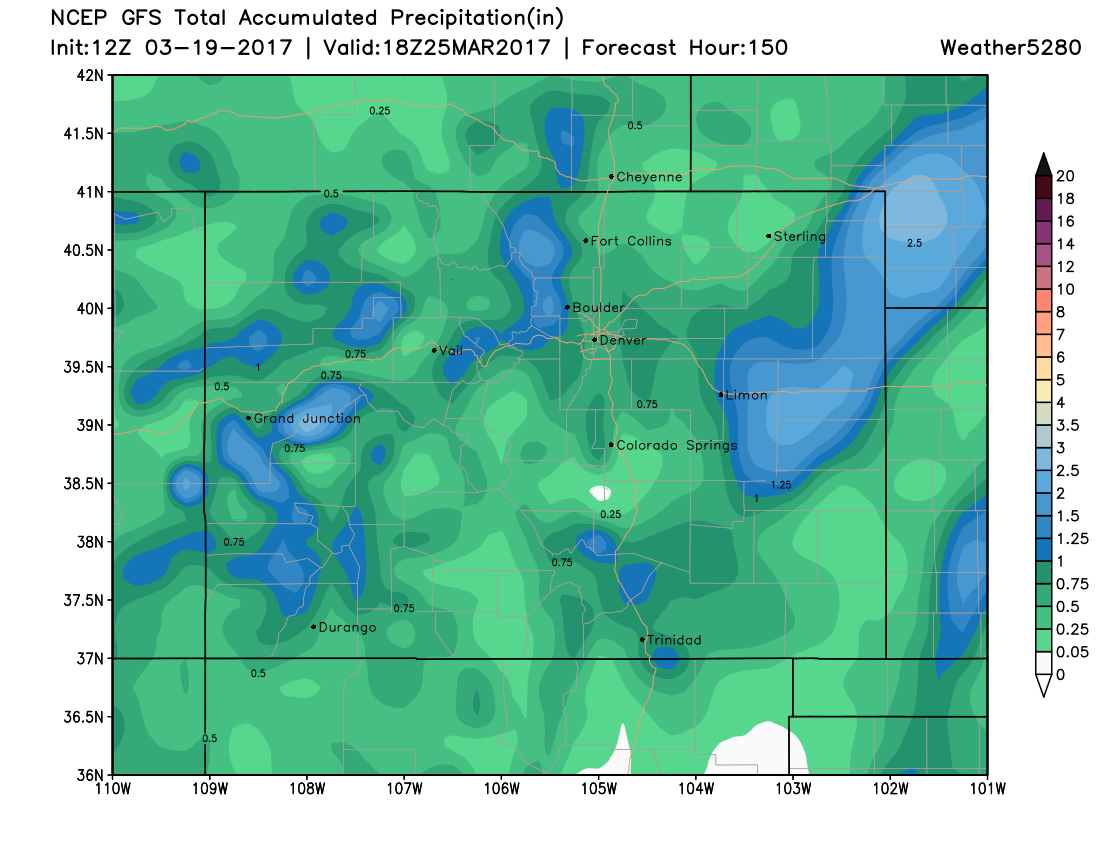 The uncertainty though, cannot be stressed enough, as this is still a long ways out.
If we look at the ensemble forecast, we see plenty of disagreement between the 20 members. Each green block below indicates a 6 hour precipitation forecast from one out the 20 ensemble members on the left. As you can see, there's a mixed bag here for Thursday and Friday, with some members still coming in quite DRY for Denver for this period. We'd like to see better agreement (more consistent green) between these ensemble members before getting too excited.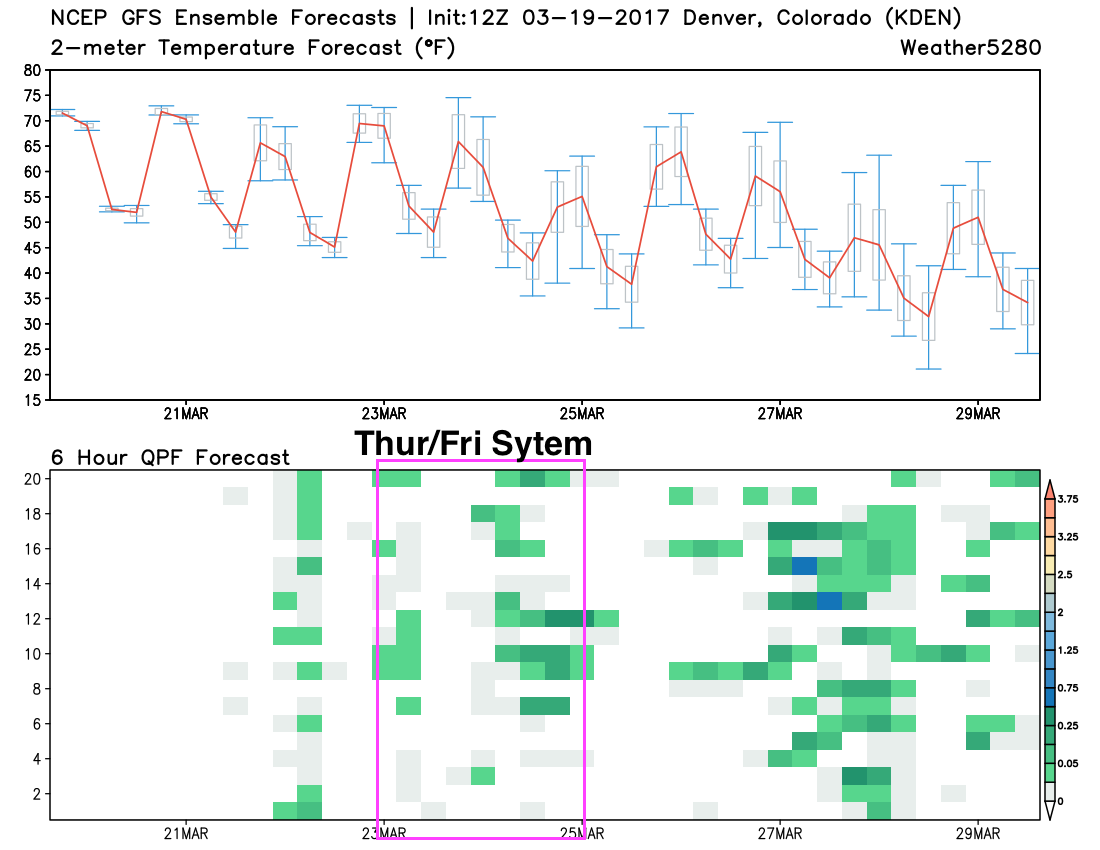 Another thing worth noting in the image above... Is that the overall trend in the temperatures (upper graph) and precipitation (lower), is a cooler and wetter end to the month, overall.
Meanwhile the EURO has had a very strong weekend in support of our overall narrative, looking both very wet and frankly, pretty snowy (rain/snow line to be debated) over the last 10 days or so of the month. It's ensemble mean precipitation anomaly forecast for the next 16 days has all of Colorado above average: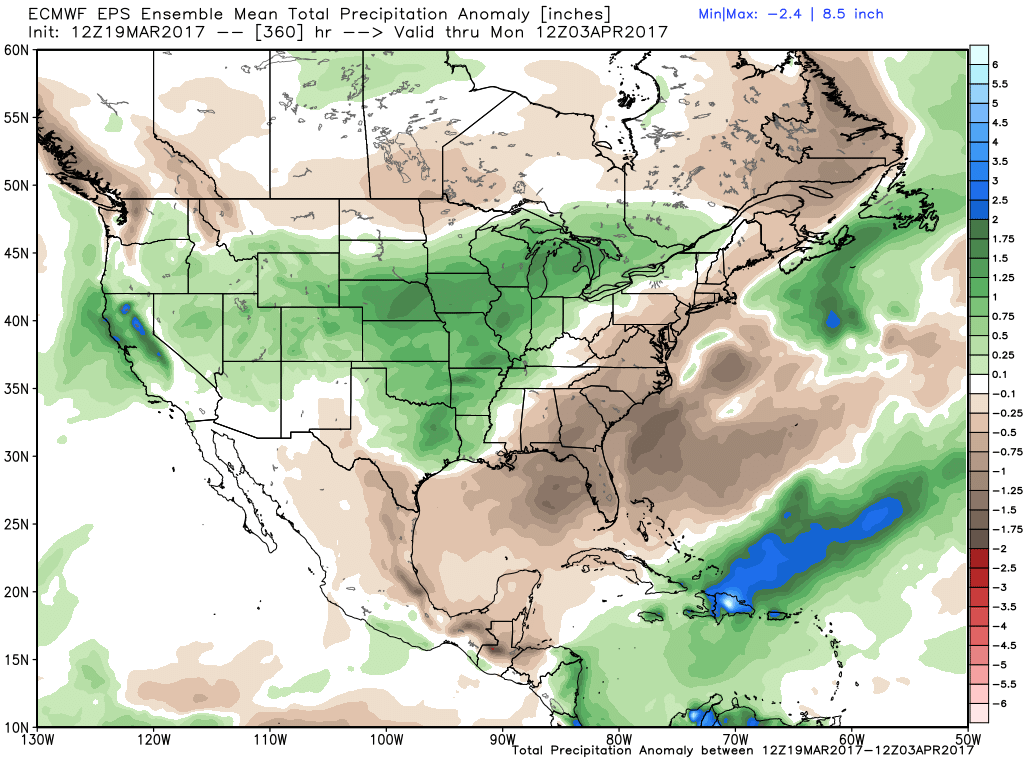 We'll take it.
Again, we've been discussing this for some time now, and of course now it needs to materialize, but certainly heartening to see modeling come around to our ideas after such a long, warm, and dry period we've seen in recent weeks.
Keep an eye on the forecast this week, and let's hope!